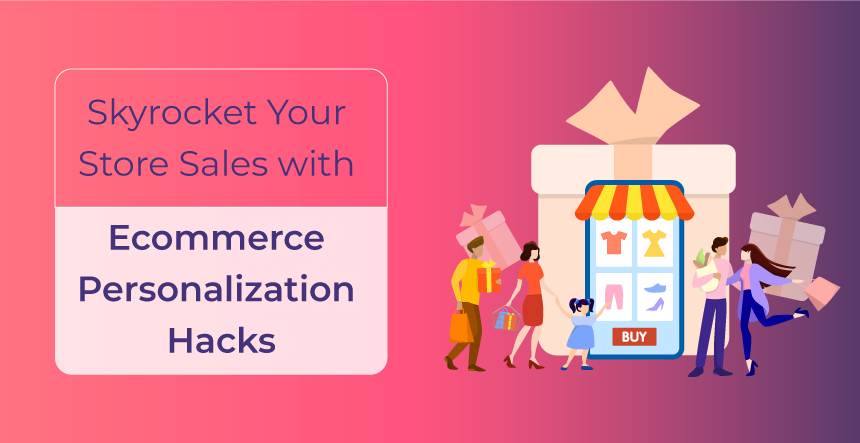 Ecommerce personalization is a primary necessity for online sellers who want to make it big in the virtual shopping market. Creating a good-looking, feature-rich eCommerce site is not enough to generate humongous sales. The site needs to offer unique, individualistic experiences to its customers.
In fact, it needs to start from scratch and optimize a visitor's journey by offering the best value at all stages – from viewing to buying and even after that.
Maintaining a good post-purchase rapport with customers is the easiest way to build a loyal, long-term customer base. Therefore, eCommerce personalization is a multifactorial thing that should be dealt with in a comprehensive manner.
Latest statistics from Salesforce suggest that
88% of customers think that their purchase experience is as important as the product or service.
73% of customers want companies to deliver products as per their expectations.
62% of customers are emotionally connected to their favorite brand.
56% of customers expect that offers should be personalized.
62% of customers want that companies should anticipate what products they need from the store.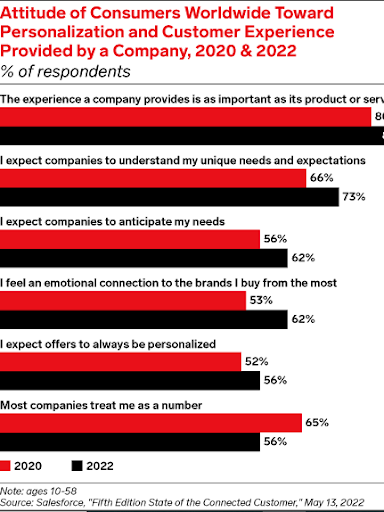 image source: shopify.com
With all these stats about delivering customer expectations, web stores need to incorporate some fruitful eCommerce personalization hacks, strategies, and engaging methods to offer a start-to-finish user experience.
What Exactly is Ecommerce Personalization?
eCommerce personalization is about providing tailor-made experiences to visitors and conveying marketing elements in a subtle way to engage them, in order to create long-term customers. The obvious ways are custom recommendations, personalized rewards, push notifications for product recommendations, subscription packages, etc. The various mediums can be used for personalization, such as websites, chatbots, emails, mobile apps, social media, and other 'out-of-the-box' methods. It is about delivering customized content at every stage of the buying journey to ensure a valuable purchase experience for the customer.
Major Advantages of Ecommerce Personalization
A Competitive Edge
The biggest reason to create customized user experiences is to gain a competitive edge over contemporaries. eCommerce companies that focus on customer engagement end up creating loyal customers who stick to them for years at length. Also, customers feel that the brand cares for them. This one-to-one relationship creates an emotional connection with the brand. With this, companies can cater to targeted customers in a more personal, precise, and result-oriented manner.
Higher Conversions
When you curate content, the home page, offers and more, as per the browsing history of customers, you make sure to cut down clutter and show them products that they are looking for. This facilitates customers to choose things they already like, gain discount offers on those products and enjoy a fine purchase experience. Companies which track the browsing habits of visitors can refine their purchase journey for a better experience. This eventually leads to higher conversions.
Optimized Customer Experience
Customers get fed up when bombarded with excessive product recommendations. Instead, curated content with favorite product recommendations done in a subtle way triggers a pleasing interaction that gradually leads to purchase. So, the goal of eCommerce personalization should be to offer better ways to engage customers with offers, product suggestions, etc. The whole point is to optimize the customer experience.
Enhanced Customer Loyalty
Personalized rewards, favorite product recommendations, subscriptions, etc. are some of the ways to increase customer loyalty. Customers that get perks, discounts, points and finer purchase experiences are naturally drawn towards the eCommerce store. By implementing such techniques, online stores can outpace their competitors.
Enhances Brand Value
Personalization efforts help eCommerce companies to gauge the mindset of each and every customer. The data gathered during their interaction results in a pool of valuable information about the customer. Based on all this, they make strategies to boost sales and revenue. Also, it helps them build a better relationship between the customers and the eCommerce brand. So, it shoots brand value to the next level.
How to Start the Ecommerce Personalization?
The primary benefit of applying the tailor-making process is to gather basic customer data like the amount of time they spent on the website, their choices, their dislikes, their check-out issues etc. Any eCommerce website can begin this process by studying the browsing behavior of their first-time customers and return customers.
Data Generated from First-Time Visitors
Average time spent on the site
Pages browsed
Products searched
Products added to the wish-list category
Items added to the cart
The last page viewed before leaving the site
Data Generated from Return Customers
Purchase history
Preferred products
Average order value
Customer timespan from his/her first visit
Information gathered from emails subscriptions, social media platforms
With all this data, marketing teams can create personalized strategies, product displays, location-specific details and buyer personas for individual customers. The process can be further refined to provide better experiences to high-value customers. Also, new customers should not be undervalued, and detailed marketing strategies should be built to involve them in higher purchases.
Top Examples of Ecommerce Personalization
Let us check out some of the most result-oriented personalization techniques used by expert e-marketers.
Offering Custom Content to Traffic Segments
A company with a giant user base can segment its high-traffic customers based on their age, location, device used and purchase behavior. They can generate dynamic content based on all these categories to showcase the most-viewed products to push sales. They can design special offers for traffic from PPC, social media channels, referral URLs etc. Specific products should be shown to visitors depending on their age, gender, language, weather, etc.
Use a Dynamic Pricing Model
Online stores can engage customers by displaying dynamic prices based on the buyer's profile, purchase history, time of shopping, etc. This strategy should be used to accelerate sales and please users who are loyal to the brand. The marketing team should make sure that they are offering competitive prices based on their research on sales data and demand for the products.
Dynamic Content Block to Aim for On-site Customers
eCommerce websites can announce special offers, attractive discounts, favorite product displays in dynamic content blocks. These blocks should be displayed on landing pages to entice customers to make a purchase. This can be done with overlays, header-footer sliders, etc. to suggest the best offers. This kind of spontaneous content should be displayed at the dot time to allure customers for better offers. It delivers a superior purchase experience and in turn upscales the overall sale.
Action Oriented Triggers & Modal Pop-ups
Online stores can display action-based triggers based on their study of the in-session behavior of the customers. Like a discount offer in return for their email address, free shipping on a particular order value, product pop-ups based on their browsing history and more. When implemented at the right time, these techniques create better customer engagement and push the average order value.
Custom Bestseller List
This technique helps grab customers for a particular segment of products like books, t-shirts, etc. Customers tend to buy more when the home page is optimized with a dynamic bestseller list of their favorite product categories. This should be done depending on the customer's browsing history, previous sessions, product preferences and more. Companies can showcase a custom home page with 'Top 10 products in your favorite category' to engross customers who love a particular product category.
Apart from these, methods like recommending products during checkout, rewarding VIP customers, using of RFM model to rate each customer, etc. are some other fine examples of eCommerce personalization.
Conclusion – The Final Words!
To sum up, eCommerce stores cannot survive in the competitive market without personalization, irrespective of the industry. Tailor-making user experiences have become the de-facto standard as well as an earnest way to attract and retain customers. It has many benefits, and we will witness further refined methods in the near future. It is a must for all kinds of eCommerce stores – small, medium or big.
If you are looking for custom eCommerce development, then avail the technical expertise of KrishaWeb. We have many successful, high-performing online stores in our portfolio. We also offer high-end digital marketing services to convert a simple online store into a sales-centric eCommerce company.
Feel free to connect with us for more details.