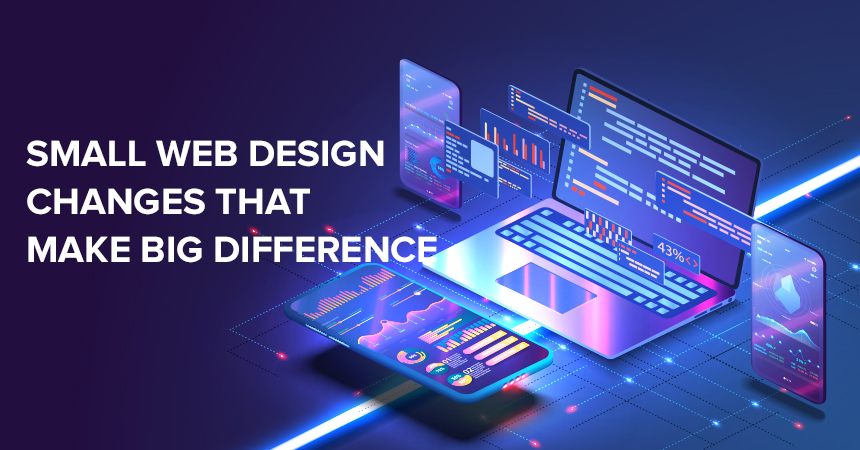 Over the past two years, many businesses have shifted their operations online. This has led to the growth of the eCommerce industry in a short time. As the competition increases, businesses need to focus on engaging their target customer with good visual design. One of the first things that people are likely to visit is the website or eCommerce platform. So, you need to invest in web design elements that represent your brand closely and provide a smooth user experience as well.
According to a survey, 94 % of visitors base their first impression of a web page on its design. This means that the layout or structure, imagery, and content can influence people's purchasing decisions. With impressive web design, you can convince potential customers to browse through the pages or signup for a free trial or newsletter. It's important to focus on creating a responsive and interactive website that boosts conversions quickly.
If you are about to launch your eCommerce business or looking to revamp the web page, then you may want to make some little changes to the design. To make this easier for you, here are a few changes that can make a big difference to your website.
12 Amazing Web Design Changes That Will Outstand Your Website
Flat Designs
This is an important factor to consider for web design. Flat icons or images can work well on a modern website or eCommerce platform. They can improve the loading speed of the page and create a minimalist appearance as well. If you opt for a flat design, you can easily convey your message without adding a lot of elements or clutter to the page. This is a good way to increase the responsiveness of the website as well.
Flat designs can work well for logos, shapes, or objects that may take up a lot of space within the layout. They can help you maintain the quality of the visuals and reduce the file size too. In the end, you can design a website that is easily accessible on different devices and ranks highly on search engine result pages. For visual branding, you can also consider a semi-flat icon to include in the mobile version of the website or the app.
It is important to create a versatile business logo for wider brand recognition and engagement. This way, you don't have to worry about making changes or upgrading the icons for digital mediums. Before you start working on the website, create a plan for the structure or layout. It can simplify the design process and help you add flat icons in the right places.
Mobile-First Layout
Today, many people search for websites, products or services on their smartphones and tablets. To attract more visitors, designers and business owners need to focus on a mobile-first design. This means that the platform should load instantly on smaller devices without any disruptions or lags. Sometimes, you may visit a few websites that take a long time to appear on mobile screens. If this happens, people tend to move on to other options quickly.
According to a report, around 74% of consumers in the United States can leave mobile websites that take longer than five seconds to load. This is what you should avoid from the beginning. Compress the images and add ample white space to the layout to reduce clutter. By doing so, you can create a mobile-friendly website that adapts to different resolutions and screen sizes quickly.
When working on the design, it's a good idea to test how people may interact with the platform as well. Once you have an idea of the elements that attract the highest engagement, you can focus on incorporating those graphics or animations. This can help you design a clean and attractive website that requires minimal upgrades over time.
Hero or Background Images
One of the first things that can keep people on the page is an appealing hero image. It can be placed above the fold and highlight important information about the product or service. Many modern websites have a hero or background image that shows what the business has to offer to potential customers. This makes it easier for people to make a purchasing decision, too. With an engaging image or animation, you can also convince first-time visitors to act.
Now, it can be slightly tricky to add a hero image or large background visual to the web design. It can require a lot of space and could slow down the website too. But they are still popularly used by designers to engage the audience instantly. A hero image can draw attention to your products and tell people to 'buy now or 'get a free trial. It usually has such calls to action, so visitors can explore the eCommerce platform or website before leaving the page.
For the web design, it's a good idea to make sure that hero images are responsive and can fit vertically for smartphones as well. This way, you can avoid confusing the audience and stick to one or two high-quality visuals to grab their attention.
Vertical Navigation Bar
When it comes to making little changes that'll make a huge difference to the web design, this is another important one to keep in mind. Since consumers can look through a range of options today, you need to make your website stand out from the first look. Easy navigation can help you provide a good user experience and make a lasting impression on visitors. The menu is a design element that can simplify the navigation on the web page. With a vertical navigation bar, you could make the website interactive and remove additional elements as well.
One popular style that you may see on modern websites right now is the hamburger menu. It appears as a button or icon that features three stacked lines that look like a hamburger. The navigation can work very well for mobile devices and tablets. You can incorporate a vertical menu in your business website to increase space for visuals or bold headlines too. This way, you could easily add a large hero image above the fold or even a video that engages visitors immediately.
By creating an easy-to-navigate platform, you can also boost its visibility. Search engines like Google will show such websites in the first page results. This could help you attract higher traffic in a short time and compete with established eCommerce businesses too.
Ghost or Transparent Buttons
Now, you may not be familiar with this design element as yet. Ghost buttons are used on many websites for visual appeal. They are almost transparent and might not be visible at first look. The buttons appear on large images or with text below the fold. Since they merge with the background, visitors may only see them when scrolling up or down. Some ghost buttons can have a light border that appears with movement.
These are different from CTAs and can be featured next to them. The call-to-action convinces people to check out the product or service and make a purchase as well. Ghost or transparent buttons can be used to display information that is not urgent. For instance, you can include one with a CTA that encourages people to 'request a demo' or watch a tutorial. This way, you might keep people on the page for a longer time and add bright CTAs too.
It is important to understand this difference, as a call-to-action needs to grab attention immediately. Users may have to look through the home or landing pages closely to locate the ghost buttons. So you need to place them carefully to make sure that people interact with them as well.
Card Layout Design
This is a great way to convey the right message and information to visitors without overwhelming them. You may see a few websites with a card layout design that displays chunks of text and visuals prominently. It is a web design element that can help you organize the data on the website in an appealing way. So, the header image or product visuals could be displayed in cards to catch the eye of potential customers.
The layout or structure can help you create a minimalist website and include more details on the home page as well. You can easily divide the areas until the end and add graphics or text that gives an insight into the brand. With cards, you can also draw attention to testimonials or show real people using the product. Mostly, this layout works well for eCommerce websites to display product categories.
To create a unique and attractive website, consider using card styles for visual content. It could make the platform more responsive and allow you to showcase your brand colours too.
Introduction Videos
Many websites today prefer adding videos to give people an idea of their bestselling product or service. It can also help brands tell their stories and convince people to explore the website for more information. Video content is also preferred by a lot of people in this day and age. According to a report by Cisco, 82% of users across the world will be likely to visit websites or pages from videos in 2022. This means that such content is already quite popular among the audience. To make a positive impression on your target customer, you should add a short introduction video on the home page.
This can be an animated one or show how your business can help people solve a problem. You can feature one of the products in the video and highlight its features as well. It is a good way to introduce people to the brand and generate interest among first-time visitors, too. Introduction videos are mostly short and different from a tutorial or explainers. If you want, you can also include a large short video above the fold with a CTA. This is just one way that you can add one to your website.
Make sure that it's high-quality and looks professional. You can use editing or video-making tools to create content that engages people from the beginning. Introduction videos can also showcase the unique factor of a business and help consumers make a purchasing decision. This is also a good way to create a website that is different from the competitors and can stay in memory.
Optimized Product Visuals
This is also a good search engine optimization technique that can improve the ranking of the page in a short time. When incorporating visuals across the website, you need to focus on optimizing them to provide a smooth user experience. Choose a relevant name or title for the image and add Alt text that describes it accurately. This way, you can make it easier for the search engine to understand what the website or eCommerce platform has to offer.
Optimizing product visuals can also allow the page to be accessible on multiple devices. Focus on using the right size and format, so the image can maintain its quality as well. Sometimes, large visuals may not load completely on smartphones or smaller screens. Make sure that you research the image guidelines for a search engine like Google extensively.
This could help you update the website easily and prevent any issues with optimization as well. You can also get feedback from a focus group or your team members to get a clear idea of how the product images appear on various devices.
Social Proof on Home Page
While it's a little change that you should make to the web design, it can make a huge difference in the results. By adding social proof from experts or real customers, you could draw more visitors to the page. Add this on the home page to break the sections or towards the end. You can include awards, statistics or reviews by industry leaders to make a good impression on visitors.
Social proof needs to be prominently visible and convincing for potential customers. It's a good idea to include testimonials from previous clients or customers to highlight their experience with the brand. This is a good way to establish credibility and show that the business is trustworthy. You can incorporate data that conveys how people can benefit from the products or services as well.
For instance, an email marketing agency can include social proof from clients that have converted more leads with successful campaigns. This helps people make the right decision and interact with the website as well.
Colorful CTAs
The CTAs are an important web design factor that can help boost the conversion rate. Before launching the website, you should run tests to see which colors and words are getting more engagement. It's a good idea to use a bright combination to highlight calls to action across the platform. You can also incorporate your brand colors to match the scheme of the website. Colorful CTAs are likely to grab attention instantly and bring out positive feelings as well.
Many websites use hues of blue, green, yellow and orange against neutral backgrounds to make the CTA stand out on the pages. This can work very well as the colors are associated with trust, reliability and happiness. They also create excitement within the viewer and encourage them to find out more information.
Engaging Website Content
This includes both visual content and text that conveys what the business is all about. With a bold and engaging headline, you can immediately hook the visitors and keep them interested in a long time. It is important to send the right message from the beginning. Add a short description of the brand or a bestselling product and convince people to try out the product or service.
Similarly, focus on adding visuals such as attractive thumbnails for product categories. With attractive imagery, you can build brand recognition and create familiarity with a wider audience as well. The content of your website needs to be engaging and valuable. This can help you with optimization and make it easier to include relevant keywords or titles that improve the ranking of the page.
Faster Loading Speed
Websites or ecommerce platforms need to load within seconds. Today, most people have short attention spans and may not prefer to wait a long time to access a website. To gain an edge over your competitors, you should focus on removing or adding elements that increase its loading speed. If the page is available instantly, people might check out the product or service and even purchase before leaving.
With faster speed, you may convince visitors to return and build a loyal customer base in a short time. Focus on a minimalist design and keep the pages clutter-free.
The Bottom Line
These are some little changes that'll make a big difference in the web design. If you are looking to launch your eCommerce platform or business page, or just thinking about redesigning, keep a few of the above factors in mind.