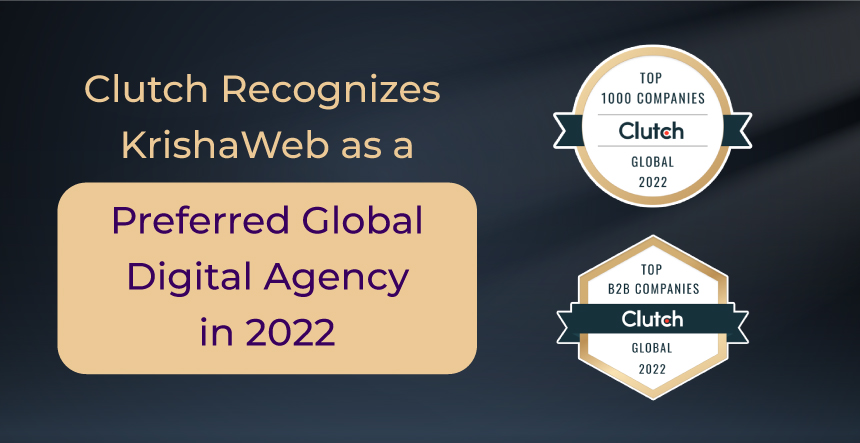 As the year is coming to an end, global market leaders calibrate the performance of IT companies and their contribution to worldwide commerce in the year 2022. In this league, Clutch, the global B2B marketplace, has come up with a list of the Top 1000 Global Service Providers and Top-Ranking Global Creative & Design Agencies for 2022. The list is based on a meticulous assessment and genuine customer reviews. This year, Clutch has ranked KrishaWeb for its top performance in multiple categories including web design, digital design and WordPress designers.
We are happy to share that KrishaWeb was the top runner in the race. It has earned four recognitions and marked its presence in the top ten ranks for three design award categories. Clutch studies the digital landscape with the minutest details and honours global companies for excellence in digital design and creative services. Clutch, encourages companies by comparing their services, expertise, customer satisfaction levels and brand authority.
The Awards are Based on the Following Factors
Number and quality of Clutch verified reviews on the company's profile.
The clientele of the company
Quality of services offered by the company
The brand value of the company in their service domains
Clutch Business Development & Partnerships Manager Ricardo Real Preciado congratulated all winners by saying, "The creativity and wit of the global leading creative and design agencies are incredible. It's an honour for us to be a witness to their success. Congratulations on the award! We are looking forward to seeing all of you take on more opportunities in the future!"
The Categories in Which KrishaWeb Proved Its Mettle
Ranked 1st in the Digital Design Category
It classifies and calibrates the acumen and services of a company in web design and web development!
Ranked 9th in the Web Design Category
This classification focuses on the details of UI/UX design and web design services.
Ranked 6th in the WordPress Designers Category
This title is offered for a company's contribution and achievement in WordPress design and development.
With these glories, we march towards the New Year with a promise for better performance, higher results and more customer-centric services. Our zealous team is ready to create a stronger global reputation in the IT industry. Our aim is to serve customers with exceptional IT services, and out-of-the-box digital solutions and transform the global digital landscape with a technocratic vision.
We promise our clients, customers and team to continue our journey towards excellence and become a brand that is synonymous with digital transformation. Just feel free to connect and share your business idea, we are all set to make your vision come to life.