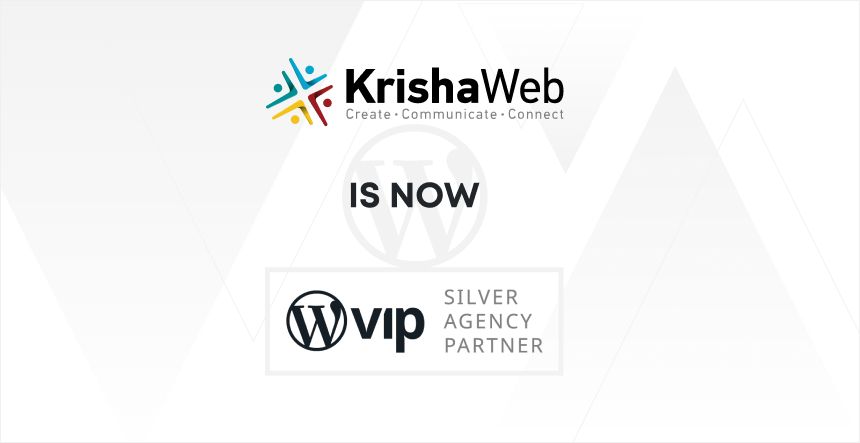 KrishaWeb is thrilled to share that tech and hosting giant WordPress VIP has selected us as its silver agency partner. The partnership is offered to very few WordPress Development Agencies who have proved their calibre in the WordPress market. We are among this esteemed yet very small group of companies that are chosen by WordPress VIP to create much better enterprise-level WordPress solutions.
Primarily, WordPress VIP offers matchless hosting services and its cloud platform that supports extensive scalability, security, performance, and flexibility. This platform helps WordPress developers to create stronger, technically advanced WordPress websites. When we get such support from the WordPress VIP team, we get all the technical tools and hands-on support from the WordPress engineers to create next-gen applications. With this, KrishaWeb is looking forward to creating better, bigger, and more brilliant enterprise WordPress solutions. It's a step forward in our journey of becoming exceptional WordPress development service providers.
How WordPress VIP Chooses Its Partners?
Being a cloud platform and hosting service provider, WordPress VIP is a source of immense technical tools. To expand its realm, it chooses IT companies with a successful track record in WordPress development services. It chooses companies that have product expertise and a vision to create market-leading WordPress products, be they plugins or more. KrishaWeb has earned its position in this rare group of silver agency partners by proving itself as some of the best WordPress developers, time and again.
Some of the esteemed clientele of WordPress VIP are Merck, CNN, Dow Jones, USA Today, etc. All these and many other global companies choose this CMS-based enterprise solution. WordPress VIP offers its cloud platform, technical support, infrastructure, tools, code reviews, community support, and more to its silver agency partners. With this technical support, we can create much better, techno-savvy enterprise solutions for our global clients. Also, continuous support from the WordPress engineers will help us overcome any technical glitches and roadblocks in the development process.
KrishaWeb believes in technocracy, we create technology that expands business and delivers positive outcomes to the IT industry. We are a digital agency that likes to create creative, technically sound applications with a foresighted vision. We create unique products with our WordPress expertise. Partnering with WordPress VIP opens up many avenues for us. We can now build WordPress Web solutions on a larger scale to serve enterprises with better digital experiences.
Talking about statistics, WordPress is still the Numero Uno in the web development market. WordPress.org offers everything required for web development which includes making websites, eCommerce platforms, blogging portals, and more. Along with that WordPress.com offers WordPress VIP services which provide impeccable hosting service for enterprise-level solutions. If you have a CMS-based enterprise application, you can use the hosting service and cloud platform to create a solid, scalable, integrated, and futuristic enterprise website.
While WordPress occupies 43% of the web applications which don't use CMS, it is the biggest in the league of websites that use CMS. WordPress is used by 65% of the sites that use CMS and therefore, giant enterprises which need a CMS platform to scale their website are enhanced by the tools of WordPress VIP. WordPress has outshined its competitors by a huge margin and has created a niche for itself. In simple words, developers get an expanded platform to create functionally rich, technically diverse, and high-performing enterprise solutions with the WordPress VIP silver agency partner program.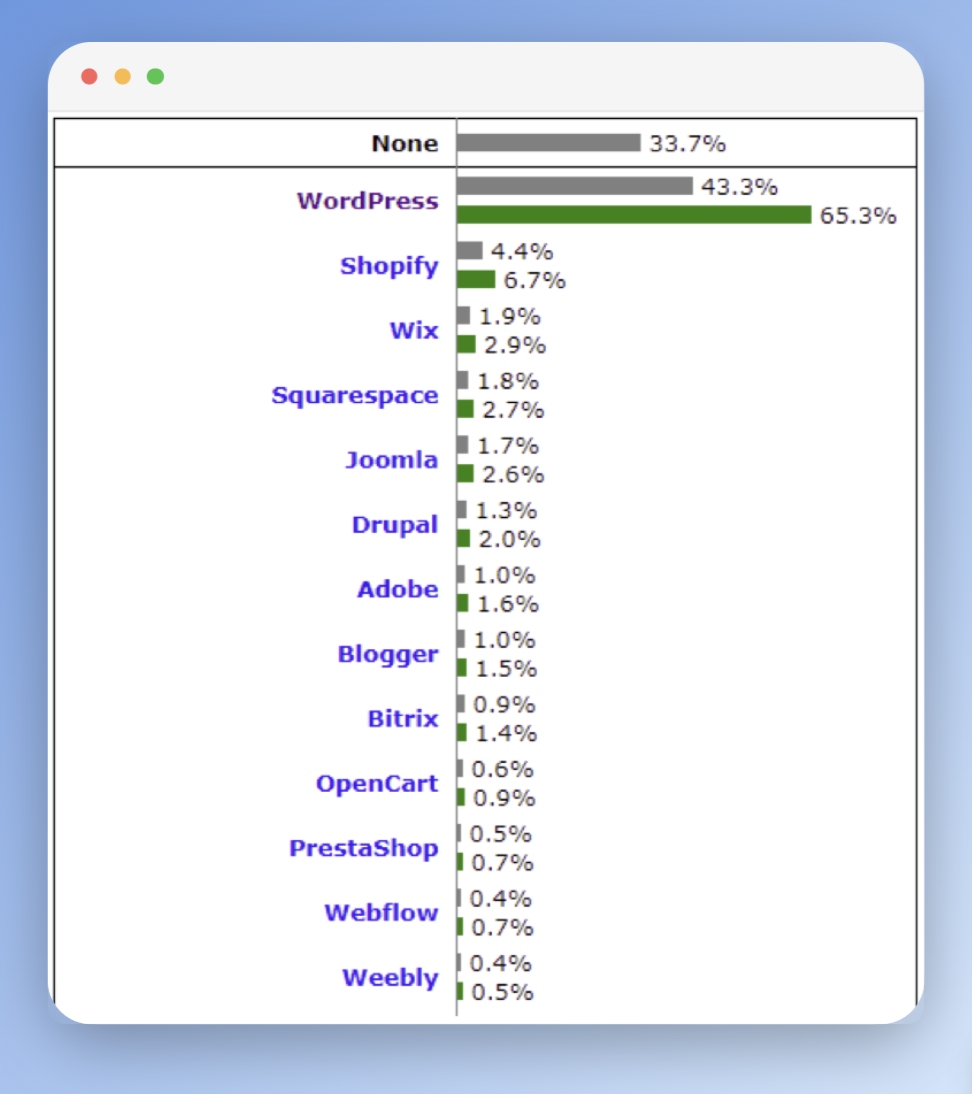 Image source: tooltester.com
Here, the green bars represent companies with CMS-based applications, and the grey bar represents companies that don't use CMS for their web application. It shows how WordPress is way ahead of its competitors in this domain.
KrishaWeb is happy with its partnership with WordPress VIP, and we look forward to developing complex WordPress solutions that stand out worldwide. Now, we are better equipped to build giant websites with a strong hosting service. With many merits to our side, we look forward to building matchless enterprise-scale websites. We aim for digital transformation and this partnership will help us achieve it pretty much faster.
If you are looking for an Enterprise WordPress Development Agency, feel free to connect with us. We have an avid team ready to create sophisticated, scalable, customer-centric solutions for enterprises.
Just give us a shout-out, and we will get back to you in the shortest possible time.