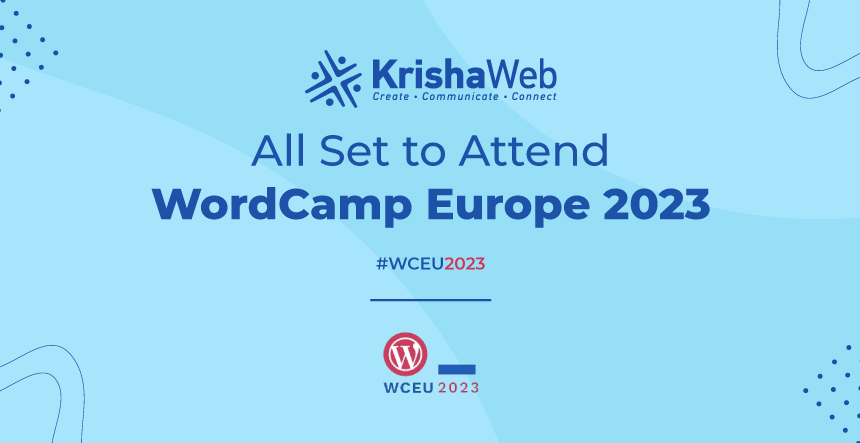 Meet Us at One of the Largest WordPress Conferences in Europe. Our Team is Ready to Welcome You at Our Booth – KrishaWeb
KrishaWeb is thrilled to announce that, we will be attending WordCamp Europe 2023 (#WCEU2023), happening in Athens, Greece, from June 8 to 10. As one of the most significant WordPress events happening globally, WordCamp Europe offers massive opportunities to connect with global industry leaders, creative innovators, WordPress enthusiasts, and wise entrepreneurs from over 180 countries.
Catch us at our booth, from our team Mr. Parth will meet you there to share and discuss our journey, expertise, and some insights with the European WordPress Community! We just can't wait to interact and explore the latest trends in tech and upcoming future opportunities in the industry.
What to Expect at WordCamp Europe 2023?
WordCamp Europe aims to bring together the best minds in the WordPress community to discuss and learn about the latest trends, technologies, and best practices in WordPress development, design, and digital marketing. Attendees can expect a wide array of workshops, panel discussions, and networking events, providing ample opportunities to interact with thought leaders and exchange ideas, knowledge, and learnings.
Let's have a detailed overview of WordCamp Europe 2023…
About WordCamp Europe
WordCamp Europe is a community-driven event for individuals, agencies, freelancers, copywriters, students and every WordPress enthusiast. This inclusive event brings together a diverse range of participants, from casual users to Core developers, fostering engaging discussions on various WordPress-related topics. It provides a platform for sharing innovative ideas and cultivating connections within the community.
WordCamp Europe is a vibrant event, and this year's edition maintains that energetic spirit. With a packed schedule spanning three days, attendees have an abundance of opportunities to engage in a diverse range of talks. These sessions cater to various levels of WordPress knowledge, aligning with our commitment to inclusivity. Concurrent tracks allow attendees to select topics that pique their interest. Moreover, the event offers the chance to connect with our sponsors, representing both prominent companies and specialized niche businesses. Engaging with sponsors includes interacting with their employees, participating in product demonstrations, and engaging in informative conversations. Lastly, WordCamp Europe provides a welcoming environment to meet fellow WordPress enthusiasts, whether they are familiar faces from previous events or individuals from online communities. It's the perfect setting to forge new friendships and foster connections within the WordPress community.
Let's Meet WCEU Organizers
They are Super Active and Creative! Say Hello to the team of excellent management peeps who are taking care of their relevant areas to make WordCamp Europe a GRAND SUCCESS! Meet the three global team leads of WCEU.
Evangelia Pappa from Greece | José Freitas from Portugal | Sjoerd Blom from the Netherlands
And the team consists of many other members who are managing the different disciplines of WordCamp. There are 11 teams in the organizing committee having more than 50+ active members. A big thanks to them!
You can visit each team member here – Organisers
After this, let's not wait to greet this year's Sponsors…
Sponsors Area
Just like every year, the sponsor's area is filled with global tech giants. Yes, many of the global enterprise technology agencies and IT firms have chosen to back the WCEU mega event and we as KrishaWeb are one of those proud sponsors.
WordCamp Europe sponsors are categorized as follows…
Super Admin Sponsors
Admin Sponsors
Editor Sponsors
Author Sponsors
Small Business Sponsors
Excited Attendees
Being an international WordPress conference, WordCamp Europe is always one of the favourite conferences for attendees to be a part of to learn and network.
Like every year, people from more than 175+ countries will join WordCamp Europe to be a part of the pre-scheduled 3 days global summit. Find your name in the list here…
Media Partners are Ready to Serve You the Stories and Insights
Yes, this year there is a team of 21 Media partners and supporters who will help to provide unique insights and stories from WordCamp Europe 2023 to the worldwide audience. A team of media partners will provide the coverage of interviews, videos, podcasts, and a wide range of articles from a range of activities at the event, such as workshops, main speakers, volunteers, and organizers. Check out here who have participated as media partners in WCEU this year…
Volunteers are Veins of the WordCamp
It is a fact that every WordCamp succeeds due to the combined efforts of volunteers. Apart from the organizing team and other key players, volunteers act as the backbone throughout the whole event. Just like other international WordCamps, WCEU has a large team of volunteers that will help to deliver an unforgettable event.
Please check out these supportive people here…
Let's see where we will meet! – The Venue
Megaron Athens International Conference Centre
Situated in the heart of Athens, just a few steps away from a multitude of historical landmarks, the Megaron Athens International Conference Centre stands as a prominent venue in the city. With its expansive capacity, it can accommodate up to 6,000 individuals across a variety of meeting spaces and auditoriums. Renowned for its size and versatility, this conference centre serves as a hub for large-scale events and gatherings in the capital. Its strategic location and ample facilities make it an ideal choice for hosting diverse gatherings, from conferences to symposiums, providing a conducive environment for knowledge exchange and collaboration.
Check out all the useful information about your route to the venue from where and how you will reach the destination easily. – Find the Venue on Google Map
About the location
Athens is not just a WordCamp host city, there are many places to explore during these 3 days of events in between the scheduled events. Athens is a great Greek city to have a BREAK from your routine. You can almost a whole Greek locality and monuments in this guide – Guide to Athens from WCEU Team.
So, get ready to connect with fellow WordPress enthusiasts and explore the wonders of Athens!
How wonderful the WCEU Team is!
Moving Towards the Schedule…
8 June – Contributor Day
9 June – Registrations, Networking, Opening Remarks and Interactive Sessions will be started addressing various aspects of WordPress and the community.
10 June – To be continued with the same pre-scheduled sessions, networking, closing remarks and after-party!
Check out the full Roadmap to WordCamp Europe…
Contributor Day
Contributor Day is a special occasion that grants WordPress users a full day to unite and make meaningful contributions to the open-source WordPress project. This enjoyable event offers participants the opportunity to engage in various activities, including translation work, documentation writing, bug fixing, testing, and many other valuable endeavours. It is a dynamic gathering where individuals can actively contribute their skills and expertise to enhance the WordPress ecosystem. By collaborating with fellow enthusiasts, attendees can make a tangible impact on the development and growth of this influential open-source project.
Remember everyone! It's not necessary to have the technical skills to be a part of contributor day. There is something to do for everyone. Explore more about what and how to contribute here…
Wellness Health Track Activities at WCEU2023!
The Wellness Track at WordCamp is specifically designed to support the well-being of WordPress community members. Throughout both days of the event, introductory sessions of yoga and tai chi will be provided at a beginner level. For those seeking adventure, the team has organized a short hike to Lycabettus on both days. As per the nature of our work nature, many of us in the WordPress community lead sedentary lifestyles, spending long hours in front of computers. This can result in increased stress and related symptoms. Numerous studies have highlighted the potential of yoga in reducing stress and anxiety. Tai chi, also known as "shadowboxing," encompasses gentle physical exercises, stretches, and meditation. It is an internal Chinese martial art practiced for self-defence training and health benefits. The Wellness Track aims to motivate and support the WordPress Community in adopting a more active lifestyle while reducing stress levels. By participating in these activities, attendees can prioritize their well-being and cultivate a healthier work-life balance. Check out here how you can participate in Wellness Health Track activities…
WordPress Workshop for Kids
Yes, you heard right! Workshop for Kids!
This year, WordCamp organizers have planned some activities for kids too! They're introducing WordPress to future generations with a brand-new session during Contributor Day at WordCamp Europe.
In this workshop, children will be given the chance to build their very own website using WordPress. With the guidance of volunteers, they will have a three-hour window to establish their website, select a theme, and gain knowledge on crafting diverse content formats. Explore everything about this Workshop for Kids here…
WP Connect
Just like a Workshop for kids, WP Connect is also a new initiative by the WordCamp Europe team to add more enthusiasm for attendees. WP Connect space will be having 6 event sessions during the 9th and 10th of June. All 6 event topics are interesting, so you must enrol in each of them. Get to know more about each here – WP Connect Events
Side Events
WordCamps are all about learning, educating and networking. Side events are highly encouraged to further enrich these core values, providing an ideal platform for smaller, more intimate groups. These events create an environment where attendees can delve deeper into specific topics and engage in meaningful discussions with more focus. Want to engage in such side events? There are plenty of interesting side events scheduled, check out this link – Side Events
What will KrishaWeb Showcase at WordCamp Europe?
As a digital hub for all business requirements, we have successfully created benchmarks in digitizing existing businesses and building innovative websites for enterprises. Our end-to-end web solutions transform digital experiences and help companies to flourish and grow at a consistent pace.
So, you will get to explore our expertise in robust and transformative solutions that include:
Enterprise WordPress Development [WordPress VIP]
Enterprise Ecommerce Development
Product Development
Custom Web App Development
Plugin Development
User Experience Design
Why KrishaWeb is Attending WordCamp Europe 2023?
Our core objectives for attending WordCamp Europe 2023 include exploring advancements in WordPress technology and trends, networking with influential professionals, and exchanging ideas and knowledge with like-minded individuals.
We believe that attending WordCamp Europe 2023 will provide all attendees with significant enhancements for better growth and enable them to stay at the forefront of the industry.
Let's Connect at WordCamp Europe 2023
Join us at WordCamp Europe 2023 from 8-10 June in Athens, Greece. We can't hold ourselves to seeing you at WordCamp Europe 2023 and connecting with you during this exciting event. Do not hesitate to follow us on our social media channels for live updates and also be a part of our social engagements by mentioning @krishaweb with #WCEU2023.
See you at Megaron Athens International Conference Centre!