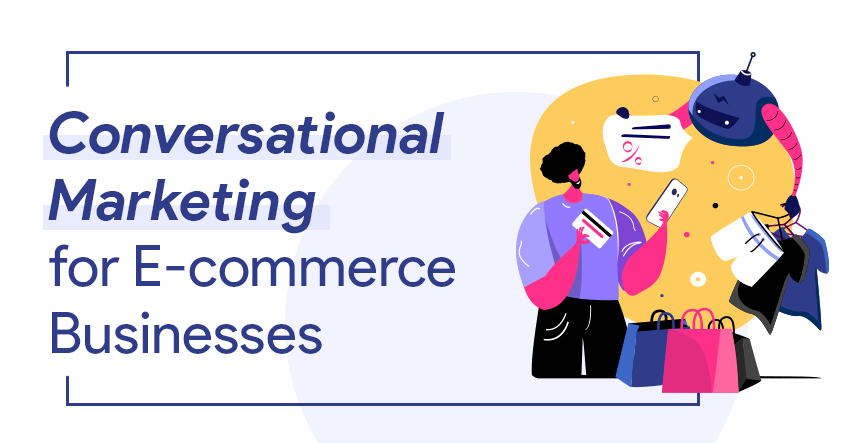 Here, we are going to discuss Conversational Marketing for Ecommerce aka "Conversational Commerce". Do you know? How conversational chatbot marketing is going to transform the future of e-commerce and the ways of serving prospective visitors for online stores? Let's take a deep dive…
Trends change in e-commerce industry based on the changing needs and demands of customers along with the introduction of new technological features. This industry has kept expanding over the past decade keeping in pace with the growing demands for online marketing. This past decade has also noticed an increase in the number of e-commerce businesses which led to an increase in competition in the online market. In this scenario, it has become important for the e-commerce businesses to keep the flow of service uninterrupted and the automation is being used in order to fulfil the growing demands of consumers. Of late, many e-commerce businesses use Chatbots to provide customer-centric and customer-driven service with the help of conversational Chatbot marketing.
What is Conversational Marketing?
Conversational marketing is one type of inbound marketing strategy which is used in order to engage the visitors to a website and to convert the leads via various dialogue-driven activities. This marketing strategy focuses on interactions with the customers instead of focusing on one-way communication. The tools capable of capturing leads or communicating with the users in their preferred mode of communication are used for this type of marketing. Some messaging apps (WhatsApp or Social Media) are used for this type of marketing, as they unify the sales team with the users' needs.
Benefits of Conversational Marketing in Ecommerce
Conversational marketing can be included in the existing inbound marketing strategy without modifying the current process. You may use it as an alternative to the marketing strategy that is currently working for your business with respect to sales, lead generation and customer service. The main benefits of using conversational marketing for any type of business are –
Gathering accurate data regarding your audience
Personalized service to build a stronger relationship with consumers
Shorter sales cycle which saves time
Enhanced customer satisfaction
Creating more leads and increasing sales through new channels
An automated tool with 24/7 availability
It is possible to refine the existing inbound marketing strategy of your businesses with the inclusion of conversational marketing.
How Conversational Marketing Works?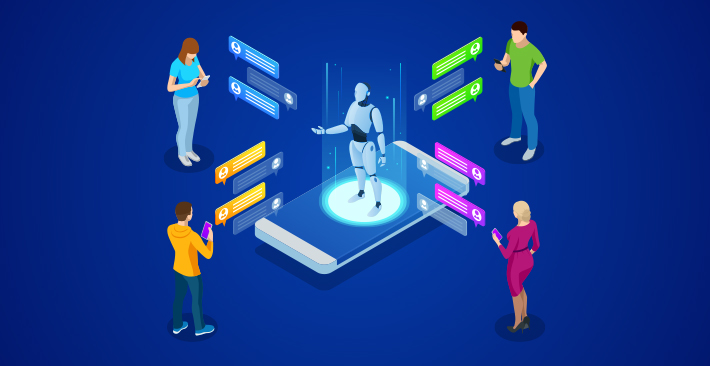 Conversational marketing works in the following manner…
Stage 1) Connecting with the Audience
You may use a Chatbot to start an amicable conversation with the visitors landing on your website. It is better than using lead-generation forms and pop-ups. A chatbot is a powerful tool. You may personalize its features based upon the theme of your brand and the behaviour of your audience. You may manually customize the script or use artificial intelligence for this task.
A visitor may notice the chat-box at the corner of your website and may decide whether or not to start the conversation. If an audience is interested in chatting, then the script (on Chatbot) will guide him/her to become a part of the sales funnel as a lead or customer. You may customize the script for conversation based upon various parameters.
You may use the Chatbots as a customer-service tool.

It may provide an answer to the queries of your customers regarding the products/services.

The Chatbots may be used as a sales and lead generation tool.

You may use this to collect e-mails or to guide the visitors through the buyer's journey.

Chatbots may be customized to send targeted messages to different visitors to your website.
Chatbots are expected to have more advanced features in the near future with the advancement of AI technology.
They may have the ability to answer the queries with a higher level of intelligence or to resolve the issues that are currently being handled by the customer service representatives.
Stage 2) Understanding Behavior of Audience
E-mail nurture campaigns are developed based upon the behaviour of past users and you have to develop the right marketing automation system for such campaigns. It enables you to build and maintain a relationship with the leads. You cannot accomplish these tasks without understanding the behaviour of audiences to your website or target customers. It is a time-consuming task. The sales team has to work hard in order to create customer segments or to find out qualified leads.
Chatbots can complete the entire process while interacting with first-time visitors to your website.
Chatbots can be used to separate the leads in a few steps.
Design a Chatbot which asks visitors to select one of the specified options or answers.
You may customize the content or offers based upon a visitor's needs or demands depending upon the answer. However, you have to design the right script for the Chatbot if you want to ask qualifying questions and want to collect relevant data.
Chatbots can automatically monitor the visitors' behaviour. They need not even interact with the visitors for this task. They can divide the audiences based upon your selected properties, such as;
Visited/viewed pages
Interaction with customer-service
Cart abandonment
Geolocation/language
Browser
You may even develop conversational landing pages using Chatbots and they can answer the questions of each prospect in real-time. You can accomplish the following tasks when Chatbots are used for conversational marketing.
Automating the process of customer communication
Personalizing the content
Using the collected data for future email campaigns or lead nurturing
Stage 3) Sales Ready Data
Chatbots are ideal for repetitive tasks or less complicated tasks related to marketing. You may use them to learn about the preferences of visitors to your website. However, human interaction may be required in order to move the visitors towards the last stage of 'sales funnel' that is a purchase.
At the last stage of conversational marketing, the collected data are transferred to the sales team. This team may use these data to understand the behaviour and expectation of customer segments. Sales representatives can personalize a buyer's journey based upon the collected information in order to successfully convert the prospects into your customers.
A Chatbot can be designed to suggest the visitors chat with a sales rep or to place a call once he/she has passed through the automated qualification phase. You may display a link through chat-box which can be used in order to call a sales rep. A Chatbot may even keep you informed whenever a prospect leaves the e-commerce site or delete items from the shopping cart if it is designed to rescue data regarding 'abandoned' shopping carts.
A Chatbot can be designed not only to learn about a visitors' decision after abandoning the shopping cart. It can be designed to troubleshoot the issues that prompted such decision (abandonment of shopping cart) or to persuade the prospects to complete the transaction.
How to Implement Conversational Marketing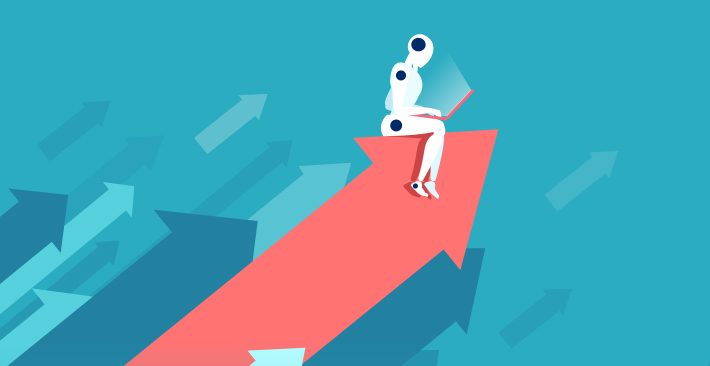 Unify Conversational Marketing with Omnichannel Marketing
Omnichannel customer support has been found to do wonders for many businesses and conversational marketing can generate better results if you pair it up with an omnichannel strategy.
Businesses providing omnichannel customer experience use multiple digital platforms (social-media, Chatbots or Smartphone) to interact with the target customers. You can synthesize the customer experience across all digital platforms by implementing the omnichannel marketing strategy. It enables you to develop engaging content for the target customers. Hence, the chance of conversion is higher if you unify omnichannel marketing with conversational marketing.
A Chatbot can be designed for two-way communication. Customers can send you text messages on your official business website alongside sending messages to the social media account. You can have all these data to the user history. However, it is essential to have sufficient information as well as support-guides for different stages of the buying cycle.
Provide Personalized Content for Better Result
These days, online customers may have an 'attention span' of a few seconds and it is not easy to capture their attention within this limited period of time. The advertisements and promotional campaigns cannot help you in this regard, as most customers disregard this type of content.
Therefore, you have to create personalized content using relevant data based upon your customers' needs. You may use the data regarding customers' behaviour or preferences (collected through Chatbot) to create relevant content for your customers. You may even use various data-tools or mobile-apps to provide engaging customer-experience and to lower customer attrition. You may even notice an improvement in brand loyalty if the 'customer-experience' is consistent across all channels.
Unify Human Voice and Automated Conversation
Your customers may prefer chatting with another human being instead of a Chatbot. Hence, it is important to design the 'chat script' of the Chatbot in a way that it sounds like having a conversation with a human. You may add videos/GIF/Emoji to the chat flow. You may even use the 'AI (Artificial Intelligence) plus Human' model for conversational marketing. In this model, conversation with a Chatbot continues unless a user needs to talk to a support executive.
Benefits of Implementing Conversational Marketing in Your Ecommerce Business
Personalized Conversation
You can make the visitors to your e-commerce site feel appreciated using personalized messages. These days, you cannot capture the attention of customers using generic marketing scripts. They can easily figure out which messages are promotional, and most customers ignore such messages. You have to use personalized conversation to engage the customers or to encourage the prospects to share what they think about your brand, product or services.
Less Workload for Customer Support Team
You may use the assistance of 'customer support' team to resolve the complex issues, as Chatbots can be used to automate various tasks that can be performed without requiring human intelligence, such as
Onboarding prospects
Capturing their details
Sending out notifications
Routing visitors to the concerned departments or customer-care executives etc.
In the future, Chatbots are expected to have an assortment of improved features due to advancement in technology.
All-Day & All-Time Availability
Chatbots remain available 24×7 to answer to the queries of prospects or customers. On one hand, it reduces the workload of the customer support team. On the other hand, it keeps your customers or prospects happy and reduces customer attrition. The 24×7 availability of Chatbots has another benefit. You need not have a dedicated team to work post business hours in order to handle the customers who may prefer contacting your business on weekends or at a later time of the day.
Easy Identification of Qualified Leads
It is a time-consuming process to find qualified prospects. However, Chatbots can easily identify such leads when used for conversational marketing. Hence, the customer-service team need not spend hours to qualify the leads and you may finally bid adieu to capture forms.
Have Better Understanding of Customers
Chatbots have a real-time conversation with the visitors to your website and can collect a variety of information regarding their likes, dislikes or complaints. After having detailed information regarding your visitors, you can identify qualified leads or make necessary adjustments to the areas that need improvement. Alongside helping the visitors to your e-commerce website, this information can keep you updated regarding different aspects of your business.
Tools to Implement Conversational Marketing Successfully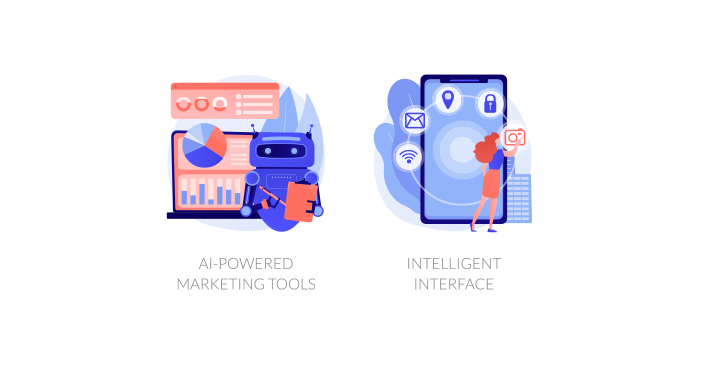 This is a Conversational Relationship Platform. Using Intercom, businesses can build better customer relationships through customized and messenger-first experience across a customer's journey. This platform delivers conversational experiences with solutions for Conversational Support, Conversational Customer Engagement and Conversational Marketing.
At present, more than 68,800 customers in over 100 countries use software applications of HubSpot along with its services and support in order to modify the way they attract, engage and entertain the customers. It is made of Sales Hub, Marketing Hub and Service Hub. It also comes with a free and powerful CRM. It has everything that a business may need in order to successfully run the inbound marketing campaigns.
This is a category-defining CXA (Customer Experience Automation) platform. It has helped more than 120,000 businesses around the world to connect to their customers to date. It can automate numerous sales, marketing or support processes to provide better customer experience. Businesses of all sizes have access to pre-built automation when using ActiveCampaign, such as marketing automation, email marketing, CRM or machine learning.
This is one of the leading platforms for sales and conversational marketing. It helps businesses in connecting with customers who are ready to purchase. Drift is fitted with advanced tools as well as playbooks. Using these features, Drift has led businesses through customer-driven revolution. It can generate a higher number of qualified leads, provide modern buying experience to the customers and significantly improve the sales cycle.
It has redefined the way customers connect to the local businesses. It helps businesses in the following manner.
Assemble reviews on websites that matter
Text-enable a website with Webchat
Collect payments via text
Collect private feedback
Manage messages from all customers from one central dashboard with Inbox
The 'Interaction Management' platform of Podium uses messaging for better interaction with the customers and leads along with the team-members at all customer touchpoints.
This is an integrated customer experience platform. There are over 60,000 businesses of all sizes around the world using Birdeye every day. They use this tool in order to be found online or to be selected through listings and reviews. Using Birdeye, businesses stay connected to the existing customers via text messaging and can deliver excellent end-to-end customer experience using ticketing, survey and insights tools.
This platform is considered to be the best platform for Chat Marketing. It has been used by numerous businesses around the world to date in order to automate the Facebook-Messenger Experience for their Facebook pages. Now, the businesses can send e-mails and SMS directly through ManyChat. Businesses can create fully automated sequences using this updated feature and can reach their customers across numerous platforms.
Businesses using Salesforce may benefit from using the Qualified as the platform for conversational marketing. It enables the businesses to start a real-time conversation with the qualified prospects via web-chatting or using Chatbot. The sales and marketing team of leading B2B brands around the world depend upon Qualified to transform the websites into selling machines.
This is a customer-messaging software application and has been designed for businesses of all sizes. Businesses may use Freshchat to engage their customers across various digital platforms, such as mobile, web, social media or messenger. Freshchat uses both mature and modern capabilities to transform the customer experience and to enable the businesses to grow.
This is an intuitive and user-friendly no-code solution that can be used for the creation of conversational apps. It combines the beneficial features of an interactive interface with UI elements. It can automate advanced data workflows, such as business applications. Using Landbot, businesses can optimize every stage of the customer journey (from lead generation to customer support) on their website, WhatsApp or Messenger without any coding.
This is a SaaS platform. It combines innovative technological features with a human touch in order to qualify the leads, to respond to them or to follow up with the leads. The sales teams around the world use Verse.io to empower the lead-nurturing process in order to drive more appointments, encourage more conversations and to waste less money. This technology is used to resolve two common problems of every online business – follow-up and lead response.
Mindsay has unified the Conversational AI with Process Automation. Businesses may use this tool to build personalized customer experiences for each visitor in an instant. Using Mindsay, businesses can fully utilize the power of AI technology and natural language processing without any training and can create/monitor/improve the processes without requiring help from IT.
This is a conversational marketing platform. Exceed AI Assistant uses two-way e-mail conversations and works in conjunction with the sales team to ensure that every lead is qualified, nurtured and followed up with. Exceed.ai will book a meeting directly on the calendar of a sales representative if a lead is qualified and is ready to talk to a person. It can automatically update the CRM and the 'marketing automation' platform with the latest lead status.
Using Spike, you can transform the inbox of your e-mail into a workspace. You manage the work as well as your team and clients or customers from your Inbox. There is no need to switch apps in order to do perform different types of tasks. You may use Spike's Inbox to manage e-mails, to take personal Notes or to create tasks. You may even use it for Group Chats and real-time messaging.
This is a Chatbot platform. You may use it to create a conversational workflow and let you talk to users clicking on your PPC/Paid campaigns. Tars web-based Chatbot lives on your website and you may replace your website's static landing pages with this Chatbot. Using this Chatbot, you can provide the users with conversational post-click experience and will have 2-3 times higher conversion rates.
Using MobileMonkey OmniChat platform, businesses can connect with the customers in real-time via SMS, Messenger, Instagram, WhatsApp or web-chatting platforms. It is fitted with a Multi-platform Chatbot builder which enables the businesses to reuse the chat-based marketing content across various chatting platforms. It has a Unified Chat Inbox to manage the inbound and outbound messaging conversations. It is also fitted with a toolbox of automation and integrations.
Sonar is a business-text messaging solution. It enables the businesses to connect and engage with the customers over mobile devices and increases the effectiveness of e-mails, phone calls and chatting. It is capable of optimizing a business' mobile-channel performance alongside driving conversions through different stages of the pipeline. Sonar helps organizations execute the best practices when creating intelligent automation or when communicating with the audiences via text messages, Chatbots or using other forms of AI.
This is a conversational marketing platform. You may use Instabot to develop and launch Chatbots that understand your users. These Chatbots can be used to collect information, to answer questions, to book meetings and to capture contacts. After using Instabot, you will notice an increase in conversion rate. You can use the data collected by Instabot once you port it over to the e-mail platforms, marketing automation, CRM or internal portals.
Zoho SalesIQ can be used in order to increase the sales, marketing activities or support on a business website or application. It can identify the visitors to your website and the users who are accessing your products. It uses automation tools to keep visitors or customers engaged. You may use it to communicate with them via audio-call, e-mail or messaging. SalesIQ also provides businesses with a feature-rich Chatbot.
It is a conversational SaaS platform based on AI. It helps businesses create personalized customer-experience within a few days across all digital channels and in any language. You can accomplish all these tasks without requiring IT resources. Zoovu can turn every search into a conversation leading to the satisfactory shopping experience for the customers, brand and retailer. It can be used to interact with consumers and to collect innumerable data points every day.
This conversational marketing platform has been specially designed for messaging apps. You can automate conversation using the end-to-end Chatbot platform of Spectrm. It can be used to keep the customers engaged whilst converting more customers. Using the conversational AI of Spectrm, you can understand the demand of customers and can respond intelligently.
This is a live chat software solution. It can be used to nurture customers across different messaging channels, such as Chatbot API, website chat, customer messaging, WhatsApp etc. Userlike is fitted with a Message Center which can be used to collect all types of customers' messages. It is possible to rifle through customers' profiles and to separate each conversation in the Contacts area.
Businesses will receive an AI assistant when using Saleswhale which is a conversational marketing platform. Your sales team may use it to engage, qualify and to follow up with the leads.
It brings AI-powered Chatbots and messaging solutions for businesses through a Conversational Cloud platform. Using LivePerson, you can easily automate consumer interactions on different messaging platforms. Its AI-powered Intent Manager can understand what consumers demand in real-time and can determine how to fulfil these demands. The AI-powered Chatbots work with the human workforce to fulfil consumers' demands.
Automat uses conversational AI in order to connect to the customers and to optimize the level of engagement. It brings the power of sales conversations to the e-commerce sites, as having a conversation is the best way to sell products or services. Automat can learn what customers need after having a one-on-one conversation. Automate may also be used as a sales expert.
It is a mobile-first platform for conversational sales and marketing and is used by B2C enterprises. Sales and Marketing professionals may use Whisbi to increases sales conversion or to enhance live engagement. This platform combines different contact channels (webchat, video-call, Chatbot, click-to-call or audio-call) into a centralized and data-driven UI for the customers. It provides each customer with the right channel for communication at the right time.
This platform can be used by businesses to communicate with their customers. It uses CRM, analytics, live chat and marketing automation for communication and can combine these tools on one platform. The advanced features of GoSquared can convert a large number of visitors into customers.
Joonbot can be used in order to build no-code Chatbots that are easy to use. You can easily collect data regarding your audience, guide them through their journey and send push information. You can receive more qualified leads, notice an increase in sales and can increase the speed of customer resolutions when using Joonbot.
It can be used to build a website Chatbot that remains available to answer customers' queries in real-time. Thus, you can capture leads to your e-commerce site even when you are not present at work. Continually is fitted with a 'live chat' feature. The Chatbot can be used to engage and qualify the visitors and the Live-Chat feature can be used to answer complex questions.
Using the sales tools (e-mails, live-chat, triggered pop-ups) of Dashly, you can convert more visitors into buyers. Using this live-chat platform, you can automate the workflow and deliver better customer support. It can be used to engage the visitors, start Zoom-meetings with customers through live-chat, schedule demos/calls during live-chat or manage multiple communication channels (e-mail/messengers/social-media) from one inbox.
Conclusion
In the E-commerce industry, Chatbots are used to provide engaging and unparallel customer experience that traditional tools of engagement may fail to deliver. Customer satisfaction rate improves with improvement in customer experience and this can be accomplished via Conversational Chatbot Marketing.
Chatbot marketing can be used to learn what customers are feeling about a business or its products or services. You can empathize with the customers with this understanding and can improvise customer experience. Hence, you are unlikely to have unhappy customers.
Conversational Chatbot marketing enables you to collect the users' feedback and lets you make necessary adjustments whenever it is required. However, it is essential to find out the weak points in Chatbot conversation flow for effective marketing. It enables you to identify incorrect answers or conversation design alongside identifying the knowledge gaps or repetitive responses.