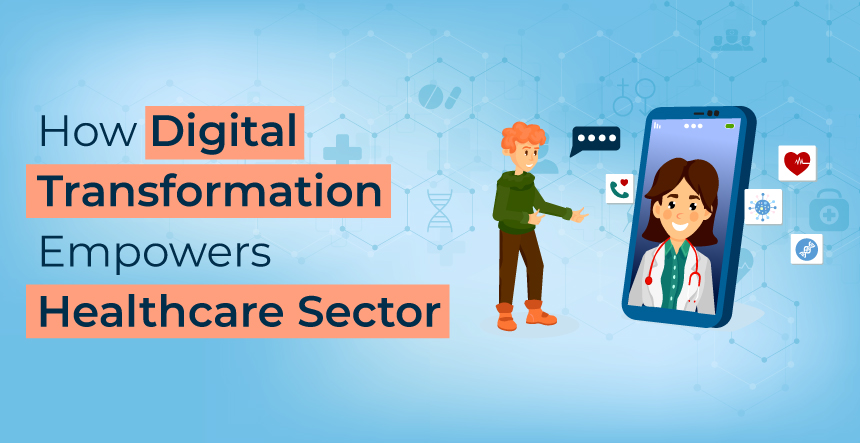 Digital transformation is the need of the hour, irrespective of the industry. Healthcare is one of the most prominent industries leveraging technology to transform its workflow and get optimized results. The global healthcare market size will cross a whopping $430 billion by 2028 and is consistently showing a 30% CAGR, year after year. This number suggests how the healthcare domain is progressively investing in technology. There are exceptional results from incorporating technology into the healthcare ecosystem. We will discuss them in detail.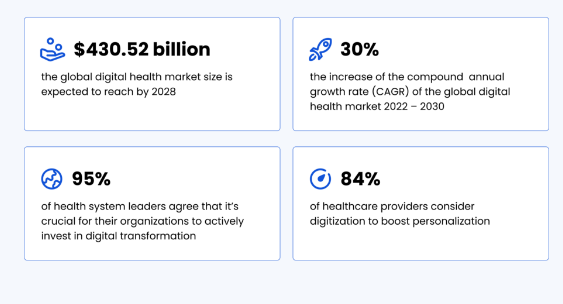 Image Source: intellectsoft.net
More and more hospitals, physicians and medical practitioners want to invest in digital healthcare systems. It facilitates the flow of information uniformly, with every vertical receiving its bit as per the guidelines decided by the healthcare facility. Moreover, this has improved patient care along with giving optimized results in terms of saving time in treating patients.
Nearly 95% of healthcare leaders agree that it is wise to invest in digital healthcare solutions.
84% feel that digital systems offer a more personalized approach to dealing with patients.
Benefits of Digital Transformation in the Healthcare Sector
Automation minimizes the effort of healthcare staff
When you have patient data ready in a file with digital reports along with details of previous and next appointments, things are quite sorted for you. It enables quick treatment without much back office work. Digital medical solutions gather all this data and convert it into meaningful information for the healthcare provider. This results in saving a lot of office work and frees staff to fulfil other important duties.
On-demand service increases the efficiency of physicians
Medical professionals of today believe in utilizing their knowledge for multiple practices. They work for more than one organization or healthcare facility. Digital systems help them manage their time better. When they have patient records on their tablet or mobile phones, they can handle emergencies, routine treatments and preventive methods with absolute ease. They can divide their time efficiently and serve more people than before.
The age of virtual visits has arrived
With a digital healthcare system, doctors and physicians can plan virtual visits for their patients. They can check, consult and treat their geographically dispersed patients without any hassles. It can be easily done through video calls and chats on the patient's smartphones and tablets. Physicians can gather important medical data through tracking systems like wearables and more. This even saves time and cost for the patient. Moreover, they receive quick treatment without any travel or delay.
Patient portals store relevant data and information
The best part is that just like the physicians and medical staff, patients can also store and retrieve their data from the online portal of the hospital or physician. They can check prescriptions, order telemedicine, book an appointment, and check the status of appointments and insurance, from the portal.
Wearable technology is a boon for patient care
Gadgets like smartwatches are used to gather real-time health data from patients. These devices give exact information which can be shared with the doctor whenever needed. Be it heart rate, oxygen levels, exercise details, temperature, blood sugar levels, sweat meters etc. are easily checked through smartwatches and shared with the doctor. These recorded metrics are used to analyse the overall health of the patient.
Optimized workflow within the hospital
Digital healthcare solutions enable healthcare bodies to manage their workflow without any interruptions. It optimizes the workflow to deliver better results. Once things are up and running, the medical team has time to contemplate ways to improve their methods and provide better healthcare facilities. It also enables better communication between the patient and the doctor. Again, helpful for communication between different specialists and quick exchange of data regarding the course of treatment.
Secure medical records
Files and papers can be lost, leaked or even torn apart. This is not the case with digital systems, as they are protected by secure passwords and authorized access. Technology offers security for patient data and keeps data flowing within guards of the healthcare provider and relevant medical experts only.
What Stops the Digital Transformation in Healthcare
Lack of knowledge about the benefits of digitization
Some healthcare providers still choose their age-old methods of maintaining patient records and treatment. This lack of adaptability costs them time and efficiency in the long run. Saying no to digitization is like refusing to grow in professional life, especially when it deals with maintaining patient data administration.
Compliance with security standards is cumbersome
Medical facilities need to choose digital software that complies with security standards like HIPAA and more. Unless this process is not fulfilled, the digital facility is not considered foolproof. This in turn jeopardizes the privacy of customer data and results in a drop in reputation.
All these bottlenecks should be dealt with in advance to create thriving digital healthcare software.
The global market for digital healthcare transformation is forecasted to hit $210 billion in 2025, with its valuation in 2018 being $76.34 billion. Telemedicine, artificial intelligence (AI)-enabled medical devices, and blockchain electronic health records are just a few examples of digital transformation…
How to Accelerate Digital Transformation in the Healthcare Industry?
Using innovative technology
Here, technology is at the centre of creating a wonderful virtual healthcare facility and connecting with patients. The right technology is chosen as per the requirement of the hospital. It is then moulded to offer customer-centric results, which boost the healthcare business, and trust between patient and doctor, as well as generate revenue.
Creating a workforce that examines KPIs
The best part about digital healthcare systems is that data can be analysed and interpreted to gather meaningful information. Key Performance Indicators can be studied to check the loopholes, milestones and improvement points. This helps in better decision-making and refining the overall process of healthcare.
Optimizing medical processes
Another major benefit of the digitization of healthcare is that every process starting from filling out the form to collecting patient records to delivering medicines becomes easy. The software can help organize everything, including transferring insurance papers to the right agency. All these functions streamline patient care and even builds a good reputation for the healthcare facility.
Building a trustworthy healthcare ecosystem
Patients would trust a physician or hospital when every medical process is refined and works well. By digitizing the processes, the medical staff remains available for immediate patient care. This builds an environment of trust on both sides. It also pushes the productivity of medical staff to another level. When patient trust is established, it spreads through word of mouth and eventually earns more revenue in the long term.
Upcoming Digital Trends in the Healthcare Industry
With technology and innovation at its side, the future holds a lot for the healthcare sector. Healthcare businesses can look forward to better facilities in their hospitals, more time to serve patients, more customers and higher revenue. Some of the common trends to be observed in the coming days are:
Telemedicine
Online consultation with the doctor is going to become the next big thing. Now, any doctor sitting in any part of the globe can examine patients located far away from the actual hospital. Medical prescriptions can be generated online and delivered to patients with just a click. Even patient data and records can be collected for future examination and treatment.
Big data analysis in healthcare
Medical organizations with a huge amount of medical records can study the data, observe patterns and predict epidemics, viruses and illnesses. It can help to cure preventable diseases and take urgent measures for emergencies as well as chronic illnesses.
Artificial Intelligence minimizes human errors
The use of AI is very beneficial to create digital records like Electronic Health Records (EHR), ECGs and more. Traditional medical systems used human staff to record all data. This was prone to errors in entering and managing the data. Digital healthcare systems can reduce such errors to bare bones. It offers flawless processing of data and presents information in an easy-to-understand manner.
Networking medical facility providers
Digitization helps to connect various medical professionals, practitioners, organizations and facility providers like laboratories, insurance agencies and more. This nexus proves very useful for quick treatment, efficient communication and management of patient care. Treatment becomes easy and rapid when the connected organizations are technically connected.
Healthcare chatbots for instant query resolution
Hospitals are now leveraging the service of healthcare chatbots, which are the first connecting points with the patients. These virtual chat systems are designed to offer a human-like conversational experience to patients. They are fed with answers to frequent questions and optimized to deliver messages like waiting for further processing. They are first-hand contacts that offer immediate responses to patients. This gives instant satisfaction to patients who are looking to talk to their doctors. Every patient query is recorded, and the data can be studied to improve service.
Final Thoughts
With all these technical and digital process-oriented benefits, the digital transformation of healthcare facilities is going to create a quick, smooth and friendly transition in the healthcare sector which eventually will lead to a better future for all. Whether it is the patient or doctor or hospital staff, everyone is going to benefit from healthcare digitization. When used optimally, these digital solutions will create more opportunities for healthcare businesses and in turn earn more revenue for them. It would play a key role in the success of medical facility providers.
KrishaWeb offers custom web solutions for various industries, including healthcare. If you want to create a user-friendly, customer-centric digital solution in the healthcare sector, we could be your best technological partner. Feel free to connect with us to discuss your healthcare digitization idea.