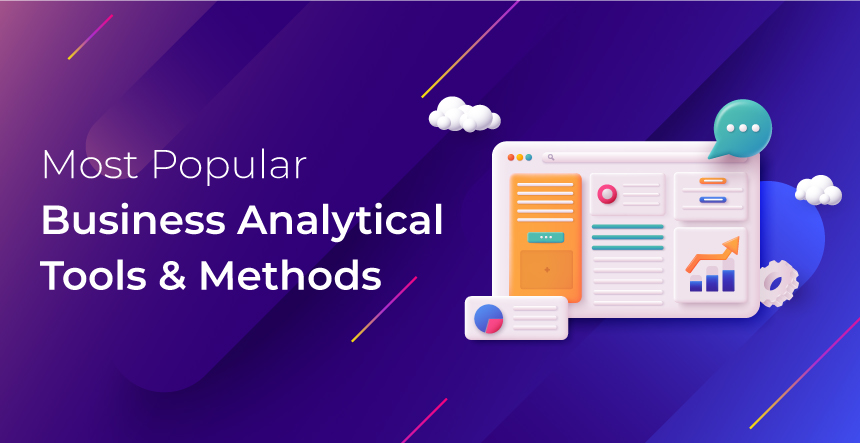 New-age businesses are more complex and challenging. And to get the best results, there is a continuous need for quick and accurate statistical analysis. Business analysis tools are tools used to analyze, examine and pick out the most accurate plan or priority for the company to achieve its goals. 
There are so many tools available in the market to analyze & track performance. In order to choose the best one, you need to research and dig down. 
Improperly defined needs may badly affect the projects in terms of time, Cost, resources, and recreation. Due to this, it becomes mandatory to define your personalized requirements and get your hands on the right one. To ease your task, we have compiled the 20 best business analytics tools list. Let's get started. 
Most Popular Methods Used for Business Analytics:
1. SWOT analysis
:
Also known as SWOT matrix, is a strategic management & planning technique used to support a person / a business / an organization in identifying their SWOT: strengths, weaknesses, opportunities, and threats related to competition of a business and project planning. Its four primary functions are: to address weakness, deter threats, capitalize on opportunities, and take advantage of a business's strengths.
Features:
It is primarily used to match strengths to opportunities and alter threats into opportunities. 

It is also very useful in decision-making.

Helpful in pre-crisis planning. 
2. MOST analysis
:
It stands for mission, objectives, strategies, and tactics. It is a business analytics tool that is mainly used for internal analysis and to determine whether a particular company has the proper process or not. It is used for internal analysis, where founders wish to lead their businesses, achieve goals, etc. its main objective is to define where a business is expected to reach. 
Features:
It turns an individual's visions and ambitions into realistic & achievable goals.

It is used for strategic planning and the development of strategy.

Conducting this analysis helps in clarifying the objectives to be achieved by the company, individual, or organization.
3. PEST analysis
:
PEST analysis describes a framework of macro-environmental factors used in environmentally scanning, a component of strategic environmental management. This business analysis method is a short form for political, economic, sociological, and technological analysis. It is usually used for the identification of external components of the business unit. The analysts can foresee the influence of various external factors affecting business performance directly or indirectly and take necessary actions to improve them. 
Features:
It enables you to spot business or personal opportunities. 

Advanced warnings regarding any significant threat are provided.

It also helps you in knowing the direction of change within your business environment.
4. Heptalysis
:
This method of analysis is conducted at the early stage of the business. At the time of the launch of a business, a model can be used to get access to and understand the crucial factors. Furthermore, the research is completed with the help of seven critical factors. 
Given below is a list of those 7 crucial factors:
5. SCRS analysis
:
It is one of the most critical analysis solutions for analysts of business. It helps them with the identification of top-notch solutions for an individual's company. 
With the help of this tool, one can identify the current state of a business and where it is expected to head in the future. Along with this analytical tool, you require an advanced tool that can ease the decision-making process for you.  But, before opting for a tool, it is crucial to know what these tools are and what their significance is. 
6. VPEC-T analysis
:
This business analytics strategy is mainly considered while observing different observations and considering multiple opinions on a specific system. The name of this strategy, i.e., VPEC-T, means values, policies, events, content, and lastly, trust. It is crucial to determine what you're looking for before using this business analysis for a particular firm. 
7. De Bono's 6 Thinking Hats
:
This is the most suitable method for problem-solving. This business analysis strategy can be used during the brainstorming process to generate different sorts of ideas and evaluate them to shortlist the most suitable ones. However, this tool also restricts people from thinking in specific directions. 
More about De Bono's thinking hats – 
De Bono's 6 Thinking Hats is incomplete without the presence of enlisted six factors: pure & logical facts, emotions, negativity, ability to connect, creativity, and positivity. 

This tool is helpful in identifying new ideas for a business. 

Moreover, it does not provide specific steps to implement frequently.
8. Catwoe
:
In today's ever-changing world, we should not only think about brilliant ideas, strategies, and the best products. But, companies should also focus on thinking more innovatively and creatively. Thinking strategically and innovatively helps companies in growing their business. 
It has six key components: clients, actors, the process of change, point of view, owners, and environmental restraints.
Features:
This tool is really helpful in developing new marketing programs, creating appealing content, etc.

It might also help in getting a company positioned at the top in its particular field of competition.

This analytical tool can aid in the development of fresh marketing strategies, the creation of engaging content, and the positioning of your business as a leader in your sector.
9. FIVE whys
:
Observing and getting to know about the whys in your organization is very important when you're stuck in a dilemma. It is impossible to get the job done if you are unable to concentrate. The two essential things to undertake are getting a general overview of the problems and figuring out the right direction and decisions. 
Doing so will allow you to use your time more appropriately and prevent unwanted distractions. Using this business analytics tool will help you figure out a solution for the issues in your business. It will also allow you to allocate and use your time more efficiently. 
Features:
This tool is primarily used for uncovering the root cause of an issue.

It can be used in troubleshooting, problem-solving, and initiatives for quality improvement.
10. MoSCoW
:
This tool can be used to prioritize tasks appropriately and manage all business tasks efficiently. When a business consists of numerous tasks, you can use this tool to determine which task has more significance. You should keep in mind the following during this assessment: Must have tasks, Should have, Could have, and last but not least, won't have tasks.
Steps to Be Taken While Using This Business Analytics Tool:
Enlisting all the tasks.

Analyzing all the enlisted tasks.

Deciding which tasks need to be completed first, based on the deadline.
This Acronym Illustrates 4 Steps of the Process: 
Strategy 

Your present state

The solution
Most Popular Tools Used for Business Analytics:
Qlikview is among the most famous tools for business analytics. Due to its out-of-the-box functionalities, it is helpful in large parts such as patented tech. If your company operates a business analytics tool on the market, one of the efficient and budget-friendly options is Qlikview. Users can get more true to value and focused results due to data visualization. 
Features:
It helps you rapidly develop and deliver interactive analytics dashboards and applications.

An individual can answer their own queries and follow the path to insight.

It helps the members of a team to give necessary insights and can decide with mutual understanding.
This tool offers outstanding analytics solutions regarding R (a well-supported industry-approved programming language). With robust business analytical tools, it provides trend forecasting, automatic analytics, and a high-end dashboard that helps users visualize data and prepare business analytics reports through simplistic features. 
Features:
It provides fully automatic analytics.

It helps in searching through the data rapidly. 

It provides access to a high-end dashboard. 
This business analytics tool has excellent text analysis features that help users in extracting value from their non-structured text. Sisense uses an open-source platform in its proprietary platform of analytics, which relies on end-to-end data-driven statistics. As a consequence, it allows customers to perform creative analysis, visualization, and complex data forecasting to better comprehend what the future will bring for the company.  
Features:
It is mainly used for simplification and analysis of complex data. 

Discover and share insights with key decision-makers of an organization.

It allows users to customize their analytics dashboard data visualization. 
A CRM (customer relationship management) tool designed to support you in improving your company's sales numbers. Pipedrive provides its users with visual dashboards to help them monitor mandatory reports and KPIs from a single place. It allows you to create custom CRM fields that are entirely unique to your business. 
Features:
It gives accurate predictions of company growth & turnover with a sales forecast report. 

With Pipedrive, you can add assignees, types, expected outcomes, intervals, etc. 

Helps in getting valuable insight into the sales cycle duration to make it more efficient. 
Creatio is a low-code business analytics tool with process automation functionalities and CRM. This platform lets IT as well as non-IT people build apps according to their needs & wants. This tool is best suitable for medium to large businesses. One of its most significant features is that it supports on-premises as well as cloud development. It also allows you to group products based on custom attributes like brand, category, type, etc. 
Features:
The self-service portal provided by this tool allows you to collaborate with clients.

Communication with the client can be customized with it. 

It includes best-in-class product management features as well. 
It is a unified business management suite. It consists of solutions for all sizes of businesses and contains functionalities such as ERP, CRM, e-commerce, etc. This tool also provides the Saved Search feature, which helps filter and match data to answer different business questions. 
Features:
It provides standard and customizable reports for all sorts of transactions.

It allows you to create a workbook without coding and helps in analyzing data.

It offers user-friendly, scalable, and agile business solutions, which makes it more suitable for small businesses.
This business analytics tool is inbound marketing, sales, & service software. Marketing Analytics Software of this tool will help you with the measurements of the performance of all your market campaigns in a single place. It has a built-in analysis facility and provides end-to-end comprehensive dashboards and reports to better guide businesses. 
Features:
It enables you to analyze the site's performance with key metrics.

Hubspot helps you in knowing about the quality and quantity of the traffic.

It gives you elaborated reports of each of your marketing channels.

The analytics can be filtered either by country or by specific URL structures.
Microsoft Visio is also one of the most well-known tools when it comes to business analysis. It is an application for making diagrams such as charts, graphs, maps, etc., and a part of MS office for standard and professional versions. 
Features:
It is really useful for drawing advanced diagrams and templates.

Drawn diagrams can be easily connected to data sources.

The data can also be represented graphically.

It offers advanced shapes for electrical diagrams, floor plans, site plans, and office layouts. 
It is a cloud-based data integration platform that brings all the data sources together. It also offers no-code & low-code choices that make the platform easy to use by all kinds of users. Its intuitive graphic interface helps in the implementation of ETL, ELT, or a replication solution. Integrate.io offers solutions for sales, consumer/customer support, marketing, etc. 
Features:
Its customer support analytics will help you with improved business decisions.

It helps provide comprehensive insights.

Sales analytics provides features to understand customers and their needs.

It is a centralized database for keeping CRM organized. 

Marketing analytics provides omnichannel marketing insights driven by data.

It provides features to enrich the database for your business's marketing.
Wrike is yet another cloud-based project management software. It's a SaaS project (Software as a Service) that allows an individual to update and provide tasks from anywhere, with the help of android and iOS applications. Wrike also enables its users to collaborate. It's designed around a multi-pane minimalist UI, and the features it consists of are divided into 2 categories: team collaboration and project management.
Features:
It will support you in setting deadlines, scheduling, and other processes.

It helps in keeping track of budgets and timelines.

It provides you with a communication window, calendar, and window of approval.

It also guides you in balancing resources. 
Conclusion
So in order to avoid rework and unwanted expenses, and for maximum utilization of resources, it is mandatory to carry out business analytics with the help of these tools.
To sum up, you can choose from numerous business analytical tools in today's time. It is crucial to pick out the suitable ones as per your needs and wants. And we hope you have been able to find your ideal fit from the above list of tools. 
 These tools keep on evolving consistently and provide considerable help in the process of decision-making. Each tool that is mentioned in the above list is unique in its own way; all you need to do is select the right tool as per your requirement.