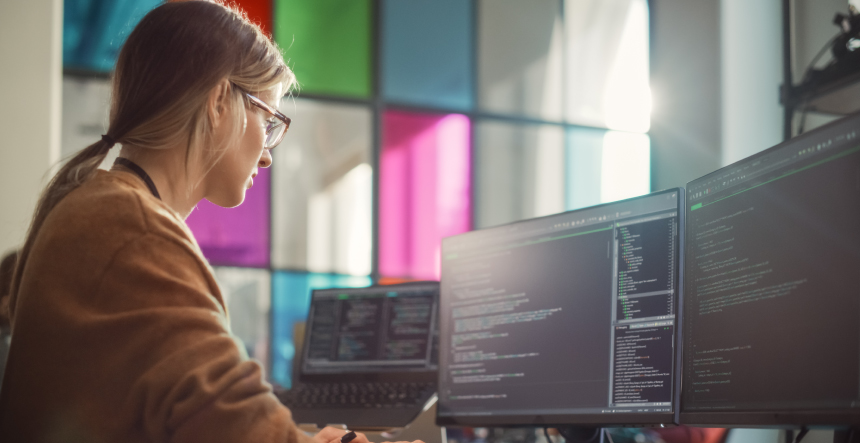 Bluehost vs WordPress is an appropriate comparison when it's about weighing the similarities and differences between two hosting services. While WordPress is a famous CMS, it also provides a solid, scalable hosting service that can be accessed by enterprise applications with large-scale data transactions and humongous traffic. We will look into the details as we proceed. Firstly, a good hosting service gives an edge to the website. It adds security, performance, futuristic features and much-needed scalability for a giant website. By reducing the load time, it even increases traffic, sales, and revenue. This is directly proportional to the overall business.
To gain some clarity, one must be aware of WordPress.org and WordPress.com. While the former is a self-hosted CMS platform to build websites, the latter provides efficient hosting service, tools to build websites, SSL certificate, storage, code support, bandwidth, etc. to build giant-scale websites. It is expensive but worth investing in if you have a business that is spreading at light speed. Therefore, WordPress.org offers you the CMS structure, which can be used to build sites that can be hosted on any hosting service. With this clarity, let's move forward. Here, when we refer to 'WordPress', it is the hosting service WordPress.com.
Brief About Bluehost and WordPress
Bluehost is a hosting service leveraged by more than 2 million businesses and small websites. It is the most recommended hosting service for sites built using WordPress.org. Bluehost is famous for delivering excellent web hosting at an affordable cost. It offers performance, support and excellent documentation for hosting websites. Considered the most reliable service for hosting WordPress.org sites and other open-source platforms, this one offers dedicated, shared and VPS hosting to serve owners with diverse budgeting parameters. It is the easiest way to launch a site without the hassles of maintenance and other technicalities.
WordPress.com is the famously known website builder, which fulfils the technical requirements to host big WordPress sites on its servers. It does charge for the hosting service and often proves an expensive bet. With several premium plans, WordPress.com hosting provider gives you an all-inclusive environment to build and host enterprise applications, huge eCommerce stores and big websites.
Comparing Bluehost vs WordPress
Before discussing things in detail, let us have a bird's eye view of the main differences listed in the table below.
| Features | Bluehost | WordPress |
| --- | --- | --- |
| Pricing | Cheaper, monthly payment ranges between $2.95 to $13.95 | Costlier, monthly payment ranges between $4 to $45 per month |
| Ease of Use | Bluehost is a little difficult to use compared to WP | Simple, and offers guidance on how to use it well |
| Performance | Offers 99.9% uptime, 1.8 sec loading time | 100% uptime, 3.1 sec loading time |
| Security | SSL, DDoS protection with paid security features | SSL, DDoS, free server-level firewall for additional safety |
| Support | 24×7 support through emails, live chat, ticketing system, phone calls for all plans | 24×7 support through emails, live chat, ticketing system, and phone calls for all plans |
| 24×7 support through emails, live chat, ticketing system, and phone calls for all plans | SSL, DDoS, and free server-level firewall for additional safety | Highly scalable, and flexible to accommodate all WP plugins |

Now, let us analyze things in detail and figure out which hosting service is suitable for your business.
Bluehost vs WordPress Pricing
With Bluehost, you can leverage a variety of plans with diverse features and pricing models. You can choose from its VPS, shared hosting or dedicated hosting services. Shared services start from as low as $4.95/month; VPS begins at $19,99/month and dedicated hosting claims anywhere between $4.75 and $79.99/month. It also offers WP Pro Hosting packages that are similar to WordPress.com, which charge higher and can range from $29.99/month, $39.99/month and even $59.99/month.
WordPress on the other hand, offers free plans for companies that want to build sites. There will be ads in between, but the plan is still worth investing in. You can choose $25/month for small businesses and $45 for large-scale eCommerce sites. You can also use custom features for higher plans. For large-scale applications like news sites, the hosting charges can cross thousand dollars. Choose as per your need.
Bluehost vs WordPress Security
Bluehost comes with SSL certification for the safekeeping of the site data. Malware detection, domain protection, ensuring privacy, daily backups, and integration with Cloudflare, which offers web security, are some of the benefits offered by Bluehost. Cloudflare offers firewalls, DDoS, VPNs, image optimization and more.
WordPress already installs an SSL certificate for every site built on its platform. In addition, it offers safety through the firewall, keeps an eye on the web traffic, prevents DDoS attacks, and takes daily backups. It also offers a dedicated team for securing WordPress.com sites.
Bluehost vs WordPress Load Time
Load time has a huge impact on the performance of the site and is the biggest reason for losing traffic. This makes it an important factor in earning rank on search engines.
As a hosting provider, Bluehost manages to load websites at a really fast rate, somewhere around 420 ms to 1.8 seconds. This speed will ensure that you don't lose your customers and retain them for checking your products and services.
WordPress.com hosts larger sites so, there are chances of them loading slower than other regular sites. However, it manages to load them in 603 milliseconds to 1.06 seconds and at times 3 seconds. The lesser the plugins, the faster the site so, site owners need to check this aspect.
Bluehost vs WordPress Storage
Storage offered by each hosting provider varies with the kind of plan selected by the site owner.
While Bluehost offers 50 GB storage in its basic plan ($2.95/month), WordPress offers 6 GB in the personal plan ($4/month). Storage increases with higher plans especially Bluehost goes with unlimited storage. WordPress remains tight and increases storage according to the plan.
Bluehost vs WordPress User Experience
Bluehost offers a lot more options like different kinds of websites, subdomains management, and more, through its control panel. It delivers a friendly and smooth end-user experience compared to WordPress.
WordPress plans are limited, restrictive at times and not as flexible as Bluehost. However, it works well for giant sites that demand scalability, design elements, code support and more.
Bluehost vs WordPress: Final Recommendations
Both hosting providers are doing their job well to serve the specific requirements of the clients. While Bluehost is good for smaller and medium-scale websites, WordPress certainly wins for large websites with more chances of expansion. WordPress proves a beneficial investment when you know that your global site will receive more traffic in the coming future. Scalability, security, digital presence, everything improves with WordPress hosting.
Alternatives to Bluehost and WordPress
While Bluehost and WordPress are excellent for website building and hosting services, there are some other popular names in the hosting services domain. Let us have a look at them.
Hostinger
When you want an affordable, performance-oriented hosting service with features like hPanel, PHP version optimizations and more, Hostinger is a superlative choice. With plans that start as low as $2.99/month, this one is a choice for many small and medium-scale businesses.
SiteGround
When you want high performance, a set of advanced features, premium services, site optimization techniques and more, SiteGround is a good choice. With plans starting at $2.99/month, this hosting provider is a top choice for people looking for secure, high-performing and practical hosting services.
FAQs
Is it better to use Bluehost or WordPress?
For smaller sites, Bluehost is best and for larger sites, WordPress works well.
Do you need both Bluehost and WordPress?
No, one of them will suffice the need of the business. For a budget-friendly alternative, Bluehost is a straightforward choice. If you can shell more money for building and hosting a stalwart site, WordPress is the way to go!
Is Bluehost the same as WordPress?
No, Bluehost offers to host WordPress.org sites. Contrary to that, WordPress.com is a self-hosted web development platform that comes with many features for building secure, scalable, enterprise applications.
Is Bluehost cheaper than WordPress?
In most cases, Bluehost turns out to be a cheaper option than WordPress. However, WordPress offers more features so, when you look from that perspective WordPress offers value for money.
Do I get WordPress or Bluehost first?
When you choose Bluehost, it serves you with a free installation of WordPress. So, depending on your requirement, choose any one of them.