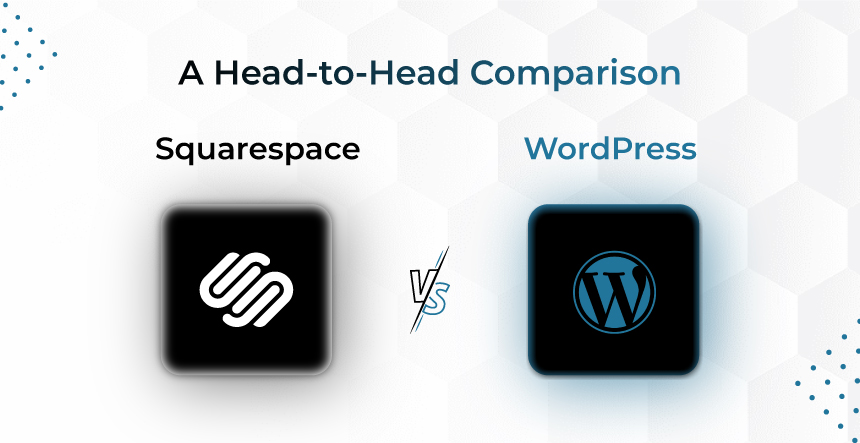 Squarespace vs. WordPress is a valid comparison, especially in the current times when web builder tools are gaining popularity over CMSs. Here, we are comparing and contrasting both to help our visitors figure out which one suits their requirements. While one is a seasoned CMS, another is a new-age website builder that quickly makes sites with zero coding effort. More details are shared to help you gauge both with a magnifying lens. You can choose the one that fits your budget and business needs.
While WordPress is the undisputed CMS with 43.1% of the market share of CMS-based websites, Squarespace leads the website builder domain with a 30.17% market share. When it's to CMS-based sites, Squarespace occupies 2.9% of the market share. With a customer base spread across Canada, Australia, the UK, Hong Kong, Germany, Spain, Brazil, and the United States, this one is becoming a rage. With 2+ million websites, Squarespace is gaining popularity in this domain.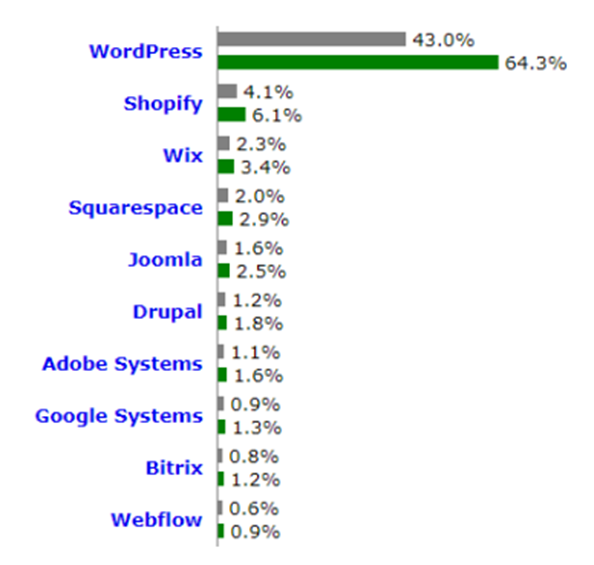 WordPress vs other CMS Market share: cminds.com
Squarespace vs. WordPress: Introducing the Differences
Talking about their difference, Squarespace is a Software as a Service (SaaS) based website builder tool like Weebly and Google Sites. It requires zero coding efforts and creates a site with simple drag-and-drop methods. You have to pay a monthly fee for using it and in return it offers templates, CMS, hosting, domain name (on demand), email sign-ups, video studio, support, and eCommerce features. With all these features, Squarespace offers comprehensive website development for individuals, Startups, and small businesses.
WordPress is an open source Content Management System available in two forms – hosted and self-hosted. The hosted type (wordpress.com) is a SaaS website builder with a monthly or annual subscription fee. Depending on the hosting plan, you get to leverage personal, premium, business, and eCommerce plans for hosting storage, and pre-defined features. On using the free version, the site is bombarded with advertisements. In the self-hosted type, you install a WordPress instance on your web server. Being free and open source, you get to modify the code and customize it to a large extent to suit your requirements.
How is Squarespace vs. WordPress Stack Up?
| | Squarespace | WordPress |
| --- | --- | --- |
| Ease of use | It is highly beginner-friendly software with no need for coding | Beginner-friendly, suitable for those with zero coding knowledge. |
| SEO | Google Analytics available with each plan, includes meta and custom URLs | Built-in SEO features are available and more custom features can be added with self or third-party plugins and extensions. |
| Blogging | Built-in basic blogging tools and facilities available with each plan | Advanced blogging tools and storage options. More custom elements available with paid plans |
| Apps & Plugins | Third-party extensions are allowed | Free or paid WordPress plugins and third-party plugins allowed |
| eCommerce | Can be used to create all kinds of online selling stores, with physical goods and digital services | Users with eCommerce plans can sell goods and digital services. The online store is not allowed without eCommerce plans. |
| Customer support | Available with email, social media connections, and live chat | Phone support is available as well. |
| Plan cost | $16-$49 per month | $4-$45 per month so, cheaper plans. Payment for domain and hosting. |
| Themes & templates | Limited in number but high-quality designs | Thousands of free themes that are easy to customize |
| Security | Offers encrypted data transfer and takes full security measures | More chances of security breaches, so regular backups are recommended |
| Performance | All templates are mobile friendly, responsive giving a great end-user experience | Not all are responsive but you have thousands of options to choose from so, it adds comfort. |
Squarespace vs. WordPress – Which One is Ideal for You?
This solely depends on your site requirements. The drawback of Squarespace is that it does not give control over the code to the site owner. Also, you cannot extract all files. Unlike that WordPress offers full control over code and support from the open source community to sort out all ad-hoc queries.
Squarespace is for building quick, stunning-looking websites and eCommerce stores while WordPress can be stretched to build full-scale enterprise applications.
When you want the convenience of design, security, and 24×7 customer support, Squarespace is the game for you. WordPress is for CMS-based websites with added flexibility and customizability.
WordPress is a clear winner when it's to Squarespace vs. WordPress SEO. So, when you want a high-ranking site, WordPress is the best choice for SEO.
WordPress is a cheaper option than Squarespace. So, there are many factors to think about from your end.
In a nutshell, both offer distinguished features. You need to weigh the pros and cons of each to make a perfect choice for your business. If you are considering Squarespace vs. WordPress for small businesses, then the latter is better.
Conclusion
Depending on your requirements, you need to compare Squarespace vs. WordPress vs. Wix or other technologies and decide the best of the lot. Both platforms are good enough for specific needs.
To help you with web development, KrishaWeb is an ideal tech partner. We are WordPress developers and WordPress VIP Silver Agency Partners with a huge portfolio of successful websites on our credit. Feel free to connect with us for further discussion!