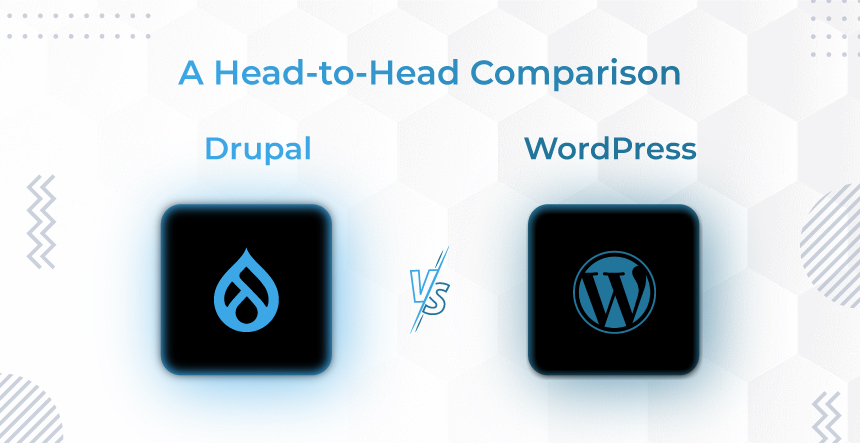 If you are considering developing a stunning website, then content management also goes hand-in-hand with effectively managing your content. And believe me when I say it, selecting the proper CMS for your new website is crucial.
In this cluttered market, where a variety of CMS is available, choosing the best one for your needs might be challenging.
Hang on! We have got you covered!
Two names stick out when it comes to content management systems: WordPress and Drupal. Each has a dedicated following, a lengthy list of well-known websites it powers, and a wealth of features and functionalities.
With a combined market share of more than 60%, Drupal and WordPress are the industry leaders in the CMS space.
In this article, we'll compare Drupal and WordPress in-depth to help you decide which is best for your content management requirements.
Introduction to Drupal and WordPress CMS Platforms
Drupal
Drupal is an open-source (free) content management platform developed in PHP. It offers a reliable back-end framework for a variety of websites and apps available in the market today.
Its creator, Dries Buytaert, first presented it as a message board in the year 2000. From personal blogs to business, political, and governmental websites, Drupal is used on all different kinds of websites. Drupal was created by an enthusiastic community, with a total market share of around 1.8%.
Drupal has excellent standard features such as simple content authoring, dependable efficiency, and outstanding safety.
However, what distinguishes it from its rivals is the freedom and customization it provides through innovation and cutting-edge features. It can be used to create flexible, organized material necessary for providing flexible web experiences.
WordPress
WordPress was introduced in 2003 as a blogging platform and has since become a popular CMS worldwide. It's a free and open-source CMS popular among people and businesses for website building and content management.
WordPress now accounts for a staggering 64.2% of the total CMS industry, and that percentage is growing daily, according to a W3tech.com report.
It is a user-friendly platform for beginners that allows for creating, editing, and managing content. WordPress provides a plethora of third-party plugins that aid in efficient site administration and content development.
It has a huge, extremely active user base of independent contributors who help it develop and improve in every manner.
Drupal vs. WordPress – Quick Comparision
| Important Features | Drupal | WordPress |
| --- | --- | --- |
| Cost | Drupal is a free, open-source CMS. However, you must pay for the domain, hosting, themes, and plugins. | The same goes for WordPress as well. It is also a free, open-source CMS, and you must pay for the domain, hosting themes, and plugins. |
| Community | Drupal has a developer community, but compared to WordPress, it is much lower because of its overall market share. | WordPress has a huge community of developers when compared to Drupal. |
| Plugins & Themes | This CMS platform has around 35k+ plugins and 2500+ modules for features & capabilities | WordPress has around 60k plugins and 10k themes to get started for your website development & content management. |
| eCommerce capabilities | Drupal has a variety of eCommerce plugins, such as Drupal-commerce & Ubercart, for e-commerce development. | WordPress has among the most popular and feature-rich eCommerce plugin named WooCommerce for eCommerce website or application development. |
| Security | The security of Drupal is incredible. | The security of WordPress is less because of the high volume of websites developed using the platform. |
| Scalability | Scalability is the issue when it comes to Drupal, and the code is not all upgradeable. | Both the database and code are upgradable regarding scalability and future-proof solution |
| Skills | Basic coding skills and technical knowledge is required. | No coding or technical knowledge is needed for development. |
| Use-cases | Best suitable for complex websites because its API is very powerful. | It is mainly used for websites that are simple to use and manage, such as blogs, news sites, and small to medium-sized websites. |
Drupal vs. WordPress – The Key Differences
1. Ease of Use and Beginner Friendliness
WordPress
WordPress can make creating a top-notch website simple, even if you've never used a content management system before and don't have a creator or programmer on staff. Thanks to the admin interface's simplicity, any user can add to or change the material of posts and pages.
The WordPress admin interface is very simple. WordPress is far more user-friendly than its rivals when it comes to content management.
Drupal
On the other hand, Drupal requires you to know how to work with technologies and manage them to complete a Drupal project.
Because of the complex Admin UI of Drupal, you need to have the necessary expertise. The Drupal control panel has a lot of settings and options, which makes it challenging to handle. Once you are familiar with it, the majority of Drupal modules are simple to comprehend and control.
Final Verdict
So, if you are a beginner developer with absolutely no development or management, WordPress is the way to go, as it is quite user-friendly.
2. SEO
Search engine optimization is crucial for your CMS WordPress vs. Drupal. Your online visibility will suffer greatly if your site doesn't perform well when it comes to page positions and search results.
Drupal
Although the procedure is a little complicated, Drupal does a good job with SEO. The CMS was created with best practices for SEO in mind, including integrated teaching. Additionally, you can discover many extensions that can improve your SEO.
WordPress
Fortunately, WordPress is already fairly well designed for SEO. There are many plugins available for WordPress that can assist you in improving your search engine results. Yoast SEO is the finest one to further your optimization.
Final Verdict
All things considered, WordPress prevails in the SEO contest thanks to the abundance of plugins that can enhance the SEO of your website in numerous ways.
3. Speed and Performance
A quick-loading website is necessary to perform well in search engines and please your visitors.
Drupal
Drupal can be used to create extremely performant websites that load quickly. This platform enables superfast server communication and quicker reaction times.
Additionally, this improves its ability to manage web pages with hundreds of pages. In addition, you'll have the option to install extensions to boost performance even more, such as turning on website caching.
WordPress
One of the most significant disadvantages of WordPress is its slow performance. That is not to suggest that it cannot be quick, but you must properly optimize the website. Speed won't be an issue if you take the opportunity to adopt WordPress optimization best practices.
Or, if you choose to use WordPress-controlled hosting, your website will load incredibly quickly.
Final Verdict
The clear winner between Drupal vs. WordPress for speed & performance is Drupal. It offers better speed and performance because it is a lighter CMS.
4. Flexibility
WordPress
WordPress has a vast repository of plugins and themes that companies can use to extend a website's functionality and customize the look and feel of your website.
With the help of WordPress plugins, you can add features like e-commerce, social media integration, and much more as per your changing business requirements. We believe that WordPress also allows companies and content managers to easily create and manage different types of content efficiently.
Drupal
While we look at Drupal, this platform is more focused on providing flexibility through its architecture and development framework. It has robust tools and APIs that developers can use to create highly customized and complex web applications.
Drupal is known for its scalability and ability to handle large amounts of content and traffic. It also offers advanced features like user roles and permissions, content workflows, and version control.
Final Verdict
The winner is Drupal regarding the flexibility comparison of WordPress vs. Drupal. It is more flexible than WordPress.
5. Themes and Addons
WordPress
WordPress's highly customizable and feature-rich themes let users alter the look of their website. You can discover many more paid WordPress themes besides the free ones.
Plugins are where WordPress' true strength is. In the official WordPress plugin directory, you'll find over 59,000 plugins that are free to use. Additionally, you can purchase premium plugins that include better features and paid assistance from the plugin's creators.
Drupal
The problem with themes and modules in Drupal is their lack of availability. Users will need to abandon their current website to look for and add the module and theme they desire.
Almost anything can be done with a module, and new ones are constantly being introduced. Still, compared to WordPress, there aren't as many modules altogether.
Final Verdict
When it comes to themes and plugins of WordPress vs. Drupal, no one can beat WordPress. So the obvious winner is WordPress.
6. Support Options
It's important to have a strong support system available, so let's find out which CMS is more helpful when it comes to support.
WordPress
At WordPress.org, there is a sizable help forum for WordPress. They offer their customers non-stop support around the clock. The advice you discover there can usually be used to resolve your problems. To get assistance with your problems, you can get in touch with the developer community.
Drupal
Like WordPress, Drupal has an active support forum at Drupal.org to get assistance in dealing with various issues. You may also obtain assistance from its developer community on third-party forums and blogs.
Final Verdict
The final answer compared to Drupal vs. WordPress is yet again WordPress because of its sizable community of developers and even robust WordPress support.
7. Localization & Multilingual Support
WordPress vs. Drupal offers extensive support for localization and multilingual content, but they approach it differently.
WordPress
WordPress has a large ecosystem of plugins that can be used to add multilingual functionality to a site. The most popular plugin for this purpose is WPML (WordPress Multilingual), which allows you to easily create translated versions of your site's content and manage them from a single dashboard.
There are also several free multilingual plugins available in the WordPress repository.
Drupal
On the other hand, Drupal has multilingual support built into its core. It means you don't need to install additional plugins to create a multilingual site in Drupal.
Instead, you can create translation sets for each language containing translated versions of your site's content. However, translation is difficult with Drupal. Drupal also has a robust set of tools for managing translations, including a translation dashboard that lets you track the progress of your translations.
The Final Verdict
The winner is Drupal. Drupal has inbuilt multilingual support, while for WordPress, you need to rely on third-party plugins.
8. Security
WordPress
The safety features of WordPress can be challenging to keep with millions of web pages and users worldwide. WordPress blogs are one of the priorities for cybercriminals.
Sucuri's analysis revealed that 74% of websites had been compromised as a consequence of WordPress. You need to install some security plugins if you want to improve security. If properly configured, WordPress is a secure application.
Drupal
As one of the safest CMSs, Drupal has established a solid name. The main reason is that Drupal depends less on third-party plugins, and Drupal users are authenticated using secure passwords. According to a Sucuri study, only 3.7% of Drupal websites were breached by cybercriminals.
Because Drupal incorporates the RBAC architecture, admins can manage different permission levels for different user accounts.
Final Verdict
The final verdict is Drupal because of its robust security features and fewer websites on the platform.
9. Cost
WordPress
WordPress is a free, open-source content management system (CMS) marketed alongside paid versions with more sophisticated features.
WordPress hosting can be purchased for a few dollars per month or several hundred dollars for premium hosting plans.
The price of developing a WordPress site may differ considerably. You can spend, on average, $50 to $100 for a paid theme. The cost of hiring a designer to create a unique website theme can vary significantly based on your chosen developer.
Drupal
Like WordPress, Drupal is an open-source, free CMS that can be hosted for as little as a few monthly dollars.
The price of hiring a design or development team to build your Drupal website can vary significantly. Additionally, professional Drupal themes are available for purchase for $50 to $100 or even more.
The Final Verdict
It's pretty much a draw when it comes to the cost comparison of CMS Drupal vs. WordPress. Regardless of your platform, web hosting and programming can frequently be equally expensive.
Advantages and Disadvantages of WordPress and Drupal
Advantages of Drupal
Drupal is highly scalable and can handle large amounts of content, making it suitable for enterprise-level websites.
It offers greater flexibility than WordPress, allowing more complex websites and applications to be built through Drupal. It has robust API support, making integration with third-party tools easier.
Drupal provides robust support for multilingual websites, with built-in translation capabilities, making it a popular choice for international websites.
This powerful cm allows for creating custom content types, providing greater control over the types of content that can be created and managed on a website.
Drupal is designed with accessibility in mind, making it easier to create websites that comply with accessibility standards.
Advantages of WordPress
WordPress comes with a large selection of pre-designed themes and plugins to enhance website functionality.
WordPress is easy to learn and use for developers and users with its user-friendly interface, built-in blogging capabilities, and content management system.
This platform is highly customizable as per your unique business requirements, with a vast library of plugins and themes.
WordPress has a huge community of developers who provide ongoing support and updates when in problem.
WordPress is open-source software, which means it is free to use and can be installed on a variety of web hosting services, making it a cost-effective option for creating websites.
Disadvantages of Drupal
Drupal has a smaller community and fewer themes and plugins available than some other CMS platforms.
This platform's architecture is more complex and will require users to have technical knowledge, which can make it more difficult to set up and maintain.
Finding experienced Drupal developers can be more challenging than finding WordPress developers, which might delay the process or result in substandard quality work.
Drupal has a steeper learning curve than other CMS platforms, requiring more technical expertise and coding skills.
Drupal has a smaller module ecosystem compared to WordPress, which can limit the availability of certain functionalities.
Disadvantages of WordPress
Your application or website can suffer from performance issues due to the heavy use of plugins and themes.
Without coding skills, you will have limited control over website functionality and customization.
To maintain efficiency and functionality, the WordPress platform requires regular updates for themes, plugins, and WordPress core.
Security vulnerabilities on WordPress may arise due to the popularity and open-source nature of the software.
It might become difficult for companies or developers to scale larger websites or complex web applications.
Migrating from Drupal to WordPress
Migrating from Drupal to WordPress can be a complex process. Still, by following these steps and testing and refining your content, you can make the transition smoothly and reap the benefits of a more user-friendly platform. We have already published the detailed guide of Drupal to WordPress Migration. Still, below are the quick checkpoints for you…
Install and set up WordPress: The first step is to install WordPress on your server and set it up with your desired theme and plugins.
Install the Drupal to WordPress migration plugin: Next, install and activate the Drupal to WordPress migration plugin, which will help you migrate your Drupal content to WordPress.
Export your Drupal content: Go to the "Content" section and select the "Export" option on your Drupal website. Choose ".CSV" format and select the content types you want to export.
Convert the CSV file: Use an online CSV to XML converter to convert the CSV file to an XML file that can be imported into WordPress.
Import the XML file into WordPress: Go to the "Tools" section on your WordPress website and select the "Import" option. Choose the "WordPress" option and upload the XML file you just created.
Redirect your Drupal URLs to WordPress URLs: To ensure that your site's visitors don't encounter any broken links, you'll need to redirect your Drupal URLs to your new WordPress URLs. You can do it using a plugin like Redirection or editing your .htaccess file.
Launch your new WordPress site: Finally, once you're satisfied with the migration, launch your new WordPress site and enjoy the benefits of a more user-friendly and easy-to-use platform.
Drupal vs. Joomla vs. WordPress
Check out the differences between Drupal vs. WordPress vs. Joomla and choose the right one for your business –
Drupal
Drupal is a powerful and advanced CMS that is highly customizable and flexible as per your business needs. It can handle complex websites with a lot of data and functionality and has built-in security features. It's best suited for large organizations, government agencies, and universities.
WordPress
WordPress, on the other hand, is a user-friendly CMS that is easy to learn and use, even for beginners. It's primarily known as a blogging platform but can be used to create a wide range of amazing user-friendly websites. WordPress has a large community of developers and an extensive plugin library and themes, making it simple and fast to set up. It's best suited for smaller websites and blogs.
Joomla
Among the 3 CMS, namely Joomla vs. WordPress vs. Drupal, Joomla is a versatile content management system (CMS) that can be used to build business web pages, social networks, and e-commerce sites. It's less customizable than Drupal or WordPress, but also more user-friendly and adaptable. It works best for medium-sized websites that require personalization.
Which is better: WordPress or Drupal? And Why?
Selecting the appropriate CMS is a crucial decision for the future of your website.
You were trying to decide between Drupal vs. WordPress. But answering this question is a bit challenging because it's hard to say which platform is "better".
So, instead, you should ask – Which CMS Should I choose based on my project requirement?
By contemplating your requirements, you will have a better idea of choosing the right CMS.
Given the differences in the article, it shouldn't be surprising that we suggest WordPress. Thanks to its popularity and ease of use, there are more choices for themes, extensions, SEO, and development.
Drupal is undoubtedly a powerful system, but compared to WordPress, it needs greater engagement with the server and the command line.
To choose the right framework for your customized requirements, you can connect with us & our CMS Development Experts will assist you!