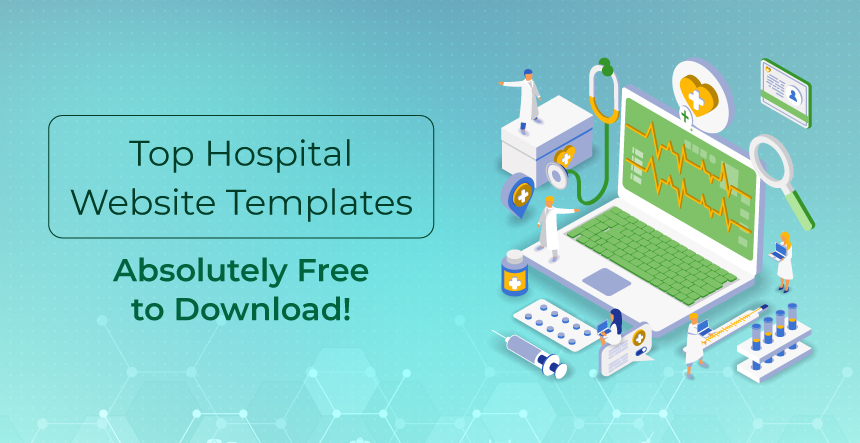 Hospital website templates free download is the easiest way to create stunning website designs for startups and entrepreneurs in the healthcare business. They save the time and money required to create web page designs from scratch. Free templates are available for all healthcare services including private practice, hospitals, dental clinics, nursing homes, women's care units, psychotherapy centres, health blogs, etc. Leverage these templates, customize them for desired features, and make them suitable for your healthcare brand. We will list down some of the most popular and versatile templates used for hospital websites.
Top 10 Hospital Website Templates
Clean design with a soft color palette, this one is suitable for websites related to pregnancy and women's health. Best for a startup that provides pregnancy-related healthcare services, this template can be used to design a complete medical solution in one theme. Absolutely free WordPress theme, this one provides popular widgets for free. The responsive design with an SEO-friendly approach can attract visitors with its easy-to-navigate visual appeal. Ready-to-use, the template should be tried by healthcare providers.
This free template with responsive nature is a one-click download. You can get a free demo to check how your site will actually look. The niche-specific design focuses on big images and concise content. Suitable for WordPress 3.0 and higher versions, this one is for all kinds of healthcare websites.
This free WordPress theme is most suitable for doctor and dental clinic websites. Easy to customize with Frontend Builder, the template works well for business domains like healthcare sites, medical blogs, non-profit medical service providers, etc. You can even integrate an online booking system with the theme.
Responsive to the core, the Psychologist WordPress theme is best for websites offering therapy and counselling services. With 25+ modules, a library of presets, a rich UI kit, and other dynamic features, this one delivers an interactive feel. Easy to customize with drag-and-drop features, it is suitable for the non-tech crowd as well. When used well, it caters to a wider audience with its multilingual support feature. Overall, a wonderfully designed template to suffice the needs of therapy services.
With a single click download, the free WordPress template is best suitable for all kinds of healthcare services, hospice care centers, hospitals, and more. Customize it for WordPress 3.0 and higher versions to get a tailor-made website for your domain. The clean and neat design, soothing colors, SEO-friendly nature, etc. makes it perfect for modern-day healthcare websites.
One of the finest WordPress templates, this one highlights the central part through pastel tones, photos, and columnar content space. Suitable for websites that offer services like alternative therapies, rehab facilities, medical blogs, healthcare news, etc. Customize it for specific features and you have a sophisticated site ready to launch. Only works for WordPress 3.0 and higher versions.
An effective medical template for healthcare services dealing with pregnancy. The neat, uncomplicated design gives a warm feeling and is suitable for nursing homes, women's healthcare, pregnancy blogs/guides, and more. Again, a free theme for WordPress 3.0 and higher versions, this one should be tried for quick website and blog development.
A niche-specific WordPress template suitable for healthcare providers, clinics, hospitals, laboratory services, care advice blogs, etc. A soothing color palette with dual shades creates a warm visage. Central highlighted portion, main banner, and sub-sectional columnar design, this one is for WordPress 3.0 and higher versions. Easy to customize, the template will create a stunning, sophisticated healthcare website.
Mexi WordPress theme offers quick site development for the healthcare, wellness, and beauty industry. Mobile-friendly, cross-browser compatible, and offers a huge array of features for a fully-fledged, professional-looking, and urbane medical website. Every webpage offers features for the efficient operations of a medical service provider. With unlimited color options, it can be designed to suit any brand.
This free, fast-loading WordPress theme comes with five unique page templates, an array of layouts, easy-to-customize features, language translation, multilingual support, widgets, a contact form, and more. Designed to give a professional look and feel, the theme is suitable for all kinds of healthcare services. Whether you want to build a site for a doctor or a multi-speciality hospital, this one will suffice all needs.
Conclusion
WordPress offers more than 10,000 free themes that can be customized to create stunning, feature-rich websites for healthcare services. You can choose from any of the above hospital website templates for free download. Easy to modify, they are suitable for non-technical people as well. Hope you find this information useful.
KrishaWeb is a WordPress development company catering to global clientele for more than 15 years and is a proud WordPress VIP silver agency partner. We create WordPress sites for all kinds of medical services. Feel free to connect with us for a progressive technical partnership.