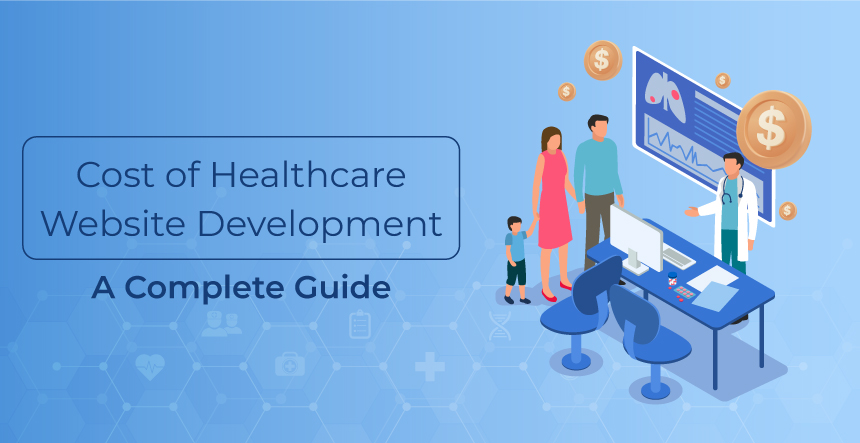 Cost of Healthcare Website Development depends totally on the level of digitization incorporated in it. When you have a big hospital with a huge patient base, you must create a website with multiple interdependent systems. For small clinics, a rather simpler site will suffice. There is an ardent need for the digital transformation of the healthcare business. Most of it owes to the fact that the world is going global and practically everything is available online. In addition, digitization offers many benefits and there are statistics to prove it.
As per the report of Deloitte, 90% of healthcare businesses claim better customer engagement, 36% claim revenue growth, 56% feel quality care of patients, and 20% speak of higher satisfaction amongst staff members.
Therefore, creating a digital presence through a healthcare website is absolute value for money.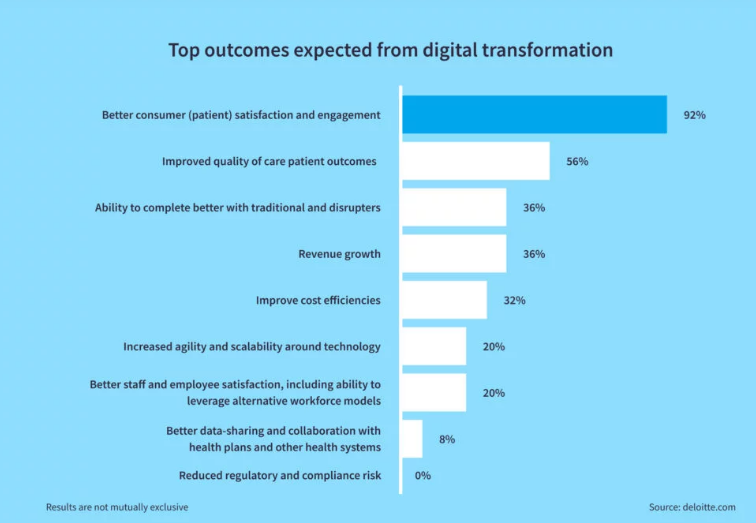 Source: Deloitte.com
Why Every Healthcare Business Must Have a Website?
There are multiple reasons for owning a website for a healthcare business. We have listed some of them as follows:
The Website Creates a Digital Presence: It is a digital era where people search for things over the internet. Whether it's clothes, jobs, schools, or hospitals, the internet provides information about their services and features. So, it's important to have a handy site available to attract patients and potential customers.
Better Customer Engagement: Basic tasks like scheduling appointments, patient history and medical detail forms, insurance claim initiation, bill payments, etc. are done online. This facilitates the patients and helps them connect more with the healthcare facility.
Improved Staff Efficiency: Once the staff is free from administrative tasks, they can focus more on the core task of providing healthcare. Having a digital facility reduces staff workload and improves their productivity.
Increased Revenue: With telemedicine, doctors can check patients from across the globe without being physically present everywhere. This increases the revenue by manifolds.
No Delay in Treatment: Patients with chronic diseases can take medical help online. This prevents any delays due to a lack of in-presence medical facilities.
Enhances the Brand Image of a Hospital: Quick treatment, immediate document processing, easy insurance claim procedure, telemedicine, medical diagnostic facility, and more, help build a positive image of the hospital.
What is the Cost of Healthcare Website Development?
Physicians and hospitals are aware of the ever-increasing demand for telemedicine and online healthcare facilities. They invest in corporate websites, Electronic Health Records, Hospital management systems, etc. It can cost them anywhere from $5,000 to $200,000 or more, depending upon the complexity of the site.
The cost estimation is quite multifactorial and involves technical and non-technical aspects. Some of the common factors that affect the cost of healthcare website development are:
The type of website: corporate, medical diagnosis, or telemedicine
The team required to build it: In-house, outsourcing agency, freelancers, local company
Location of the web developers: Europe, Asia, Australia, and the US
Apart from these, consider the following costs:
One-time setup fee
Hosting services
Cloud integration
HIPAA compliance
SEO, online advertising, and email marketing
Social Media Setup and maintenance
Customer service systems: manual support and chatbot on the website
Online payment app
Considering all these and the individual factors of the healthcare provider, a website may cost anywhere between $2,000 and $3,000 for a basic website. A corporate site may cost $5,000 or more. An all-encompassing hospital management system may stretch the budget to $80,000 or more as per the complexity of features. So, the sure shot quote depends on the kind of web application required by the healthcare provider.
Pre-Requisites to Determine the Cost of Healthcare Website Development
Website Development Platform (CMS)
Well, this varies according to the CMS. An open-source CMS like WordPress is free, but you need to pay for the hosting platform. A website builder tool like Wix starts at $16 per month and varies as per plan.
CRM & ERP, Electronic Medical Record Systems Integration
The cost of integrating multiple systems depends on the web developers and outsourcing agency. CRM like Salesforce has tariff plans starting from $25 per user per month. The implementation cost ranges from $10,000 for core features and may extend up to $100,000 for multi-layered, intricate web solutions.
The ERP system may cost $9,000 per user with an overwhelming implementation cost that ranges between $150,000 and $750,000.
EHR integration cost ranges between $18,000 and $21,000.
Patient, Admin & Doctor Portal
This is a huge application that demands considerable technical effort and may cost between $100,000 and $140,000, depending on the difficulty and features.
Hospital Billing Management Integration
Medical billing software is very expensive when self-hosted. Different hosting platforms, cost anywhere between $39 and $97 per month. For software deployed on on-site equipment can cost around $8,000. When deployed on a cloud system, they can cost from $26 to $112 monthly.
HIPAA Compliance
Normally, the security and compliance cost range between $5,000 and $15,000. However, it may increase as per the standard of the medical software. As per Medical Economics, the average physician pays around $35,000 annually for HIPAA compliance.
Mobile App & Cross-Platform Integration
The average cost of mobile app development in the US would be between $30,000 and $120,000. However, it varies when outsourced to economically viable countries.
Premium Domain Registration
An unused domain and hosting may cost $15 or less, but the renewal cost of .com domains may range between $8.27 and $29.99 per year. It's a very small price to pay for a specific domain name.
Paid Plugins for Security and Online Encryption
Premium plugins may cost between $5 and $50 or more depending on the functionality. Custom plugins may cost more.
Advance Hosting Solutions
Hosting services cost between $2.51 for a basic site and $4.62 for a medium-scale site. Specialized services like WordPress VIP may cost hundreds of dollars but are worth an investment.
Email Marketing and Newsletter Integration
Most digital marketing companies charge $100-$200 per hour for email marketing services. So, the average cost would be $2,500 per month. It is wiser to hire an outsourcing agency that charges less than this.
In addition, you need to consider the cost of eCommerce and Donation buttons, appealing UI/UX designing, location-based content, and development. All of these depend on the individual or agency working on it as well as the Level of functionalities, complexity, and technicality involved.
Note*: THE FIGURES MENTIONED ABOVE MAY VARY…
How Much Should You Invest in Hospital Websites Development?
Well, that depends on the revenue generated by the hospital. For example, you have a potential patient base of 100,000 people and 10% of them take treatment on a yearly basis. So, you are looking forward to 10,000 patients a year. On average 50% of patients check your website before the actual visit so, there are 5,000 online visitors in this case. If the hospital earns around $1000 from each, then the revenue generated would be $5,000,000 or 5 million USD. So, if you have a 5% operational cost then you can plan a budget of $250,000 for a fully-fledged, completely functional, multi-system integrated website.
Why do Hospitals and Other Healthcare Sectors Choose Agencies for Website Development?
The hiring cost of web designers and developers proves affordable when you outsource your project to an experienced team of web developers. Secondly, the developers have more experience converting complex concepts into simplified web development projects. Also, they offer support and maintenance services to keep the site up and running for years. With all these benefits, it is advisable to outsource healthcare website design and development.
KrishaWeb is a trusted web development company with a fat portfolio of successful projects. We offer custom Healthcare website design and development at affordable cost.
To discuss details, just give us a shoutout!