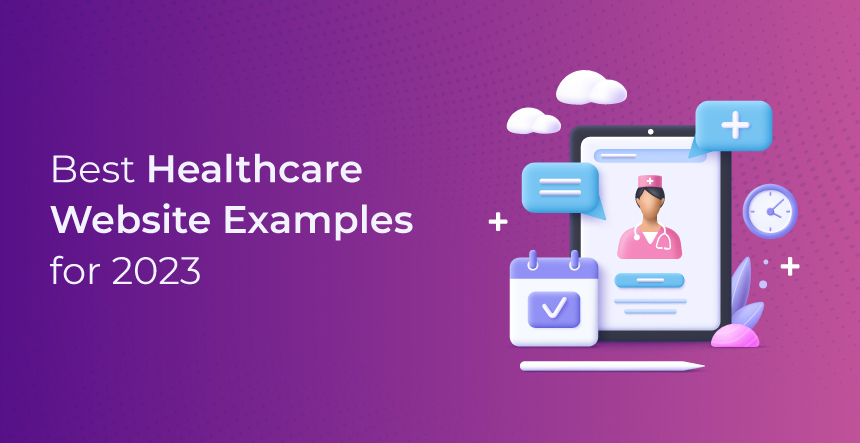 Healthcare websites render information with an interactive and transactional interface for users. They provide trustworthy medical information to visitors, but a few recommend healthcare practitioners and treatment centres. This post shares information on technologies used to construct the top 9 global healthcare websites in 2023 and their performance.
Within this article, you shall discover:
Most Popular Website Examples of the Healthcare Industry
1. National Institute of Health (NIH)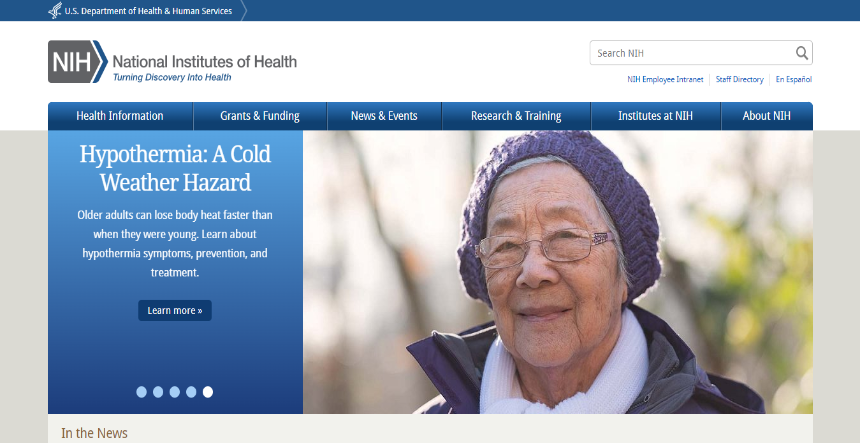 Global ranking: 207
The National Institute of Health (NIH) with its headquarters in the United States is among the largest medical research centres across the globe with 6000 facilities. It's a department of the U.S. Department of Health and Human Services organization.
Features:
This website renders information on grants, funding, medical research and training, health and news & events.
Scientists and researchers can discuss the latest developments in stem cell research and other fields of medicine. Further, they can access the NIH image software.
Technologies used for developing this website:
Google Font API
CrazyEgg analytics and tracking platform
jsDelivr Content Delivery Network
Here Mapping
2. Mayo Clinic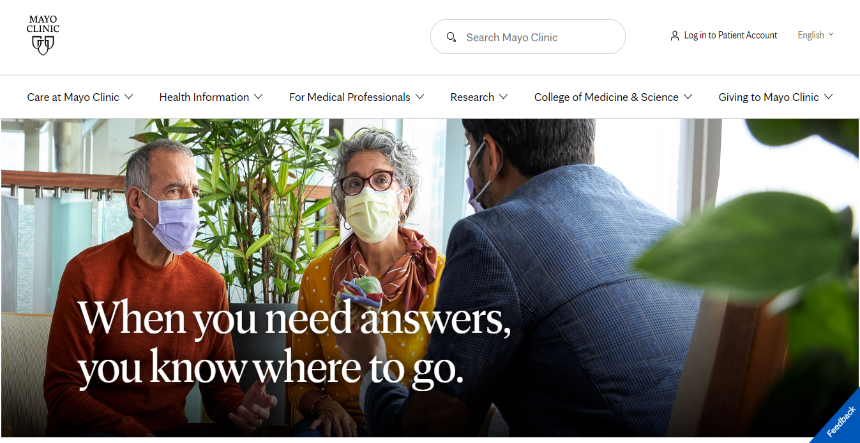 Global ranking: 584
Mayo Clinic is a non-profit academic medical research centre based in the United States. It provides information on research, education, and integrated clinical practice to healthcare professionals.
Features:
It provides information to medical practitioners under the categories of patient care, research, education, products and services and health information, departments & centres.
Patients can find doctors and make an appointment on this portal.
Technologies used for developing this website:
Visual IQ
Yandex Metrica to analyze visitor behavior and key performance
REES4 marketing and automation tool for e-commerce
Lotame Crowd Control for advertising and data-driven marketing campaigns
CDN JS Content Delivery Network
Google Search Appliance
Google Analytics
Facebook Domain Insights
OpenResty Framework
3. Weight Watchers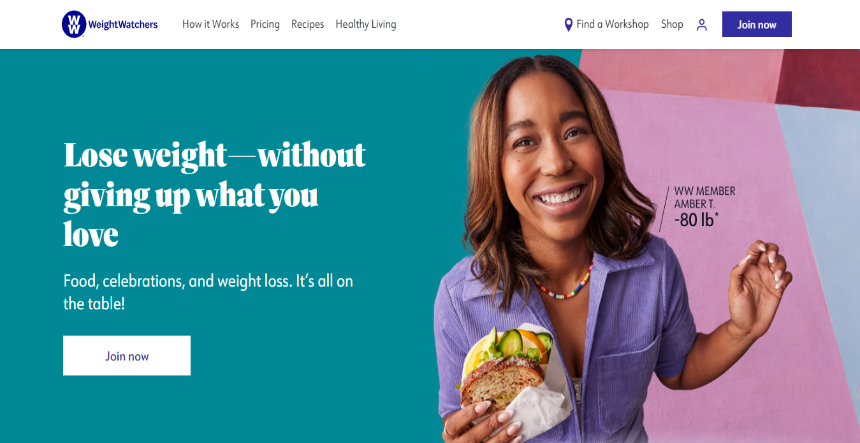 Global ranking: 5602
Weight Watchers is based in the United States, this healthcare website is aimed at women seeking to reduce weight and effectively maintain it.
Features:
It uses a scientific approach towards weight loss by suggesting proper nutritional intake and changing eating behaviour.
It offers a reward program that motivates users to lose weight and adopt a healthy lifestyle.
Furthermore, it helps users establish tailored fitness goals and make efforts in achieving them.
This portal is available as a website and an application for easy access
Technologies used for developing this website:
Google Analytics
Visual IQ
Adobe Dynamic Tag Management
Hotjar
Optimizely
LiveRamp
Rapleaf
Fastly
New Relic
4. Healthline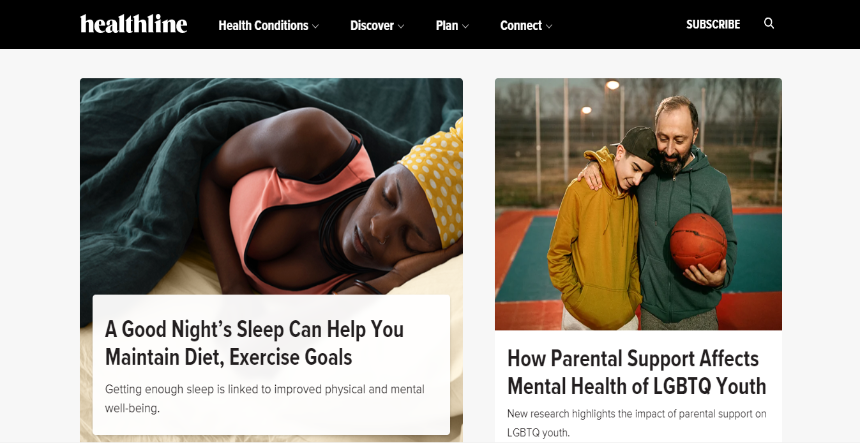 Global ranking: 139
Launched by Dr James Norman, an endocrinologist, it was originally known as YourDoctor.com. It was renamed in 2006 as Healthline Networks.
Features:
The portal renders information on different types of diseases, symptoms and treatments.
Symptom checkers and Body Maps are the tools offered on this website.
Patients can discover doctors and book an appointment as well.
Technologies used for developing this website:
Optimizely to deliver a valuable digital experience on desktop and mobile
Rapleaf marketing automation tool used for customer engagement
LiveRamp for CRM re-targeting advertisement data and for onboarding customers
Krux Digital for collecting consumer data and monetizing it
Netmining for performance marketing
Everest Technologies and for performance testing
Lytics for customer-centric digital marketing
Ignition One digital marketing suite
Google Analytics
Visual IQ for marketing attribute
DoubleClick Floodlight to view the customer actions upon advertisements clicking
Facebook Domain Insights
5. Athena Health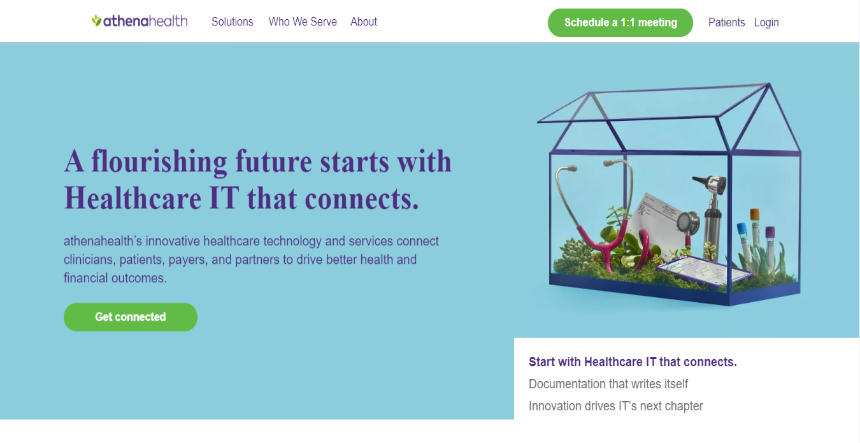 Global ranking: 1370
Athena Health is a portal that offers a network of doctors in the United States that patients can refer to from across the globe.
Features:
Doctors can easily access or create electronic health records, diagnostic and treatment information, medical billing details and Epocrates safety records.
The services provided on the website include patient engagement, population health and care coordination.
The website renders information from 1000,000 healthcare providers via webinars, white papers, and case studies.
Doctors and hospital staff can connect via the portal. Further, they can book appointments through the marketplace.
It automates healthcare centre operations for easy administration and management of the hospitals.
Technologies used for developing this website:
Nginx web server
Adobe Dynamic Tag Management
HTML5 Doc Type
Canonical Content Tag
X-UA-Compatible
Cascading Style Sheet
Twitter bootstrap
6. Baby Center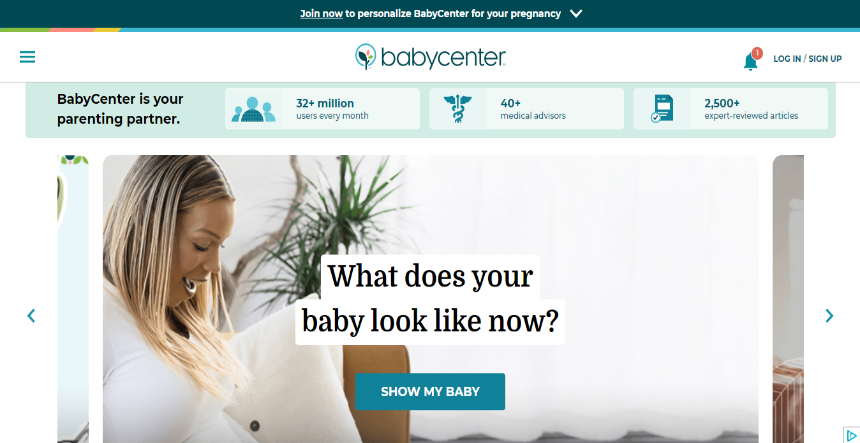 Baby Center owned by Johnson & Johnson, was launched in the United States in October 1997 and since has established its presence in 11 countries.
Global ranking: 1500
Features:
The website offers information on pregnancy, conception, birth and childhood development.
Expecting parents can track and monitor fetal development through Pregnancy & Baby, and My Pregnancy Alexa Skill applications.
Expecting parents can search for names for their unborn child via the Baby Names application.
The applications are available for both iOS and Android users.
Baby products are available on the website for purchase.
Technologies used for developing this website:
Omniture Site Catalyst
Effective Measure software that gauges audience, demographics, and website rankings
Adobe Marketing Cloud
Krux Digital
Adjust mobile tracking app
New Relic
LiveRamp
comScore
Rapleaf
Nielsen
MediaMath
MediaMind
Google Analytics
Moat
Lotame Crowd Control
ASP.NET framework
Cart Functionality
7. WebMD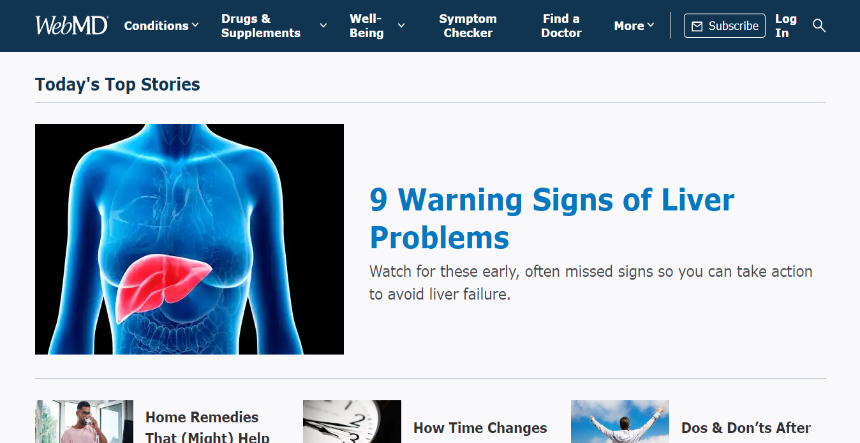 Global ranking: 323
Founded by Jeff Arnold in 1996, WebMD merged with Direct Medical Knowledge (DMK) and Sapient Health Network (SHN) in 1999.
Features:
The website renders medical information on diseases and diagnosis, healthcare, healthy lifestyle, drugs and pharmacy, family & pregnancy
Physicians write blogs on different medial concepts here.
Technologies used for developing this website:
Omniture Adobe Test and Target to measure online conversions
Omniture SiteCatalyst for online marketing strategies
Soasta mPulse multi-channel real-time analytics
Adobe Marketing Cloud
Adobe Dynamic Tag Management
Rapleaf
LiveRamp
Everest Technologies
Krux Digital
IgnitionOne
Netmining
8. Medical News Today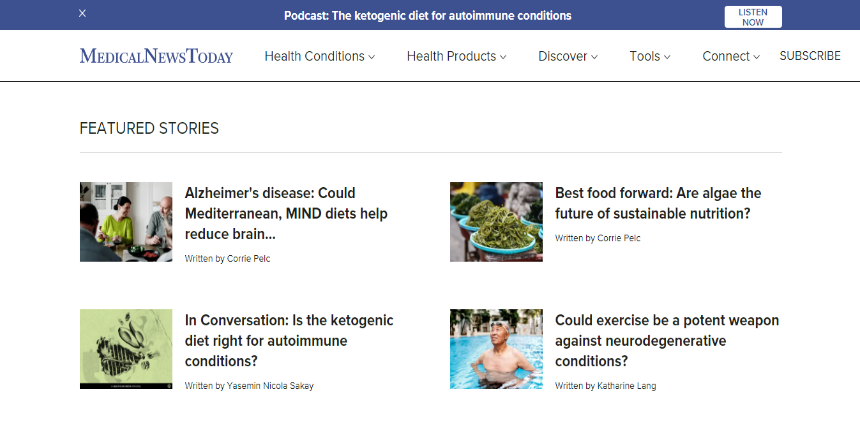 Global ranking: 799
Founded in 2003 with its headquarters in Brighton, East Sussex, UK, Medical News Today portal hosts news and updates from the field of medicine.
Features:
The portal provides medical information to physicians and the public.
The knowledge centre contains detailed and specific information on different topics related to the medical field.
Technologies used for developing this website:
Everest Technologies
Netmining
Krux Digital
LiveRamp
Hotjar
Rapleaf
Google Optimize 360
Google Analytics
IgnitionOne
Lytics
Lotame Crowd Control
MediaMath
Facebook Domain Insights
comScore
Moat advertising metric system
9. Wal Greens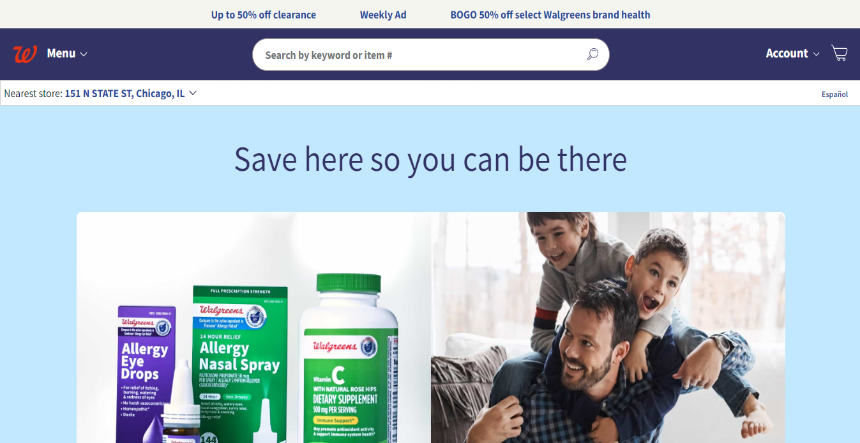 Global ranking: 904
Launched in 2016, this portal belongs to Walgreens retail pharmacy store chain.
Features:
Patients can refill their prescriptions by ordering from the website.
Other products that can be ordered from here include contact lenses, cosmetics, hygiene products, face care and hair care.
The portal provides details of clinics and hospitals in the neighbourhood.
Patients can find information on immunizations and vaccines, drugs and health.
Technologies used for developing this website:
Adobe Dynamic Tag Management
Omniture SiteCatalyst
Instart Logic Loader analytics
Monetate site optimization
Adobe Marketing Cloud
Pardot marketing automation tool
Rapleaf
KruxDigital
LiveRamp
OwnerIQ for targeting online messages
Kenshoo for search engine automation used in marketing campaigns
Salesforce cloud platform
Dynatrace AI-powered application for monitoring data and analytics
Branch mobile deep linking application for boosting user retention
9 Best Practices for Healthcare Websites
1) Quality Content
A user visiting a healthcare website either makes a purchase, books a doctor's appointment or gathers information. To meet these objectives, the website should support extensive content management capabilities that include a comprehensive library of videos and text on health-related topics.
Thus, to be a leader in your niche, your website should host superior quality and reliable content on patient-centred clinical care and medical education. You should focus on curating supportive and informative messaging that the audience finds valuable. Add balance to your website by avoiding marketing fluff and instead showing how your services will help users and their families solve problems.
2) Keep It Simple
Often, healthcare website visitors are stressed and hurried as they seek quick solutions to their health problems. A website with difficult navigation and numerous texts and graphics can easily frustrate the audience and push them away, leading to a loss of quality traffic to the website and bad press.
To serve your audience better, your website user interface should be simple and light, as it will allow your audience to find content quickly and easily in a few clicks. Moreover, a lighter website (fewer videos and text) allows quick upload time, which makes browsing speedier.
Consequently, the use of "Progressive disclosure" is a useful method to achieve this goal. It's a tactic that defers rarely used features to a secondary screen, which makes the website and applications easier to access and low on errors. Thus, you display highly relevant options on the main page that provide specialized options on the user's request to reduce the website's complexity.
How To Deploy Progressive Disclosure?
Hide text-heavy content in sections that can be expanded by clicking, upon user request or need.
Include "quick links" on the homepage to render speedy, one-step access to highly relevant pages of your website.
Conduct a testing session with 3-5 end users on your site to ensure the website layout is intuitive and accessible.
3) Focus On Creating an Accessible Website Design
"13.4% of the U.S. population (44 million people) are disabled" (Disability Statistics Annual Report, 2021)
Disabled people find it difficult to schedule an appointment, interact with the website or fill out a form. A website is not accessible if a hearing or visually impaired person cannot operate it easily. Thus, any healthcare website should be developed keeping in mind the interest of physically challenged people. It can be achieved by incorporating videos and texts designed especially for them.
4) Quick Contact Information Finder
Since visitors seek information on health issues, doctors and clinics, hence the website should contain quick information and location finders. To assist visitors with quick and easy information gathering, the website should contain a neatly organized layout on a directory of health topics, FAQs, doctors and clinics customer reviews, and a location finder. Further, it would save endless hours of the medical staff from attending phone calls on commonly asked questions and locations.
5) Offer a Great User Experience
Build trust among your audience by introducing doctors and clinics with their headshots, bios, and customer reviews on your website. This will allow your users to know the practitioner better and make the first appointment less stressful.
6) Understand HITECH and HIPAA
To protect patient's privacy and ensure confidentiality, establish integrity, and protect health information (PHI), the Health Insurance Portability and Accountability Act (HIPAA) Privacy and Security Rules came into force.
The Health Information Technology for Economic and Clinical Health Act (HITECH Act of 2009) further supported the HIPPA's ability to impose stringent compliance from healthcare facilities and their business partners.
If your website collects, displays, stores, processes, or transmits PHI, it should be HIPPA compliant. However, if it only offers information on the medical industry, diseases, and practitioners, and promotes marketing then not needed.
Who Needs to be HIPPA Compliant?
Patient portals
Online appointment scheduling
Live chats
Physicians in scrubs browsing on a tablet
Patients submitting emails on the website
Contact forms that gather and submit health-related information
7) Use Superior Data Protection
To ensure your website is HIPAA compliant maintain a high level of security. Some of the following activities must be undertaken regularly.
Use a highly secure, responsive, and HIPAA-compliant web hosting
Securely encrypt contact forms, appointment services and chatbots on the website.
Secure the website with an SSL certificate, which ensures the connection is encrypted between the browser and the website and is safe from cyber-attacks.
Obtain a signed business contract from all vendors.
Create a backup of PHI routinely.
Develop and implement procedures and policies for gathering, storing, transmitting, and deleting PHI data.
Privacy practices and HIPAA policy information must be included on the website.
Regularly provide your staff and vendors HIPAA compliance training.
8) Create A Blog Section and Patient Resources
Positioning your brand/website as a leader in medical education and patient-centred clinical care requires deep expertise. Creating informative and easy-to-understand content in text, videos, and graphics regularly will keep you connected to your community and patients and remain relevant in the marketplace.
Your library of SEO-friendly blog sections should contain posts on the following topics:
Industry news
Physicians' profiles
Announcements
Local community events
Information on products/services offered on your website
Resource page for patients that contains information on relevant medical studies, emerging health trends, and traditional news stories.
On the resource page, you can include outbound links to third-party authoritative sources, which boosts your search engine rankings.
9) Clear, Concise and Organized Website Navigation
Healthcare sites with loads of information are often bulky. A bulky website with unorganized webpages and tons of graphics, text, and images increases timely response, which makes visitors lose interest in the website and move to your competitor's website. Prevent losing quality web traffic by regularly testing your website for layout and navigation.
For simple and quick navigation, your website pages should be well-organized by displaying critical information and page links on the first fold of the webpage. Use drop-down menus and categories to allow easy navigation and browsing on your website.
Final Words
Regardless of the platform, you are using, with these tips and tricks you can steer your healthcare website in the right direction.
If you need experts, just connect with us and we will be happy to assist you.