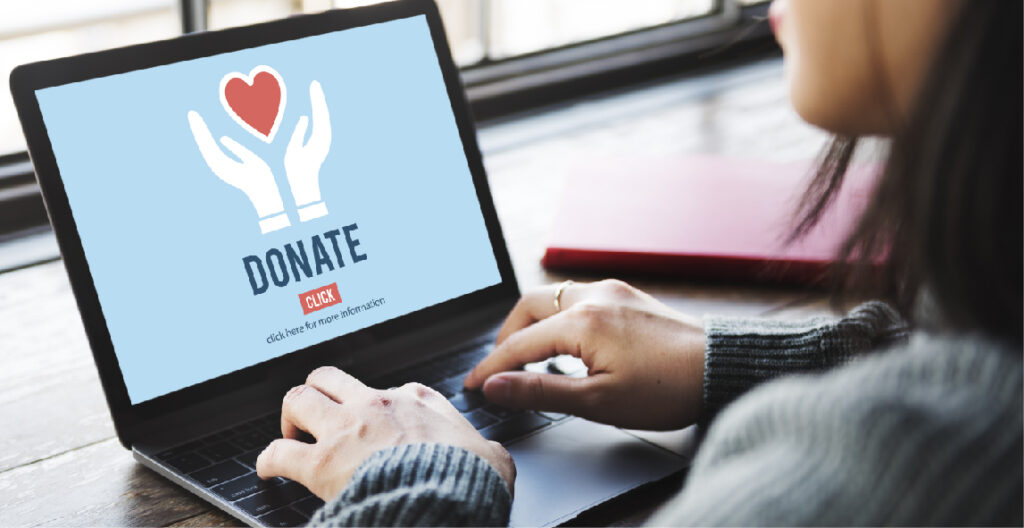 Nonprofit organizations play an invaluable role in society, and their websites serve as powerful platforms to connect with donors, volunteers, and supporters. A well-designed site can create an impressive online presence while increasing donations and driving meaningful engagement – we gathered insights from industry experts as we studied numerous nonprofit websites, so you have only the finest content!
Do you need the inspiration to revamp the website of your nonprofit, or are you just curious about current web trends? This article presents the 10 best nonprofit website designs to showcase. From stunning visuals and intuitive navigation, these nonprofits' sites have successfully captured their organizations and successfully communicated their missions – prepare to be inspired by these exceptional examples of nonprofit website design!
10 Best Nonprofit Website Designs
Below are the 10 best nonprofit website designs that can give you an understanding of how to go about it:
Red Cross Australia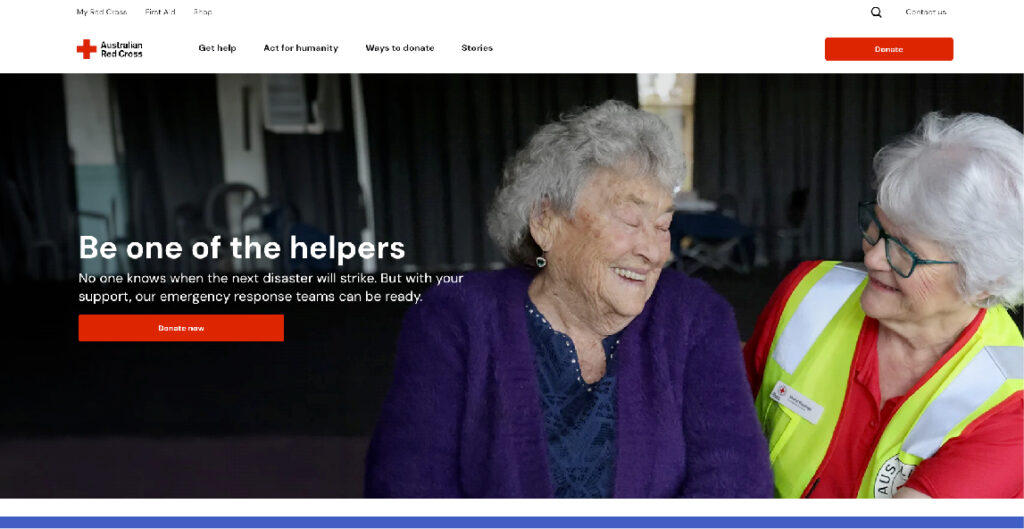 Red Cross Australia stands as an outstanding example of a well-designed nonprofit website, boasting clean lines, vibrant images, and easy navigation that effectively communicate their mission to visitors while inviting participation from them. Furthermore, their site provides clear instructions on how to donate, volunteer, or access services – making their service user-friendly as well as informative.
HeForShe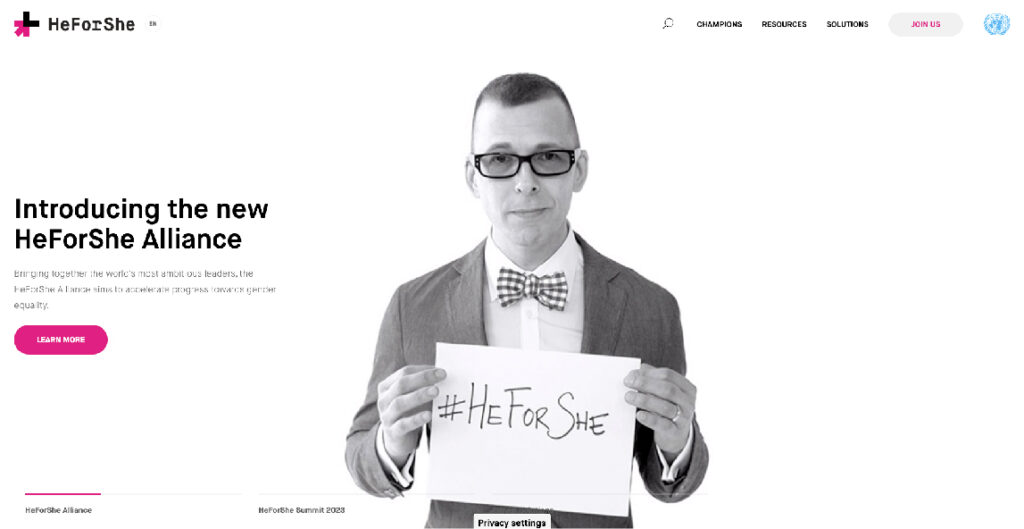 The HeForShe website is visually captivating and engaging, using striking imagery and bold typography to communicate gender equality and encourage visitors to take action. Featuring interactive elements like a progress tracker that engages visitors and compels them to take steps, such as a modern design with an intuitive user interface, HeForShe successfully conveys its mission while inspiring visitors to join its movement.
David Suzuki Foundation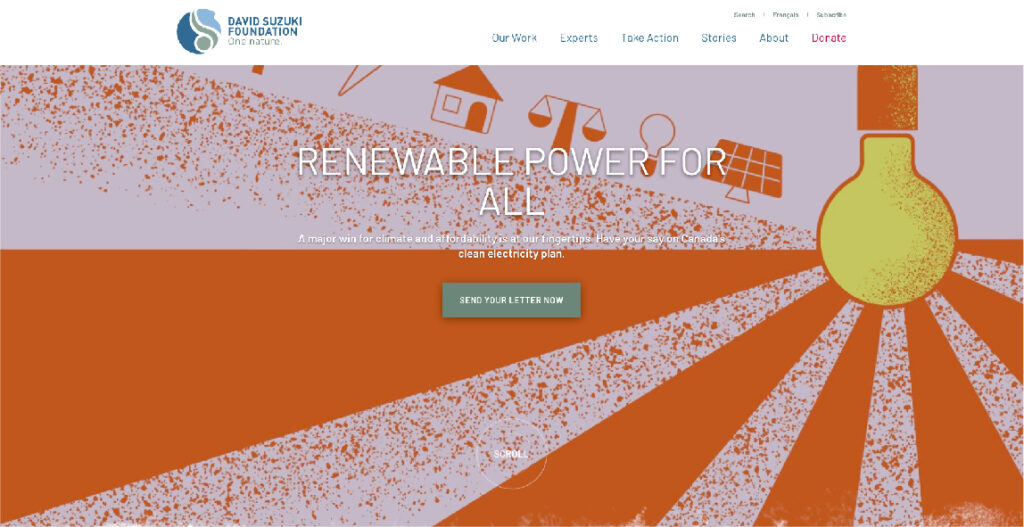 The David Suzuki Foundation website stands out for its striking design and engaging content, featuring striking visuals and concise messaging to bring attention to its environmental initiatives. Furthermore, various resources like articles, videos, and educational materials help engage visitors and empower them to make a change, and its responsive design ensures an optimal user experience across devices.
World Wildlife Fund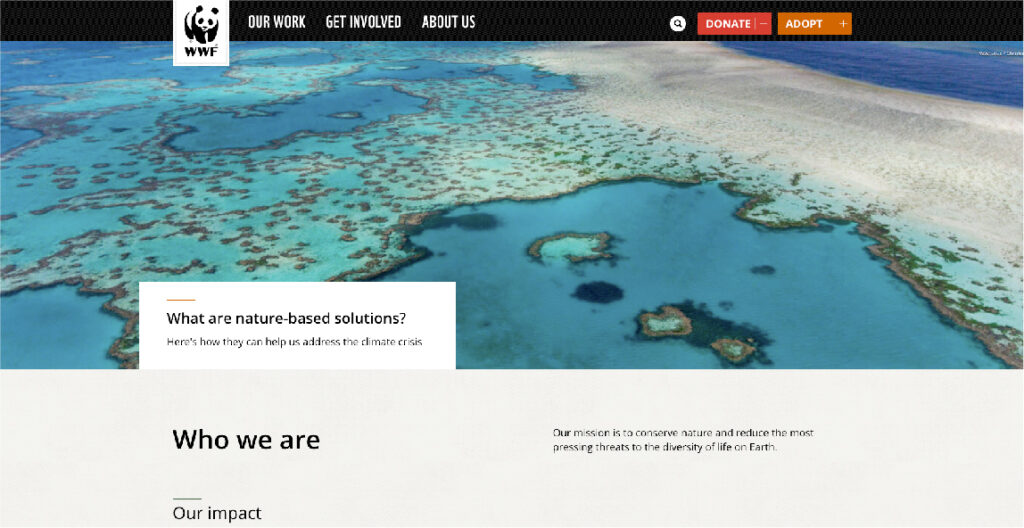 The World Wildlife Fund's (WWF) website stands as an impressive testament to effective storytelling through design. Showcasing stunning wildlife photography and interactive features that immerse visitors into the conservation efforts of this organization, its clear call-to-action buttons make donating or adopting animals simple while offering educational resources, as well as providing customized content based on visitor location, are only some of its many offerings.
Habitat for Humanity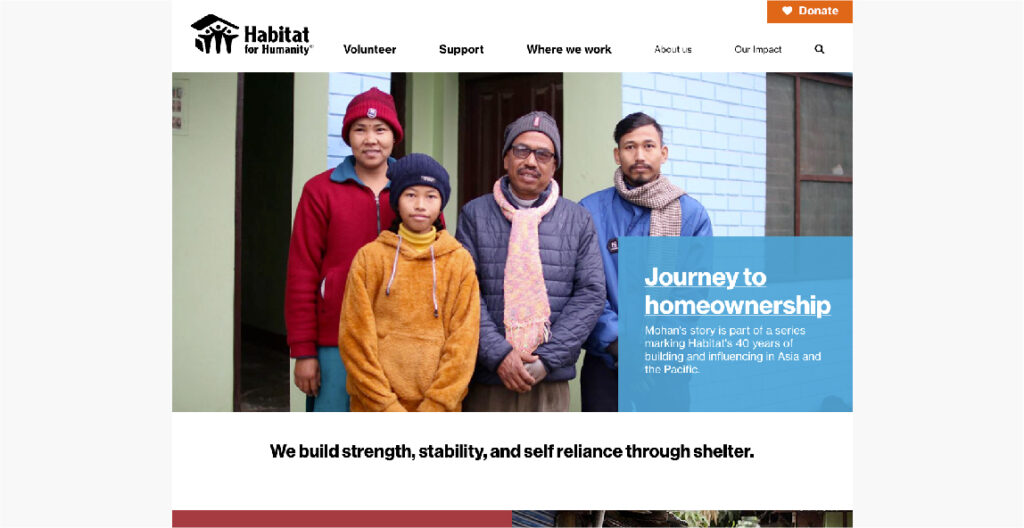 Habitat for Humanity's website captivates and engages visitors through stunning imagery and captivating narratives, effectively communicating its mission of providing affordable housing, as well as offering ways to get involved through volunteering, donating, or advocating for change, with user-friendly navigation making finding what information users require a breeze.
Freedom Service Dogs of America (FSDA)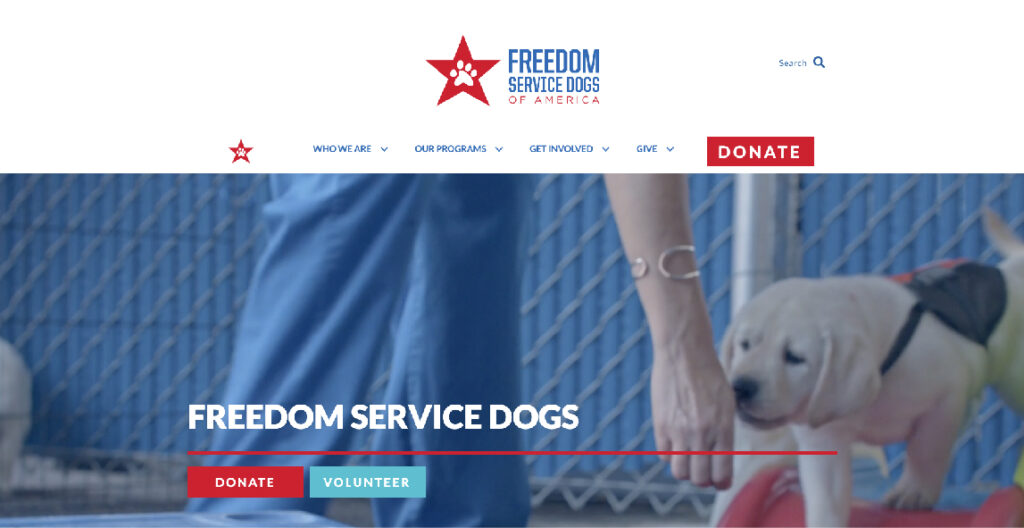 Freedom Service Dogs of America has designed its website in such a way that is clean, visually attractive, and user-friendly. Their homepage displays a striking hero image of a service dog, which immediately attracts visitors' eyes; bold colours with clear typography ensure all important information can be read easily, while they also include prominent donation buttons with easy calls-to-action, making it simple for users to support this organization's mission.
ONE DROP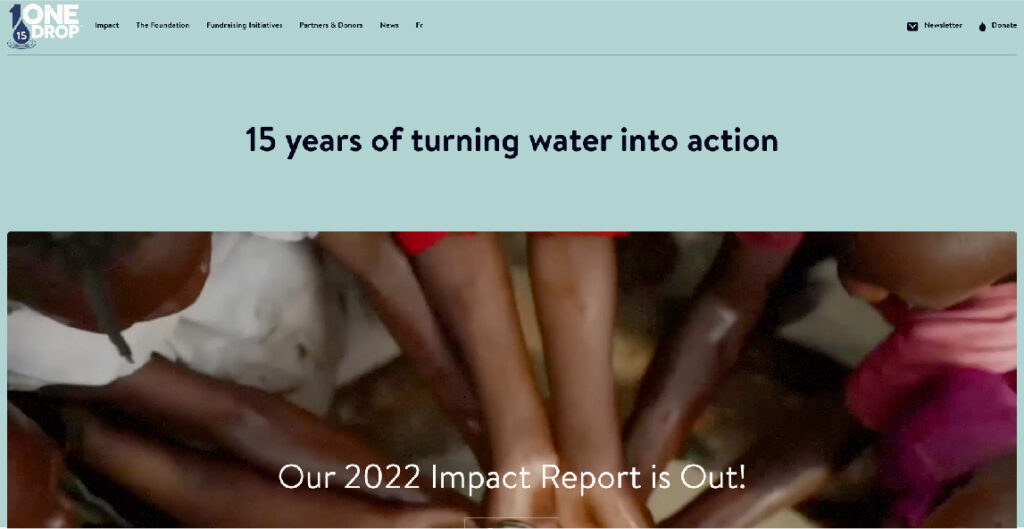 ONE DROP's website design embodies their dedication to global water sustainability with stunning imagery and an easy, straightforward layout – including parallax scrolling for added visual depth and interest – along with clear navigation menus to allow users to easily explore various parts of their site and interactive elements, like an impact map showcasing their organization's impact. These elements contribute significantly towards an unforgettable user experience!
Greenpeace Australia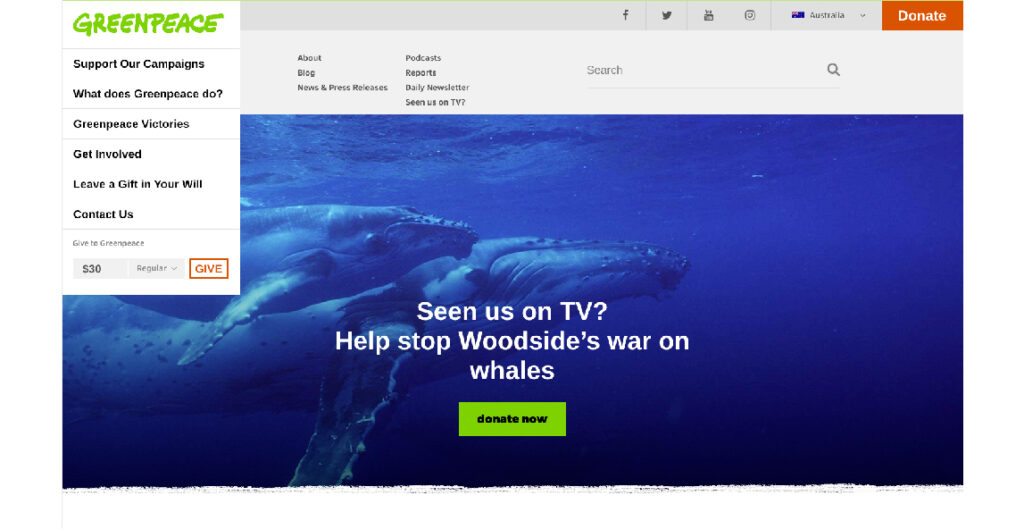 Greenpeace Australia's website design is striking and impactful, reflecting their mission of protecting the environment. Their homepage showcases eye-catching imagery with powerful headlines to draw users in immediately; vibrant green hues add a vibrancy that reinforces brand recognition throughout. Furthermore, interactive elements like petition forms and blogs allow Greenpeace Australia to engage users while encouraging them to take action against climate change.
Charity: water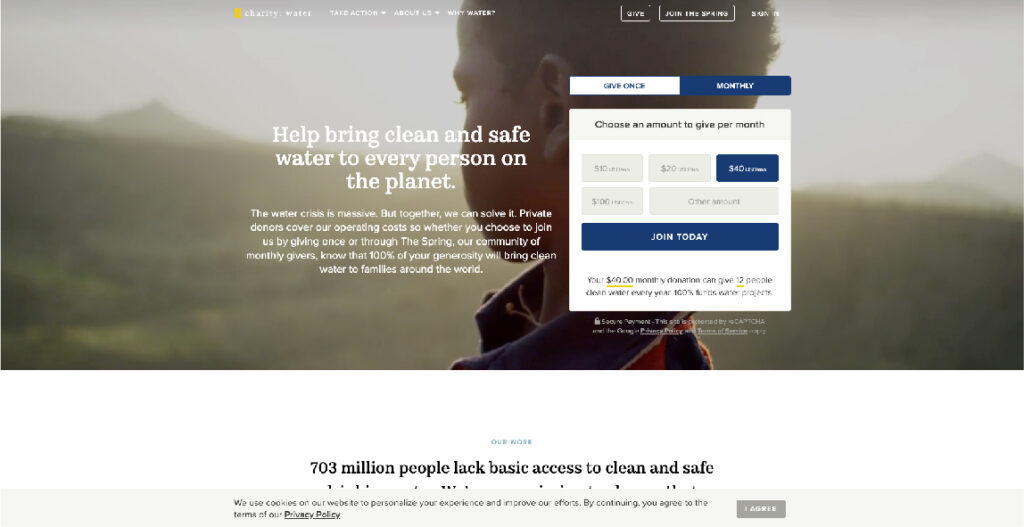 Charity: water's website design is minimal yet user-friendly, featuring an engaging video background on their homepage that immediately draws in viewers. Furthermore, using intuitive navigation features allows visitors to easily locate information regarding projects undertaken, impact measures taken, ways to join in action plans, etc. Furthermore, powerful storytelling elements (personal stories and testimonials) foster emotional bonds with visitors by building emotional ties to visitors who visit this page.
GreenWave.org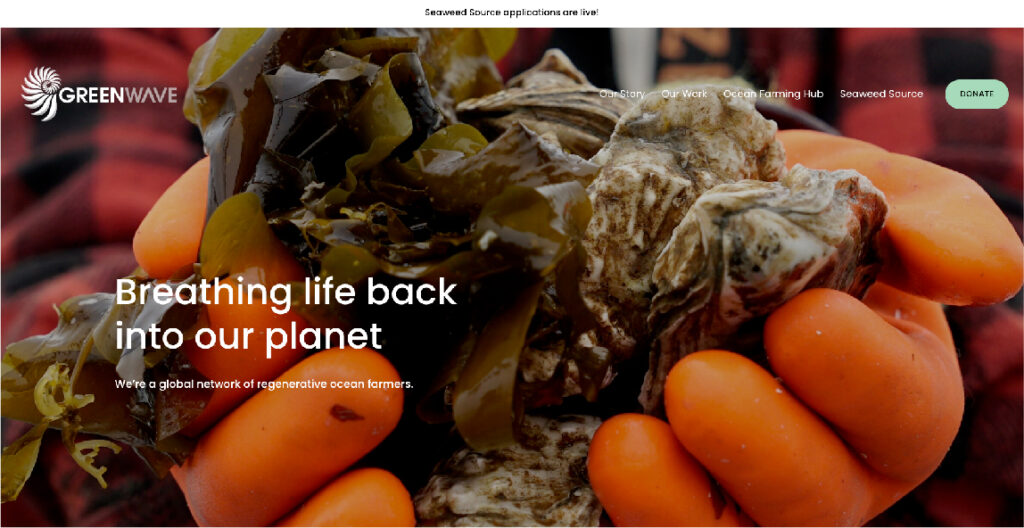 GreenWave.org's web design is visually captivating and conveys its organization's commitment to regenerative ocean farming. Their homepage boasts eye-catching imagery with an attractive layout showcasing key initiatives; bold typography creates energy, while vibrant hues bring life and excitement. Plus, there are helpful sections like resource library and blog that offer more valuable knowledge regarding sustainable ocean farming for users.
Final Thoughts
The top ten best nonprofit website designs demonstrate the significance of effective design and functionality when creating an impactful web presence for nonprofit organizations. These websites not only engage visitors visually but also through captivating content and user-friendly navigation. By employing intuitive design practices, non-profits are able to effectively convey their mission and goals while convincing visitors to join and support their cause. These top nonprofit websites prioritize accessibility and mobile responsiveness to reach as wide an audience as possible across devices as an overall example of how design and functionality can advance nonprofit success in today's digital environment.