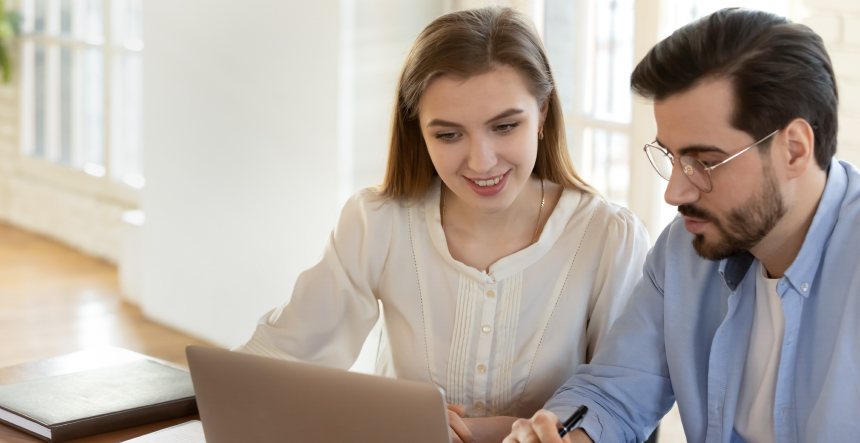 The CBD(Cannabis drugs) market is gaining popularity, and so is competition. If you're searching for incredible ways to distinguish your business from the competition, you'll need an attractive website. The CBD market is around $2 billion in size and is expected to continue expanding. The market is predicted to reach $23 billion in just three years.
One of the most crucial components of marketing your company is having a website that is well designed. A beautifully designed website helps you draw in new visitors and entices them to read more about your products and business.
To help you design the best website, we've compiled a list of the top CBD company websites from across the globe while highlighting their stand-out points and what you can do – to make it different and appealing for your target market.
So, whether you want to enter the cannabis market or update your website, you'll find these sites inspiring.
Apart from the best CBD website designs, we will list 8 web design mistakes to avoid and save your website from having a weird look and feel.
Let's get started.
8 Best CBD Website Designs to Explore
1. Zatural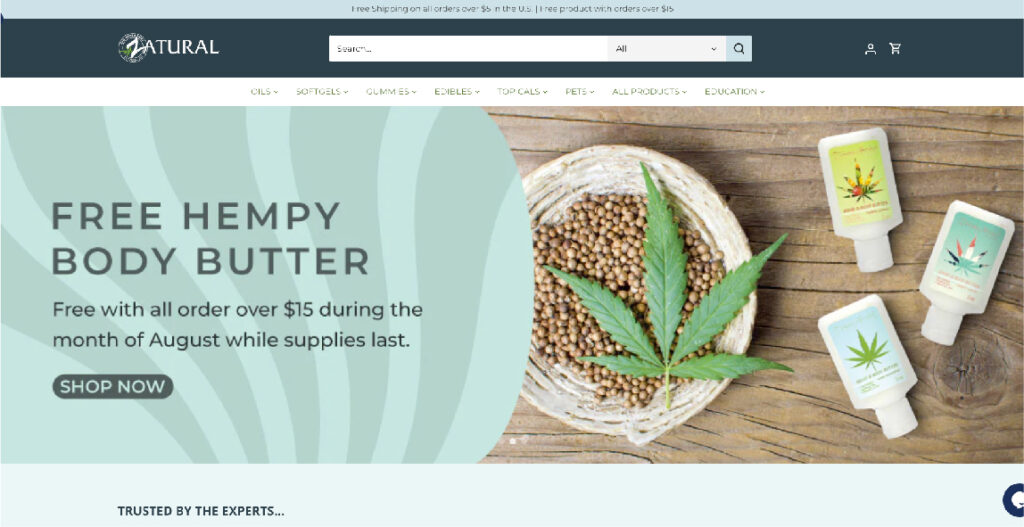 Zatural focused on all-natural CBD products and was founded by Maryann Stanger, a Naturopathic Doctor. Each of their products is made from organic ingredients and free of any harmful additions or chemicals. They have garnered numerous honors, including the Natural Award in 2013, the Golden Apple in 2014, and the Women's World in 2015.
Their target audience consists of anyone looking for high-quality CBD products. They have created a stunning website on Shopify that features visually attractive aspects and categorizations and even displays all the customer reviews.
2. CBD Living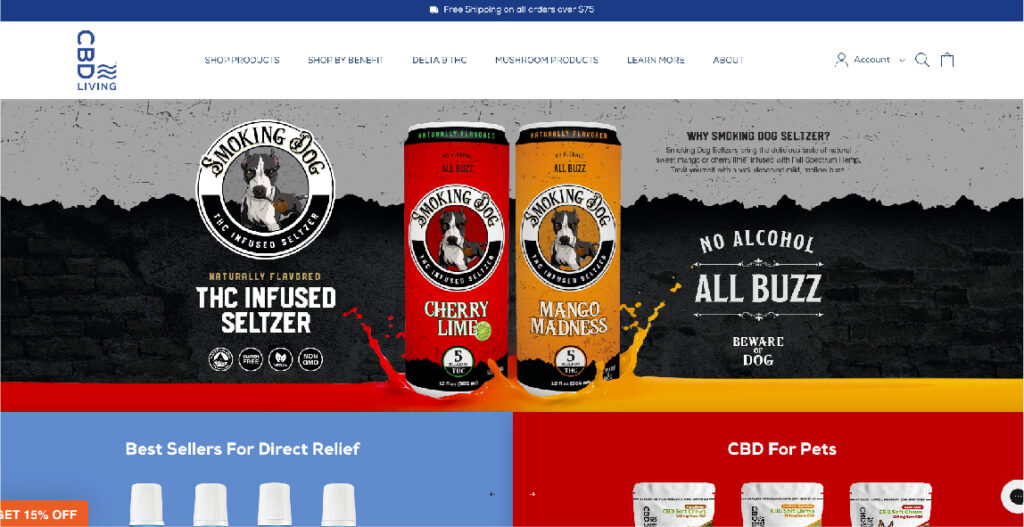 CBD Living is another company that sells high-quality CBD products. The company has generated annual sales of between one and five million dollars since its founding in 2013. Their effective website design accounts for a sizable amount of their income.
CBD Living is one of the most effective CBD niche websites. The website is mobile-friendly, which works to its advantage, and it is complemented by a strong colour palette that highlights its best products.
Accurate sorting of products can make matters easier for clients, allowing them to traverse the website more easily. CBD Living has organized everything by product kind and intended usage. The website contains numerous CTAs, all in a bright colour to attract visitors.
3. Cannavative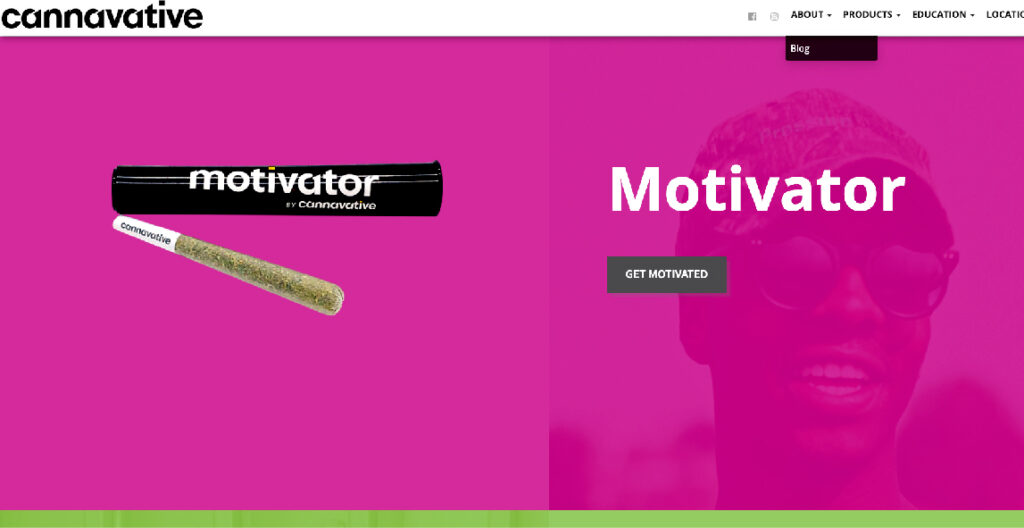 Even though there are other cannabis products on the market, Cannavative supplies high-quality cannabis to Reno, Vegas, and Carson City. The initial impression is made on the homepage. As a result, it's crucial to include the appropriate components and arrange them in a pleasing way.
With Cannavative, the pink-toned image background, merchandise, and CTA make the hero scene appear energetic and bright. Similar to the previous parts, the following sections have a light green backdrop with yellow text. Additionally, this website uses a sticky header with a logo, off-canvas navigation, and social media icons.
4. Alphagreen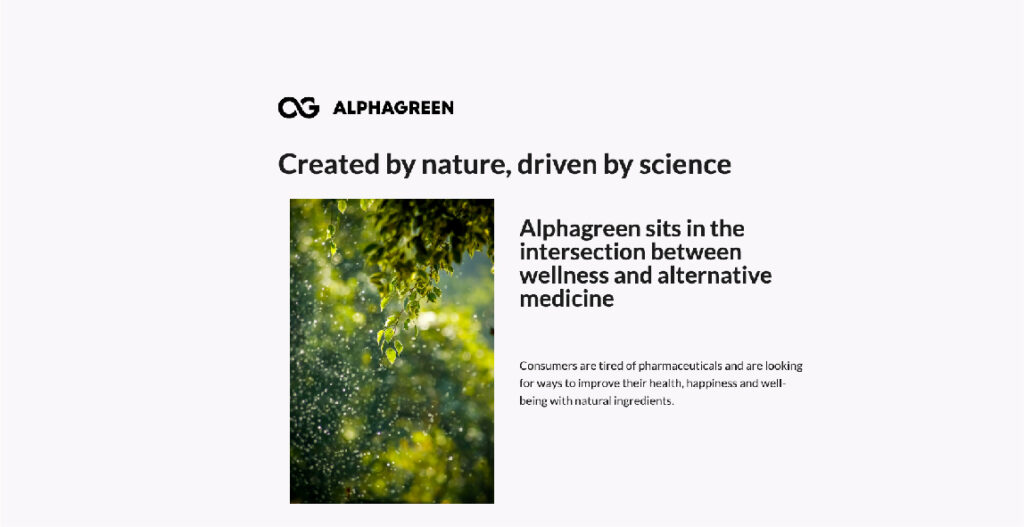 Alphagreen is a CBD brand online marketplace situated in the United Kingdom. The company, which was founded in 2019, generates annual sales of around $15 and $25 million. The organization offers materials to educate people about CBD and its advantages in addition to concentrating on its store.
The website has a ribbon that can be customized to promote the best deals, including free delivery, gifts, and a money-back guarantee. The business also uses the ribbon to show its Trustpilot rating, which fosters client confidence.
The homepage of Alphagreen displays its best sellers, saving visitors the time and effort of browsing the complete product selection. Sorting the products gives your website a neater look and makes it easier for customers to find what they're looking for.
5. Cannabox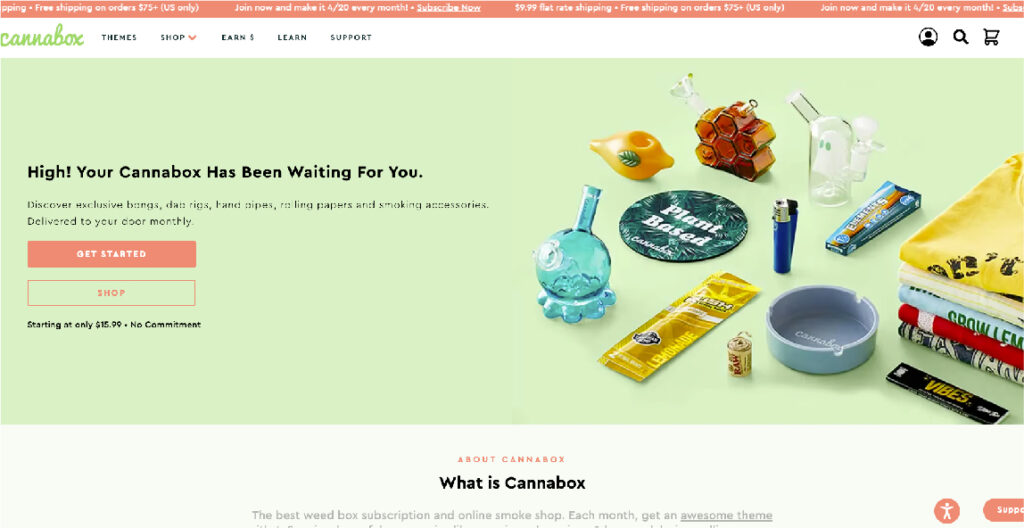 Cannabox was the first cannabis subscription box on the market, debuting in 2013. Visitors are welcomed by a peaceful tea-green colored hero background that evokes a comforting sensation. By experimenting with the color green and pairing it with a pale green Bianca canvas, the website makes a subtle allusion to the marijuana plant.
The website employs a fantastic collection of adorable, distinctive icons that are once again colored in green tones. The creative usage of adding products on the main page entices visitors to take action immediately. The logo is also pleasing to the eye.
The website's exceptionally simple navigation and enticing typography add to the overall seamless experience.
6. CBDistillery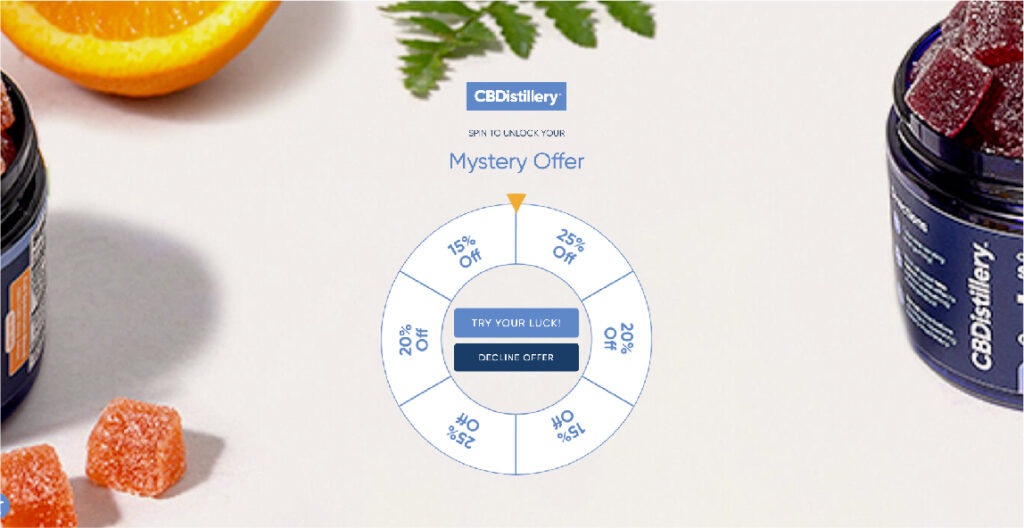 CBDistillery, a prominent name in the CBD industry, effectively captures the essence of an established and reputable business through its front page design. The clean, professional product images immediately impart a sense of quality and reliability. These visuals not only showcase the products in their finest form but also convey the company's dedication to transparency and professionalism.
They have strategically placed deals and coupons on the front page, and these offers not only catch the eye but also encourage new customers to explore the products further. As you scroll down the page, you can see the wealth of informative content about how CBD can positively impact customers' well-being.
By seamlessly blending visuals, deals, and valuable information, the company not only attracts new customers but also establishes itself as a reliable source of top-quality CBD products and knowledge.
7. Urban Leaf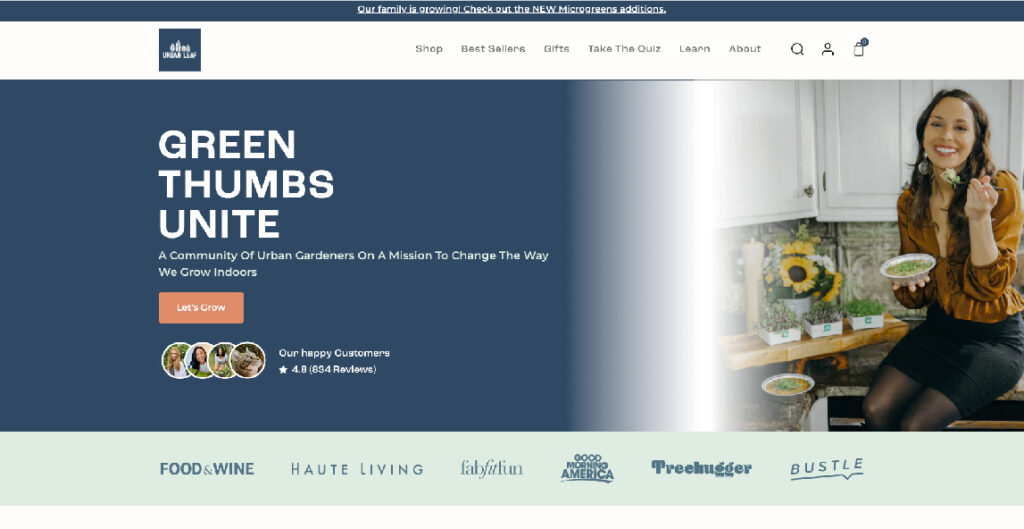 Urban Leaf is California's leading cannabis firm, with inviting retail settings and experienced staff who encourage inquiry, discovery, and conversation. They exclusively use the finest quality items and serve them in secure, easily accessible settings. They promise to provide you with the ideal buying experience, whether you're a cannabis novice or a veteran.
The website is exceptionally well-designed, with premium videography, contemporary typefaces, and large text, which appeals to all visitors.
The monochromatic black color scheme enhances the visual storytelling. The website has a distinctly Californian feel, which relates to its local target market.
The website's deal page works in conjunction with its active blog and online store to persuade users to make purchases.
8. Ontario Cannabis Store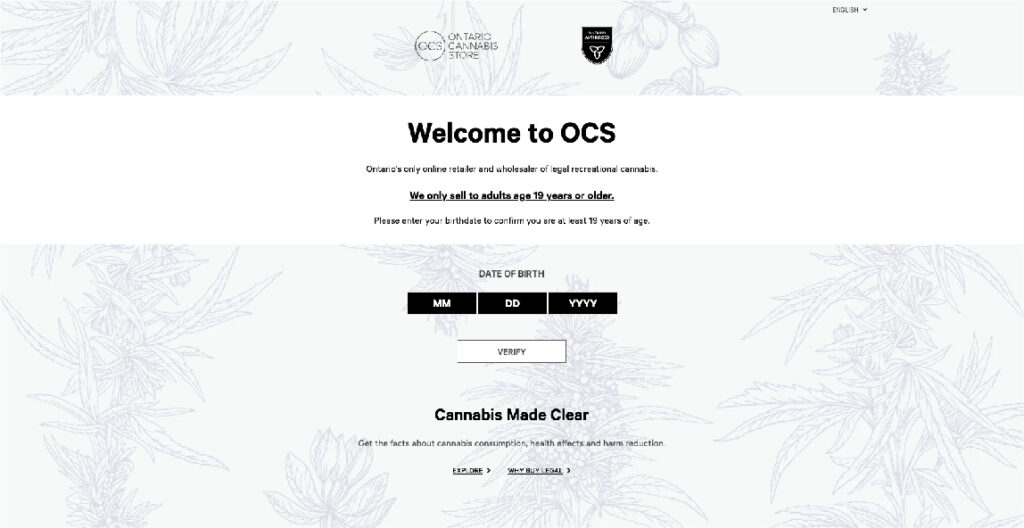 Ontario Cannabis Store is the province's only legal online store of recreational marijuana. It allows adults 19 and older to obtain recreational cannabis in a safe and responsible manner. It contains functional, thorough elements that are prepared to increase the company's credibility.
OCS features a colorful and enticing design as part of this best CBD website design. The website's user-friendly interface makes it simpler for visitors to find the content.
It encourages consumers to check out the top brands by displaying the most searchable brands in an orderly grid structure. Other prominent features include a sticky header, a search option, a clear representation of payment choices, and more.
8 Best CBD Website Design Mistakes to Avoid
1. Hard to Navigate Website Design!
Customers do not like hard-to-navigate or confusing website design. According to much research, visitors only stay on your website for a short while before choosing whether or not to leave. You only have a brief window of time to grab someone's interest. Most likely, visitors won't remain very long if a site is complex or slow to navigate.
What can you do, then, to help your CBD company prevent this?
Make sure your website is easy to use and compatible with all devices. To guarantee a fantastic user experience, test your website across a variety of instruments.
2. Slow CBD Website Loading Speed
The longer your CBD website design takes to load, the more customers you will lose. Not only will you lose customers, but it will also have a detrimental influence on your search engine rankings, as Google and other search engines are aware of this.
In fact, page speed is among the MOST significant factors influencing your website's domain credibility and position in search results.
Users dislike waiting for a website to load, regardless of its attractiveness. So, instead of employing full-bleed, mega-sized images, use framework features to achieve quick loading.
3. Don't Stuff Your Website with Stock Images
People's attention spans are limited, so a picture is worth a thousand words. Without a doubt, graphics are a potent tool for capturing visitors' attention fast, boosting engagement, and inspiring action.
Stock images, however, are NOT the answer.
But why?
Inadequately reflect your brand.
Detract from the appearance, feel, and personalization of your website.
Ruin your reputation.
Instead, you should invest in getting professional images and videos for your business, which sets your business apart from the number of cannabis website designs that are available today. This, in turn, increases customer trust while boosting sales and profitability.
4. Cluttered websites are a big NO!
You shouldn't overcrowd the navigation with text, graphics, or products because your clients want clear, minimum navigation. Avoid stuffing your pages with widgets and products.
Make use of the white space on your page to draw the reader's attention to the genuinely crucial elements, such as the subscription link or the buy button, which enables them to take an action that you want them to.
Use images and videos with caution, and limit them to a minimum, as too many moving graphics on a page might result in a slower loading speed and a cluttered website.
5. Don't divide your website design into different parts
Avoid using split-website designs, which undermine the impact of the message you're attempting to convey. Your company website is not your personal playground where you can experiment with your favourite and diverse themes.
Your website's design should reflect your company's goals and be geared toward the appropriate demographic.
A photographer's blog site will have a distinct style from a consulting services site. Once you've established your style, you can be inventive with how it is presented as long as you maintain the style. Play around with your brand's colors and aesthetic. And, whatever style and colors you choose, stay consistent with them in order to develop your brand and trust among your clients.
6. Unresponsive Websites Don't Work!
In the second quarter of 2022, mobile devices accounted for more than 58% of global website traffic, which does not include tablets. If your website isn't as straightforward to use on mobile as on desktop, you risk annoying visitors and boosting your bounce rate.
More than ever, users are accessing websites from various gadgets, including phones, tablets, computers, and even TVs. Visitors will lose trust in you and click/tap away from the site if any of them present our material poorly. Therefore, make sure it is responsive on all devices.
7. Keeping the Unstructured Website
Have you ever been on a website and been unclear about where to concentrate your attention? If so, you probably found yourself on a page with no hierarchy.
The absence of hierarchy misleads consumers and stops them from achieving their objectives.
Having hierarchy on your website is not only practical but also aesthetically pleasing. The right arrangement of website elements offers your site a logical structure that encourages users to do specific actions, accomplishes the main objective, and, as a result, produces a seamless experience.
8. Not Embracing Negative Reviews
Transparency is necessary to market CBD. So, allow both positive and negative reviews on your CBD website. Respond to any negative online reviews in an attempt to rectify the situation.
You can control and maximize word-of-mouth advertising in this way while also fostering real human connection and raising the level of transparency in your products and services.
Additionally, acknowledge the lousy consumer feedback and make improvements to your goods and services. By demonstrating your genuine concern for your clients, you can eventually boost your company's credibility and revenues.
Conclusion
Here's the complete wrap on designing the best CBD website design. We have added 8 excellent examples of the best CBD designs out there and 8 mistakes you should avoid.
Remember, your website represents your business CBD business online. So, make it easy to understand, don't make it too tricky, and be truthful about what your things can do. By looking at the good examples and avoiding the not-so-good stuff, you can make a website people enjoy using and trust.
To make the best ones, you can always reach out to the leading CBD website design company that understands your business requirements and target audience and offers specific solutions accordingly.
If you are looking for one, the experts at KrishaWeb can help you out. To discuss more, feel free to connect with us.