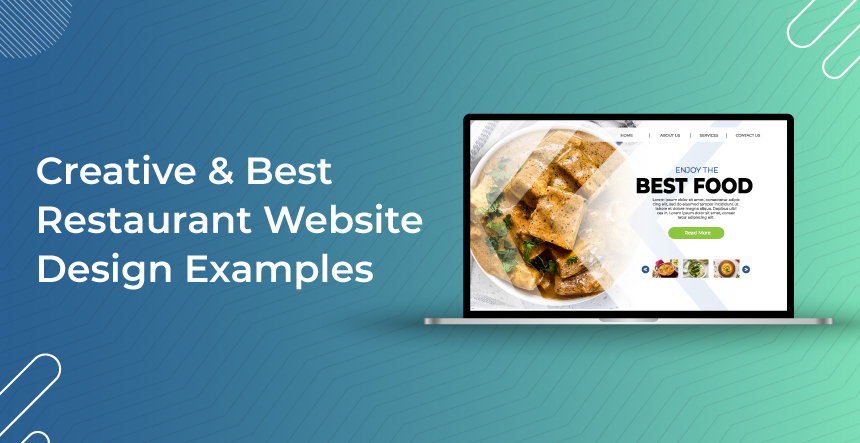 The best restaurant website design showcases creativity and conviction in food and blends in the element of marketing without overwhelming things. It should please customers and entice them to either visit the restaurant or order food from it. As a website is a first-hand impression of the physical food place, it demands absolute attention to detail. Although the process of designing a website for restaurants is not a cumbersome task, it demands the creative thinking and logical reasoning required for a successful food business.
Creativity is the first noticeable thing for potential customers and food lovers. Web pages that present food in an alluring manner are sure to grab eyes, but an uncomplicated online ordering system is definitely going to earn more customers. Once they are on the site, a gently presented newsletter feature helps owners promote their restaurant in a personal manner. This way, a well-planned website incorporates everything in one design. We will show some of the most revered restaurant sites to take hints from.
20 Examples of The Best Restaurant Website Designs on The Internet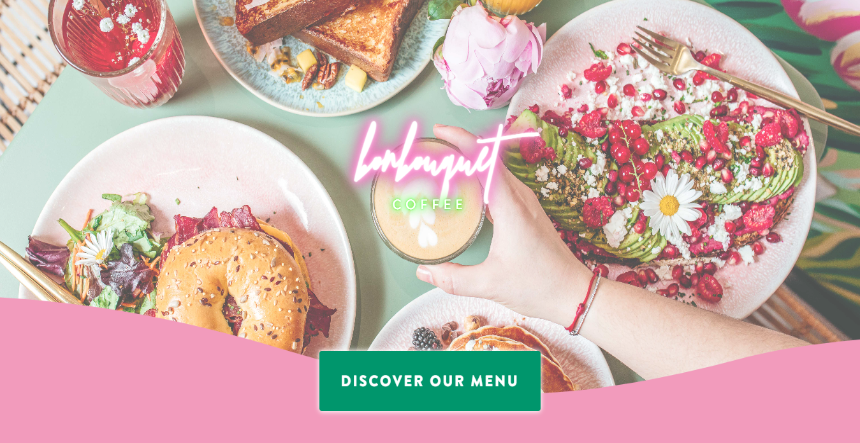 The restaurant offers Bali-style brunch in Paris. With enticing colours, a website that displays food pictures in a layered design makes it an interesting space to explore. With the options of brunch, desserts, drinks, timings, and menu listed on the webpage, it shares everything with the visitor or potential customers. With a label declaring Instagram following and social media icons, the website easily connects customers to social networks. In a nutshell, everything about the website is on point!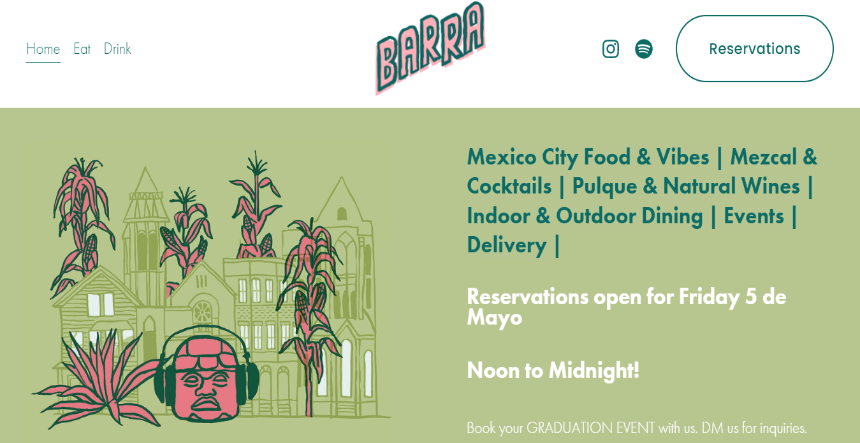 A simplistic yet catchy design giving the Mexican food vibe is the charm of this website. With a color palette that speaks confidence, a tiled layout, easy navigation, custom illustrations, gift card options, and more, the website delivers all information in a quirky style. attractive, informative, and unique in every sense, this one is certainly the best restaurant website design possible.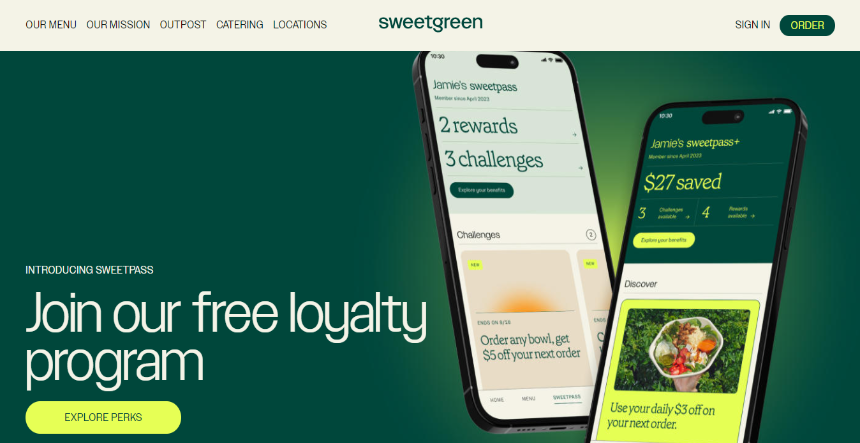 A site serving salad bowls is a refreshing change in the junk food era. With a simple color palette, the site displays its prominent salads that focus on health and hygiene. Smartly showing how visitors can connect through their app and its offerings for the corporate client, this one is an example of an excellent web design. With a short video content of salad recipes and the latest news about its achievements, the site captures every eye that falls on it.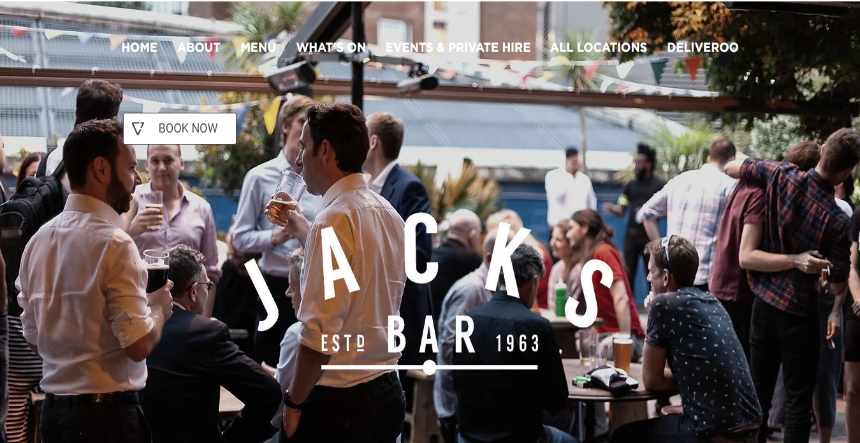 A single-page website design with mostly monochrome-themed pictures delivers all information. Be it the 'book the whole bar' or 'book an area' the inquiry option is kept clear and concise. With the pictures of its delectable food items, it attracts visitors to the daily menus and the idea of a fine dinner with wine and cocktails. Simple, retro yet smart design.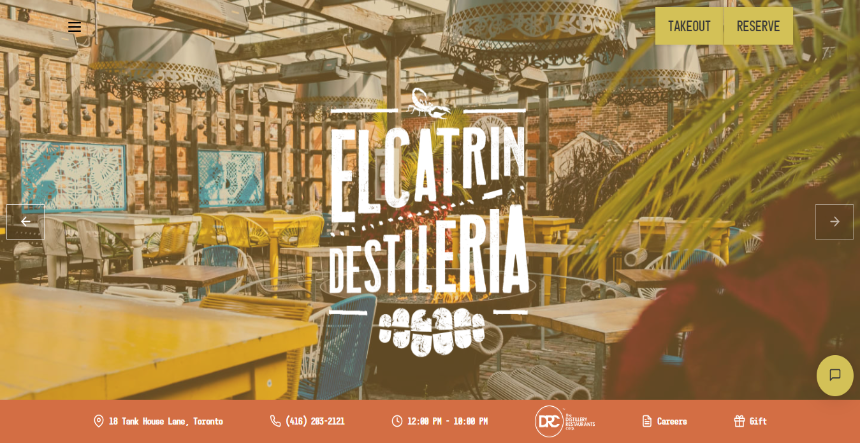 Informative, this website delivers everything that a potential customer searches for. Its design makes it entices customers from across Toronto to visit this place that serves delicious Mexican food. Vivid and all-encompassing, the site has the best restaurant website design to ask for.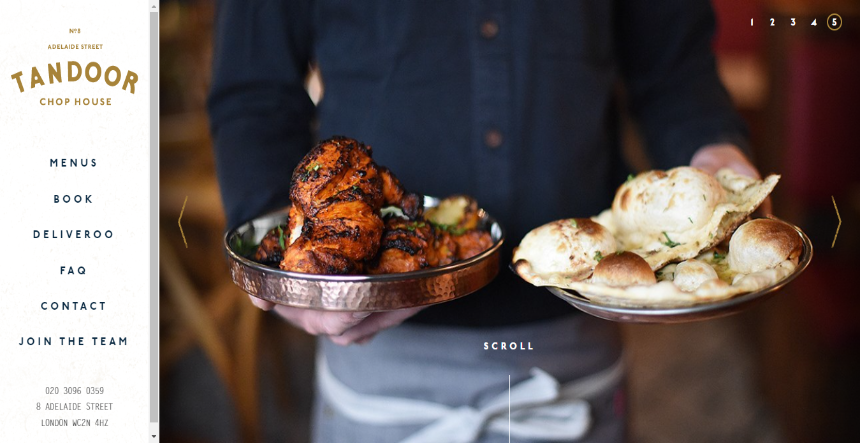 This London-based restaurant has finely crafted its website with steady left-side and scrollable right-side pages. With colorful pictures of delectable food and monochrome welcome message, menus, booking process, and Google Maps address, it serves all the necessary things in one go.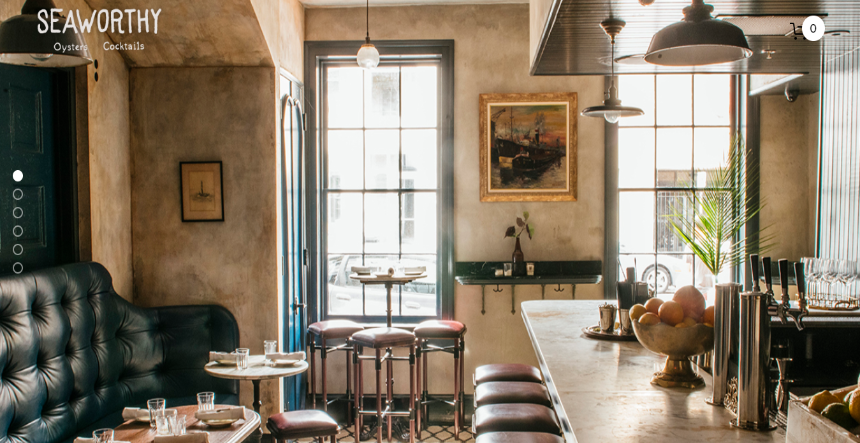 A stylish design that invites visitors to a wonderful dining experience is what this site stands for. A consistent theme with layers of colorful food photos and illustrations giving details about its best offerings is interesting. Pleasing write-ups and gently placed newsletter boxes to create a connection with the customer. Overall, a unique design!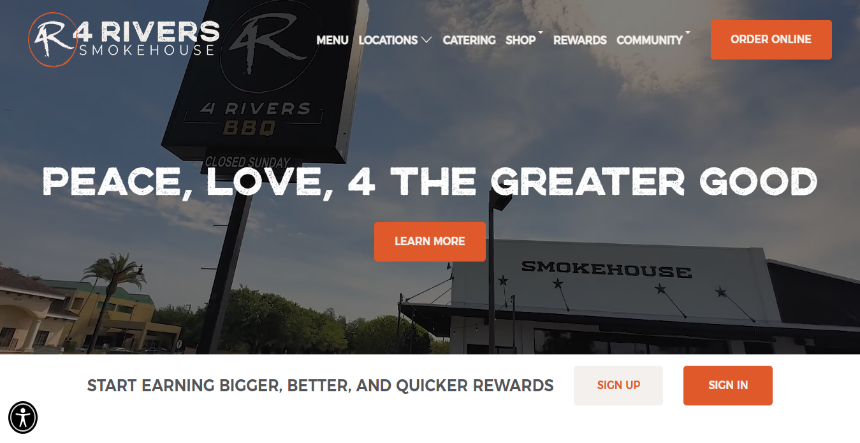 With a video banner showing the positive vibe of the place, the website wins a big yes. The US-based restaurant proudly declares revenue streams for a catering business, mouth-watering food pictures, smooth navigation, and highlighted button for online orders, making it a perfect website design.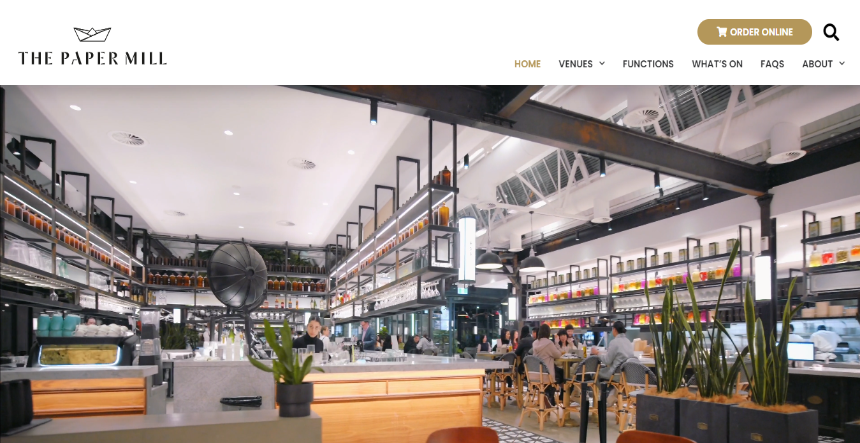 This relatively new restaurant uses an interesting design element with a fine blend of information and pictures. Serving delicious food in a heritage building, the space is quite happening. All of this is visible on the website which gets a big Thumbs up from the design point of view.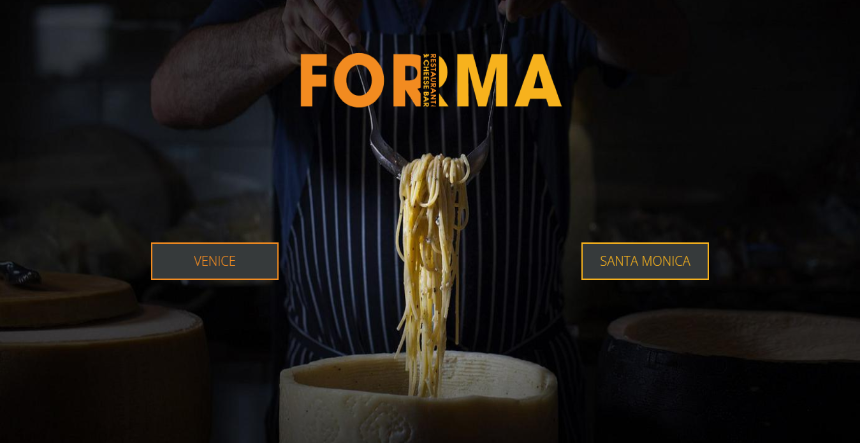 Location-based website design lays stress on the food, location, and marketing info and delivers a message about the origin of the company. Slow-motion videos, a bright color palette, visually stunning pictures, and nicely highlighted reviews, make the design an inspiration for future website makers.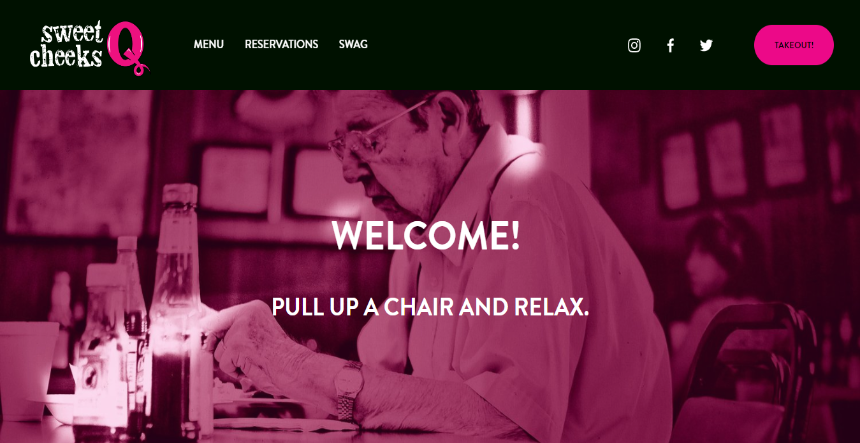 Dominated by pink hues, the simple yet informative website gives a relaxing feeling to the visitor. Info about menus, events & catering, jobs, reservations, and more, are delivered in a columnar format. The footer gives details about opening hours in the week and makes it a self-explanatory site.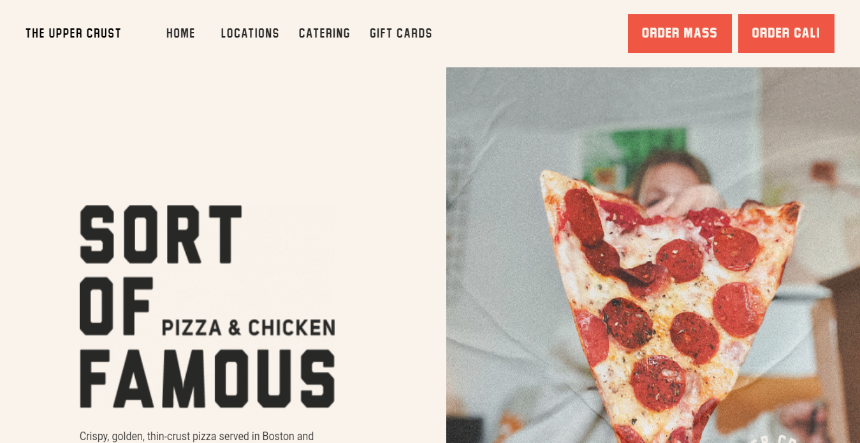 A pizza site that offers a nice blend of pictures and descriptions in a free-flowing website. A running banner that highlights that it is a multi-city place. Options for mass order and call are prominent to the eyes. The pastel color background gives a soothing feel.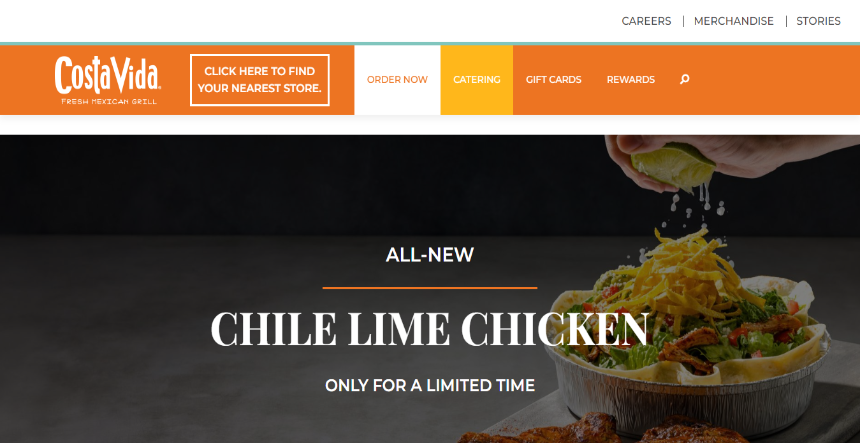 A banner showing its latest food item and design that displays menu items on the home page. A good mix of pictures and information, the site also gives a quick shortcut to its mobile apps. With bright colors and wide-spread pages, the site design is worth referring to.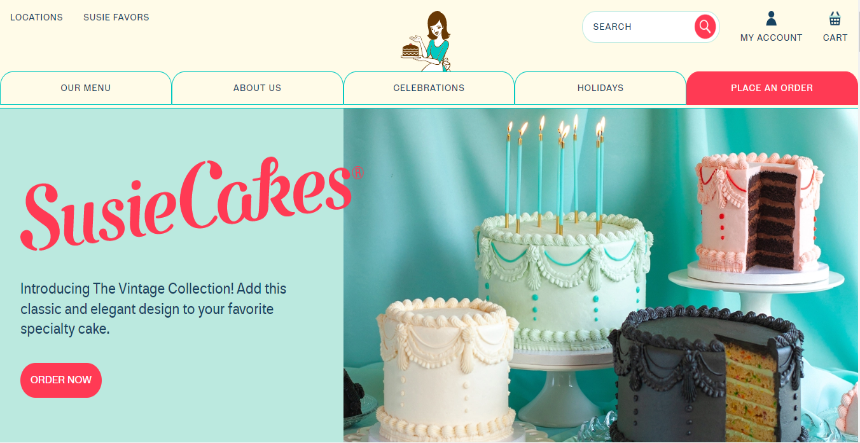 The multicity cake shop that specializes in vintage designs of cakes has an adorable website. With pictures of its best-baked items and details about the delivery options, pickup, and nationwide shipping, the site is quite an informative one. Marketing-wise, this site is perfect!
Again, a multicity place with a website that is full of videos showing that it's a happy place. Visibly regal, the site gives information in a columnar manner with crystal clear images. If you want to show food in a stylish manner and a restaurant that flaunts a sleek lifestyle, then this is the best restaurant website design.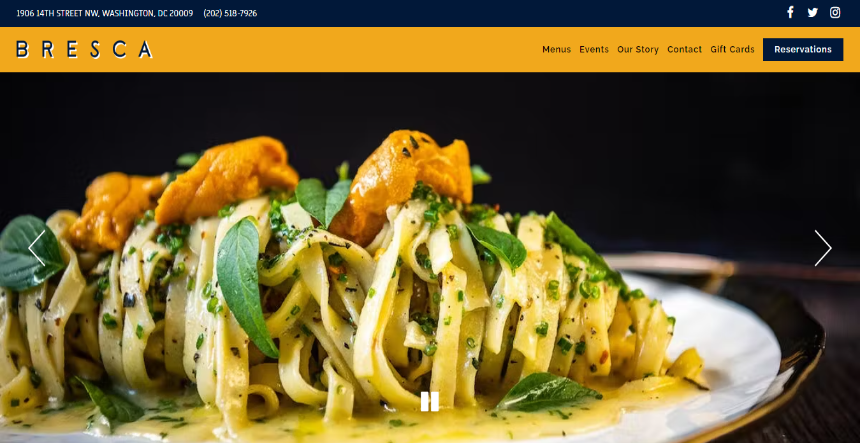 The classic example of a standard website design, this one is a blend of the right appeal, information, social connection, and content. It enchants the visitor, delivers the details, entices them with food pictures, and subtly compels them to visit or order.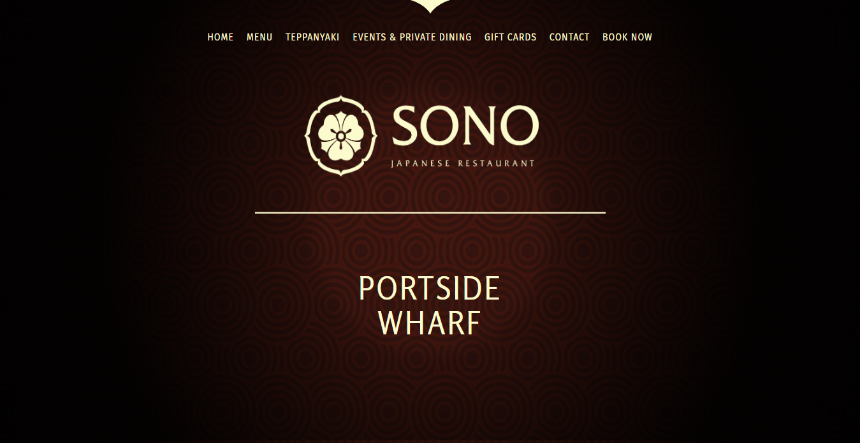 A single-page website with a dark background and light font colors and design, this Australian site flaunts the Japanese flavor in its look and feel. Floating and moving icons, tempting pictures, and interactive content to engage the visitor are the highlights of the site. Rightly placed details about trading hours, parking, booking, and call-to-action form, the site serves as the best medium to gather customer data.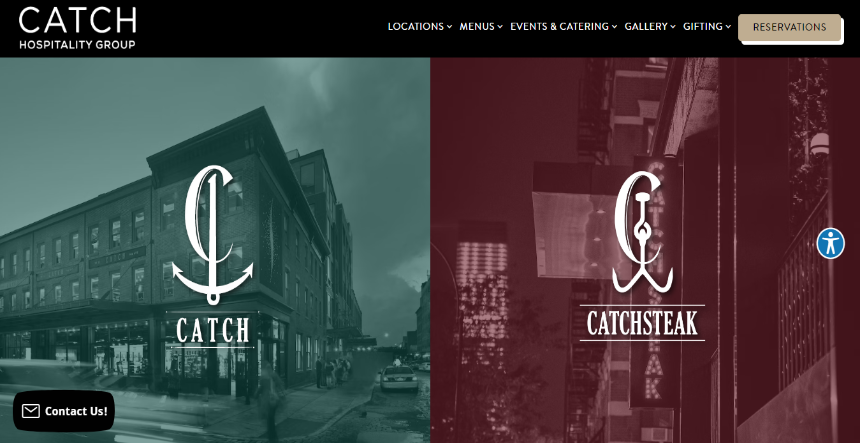 An unusual site design to highlight the uniqueness of the business, this Australian fish and chips business surely knows how to grab eyeballs. Heavily loaded with pictures, it relies on the visual effects. Works well on mobile and other screens to capture customers of all kinds. Surely, a stand-out example of the best restaurant website design.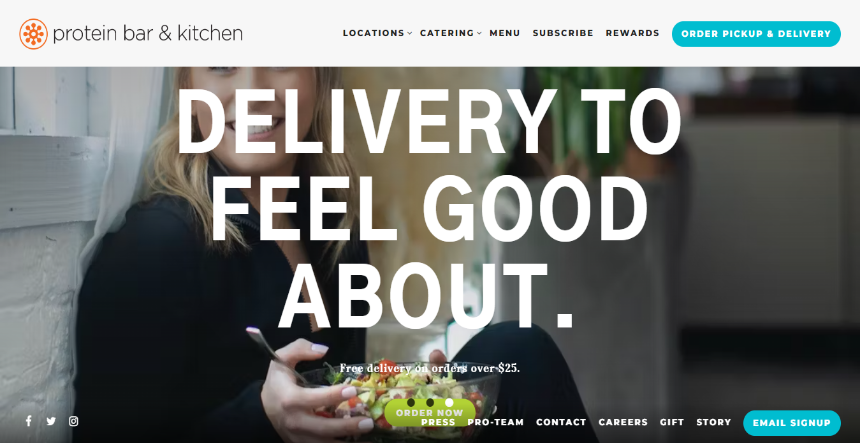 Another visually rich website that exhibits an approach of serving healthy food and recommends the way of 'eating socially'. A 'feel-good' site design that connects customers with goodwill, healthy food, and a variety of flavors. The menu, order button, and email sign-up are highlighted for instant reach. Definitely touches the right note when it's about designing a site for healthy restaurants.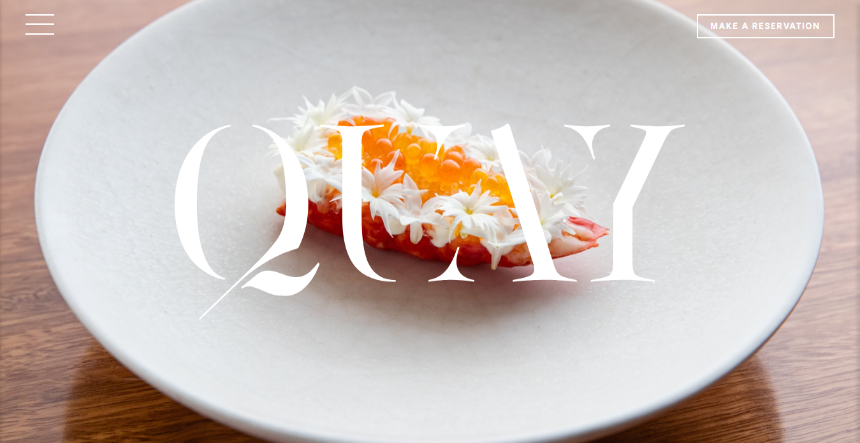 A unique approach to a restaurant website, this one uses a combination of images and white spaces to even out the webpage design. It chooses a distinctive way to attract customers with a video at the beginning. Abstract font design for banners amazes the visitor. Simple email sign-up makes way for instant connection with the customer. Blog, immediate events, and recipes are placed in the right spot to deliver details without creating a messy design. This one is an example of an uncomplicated site and definitely stands high on the ladder of best restaurant website design.
To sum up,
These are the twenty most promising website designs for food joints and restaurants. They can be taken as a reference to create a fully functional, catchy website. If you are into the business of food, check these sites out to pick and choose the elements that you would want on your site. They will inspire you to create a better website design for your restaurant.
We hope this information has helped you. If you are looking for website development, then KrishaWeb could be your best tech partner. We will help you build the website from scratch. All you need to do is connect with our team to discuss more details!