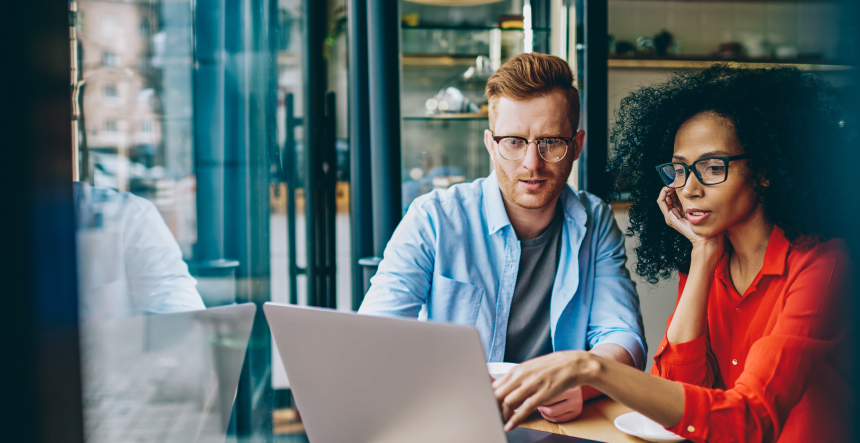 The digital world has changed now and enabled us to make choices on our own whether it is related to online shopping, strategic trading or if we go more technical side – choosing the best suitable CMS for your business website. Yes, the world is so open that now you can decide what technology you can opt for your website according to your business nature.
There are multiple options available for even a single requirement. However, it has also raised trouble for users to make decisions between which option to choose and which to not.
There are a lot of CMS platforms available to build scalable websites in the market, but here we'll explore and compare the two most dominating CMSs – WordPress and HubSpot CMS. They have become a primary choice for most of the website owners to host and launch their websites.
WordPress has over 43% of all websites live online, making it the most popular CMS in the world. HubSpot has fewer users, but as of August 2023, there are around 545,870 Hubspot websites, according to BuiltWith. This represents approximately 0.05% of the estimated 1 billion+ websites that are currently online.
So, with this data and popularity, it can be difficult to decide between these two. Thus we have drafted a detailed comparison between these.
So let's dive into it…
HubSpot vs. WordPress CMS: Who Are They For?
For business owners enthralled by the potential of automation, HubSpot emerges as a go-to choice. Its user-friendly integrated CRM system, global outreach, and robust analytics functionalities make it a compelling option.
On the other hand, the allure of WordPress lies in its open-source coding framework and plugin architecture. This combination empowers users with unparalleled control over design elements, devoid of restrictive proprietary entanglements.
Regardless of your decision, both HubSpot and WordPress hold the potential to deliver remarkable value when wielded appropriately.
What is WordPress?
At its core, WordPress is a versatile Content Management System (CMS). It empowers users to embark on two paths: building a new website or blog from scratch or customizing an existing one. The draw of WordPress lies in its free accessibility and the abundance of themes and plugins that allow customization to your heart's content.
Its user-friendliness shines even for those new to the digital realm, making it the go-to choice for individuals seeking to craft a website without delving into complex coding.
What is HubSpot?
HubSpot content management steps tailored solutions for businesses. It arrives bearing a promise: streamlining the crafting and managing of website content. This is achieved through an intuitive drag-and-drop interface, ushering in simplicity for adding and tweaking content.
Moreover, HubSpot's array of features doesn't stop there; it extends to embracing branding elements, allowing businesses to sculpt their websites to mirror their distinct identity.
HubSpot vs. WordPress – A Detailed Comparison
1. Ease of Use
WordPress
WordPress CMS can be intricate. Usability varies based on themes, functionalities, and tech skills. Abundant online tutorials and YouTube resources help beginners. Simple sites can be swiftly created, sans coding, using themes like Divi. However, advanced WordPress endeavours demand adeptness in PHP, HTML, JavaScript, and CSS, often overwhelming novices.
HubSpot
HubSpot CMS caters to marketers, developers, and IT teams. Marketers benefit from drag-and-drop editing, which is great for non-developers. Small businesses find an accessible interface. Advanced coding is necessary for complex sites. Unlike WordPress, HubSpot avoids plugin expenses, offering an all-in-one solution.
2. Customization
WordPress
WordPress customizes first. User-controlled themes, fonts, and colours define its appearance. Its form, SEO, and security plugins provide customized functionality.
Gutenberg blocks allow text, media, and layout customization in basic themes. With accordions, video galleries, and counters, premium themes like Divi make WordPress a no-code design hub for unlimited creativity.
HubSpot
HubSpot CMS has a drag-and-drop editor and theme customizations for marketers and non-coders. Your theme determines module editability. Developers create limitless modules using command-line power. HubSpot customizes themes, headers, footers, and authors. Developers use the CLI for precise control, blending creativity and functionality.
3. Themes and Templates
WordPress
WordPress's free and premium theme collection is the largest. You'll find a theme you like with thousands of options and diverse developers. Premium options like Divi offer extensive customization and module variety, improving your site's appearance.
HubSpot
With a HubSpot CMS account, you get a few default themes. Users can modify these themes to fit their vision. The HubSpot marketplace allows theme downloads for business websites with little coding. HubSpot emphasizes easy representation without coding.
4. Security
WordPress
WordPress security is intricate and contingent on your chosen hosting and plugins. Premium hosts like SiteGround and Cloudways offer SSL certificates, bot protection, and malware defences. WordPress security plugins like Wordfence and Sucuri provide firewalls, bot safeguards, and DDoS attack prevention. Regular updates bolster security.
HubSpot
HubSpot CMS excels in security. Being a Software-as-a-Service (SaaS), it delivers comprehensive protection in one package. SSL, network & application protection, and customer data safeguarding are integrated. HubSpot employs TLS 1.2/1.3 and end-to-end encryption for files and customer data.
5. Ecommerce Solutions
WordPress
WordPress integrates seamlessly with various eCommerce solutions, with WooCommerce being the most popular. WooCommerce offers a free plugin for quick store setup, yet customization often requires purchasing add-ons at costs ranging from $29 to $299. The versatility of WordPress allows you to tailor your online store using multiple solutions.
HubSpot
HubSpot lacks a native eCommerce solution. You can embed payment buttons through PayPal or Ecwid for sales, but managing products and reporting won't be within HubSpot. This method suits small product catalogues. However, HubSpot can't handle payment processing or database-driven cart pages.
6. Blogging
WordPress
Originally a blogging CMS, WordPress remains strong in this domain. It allows non-technical users to write, format, edit, and schedule posts effortlessly.
HubSpot
HubSpot's blogging platform stands out for its user-friendly interface and robust features. Its "what you see is what you get" editor simplifies writing, formatting, and editing. Plus, you can schedule posts and seamlessly integrate calls to action (CTAs).
7. Analytics & Reporting
WordPress
WordPress employs its Jetpack plugin for analytics. While basic dashboard reports and SEO analysis are included, enhancing tracking requires third-party plugins like Yoast SEO or Monster Insights. Compared to HubSpot's built-in features, WordPress's suite demands supplementary efforts for a more comprehensive view of website performance.
HubSpot
HubSpot presents a robust in-app analytics suite for holistic website evaluation. From traffic analysis and conversion tracking to content performance and campaign monitoring, HubSpot's real-time reporting empowers strategic adjustments. Seamless integration with services like Google Analytics further amplifies its comprehensive reporting capabilities.
8. SEO
WordPress
WordPress lacks inherent SEO support, necessitating third-party plugins for optimization.
HubSpot
HubSpot diverges by providing built-in SEO support, eliminating the reliance on external plugins. With HubSpot CMS SEO, optimizing your website for search engines becomes seamless.
9. Flexibility
WordPress
WordPress exhibits adaptability through the incorporation of new features and extending default functionalities. While third-party plugins or developer assistance are essential, a supplementary budget is necessary.
HubSpot
HubSpot open source, a proprietary system, offers less flexibility than open-source solutions like WordPress. It's less flexible on the server side, but the client side provides significant content management and presentation flexibility.
10. Integrations
WordPress
With WordPress CMS, developers can smoothly integrate other platforms through third-party plugins. Yet, these plugins cater to general cases; for specific needs, user engagement with developers for customization might be necessary. Customizing a plugin could entail licensing concerns, particularly if the planned distribution is planned.
HubSpot
HubSpot excels with its App Marketplace, hosting numerous apps for seamless integration. Each app bolsters connections to various platforms. Further, HubSpot extends the option of custom app development, perfect for scenarios where the desired app isn't available in their marketplace.
11. Website Loading Speed
WordPress
In WordPress, loading speed hinges on hosting, theme, and plugins. Slower loading is a common challenge with WordPress sites, and achieving rapid loading might only sometimes be feasible due to these factors.
HubSpot
HubSpot enjoys innate swiftness due to its infrastructure, streamlined programming, and content delivery network (CDN). Its design leads to rapid loading, improving user experience.
12. CMS Features
WordPress
WordPress provides content management capabilities with pre-bundled default themes and downloadable free themes. While functional, these themes lack intuitive content management. Commercial themes, however, offer enhanced content management beyond the default or free options.
HubSpot
HubSpot shines with its user-friendly and intuitive content management system. Regardless of the theme chosen, HubSpot ensures consistent and straightforward content management across the board.
HubSpot vs. WordPress: What About the Cost?
In the cost department, HubSpot takes the lead. Its starting price is $23 per month, which offers hosting, security, an SSL certificate, and one website. The professional plan, at $360 per month, might seem steep, but it packs immense value with features like 100 websites, 10,000 web pages, and 100 email inboxes.
Now, we know WordPress is free. However, costs escalate rapidly when you factor in hosting, plugins, themes, and extras. Both platforms have their merits. WordPress suits you if you're a small business owner or individual seeking an elegant website without complex integrations. But if you're a marketing pro craving automation and precise customer control, HubSpot stands tall.
WordPress vs. Hubspot: Final Recommendations
In the ultimate showdown of HubSpot vs. WordPress, declaring a decisive winner proves elusive. The optimal selection hinges on your precise content management system requisites. HubSpot leads the charge in security, user-friendliness, support, analytics, and email marketing.
Nonetheless, WordPress retains its niche, ideal for marketers with straightforward needs or budget constraints. WordPress shines if you seek expansive customization and a plethora of themes/plugins. In conclusion, your organization's distinct needs and resources dictate the verdict.
Contact us today to explore your requirements and guide you toward the choice tailored to your business.
FAQs: HubSpot vs. WordPress at Glance
1. Is HubSpot easier than WordPress?
HubSpot is generally easier for beginners due to its integrated tools, drag-and-drop editor, and seamless CRM integration. WordPress requires more familiarity with its Gutenberg editor and plugins for similar functionality.
2. Is HubSpot bad for SEO?
No, HubSpot offers solid SEO tools. However, some users prefer the extensive customization options available through WordPress SEO plugins for more fine-tuned optimization.
3. Why WordPress over HubSpot?
Both systems have excellent search engine optimization capabilities. While WordPress' extensive library of SEO plugins, such as Yoast, enables in-depth optimization, HubSpot comes equipped with its own set of tools for search engine optimization (SEO), making it less flexible and well-suited for many businesses.
4. What is the disadvantage of HubSpot?
HubSpot's cost-effective packages should include A/B testing, marketing automation, and other crucial features. Depending on how many contacts you have, these features come in 'bundles' that cost thousands of dollars per month.
5. Why does a business use HubSpot?
Due to its integrated CRM and marketing tools, businesses prefer HubSpot. It simplifies several facets of its digital strategy while boosting lead generation, nurturing, and customer engagement. By streamlining marketing efforts, this all-in-one platform promotes growth and results.