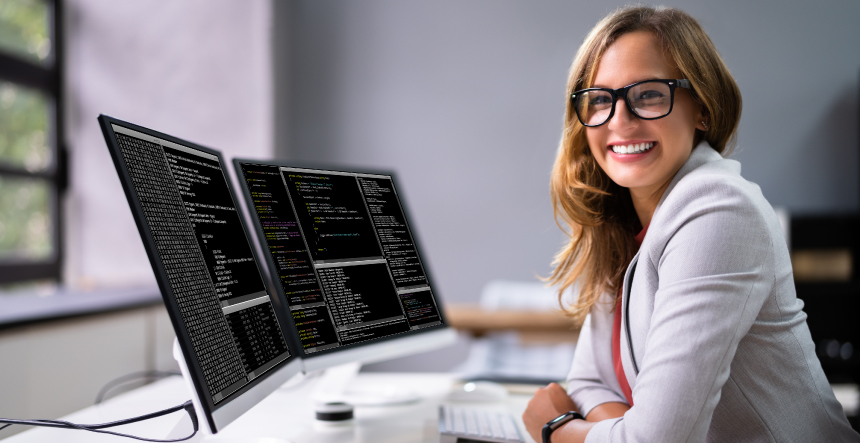 Weebly vs WordPress is a head-on comparison between a famous website builder and a seasoned, market-leading CMS. While both have their merits and demerits, the choice truly depends on the user's requirements and technical prowess. Launched in 2003, WordPress has crossed two decades into the web development market. Weebly was conceived in 2006 and had a considerable fan base in the category of top website builders.
Talking about numbers, WordPress is chosen by nearly 43% of websites around the world. When we dig deeper, it's revealed that it is chosen by nearly 60% of the sites that use CMS as their base. With a whopping 455 million websites to its credit, WordPress certainly is the numero Uno in web development platforms. On the other hand, Weebly takes up a minuscule 0.7% of the web development market but reigns in markets of the USA, UK, Canada, Australia, Netherlands, etc. While WordPress is adopted by 59.8% of the top million websites, Weebly forms a humble 0.2% of them. Precisely, WordPress contributes to a huge portion of the global revenue generated by CMS-based websites, accurately $ 1.3 billion in 2021. Weebly settles for a few million, exactly $24 million.
With all these stats in mind and individual requirements, one can play around with the idea of choosing any of the two for site building. Whether you are a Startup or a mid-level company, you need to weigh the risks and benefits of both. Let us get an insight into each.
What is Weebly?
Weebly is a website-building tool with a few free templates and customization options. Suitable for small websites, blogs and eCommerce stores, it is quite handy for beginners who have almost no idea of coding. Famous as Software as a Service (SaaS), this one is the sixth most widely used web development platform. On subscribing with payment, you get an online editor, custom features, marketing tools, hosting and customer support as part of the package. With all drag-and-drop functions, you can create sites in a few minutes. You can choose between four ascending plans which include Free, Personal, Professional and Performance. Its paid plans start from $10/month.
What is WordPress?
WordPress is a globally renowned, open-source CMS used for developing all kinds of websites. Enveloping around 43% of the web development market, it stands tall as an all-inclusive web development platform. With huge customization options including hundreds of free templates, themes and plugins, it offers complete tailor-made site development. It helps to add innovative and advanced features through a huge range of plugins like WPForms for adding payment forms and WooCommerce for integrating an eCommerce store. WordPress.org offers website building with a self-hosting platform. You need to choose a hosting provider, hosting plan and domain name. It proves cheaper as the hosting plans start from as low as $1.99/month.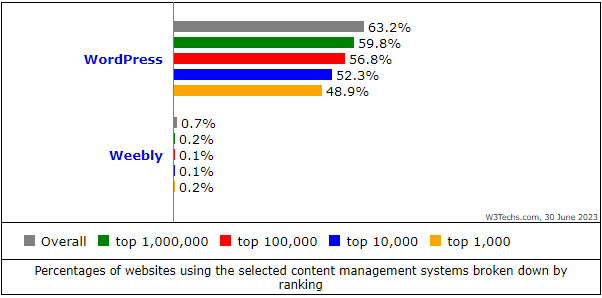 Image source: w3techs.com
WordPress vs Weebly – A Quick Glance
| Category | Weebly | WordPress |
| --- | --- | --- |
| Ease of Use | Quick installation, drag-and-drop site builder, requires zero coding, beginner friendly. | Comes with a simple interface, user friendly but requires some coding skills to build complex functionality |
| Design templates | Offers limited, basic, easy-to-switch yet stylish designs with quick customization options. Again, few themes are available. | An ocean of customizable themes, templates and design options to create stunning, feature-rich websites, online stores and high-scale sites. |
| Features & Tools | Depending on the plan and pricing model, you get a range of features for blogging and eCommerce setup. App Store is available to add more tools. | Many built-in features to suffice simple sites and blogs. More can be added from an exclusive range of free and paid plugins. |
| eCommerce setup | Available from basic to advance as per the plan. Perfectly suitable for small-scale online stores. | Useful for building giant, powerful, secure, eCommerce stores through WooCommerce plugin. |
| Apps & Plugins | Offers an app store that supports the download of relevant, ready-to-use plugins & apps in a few clicks. | Thousands of free and paid plugins to choose from, WordPress is best for large-scale web applications. |
| SEO | Most themes are SEO friendly so, beginners can enjoy a good ranking site from the scratch. | Imparts SEO features through the Yoast plugin, which gives an instant boost to site ranking. |
| Support & Maintenance | Self-sufficient in terms of maintenance, in charge of adapting to or tweaking the hosting, regular updates and security measures. | Demands constant maintenance, backups, updates, hosting parameters and more. You need a team for this. |
| Pricing | Free and paid plans are available – starting from $6 to $26/month. | No licensing fees, pay for hosting and additional themes, templates & plugins. |
Weebly vs WordPress – A Head-to-Head Comparison
Ease of Use
Weebly comes up as a simple, uncomplicated, beginner-friendly website builder. With all drag-and-drop setups, you don't even need HTML skills to design a webpage. Install it and start web development in less than a minute. Just choose a hosting plan and an SSL certificate, everything can be done in a few clicks. You can create a web or mobile page by editing a readymade template through an image editor. For more design prowess, you can easily add HMTL, CSS and JS; but you don't need them to start using Weebly.
Setting up WordPress is a bit tedious compared to Weebly. Here, you need to choose a hosting provider and domain name. Most hosting providers offer an installed version to you, but may not offer an SSL certificate. If not given, you need to get that certificate first. Once this is done, you can easily edit the existing templates through the drag-and-drop block editor. If you want to add more plugins, then a bit of coding knowledge is required.
Verdict: Weebly is easier to use than WordPress!
Customization options
WordPress is a clear winner here as you get a chance to not only twerk the existing images and templates but actually add new features through plugins. There are more than 60,000 WordPress plugins – free and paid both. You can choose from any of them, alter them as per the business requirements and create a unique working website.
With Weebly, you can only edit text, images and simple design elements in the templates. Creating new features is a far-flung game here.
Verdict: WordPress rules the customization game!
Cost
When we compare Weebly vs WordPress pricing, we need to go through a few details.
Weebly offers four plans – Free, Personal, Professional and Performance. You can either go with a free plan and accommodate your site with basic features and limited design. Or, you can choose a paid plan with relevant features to create a comprehensive site for your business. The price range is $10 to $26/month, which needs to be paid on a yearly basis. As per the choice of plan, you will get additional features like password protection, number of members, phone support, etc. You can get new features by purchasing third-party integrations from its app.
With WordPress, you need to pay for the monthly hosting plan, as the software comes for free. WordPress hosting charges are as low as $1.99 or $2.75 per month. You also need to purchase a domain name, which can be anywhere between $10 and $15 per year. You can play with free WordPress themes or choose paid ones, which start from $30. Many plugins are free while others are paid as well. As an overall analysis, a WordPress site is cheaper, provided you incorporate free or budget-friendly plugins and themes.
Verdict: WordPress is low in cost than Weebly!
Support Options
As Weebly is in full charge of installation, extensions and code, it takes care of site updates, backups and other maintenance parameters. As far as customer support is concerned, it has a readily available, dedicated support team. You get answers through live chat, phone, emails, etc. Support timings are based on weekdays and weekends. Chat support is made exclusive to certain countries and varies with the subscribed plan.
Unlike this, WordPress does not offer any such support. You need to connect with the active community of WordPress developers through forums, slack channels and events. You can go through the WordPress Codex, which is the manual for everything to be done in and through WordPress – from installation to plugin development. Support forums are an ocean of queries and their answers.
Verdict: Weebly wins in the support options department!
SEO
Weebly offers editing of titles, meta descriptions and custom URLs. It offers mobile-optimized templates, which can be used and customized to build responsive sites. You need to have a fair knowledge of SEO to optimize your site.
WordPress has far more tools to incorporate SEO during website development. Apart from customizing the alt-text, meta, headings and URLs, it gives responsive themes, which can play the role of catalyst in earning high ranks. Its code can be altered to rule out any performance dampeners. Also, plugins like Yoast SEO and WP Rocket can be integrated to manage indexing, site monitoring, analytics and other essential SEO techniques.
Verdict: WordPress wins the SEO game!
Ecommerce
Weebly is best for small-scale eCommerce site development. Its plans offer primary eCommerce features like a shopping cart, inventory, product page setup, coupons, etc. You can even get a shipping calculator and other advanced features with higher plans.
WordPress offers full-scale eCommerce website development with its free WooCommerce plugin. Apart from the basic features, the plugin offers advanced options like product filtering, abandoned cart monitoring, marketing tools, multichannel sales, payment processing options, a reward system and more. Basically, you can create a fully-fledged eCommerce store as per your business goals. It also offers multilingual support.
Verdict: WordPress is a clear winner in eCommerce development!
Apps and Plugins
Weebly offers 350+ apps to add any new functionality to the basic site. Some experts vouch for the quality of these plugins, which do not pose any cyber threat to the site.
WordPress has thousands of plugins, free and paid. You can use them as per the requirement. Third-party paid plugins should be checked for their efficacy and security.
Verdict: WordPress wins by the number of plugins while Weebly plugins can be trusted for their quality!
Ongoing Maintenance
Weebly is in control of its code, data and plugins. It is much easier to maintain and update. Security backups, patches or anything, everything is done by the software itself.
WordPress site needs a team to maintain it, take regular backups, update themes & plugins, monitor threats, etc. You need to maintain all third-party software as well.
Verdict: Weebly sites are much easier to maintain!
The Final Conclusion!
Well, consider both avenues. When you need a small website with limited features, Weebly is the forerunner. If you have the budget for the plans, then it will be a rewarding site. However, if you want a large-scale website with tech-savvy features, WordPress is a clear-cut choice. It offers everything required for any kind of website. Creative, eCommerce, industrial, enterprise, and all kinds of websites can be made in WordPress.
KrishaWeb is a WordPress development agency with an astute development team. We offer professional WordPress services, starting from development to support.
Feel free to get in touch with us for details!