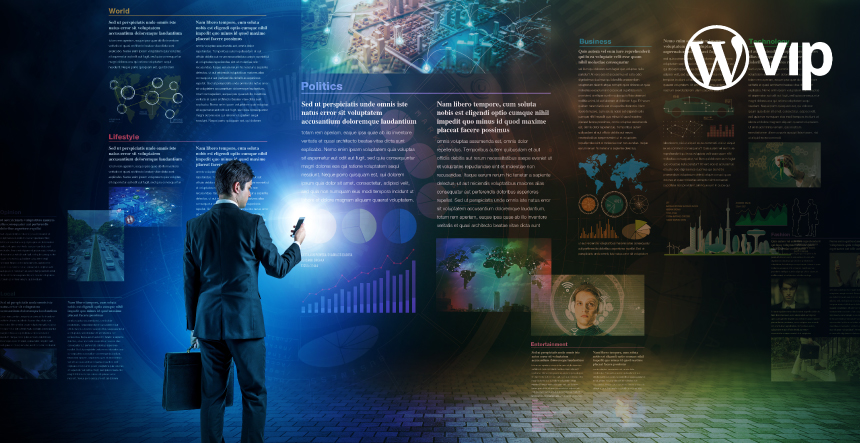 Media enterprises are into showcasing news, creating content and engaging people about various subjects that matter to the common man's life. They need high visibility, exponential reach, exceptional customer engagement and content delivered at a rocket pace. Media is a highly competitive industry where each media house tries to deliver news faster than its competitors. For this reason, media companies rely on solid CMS like WordPress which allows flawless content creation and a matchless hosting platform like WordPress VIP which offers secure, scalable, data-driven, hosting for large-scale, news-delivering websites.
With strict coding standards and robust hosting plans to handle high traffic volumes of the magnitude of millions of hits per second, this is by far the most reliable hosting platform for media enterprises. Popular websites like CNN, Facebook, Salesforce, New York Post, TechCrunch, etc. use WordPress VIP for all the merits that it offers.
Let us dig deeper to find out why WordPress VIP is the most trusted hosting platform for such stalwarts and why media enterprises should put their bet on it.
Top 5 Reasons Why Media Houses Choose WordPress VIP
1. Fast Reaction to Breaking News and Trends is Essential Need
Launching top stories before anyone else and getting an instant audience reaction is how media houses outshine their competitors. Whether it's sports, entertainment, pop culture, or spreading the word for upcoming web series, everything needs speed. Media houses need to know the nerve of the audience to promote or demote their marketing campaigns. For this, WordPress VIP is extremely helpful.
With its Parse.ly analytics, the hosting platform offers data-driven signals to the content marketing team. It not only gives real-time figures about the number of clicks but customer engagement as well. Parse.ly offers very useful metrics like number of users, engagement time, social media referrals, etc. By comprehending all of these figures, the media content team can play master stroke marketing campaigns, win the hearts of audiences and stay ahead of the competition.
For example, the Backstage magazine experienced a 25% increase in revenue, 20% more conversions and 10% savings on ad spending, by using the analytics.
2. Easy and Quick Content Creation for Content Creators
Media companies need instant content about the latest happenings without any delays. They cannot wait for the content team to learn the digital or technological gymnastics to operate commands to edit and publish content. So, they depend on WordPress VIP which hosts WordPress websites with Gutenberg block editor. The editor has an easy-to-use user interface, which simplifies editing and publishing of content in a blink miss time.
WordPress VIP simplifies the workflow of media houses to offer a highly collaborative environment. This supports non-technological teams to work in cohesion and offer their creative genius, without the slightest delay.
A popular company like Times Media have optimized their workflow by a whopping 62% through WordPress VIP.
3. WordPress VIP Scales Anticipated and Unexpected Traffic Surges
Media enterprises cover world-scale events like football matches, election events, catastrophes, and more. They need to manage the heavy volume of traffic during these live events. They cannot afford any downtime, site crash or technological errors at the time of peak traffic. For this, a hosting platform like WordPress VIP which offers immense scalability is the best solution.
WordPress VIP can easily handle an upsurge of traffic of the widest scale. Its war zone infrastructure scales dynamically to balance the load during unexpected and expected traffic spikes.
One of the best real-time examples is companies like FiveThirtyEight which crushed traffic records with a billion hits during the US elections. Clearly, WordPress VIP proves its calibre for scalability!
4. Safeguarding Against Bad Actors: Enhancing Security and Infrastructure for Effective Defense
Media websites publish sensitive, timely information, which should not launch before the right time. They are often prone to cyberattacks, risk zones, and threats that may grab their data. Events like Denial of Service (DoS) attacks can bring things like breaking stories on hold and ruin their reputation. To avoid this, media enterprises need very solid backend security.
WordPress VIP suffices diverse security requirements through features like edge protection, secure networking, infallible access controls, nonstop security monitoring, code scanning, etc. Therefore, it is the first choice of industries that need to fall under high-risk businesses like the government sector.
WordPress VIP has the distinction of FedRAMP Authority to Operate (ATO).
5. Collaborative Brilliance: Uniting Developers and Content Teams to Craft Engaging Customer Experiences
Media companies focus on customer engagement through various content delivery channels to generate a humongous brand image. For this, their content teams need to work in a collaborative fashion. This requires freedom and flexibility to develop custom content for all channels like websites, mobile apps, social media accounts, etc. The architecture of the enterprise application needs all futuristic features that ensure collaborative brilliance for a successful media business.
WordPress VIP platform offers limitless flexibility and architectural ingenuity of open source platform. It helps to build custom blocks, and personalized themes for diverse types of content to deliver an absolute customer experience. Its plug-and-play functionality can be leveraged by the content teams to build wholesome customer experiences.
Popular UK-based media company Network N gained a 75% increase in revenue through collaborative efforts and strategic insights into analytics.
Final Words…
Enterprise WordPress is increasing like never before and media companies are the prime takers. They need to stay ahead of the competition as well as engage customers without crashing their website. For all the above-mentioned benefits and more, WordPress VIP is considered the best hosting platform for meeting the requirements of big-scale media companies.
KrishaWeb is a WordPress development company with expertise in creating media websites. We develop custom enterprise applications with a high conversion ratio. We are WordPress VIP silver agency partners that develop large-scale web apps for our global clients. If you are looking for innovative web publishing solutions, connect with WordPress VIP Experts!