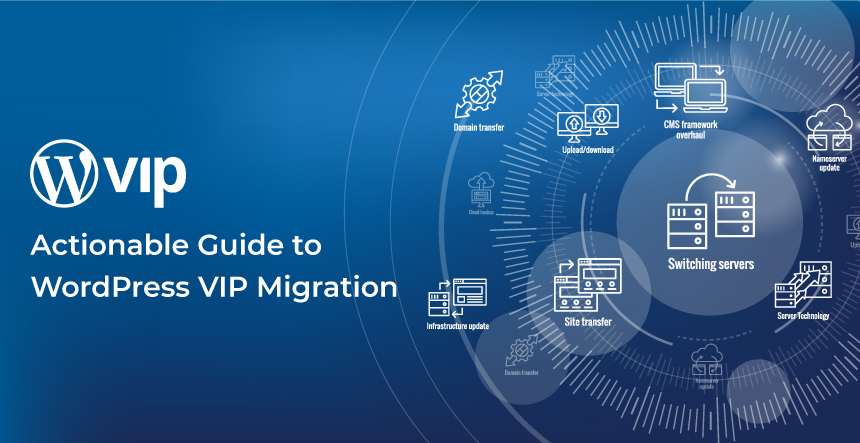 As we all know, it is an enormous task to migrate an enterprise application to a different platform, and often it is prone to errors.
Today, we will go through the details of migration to WordPress VIP, its complete checklist, and things to consider post-migration. This process is tedious but certainly gives excellent results post-migration.
Let us help you with the WordPress Migration checklist and all other details involved in the process.
Important points to consider before migrating any website to WordPress VIP
Types of migration
The process of migration
The format of the website to migrate into and its various functionalities
Without further ado, let us go through a step-by-step process of migrating to WordPress VIP.
Types of WordPress VIP Migration
Before taking any action, the first thing to determine is which type of migration needs to be done.
 3 Common Migration Types
Full Site Migration from WordPress to WordPress VIP
If you are planning to move your current WordPress website to WordPress VIP, you can easily do that by exporting the site's database and media. Use the Command Line Interface of WordPress VIP to import data and media into the new site. This is the best way to migrate full-scale giant enterprise applications. It prevents any redundancy of data and is quite safe for all kinds of WordPress websites.
For smaller sites, one can choose the manual option, where content is copied from one site to another. It takes more time and is less prone to common errors that may occur during the regular process like duplication of data. Companies can also take help from partner agencies that specialize in WordPress VIP migration services. These professionals will simplify your task but will charge for the same.
Full Site Migration from Non-WordPress to WordPress VIP
For sites other than WordPress ones, it is advisable to copy content from your existing site to another. For large volumes of content and data, it is recommended to use an export tool or software that effectively converts databases between diverse CMSs.
Blog Migration to the WordPress VIP Platform
If you are planning to migrate a blog site that has frequent updates of content, then the best way is to choose an API to sync content between the two sites. Migrating only the blog part of the site and not the whole website also gives many benefits associated with WordPress VIP.
WordPress VIP Migration Process – Must Know!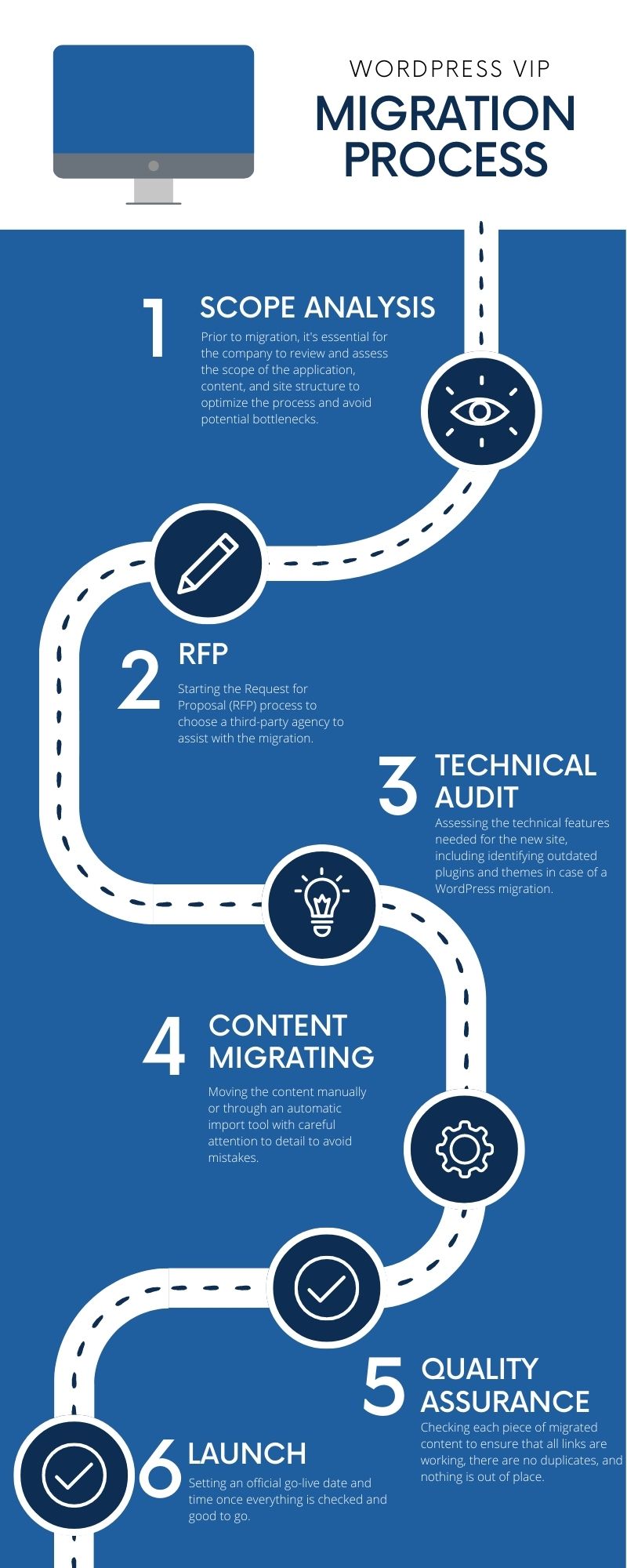 The process involves many factors to consider beforehand. The time required for the entire process depends upon the scope of the project, website size, stakeholders involved, the complexity of the software, and other things.
It may involve the following aspects…
Project Scope and Content Review
Before starting the migration process, the company must check out the full scope of the application and review the content that needs to be migrated and content that can be discarded to reduce the tasks. Review the structure of the content, site architecture, and other parameters to prevent any bottlenecks in the process.
Start RFP, If Needed
If you are using third-party help to migrate the site, then make a Request For Proposal (RFP). It is the easiest way to choose a reliable partner agency.
Technical Checkout
The company needs to check every element of the project, especially the technical components that need to be migrated. For example, it is useless to shift outdated plugins, instead upgrade them and then migrate. So, a thorough technical audit will be helpful.
Content Migration
This should be done with utmost care to create a new WordPress VIP site with all the relevant content. Make sure that it goes smoothly and is not prone to errors.
Quality Check
Once all the content is uploaded on the new site, do a complete checkup of the site. Check for any broken links, duplicate content, etc.
Launch the New Site
Once you are done with the quality check, you can make the site live.
Things to Consider in the New Website – Format and Functionality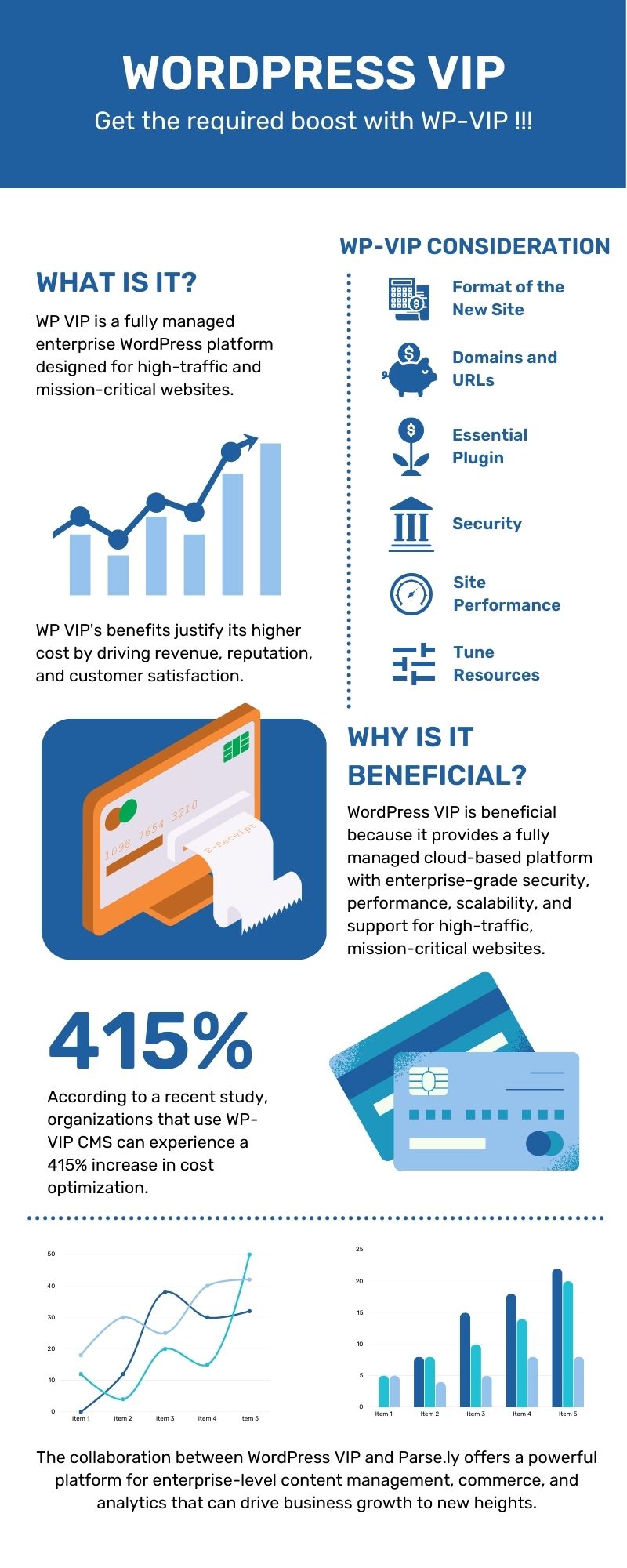 The following things must be checked in advance to equip the new WordPress VIP site with everything you wished for in the site.
Format of the New Site
Depending on your site's requirement, you can choose from single stack, headless and hybrid models of the site. An enterprise can choose between a single site and a multisite instance to copy content. WordPress VIP offers both setups and even transacts between the two.
Domains and URLs
To shift the sites, it is better to choose a convenience domain during the process and then switch to the final domain. WordPress facilitates this. For blogs, a subdomain is enough. Replace every site link of the internal site, before launching the new website. This can be easily done through the Launch tool of the VIP dashboard. To keep the SEO intact, use the Yoast SEO plugin for quick results.
Make Sure to Choose Every Essential Plugin
WordPress VIP offers an array of useful plugins developed by its technology partners. The best part is that these plugins would be checked for any malware through an automated scanning system. So, there is no chance of loopholes. Also, they are offered by renowned techno giants so, performance is guaranteed. Aspects like security, caching and dynamic image sizing are taken care of by the platform itself.
Security Services Offered
Your data remains completely safe during the migration process, all thanks to the enterprise-level WordPress security system. You can choose network security and encryption methods to transfer data.
Monitor Site Performance
The best part is, the performance issues of websites are resolved during the migration process. WordPress VIP does that by executing health checks of the application. Moreover, plugins for SEO should be integrated to optimize site searches.
Content Performance Analysis
Keep an eye on the essential content metrics like conversions, social media shares, content ROI, metrics about engagement with customers, etc. You can measure the performance of the whole site through Parse.ly.
Tune the Internal Resources for Efficient Migration
Rely on a WordPress VIP-approved agency partner to execute the entire migration service for you. They will help with the design, and integration of any and every element; plus, the whole migration services. They can do that from scratch to relieve you of any technical hassles.
Get Ready with the Plan…
Once you have checked all the aspects of the migration process, you should plan flawless execution. Discuss the goal, roadblocks, timeframe, kind of migration, etc. with your team and even take help from a third-party migration services provider.
Once all these are planned and worked upon, simply launch the new site.
If you are looking for an excellent tech partner to migrate your existing website into a high-performing WordPress VIP site, then KrishaWeb is your right point of contact. KrishaWeb offers step-by-step details about the migration process and ensures flawless execution. Feel free to contact us for further details.