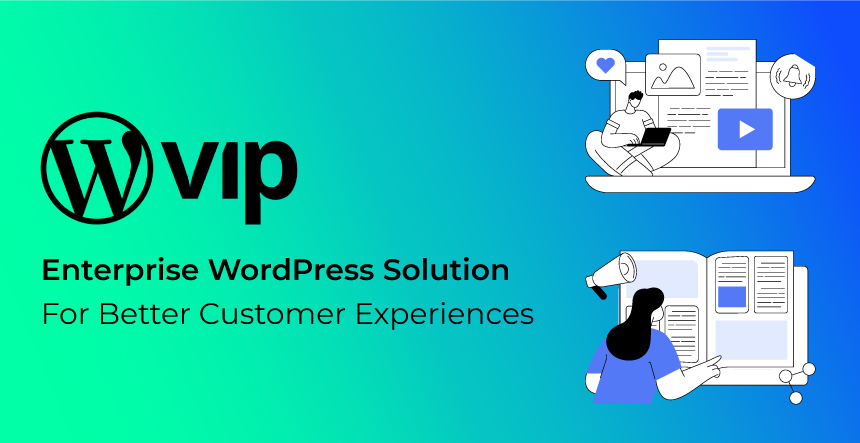 What do you get in your mind when you hear about WordPress VIP? How does it matter to your businesses if you have your business website on WordPress? Well, let's keep things simple to understand, a bit of knowledge about hosting platforms will help you build better websites. Right? It's a known fact that websites need to be hosted on a platform to be visible on the World Wide Web. When you have an idea about the website's performance and scalability, you can choose better hosting services.
For example,
A small and medium-scale business can do this with an appealing, high-tech website with a shared hosting service. However, a website that gets enormous traffic, needs a powerful hosting service to offer the best performance to its audience. That's where WordPress VIP comes into the picture.
What is WordPress VIP?
WordPress VIP is a fully managed hosting service offered by Automattic Inc. The company has designed this hosting platform with strict coding standards and super secure features. It can withstand huge volumes of traffic and is the fastest hosting provider. This means when hosted on WordPress VIP, your website is more secure, performs at its peak, and faces unimaginable levels of traffic without any downtime.
These features of the hosting provider make it ideal for enterprise applications. When your company grows bigger and the website faces higher levels of traffic, it is better to switch to WordPress VIP hosting services. With built-in analytics, CMS, and instantaneous support, WordPress VIP can boost your revenue by 415%. This is a gigantic number to put your bets on the platform.
What are the Features of WordPress VIP? [Features/Benefits]
As a hosting service, WordPress VIP offers high-tech features that can boost a website's performance like never before.
Some of the most coveted features OR benefits of this hosting platform are:
Start to Finish Website Management Service
The best part about WordPress VIP is that it offers a fully automated hosting service. This means that if you choose it as a hosting provider, you get everything that deals with WordPress website management including setup of daily server management, website optimization, website performance monitoring, etc. It offers better security by executing updates automatically. Moreover, there is a facility for hourly backups of the site, plugins, and updates for the core software are executed frequently to save the site from vulnerabilities. It also offers a regular assessment of the site including plugins, themes, and other components. Training for content management and publishing is provided by the WordPress VIP team to ensure the smooth functioning of your website.
Absolute Content Management
An enterprise application needs the best content management platform and WordPress does that for you. More so, WordPress VIP offers Gutenberg editor to quickly develop and publish more content. Also, there is a feature for monitoring the performance of content and enhancing customer experience by analysing and tracking visitor conversions. Therefore, you have a customizable content management system and tools to monitor the content as well.
High-end Security
WordPress VIP is equipped with anti-spam features that guard your site against malware of any kind. It automates the scanning of all components of the site including plugins, third-party functionality, and code elements. It prevents DDoS attacks and provides astonishing site performance with ultra-quick page results to the visitor. Therefore, it makes the site more secure and assures peak performance as well.
Who is WordPress VIP for?
Well, the hosting service is developed for enterprise-level applications, websites, and solutions. With all the advantages to its credit, it is a perfect fit for websites with huge volumes of traffic and high-security concerns. With matchless security measures, it is ideal for giant companies that want to offer extraordinary digital experiences to their visitors. It is certain to convert visitors into customers through its right-in-time availability and peak performance. If any site gets millions of views or visitors per month, then it must get WordPress VIP for offering the best experience to the end user.
FYI, top brands like Facebook, USA Today, CNN, Merck, etc. are using this hosting service.
Top Examples of WordPress VIP
Facebook
The top social media platform is using WordPress VIP since 2014. It integrated WooCommerce with WordPress VIP to offer a highly scalable and easy-to-use, eCommerce experience to its users. Today, many small and medium-scale companies manage their business through Facebook and make big money with this top marketing platform.
Spotify
With over 450 million active users a month, the Swedish audio streaming provider is another company that relies heavily on WordPress VIP hosting service. Top performance, instant availability of results, and security are some of the features that Spotify leverages from the hosting provider.
TechCrunch
The American online newspaper uses WordPress VIP to offer Startup and tech news to its millions of users. It focuses on delivering high-quality journalism to readers. It utilized WordPress architecture to build a subscription-tier paywall.
USA Today
Renowned for delivering top-notch journalism, USA Today uses WordPress VIP for all its DevOps functions. Tasks like network tuning, security, maintenance, scalability, etc. are taken care of by the hosting provider.
CNN
The multinational news channel uses WordPress VIP hosting service for its website. With millions of visitors coming to read the news every minute, the media giant needs a reliable, secure, scalable hosting provider.
WordPress VIP Pricing
Most of the plans offered are custom quotes so, their breakdown is not possible.
However, its website declares the starting plan costs $2000 per month. It can reach a staggering amount of $25,000 per month for a total of five websites. In addition, a setup fee of $5000 per site is also charged by the hosting provider.
WordPress VIP Alternatives
Even if you consider all its advantages, this hosting service may not be suitable for one and all. There are other alternatives, even for giant enterprises.
Price is a big bottleneck for companies so, they can try alternative options like the following:
Revered as one of the earliest WordPress hosting service providers, WP Engine offers excellent enterprise hosting plans. Its top features include:
Global CDN
Instant support
Service Level Agreement that guarantees 99.99% uptime
Excellent security with Web Application Firewall
Protection against DDoS attacks
Code monitoring functionality
Again, this is a top-level enterprise hosting service provider that guarantees that every plan offers 99.99% uptime, and 365 days a year of support. It offers the following features for enterprise hosting plans:
Customized, PCI-compliant infrastructure
Server clusters to optimize websites
Constant monitoring
Daily backups and archiving
24×7 support services
Powered by Google Cloud, Kinsta is a hosting platform that offers the best service for enterprise applications. It offers the following features:
Protection against DDoS attacks
Customized hosting service
A cloud platform that guarantees 99.95% uptime
An array of automatic backup facilities
24×7 support throughout the year
29 global data centres for instant support
Monitoring of application
Popularly known as a WebOps platform for WordPress and Drupal sites, Pantheon offers many features and scalable plans. The most notable features of Pantheon are as follows:
Highly secure hosting platform
HTTPS certificates
Protection against DDoS
Regular automated backups on a daily basis
Frequent updates
99.99% uptime
24×7 live support
Final Thoughts…
The decision solely depends on the kind of business you own, the traffic faced by your website, and eventually the budget. If you are tight on budget or have sites with manageable traffic load, checkout options like WP Engine, Kinsta, etc.
Contrary to that, if you have a giant enterprise flooded with traffic and need a bulletproof secure hosting platform with manifold features, WordPress VIP is by far the best option. So, choose as per the requirement and consider the value for money aspect as well.
If you are looking for enterprise WordPress solutions, KrishaWeb is one of the best WP VIP partners to deliver scalable solutions for your next project. We offer everything related to WordPress, including Enterprise WordPress Development. To know more, feel free to connect with us!