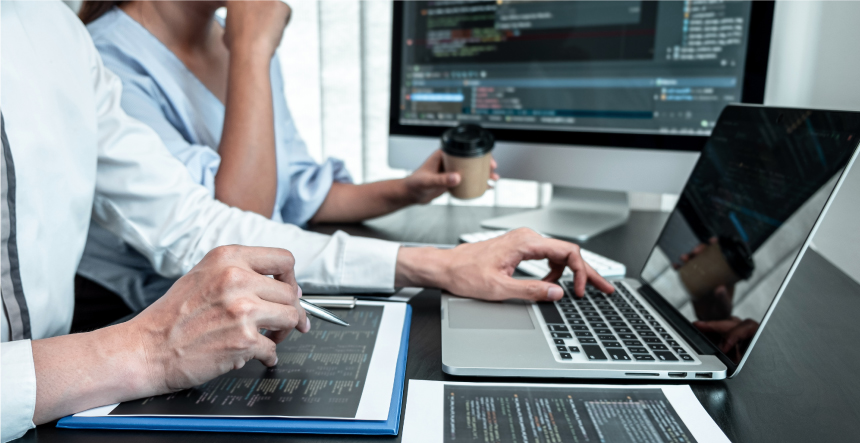 Drupal is an impressive content management system, that enables users to design and customise websites quickly. Even offers a great security mechanism to sustain the hacking attacks. Though Drupal has these great features, many businesses and developers face difficulties regarding Drupal development. WHY? Because Drupal development needs the special attention of experts. Drupal is not easy to adopt and use without Drupal skills.
With the same consideration, our question is, "Are you having trouble with Drupal development on your own? Seeking ways to simplify and save costs?" Many businesses and developers encounter these same challenges regarding Drupal development.
Developing Drupal can be complex and time-consuming, requiring resources and expertise, not all businesses or developers have. Outsourcing Drupal development may be the only solution for success.
In this post, we'll assess both the best practices and benefits of outsourcing Drupal development so that you can make an informed decision.
Let's get going…
Why Should You Outsource Drupal Development?
Drupal is an impressive and adaptable content management system (CMS) that has grown increasingly popular among businesses and organizations worldwide. Thanks to its wide array of features and flexibility, Drupal makes creating and managing websites effortless for businesses of any kind. However, developing one requires an expert skillset. Outsourcing Drupal development can make a major impactful statement about what matters to you the most.
Here, we explore five compelling reasons to outsource Drupal development for your website development projects.
Access to Expertise
Drupal development requires an in-depth knowledge of both its CMS and modules. So, by outsourcing Drupal development services, you gain access to an experienced team that specializes in this development process. They understand its latest trends and best practices as well as being available throughout the development process. They provide insight and advice that ensure your website will be constructed to perfection.
Cost Savings
Outsourcing Drupal development can substantially lower overall development expenses. Hiring in-house Drupal developers is expensive due to salaries, benefits, and infrastructure costs. In contrast, outsourcing allows you to pay only for what services are needed without incurring additional overhead expenses. Furthermore, outsourcing Drupal development to countries with lower labour costs may further lower expenses while producing superior-quality results.
Faster Time to Market
They have a dedicated team of Drupal developers working on your project, which translates to faster development cycles and quicker turnaround times. So, your launch date comes sooner to maximize market opportunities while giving your competitors an advantage over you.
Scalability and Adaptability
When your business grows, your website must adapt accordingly – which outsourcing enables. Simply scale up or down as per your requirements as needed: whether additional resources for large projects or making small adjustments on an ongoing basis are required for various tweaks – outsourcing can meet them all!
Quality Assurance
Quality assurance is integral to the success of any website, which makes outsourcing Drupal development all the more appealing. Professional teams boast dedicated quality assurance specialists who test for bugs, errors, and performance issues to guarantee that your site offers an ideal user experience while mitigating potential risks.
Highlight Core Competencies
Outsourcing Drupal development allows your organization to focus on core competencies and strategic initiatives while delegating development tasks to experts. Your internal resources can be freed up so you can concentrate on doing what it is you do best – improving efficiency while allocating resources more effectively for improved overall business performance.
Ongoing Support and Maintenance Services
Building a Drupal website is just the first step toward its optimal performance; ongoing support and maintenance services from professional development teams ensure its optimal operation over time. By outsourcing Drupal development services, you can take advantage of continued post-launch support, such as bug fixes, security updates, and feature upgrades, ensuring your site remains up-to-date and secure over its lifetime.
Benefits of Outsourcing Drupal Development
Development and maintenance of a Drupal website are often complex and time-consuming. Thus, outsourcing Drupal development may offer numerous advantages to businesses. Here, we explore why they should consider outsourcing their Drupal development needs.
Cost Savings
One of the primary advantages of outsourcing Drupal development is cost savings. Hiring an in-house team of Drupal developers can be extremely expensive due to recruitment costs, salary expenses, and infrastructure expenses; by contrast, outsourcing allows businesses to access highly experienced developers at much more reasonable costs – typically operating out of countries with lower labour costs that allow businesses to lower development expenses significantly.
According to research by Deloitte, companies that outsource software development services may achieve cost savings of 60-70% by doing so, freeing resources up for allocation elsewhere, such as marketing and customer acquisition.
Access to Expertise and Specialized Skills
Outsourcing Drupal development gives businesses access to an experienced pool of Drupal specialists who specialize in this CMS platform and stay abreast of its latest trends and best practices. By outsourcing, businesses can take advantage of this expertise to ensure their Drupal website is created by experts with knowledge about all its intricacies.
Furthermore, outsourcing providers often possess years of experience working on various Drupal projects, giving them unique perspectives and providing innovative solutions. Leveraging such expertise can help businesses overcome any hurdles to meeting their website goals more quickly.
Scalability and Flexibility
Outsourcing Drupal development gives businesses the flexibility to scale their development team as needed, from adding extra resources for specific projects to expanding its functionalities quickly and seamlessly. An outsourced team provides businesses with the ability to add or reduce resources according to changing market conditions, or customer demands seamlessly and cost-effectively.
Strengthen Core Competencies
By outsourcing Drupal development services, businesses can concentrate their energies and strategic initiatives more closely. Drupal website creation and maintenance require specific knowledge that may not fall into their core competency – outsourcing releases internal resources so businesses can focus their energy and deliver value for customers.
Deloitte conducted a survey that shows 59% of businesses outsource to focus on core functions of their business, such as Drupal development. By outsourcing Drupal's needs to specialized experts, businesses can optimize operations while reallocating resources toward activities that contribute directly to growth and success.
Process of Outsourcing Drupal Development
Here we will assess this approach of outsourcing Drupal development in detail so that you can move ahead with clarity:
The Rise of Drupal Outsourcing
Outsourcing Drupal development has experienced exponential growth over time as businesses increasingly recognize its benefits. According to research by Deloitte, 59% of companies outsource to reduce costs, with 57% doing it to focus on core activities – statistics that demonstrate its growing significance within today's competitive marketplace.
Identifying Your Requirements
Before embarking on any outsourcing journey, it's imperative that you establish your specific requirements. Know exactly which functionalities and features your Drupal website needs so you can select a team with appropriate skill sets to fulfil those demands.
Selecting the Appropriate Team
Recruiting the correct team of Drupal development consultants or outsourcing partners is absolutely key for the success of any development project, which means selecting them carefully as outsourcing partners requires multiple considerations such as:
Expertise: Make sure the team you select has extensive Drupal development experience. Review their portfolio and client testimonials to assess their skill.
Technical Skills: Evaluate their proficiency with Drupal modules, themes, and custom development for custom web projects, as well as familiarity with current Drupal versions and technologies.
Communication: An essential ingredient to successful collaboration lies within effective communication skills within any team, making sure it responds promptly to queries or concerns raised by its members.
Cost-Effective Solutions: Outsourcing Drupal development can be an economical alternative. Compare pricing models of various teams until you find one with the optimal value-for-investment ratio.
Establishing Clear Communication Channels
Once you've chosen an outsourcing partner, establish effective communication channels. Regular dialogue is crucial in keeping track of the project's progress, addressing any issues promptly, and aligning both parties toward shared project goals. Utilize project management platforms or tools for smooth communications and collaborative efforts.
Establish Realistic Deadlines
It is crucial that realistic deadlines be set on any Drupal development project to ensure its timely completion. Work closely with your outsourcing team and set achievable milestones and deliverables so you can track progress easily while making any necessary adjustments along the way.
Monitoring and Quality Assurance
Regular quality monitoring is vital to making sure that your Drupal website exceeds expectations, with reviews and testing to identify any bugs or issues that need addressing immediately in order to maintain high-quality sites with optimal performance.
Post-development Support and Maintenance
Even once the development of your Drupal website has come to completion, outsourcing teams offer ongoing support and maintenance through updates, security patches, and troubleshooting services. Work closely with your outsourcing partner to design a plan tailored specifically to your requirements.
How to Ensure the Success of Your Outsourced Drupal Project?
Define Your Project Requirements Precisely
Before outsourcing a Drupal development project, it is vital that your project requirements are clearly stated. This should include outlining specific features and functionalities you require as well as any design or customization preferences you might have. By having an understanding of what it is that you hope to accomplish through outsourcing services, you will better be able to communicate your expectations to them.
Select Reputable Outsourcing Partners
Finding an outsourcing partner who understands Drupal development and can deliver high-quality projects is of utmost importance when embarking on any development initiative. Review client testimonials and feedback as you search. Furthermore, reach out directly to previous clients so as to gather feedback regarding their experience working together with this provider.
Establish Reliable Communication Channels
Effective communication is of utmost importance when working with an outsourcing team. Establish clear and regular channels of dialogue to keep everyone on the same page throughout your project – including status meetings, email updates, and project tracking tools to track its progression.
Define Realistic Timelines and Milestones
Establishing realistic timelines and milestones is vitally important to the success of an outsourced Drupal development project. Consult closely with your outsourcing team in creating a schedule that takes into account both complexity and any potential hurdles or difficulties, then break your project down into smaller milestones to track progress more closely while meeting deadlines on time.
Provide Detailed Documentation and Resources
Provide detailed documentation and resources, such as wireframes or design mockups, to the outsourcing team in order to ensure they fully grasp your project requirements and produce results that meet or surpass your expectations. In doing this, clear documentation helps prevent miscommunication between all involved and will guarantee a better end product than you expect.
Schedule Regular Reviews and Provide Timely Feedback
Reviewing and providing feedback on a project is vitally important to its success. Set regular checkpoints to review work completed by your outsourcing team and give constructive suggestions that may address issues or concerns early, helping keep everything on schedule and stay ahead of any problems that might arise.
Conduct an Exhaustive Test Before Deployment
Before deploying your Drupal development project, it is critical to conduct comprehensive tests of its website or app for functionality, compatibility, and performance. Be sure to coordinate closely with your outsource team on creating a testing plan, so all aspects are thoroughly screened prior to launch.
By following these tips, you can ensure the success of an outsourced Drupal development project and achieve the desired results. Communication should remain effective; providing clear documentation, regularly reviewing, and providing feedback can keep projects on course and ensure positive results are attained.
Final Thoughts
So, outsourcing Drupal development offers several advantages to businesses looking to establish or upgrade their websites. By tapping the expertise and experience of professional Drupal developers, companies can save both time and resources while ensuring the successful execution of their Drupal projects. Outsourcing Drupal development gives businesses access to an international pool of talent that may otherwise not be readily available within their organization. However, businesses seeking to outsource Drupal development must adhere to best practices when doing so, including conducting extensive research on potential contractors before setting expectations and goals and setting up effective communication channels with them. By following such practices, businesses can maximize the advantages of outsourcing while reaching their Drupal development objectives efficiently and cost-effectively.