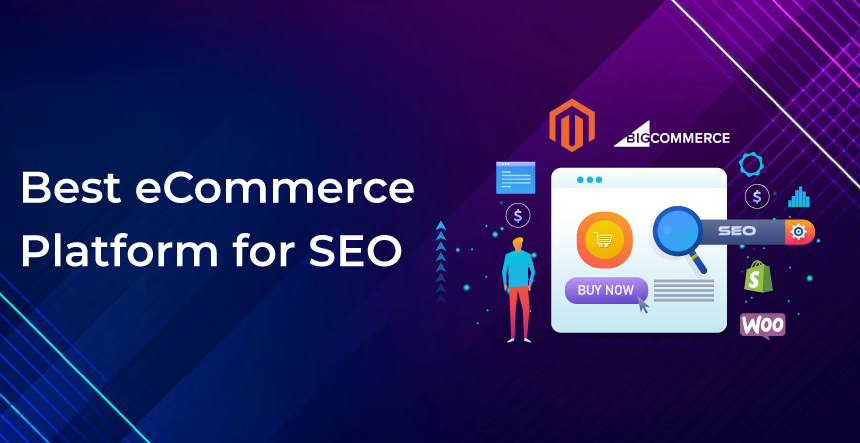 The e-commerce industry has been growing over the last decade. By 2025, the online market is expected to reach 220 million. However, in order to keep attracting customers and providing them with the best-in-class experience, you must select a highly reliable eCommerce platform that is SEO optimized.
SEO (search engine optimization) is an essential component of any successful eCommerce website. According to data, organic results are responsible for roughly 53.3 % of global internet traffic. You could have the best products at the best prices, but if you use poor SEO techniques, your eCommerce platform would never generate the traffic it demands.
It is critical to find an eCommerce platform that is SEO-friendly. But, what distinguishes one eCommerce platform from another in terms of SEO?
Whereas most portals provide a little SEO help, some go above and beyond to offer their customers a highly optimized eCommerce experience to fulfil your SEO needs.
We've compiled this list of the best eCommerce platforms to assist you in narrowing down your search for the best online marketplace for your requirements. Continue reading to find the best platform for your company!

How Can Your eCommerce Platform Impact SEO? 
Most eCommerce platforms provide a list of advantages that assist you in optimizing your eCommerce website for search engines such as Google, Bing and others. 
However, because SEO includes so many variables right from an amazing user experience, loading speed, adding meta tags, and so on—you'll have to find a framework that performs best in all of them.
Oh, seems tough right? 
Regretfully, some marketplaces only provide the most basic features and automated SEO tools, abandoning you to keep competing with more sophisticated brands having advanced SEO features.
On the other hand, relying on the free version of any platform will leave you behind your competitors. So, you must pay the premium to get the best SEO functionalities.
So, rather than discovering feature restrictions after you've already posted hundreds of products, it's ideal to select the best eCommerce site for SEO from the start.
And for that, this blog will surely help you out! Keep reading.
Best Ecommerce Platform for SEO 
There is no such thing as the "best" eCommerce platform for SEO. Every platform has different SEO benefits and drawbacks that vary depending on the eCommerce site. However, how you intend to use your platform will play a significant role in your decision.
It's also worth mentioning that SEO shouldn't be the only factor to consider. While this blog concentrates on how a platform can support your SEO campaign, it must also support your overall business objectives and other critical tasks.
So, let's find out some of the best eCommerce platforms for developing an eCommerce store. 

Magento
Magento is a well-known open-source, self-hosted online store development platform. It powers so many eCommerce companies that control more than $100 billion in annual gross amount. Magento is the undisputed king of eCommerce platforms, with a plethora of functionalities.
It makes use of a variety of off-the-shelf elements and can be easily integrated with a variety of third-party components.
Pros
Because Magento is open-source, anyone can change it to create a site that meets your specific business needs. It allows you to fully personalize without having to start over from scratch.
You can incorporate numerous features into your shop by downloading and installing plugins in your Magento store with the utmost ease.
The design of Magento eCommerce sites allows products to appear on Google's shopping tab, which significantly improves your SEO rankings.
Cons
That's not the best eCommerce SEO platform for you if you don't know how to code. You won't be able to create a custom website for your company unless you have good programming skills.
The pricing of Magento is quite easy in comparison to other eCommerce platforms. The pricing of its themes and plugins is also quite expensive, making your end store to be very expensive. 
WooCommerce
If you're using or going to plan to use WordPress for your eCommerce website, one of the most effective tools available in WooCommerce.
WooCommerce is a WordPress extension that seamlessly integrates with your current WordPress site, transforming it into a completely operational WordPress e-commerce website.
Pros
Open source –

The software is available for free. You will still need to purchase hosting, a domain name, and an SSL certificate for added features and security.

Range of themes – Many WordPress themes are developed to function with WooCommerce, and there are many WooCommerce themes available to ease your tasks.
SEO features –

WooCommerce includes a slew of SEO-friendly features, such as URL personalization, built-in 301 reroutes, mobile compatibility, and a built-in blogging feature as well.
Cons 
Enhanced cost because of plugins –

There are numerous plugins available that appeal to you to download and mess up with performance. Also, purchasing various plugins for different functionality adds up to the overall cost as well.

Hard to understand –

WooCommerce will be difficult to understand if you are unfamiliar with WordPress. Learning WordPress and plugins takes time, which can be a little annoying if you want to create a stunning eCommerce platform in less time.
BigCommerce
BigCommerce is yet another popular option for creating a visually appealing eCommerce store, and it works well for a wide range of businesses. It has more sophisticated eCommerce features that are appropriate for handling large volumes and a large number of products.
BigCommerce is one of the best eCommerce shop development platforms, with existing customers of 100,000+ shops, along with some popular names like Ben & Jerry's and Skull candy.
Pros 
Design for mobile devices

301 redirects are built-in.|

URLs that promote SEO

Access to your txt file and more
Search Engine Optimization (SEO) is among the key features widely praised from the BigCommerce dashboard, with clear indications of how clients can broaden their product pages with SEO in mind.

Cons 
Shopify
Shopify is a comprehensive eCommerce website builder that privileges over one million online shops, making this among the most prevalent options on this list. It's also incredibly adaptable, powering everything from small to big stores and everything in between.
Pros 
Quite simple to use –

it is simple to use. Shopify is among the most user-friendly platforms for developing an eCommerce store.

Easy to create content –

This eCommerce platform includes a blogging function that makes it simple for your eCommerce website to generate content that will help you attract more customers.

Extensive plugin library –

You can add features to your Shopify store using their extensive plugin library.

Easy integration –

Shopify is among the best platforms for monitoring performance measures on your website because it enables you to effectively check visitors, leads, and click-throughs for your company via Google Analytics integration.
Cons
The feature of the robots file is not included –

You can tell search results which webpage to crawl using your robots.txt file. Without regulation over this, it is hard to ensure that Google crawls the appropriate pages.

Restricted URL structure –

Because Shopify has a strict URL structure, you cannot alter your URLs. This is an important consideration because personalized URLs can help search engines truly understand your webpage and help users recall your site.
Why Does SEO Matter? 
Rather than selecting a platform based on its appearance and crossing your fingers, it is vital to comprehend an eCommerce platform's potential SEO functionality before committing to it.
Identifying the potential SEO features of each eCommerce website you take into account is important to the success of your website. SEO-friendly features differ between platforms.
There are numerous things you could do to enhance the SEO performance of the website. Consider all the trustworthy eCommerce store development platforms and their features.
Then ask yourself, "Can these features be on this particular platform?" Because you want these things to help your organic search engine rankings.
Most Common Characteristics to Look for on an eCommerce Website:
1. Site Speed 
The speedier your web page loads, the greater the interaction your consumers will have. According to information, the probability of a site visitor leaving your site rises by 32% if your page takes three seconds to load versus a site that loads in one sec.
Hosted eCommerce platforms recognize the importance of loading speed. They make every effort to ensure that their stores load quickly.
A self-hosted solution allows you to easily control the factors that impact site speed, such as
Caching in browsers

Image scaling for completely separate mobile and desktop devices

Image size optimization to reduce load time
So, before deciding on an eCommerce platform, consider all the factors which influence site pace and then decide what's best.
2. Canonical Website URLs 
Each section on your website has its own URL by default, which implies search results may show numerous URLs for the same website page.
And these features not only confuse search engines but can also invalidate your site's scope and harm overall search engine rankings if followed by no-follow labels.
Canonical website URLs come to the rescue at this point. A canonical URL is a favoured hyperlink for the information that you use on all web pages. Furthermore, only the leading eCommerce platform enables you to set up canonical website Web links and 301 to divert your old web content to the proper URLs.
It will assist you in consolidating your links, avoiding redundant content problems, and allowing search results to index web pages using a single URL for enhanced customer experience.
3. Access to Robots.txt
A robot.txt file that contains on your web application that tells search engines which pages of the website to index and which to ignore.
The complexity with which a search engine will index your webpage is largely determined by the authority your website has got because of the number and efficiency of exterior links pointing to it. As a rule of thumb, the greater your Domain Authority, the more search engines will crawl the more of your pages.
Most eCommerce platforms create a robot.txt file instantly, based on established general assumptions.
As a result, your overall task of alerting the search engine about the page indexing is reduced. Furthermore, it provides you with customization options (whenever you want).
4. Sitemap Generation
Your sitemap is simply a representation of your site's most important stuff. It can also be used as a reference by search engines. They are classified into two types: HTML and XML variants:
An HTML sitemap is for consumers to help them identify the page they're searching for on your website! An XML sitemap, on the other hand, is the same stuff but is made specifically for search results.
You don't really want your eCommerce website to create a sitemap that contains each URL on the site by default. You may eventually wind up with a sitemap that contains all the incorrect URLs, such as non-canonical web pages, non-indexable sections, or non-functional web pages.
Depending on the platform, your XML sitemap may be included by default or need a plugin. So, as per your requirements, you can choose your ideal fit. 
5. Mobile Optimization
Smartphones and tablets account for over 60% of all online searches. Furthermore, the majority of those searches result in a purchase made on a mobile phone.
As a result, selecting the best e-commerce platform for SEO that allows customers to access your website and make purchases on their mobile devices is critical. 
The adaptable interface adapts the screen resolution of your web shop depending on the size of the customer's device. As a result, you must have a mobile-friendly and responsive interface. Responsive design entails creating effective mobile pages and optimizing your eCommerce website for mobile use.
When choosing a platform, look for designs that can speed up mobile pages and optimize the whole servicing procedure.
6. Indexing Control
Some eCommerce platforms provide more detailed indexing influence than many others, allowing you to choose which pages appear in search engine results.
Indexing control is essential because it helps you to regulate which pages are visible to search engines without significantly altering the aesthetic of your website.
Given the abundance of alternative eCommerce websites in the world, we doubt clients will be inclined to simply wait rather than simply log onto another.
Companies should be aware that this is the actual point at which they will lose customers. As a result, it is critical for us to identify the best eCommerce platforms that offer fine-tuned indexing oversight to fulfil your SEO objectives.
Wrap up! 
So, to conclude this piece of content, here are some of the best platforms for developing an eCommerce shop in terms of SEO features. We've also included some of the essential features you should consider before deciding on an eCommerce platform.
All eCommerce platforms are ideal for specific types of eCommerce stores. What tends to work for one company may not work for another. And that's fine. What makes a difference is that you select the best e-commerce platform for your company as per your objectives.
Once you've ascertained your preferences, you'll end up saving yourself from future problems – and the choice will be much simpler. We recommend selecting one or two platforms from this list based on what you believe will be the most beneficial to your marketing plan and SEO strategy. Investigate them further.
Your personal observation during these assessments can assist you in deciding which eCommerce website development platform to use.