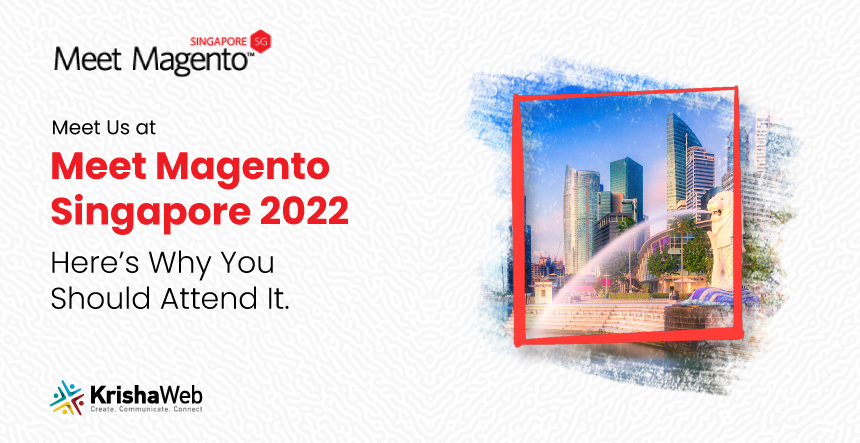 The Meet Magento Singapore (#MM22SG) conference, which has been eagerly anticipated in Singapore, will return on August 25, 2022, at Marina Bay Sands. And the eCommerce industry as a whole is ecstatic! We are also pleased to announce that KrishaWeb will be a part of this exciting event.
This in-person Magento event will be an excellent source of the Magento community's yearly what's-not and know-how. We can't wait to soak up all of the valuable insights and knowledge that this event and its incredible speakers have to offer. This knowledge will enable us to provide our clients with even better solutions and outcomes.
Without any further ado, let's learn more about this event and the benefits of attending it right away.
What is Meet Magento?
The Meet Magento Alliance is well-known throughout the world for providing software companies, businesspersons, and enterprises with critical industry trends.
It is an ideal platform for budding business owners, Magento developers, and eCommerce enthusiasts to sharpen their expertise, expand their connectivity, and discover what's going on in the eCommerce world to reach explosive growth. It is recognized for its talented voices and creative approaches.
Meet Magento Singapore is a global convention focused on digital commerce and evolution, as well as how cutting-edge tools, apps, and platforms can help our customers achieve the WOW knowledge and thrive in this industry.
The global event gathers the entire Magento community under one roof to analyse the latest developments, market dynamics, and opportunities in this space. It is mainly remembered for its remarkable speaker line-up, thought-provoking discussions, must-attend after parties, and outstanding generosity.
Statistical Information About Meet Magento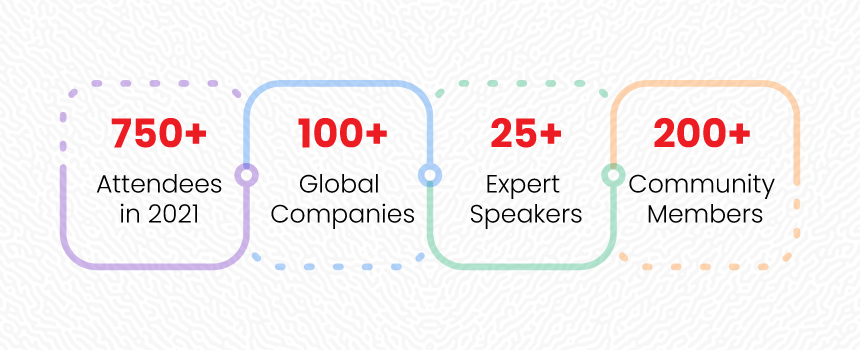 Meet Magento Singapore 2022: What makes it unique?

Learning to provide impeccable customer experience
Meet Magento is by far the most fantastic opportunity for all organizations to learn how it actually does work and how you can enhance the user experience as more and more businesses improve their ability and focus on the customer experience as a way to stand out from key competitors' performance metrics.
The commerce track will go into detail about how technology in the digital commerce environment can help customers receive excellent services. How vital a digital-first experience is. It will give you insights into designing effective customer journeys in order to improve highly personalized experiences for its customers.
Know-how of the latest industry trends and insights
Meet Magento is a must-have in Southeast Asia's fastest-growing digital world. It is an option to make your presence felt in a growth-driven environment by attending #MM22SG to learn about the latest eCommerce inventions and tap into unbelievable growth opportunities.
The main goal of this incident is to build a single platform where people can share Magento stories of success, real-life case studies, and opportunities for development in the vibrant ecosystem.
Participants can use recent trends, insights, and knowledge about the global growth of the digital commerce economic system to impact their business expansion positively.
Helps in gaining traction with companies who are ruling the eCommerce industry
The global success of digital commerce is associated with two integration cornerstones:
Consumers have a high level of trust in online shopping.

Policies and proposals that have fostered a future transformation, advancement, and sustainable development surroundings in the area.
Meet Magento events and speakers will show you how the online industry shapes companies and how companies efficiently manage global trade and logistic support. Meet Magento Singapore allows you to meet the people behind these success stories and hear their motivational sessions.
It will help fuel local brands' global expansion and equip your workforce with the digital skills and abilities required in today's digital-first economy, thereby contributing to your development and prosperity.

Opens up a world of new possibilities for you & your company
And finally, Meet Magento Singapore has a reputation for providing community members with excellent networking opportunities with top companies, retailers, devs, and service providers in the area.
Participants can take advantage of a variety of sessions, conversations, luncheons, and even after-parties to form meaningful collaborative projects and long-lasting professional commitments with the most influential players in the eCommerce industry. It is an opportunity to investigate new business opportunities, improve qualified leads, and tap into a global market in order to crack the future commerce code.
This event will also assist KrishaWeb in learning about networking opportunities and delivering best-in-class end results to our clients.
Get to know more about the Singaporean market!
Get a Sneak Peek at Singapore's Thriving eCommerce Market
As per findings, Singapore's e-commerce market will be worth $7.5 billion by 2025. It represents a fivefold increase since 2016. It's enormous!
The eCommerce industry in Singapore is expected to produce many unicorn companies that will dominate the world in advancement in the near future, with a CAGR of 9.9% between 2021 and 2025.
Moreover, with the government of Singapore's ongoing and comprehensive support for growing eCommerce processes, many business owners are discovering the country to expand production and drive revenue.

Access to some amazing coupons and discounts
The majority of the attendees at Meet Magento Singapore will be from these new companies, and you will learn a lot from their life experiences in the Singaporean market.
Company owners and Magento partners give away prizes to participants at Meet Magento events. To attract more customers, they offer discounts on their services, and you can take advantage of a variety of benefits.
Different games are sometimes coordinated in that you can win more deals and discounts. These games also keep you entertained throughout the event. You can use these deals to grow your business while saving money on technology providers.
Everyone in attendance has the chance to interact with the subject matter experts and ask questions. You can personally ask them questions by going to their booth. There will be someone at Meet Magento Singapore to address your concerns if you run a Magento or Adobe Commerce store and are a little hesitant.
Individuals from various backgrounds and industries attend the Meetup to socialize and participate in the event. So, during the occasion, you have the opportunity to meet the perfect partner or developer who will assist you in solving your issue to the highest possible standard.
Event Speakers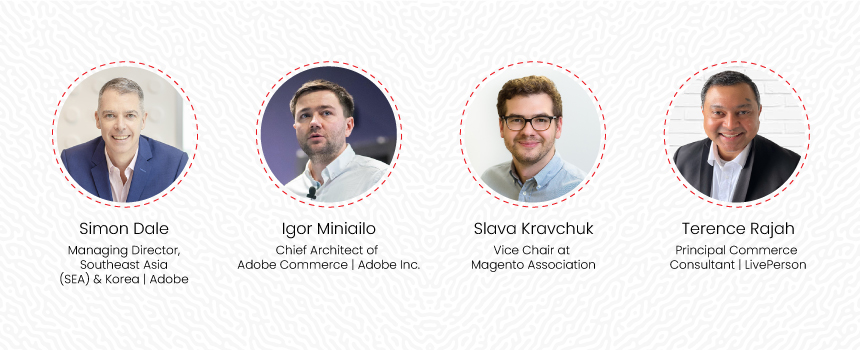 Be sure to meet KrishaWeb at Meet Magento Singapore 2022
If you love Magento and want to stay up to date with the latest developments, don't miss the Meet Magento Singapore 2022 event.
KrishaWeb will attend Meet Magento Singapore again this year, as it does every year. As a leading Magento firm, we have always been on the cutting edge of Magento events around the world, and our team never passes up a chance to interact with the Magento community.
So, if you really want to explain your eCommerce proposed project or have any doubts or questions about accomplishing in the vibrant eCommerce industry, you can ask all our professionals there and get all of the latest insights.
We are all set to fulfil our fellow Magento community members in person at one of the most prestigious industry discussions. Our team is excited to be a part of this journey in which we will all meet and change the existing market's innovative ideas and trends environment.
Contact our team, we can't wait to meet you at Meet Magento Singapore 2022!