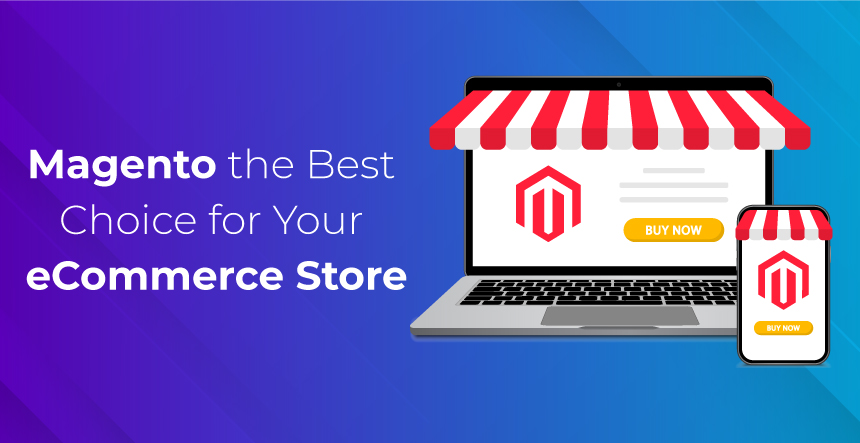 Magento for eCommerce is definitely the best choice. One of the most powerful platforms to create online shopping stores, Magento has a gigantic number of websites to its credit. eCommerce stores have proved their significance during and post the pandemic times. Today, there are multiple eCommerce technologies used to create these stores, but Magento remains a unanimous choice when it's about scalability, robustness, security, functionality and flexibility. Let us find out what makes Magento the best choice for eCommerce store development. 
Why Use Magento for eCommerce Stores? – Ten Major Benefits
Magento is a highly popular eCommerce development platform and nearly 11% of US eCommerce websites are developed in Magento. The number of websites developed on this platform grew by more than 200% since 2017. Let us check out the major benefits of using Magento. 
1. Powerful Content Management System
Magento is considered as one of the best CMSs for online stores. Whether the store has 10 or 10 million products, Magento works best for one and all. It has the right technical prowess to match the requirements of any sized eCommerce stores. So, one can easily conclude that Magento can be used to build web stores irrespective of the type and size of eCommerce store. 
2. Advanced SEO features
It is a well-known fact that without SEO and site optimization, it is nearly impossible to get higher ranks on search engine pages. This task is simplified by the Magento platform as it provides advanced SEO features to optimize URLs, keywords, tags, rich snippets, canonical tags and more. This innately helps to achieve higher rankings for product pages and drive potential customers to the website. Therefore, Magento serves as an up-to-the-minute platform for developing relevant, high-ranking eCommerce websites. 
3. Secure eCommerce development
When you choose Magento for eCommerce, you are definitely creating secure online stores. Magento follows PA – DSS compliance that means it follows the global web security standards as well as 14 other security criteria suitable for large scale online businesses. So, customer's information and payment details remain safe. 
4. Wide scale of extensions for a feature rich store
Magento has multitudinous extensions that help to create a robust, functionally rich store. The extensions can be added as per the requirements to create a store that matches customer's expectations. There are Magento extensions for marketing, shipping, chat services, customer support, analytics and more. You name it and Magento has it for the store. So, when you choose Magento for eCommerce, you can choose from plenty of extensions to create a feature rich online shopping store. 
5. Quick loading eCommerce stores
Visitors and potential customers will soon switch to other stores if you do not provide them with a store that loads in less than 3 seconds. As per Google, nearly 50% of visitors abandon websites due to slow loading web pages. Magento rules out such situations as it offers minimum load time even when propelled with high traffic scenarios. This makes it one of the most popular eCommerce website development platforms. 
6. Multiple websites with single control
One of the biggest reasons for the popularity of Magento is that it offers to host multiple websites, which can be easily controlled or operated from a single backend. This makes it convenient for large businesses with many online stores and a huge volume of product pages. They can govern all the stores from one podium without any hassles. 
7. Support for manifold languages and currencies
When you create a global eCommerce store, you need to address customers from different countries and languages. Magento provides support for diverse languages, so you have web stores which load web pages that translate into global languages. This increases the business by manifold and creates opportunities to capture worldwide customers. If you are aiming for a global online store then Magento will certainly work well. 
8. Ease of third party integrations
Magento is a technically sound and flexible platform that offers support for third party integrations. eCommerce developers can easily integrate extensions, third party payment gateways, third party tools etc. to create a customized, functionally rich online store. This helps to add functionality of your choice without being bothered about the technological mismatch. 
9. Responsive, mobile friendly eCommerce store development
Another biggest advantage with Magento for eCommerce is that it easily creates mobile-friendly online stores. The platform offers creation of responsive designs which help businesses to build websites that load on any device, irrespective of the screen size. This is the gateway to a huge volume of traffic that comes through gadgets like mobiles and tablets. Moreover, one can build sites with cross browser compatibility, which is the key to reaching out to large scale audiences. 
10. Provides diverse hosting options
With Magento, eCommerce website developers are free to choose any hosting platform they want. As per the requirements and budget, they can decide on their own hosting platform and even have the ownership of their files. This adds to the popularity of Magento as businesses have the liberty to choose hosting options. Whether it's a Start up, SME or an Enterprise, it can choose hosting service as per its convenience.  
11. Methods to accelerate sales & revenue by Magento customization
The best part about using Magento for eCommerce is that it provides ease of customization so businesses can create a personalized store with specific design, features and modules. This boosts branding, sales and revenue. Let us check how Magento customization helps eCommerce stores. 
12. Magento theme customization
Create a design that suits your brand by customizing Magento themes. It is the easiest way to create consistent pages across the store and boost the branding efforts. Magento themes can be modified to deliver a smooth design that represents the brand, whether it is a desktop site, mobile app or responsive site.
13. Magento custom module development
Web designers and developers can easily create, update, modify or remove functionality from a Magento eCommerce store by developing custom modules. The modules with the same design and different functions help to create an online store that is seamless for all business functions. 
14. Matchless Magento web development services
Being an open source software, Magento offers excellent web development services. Magento extensions, themes and modules are available and updated regularly to create better eCommerce stores. Businesses can leverage all these aspects to build a top-notch web store that delivers the best end-user experience. 
The Conclusion
When you choose Magento for eCommerce, you create online stores that are foolproof, secure, functionally rich, scalable, SEO compatible, customizable, mobile-friendly, technically sound and much more. Magento is ranked high as an eCommerce platform for all these benefits that it offers. 
If you are looking for eCommerce website development or Magento store development, then KrishaWeb could be your best technical partner. Feel free to connect with us for custom Magento store development!