In B2B (business-to-business) marketing, one business is marketing the products or the services to other organizations/businesses instead of marketing to individual consumers. Therefore, B2B businesses have to handle their target customers and have to build their marketing strategy differently. ROI (Return of Investment) is the primary factor that is considered by businesses/organizations when making purchase decisions. On the other hand, the buying committees oftentimes have multiple stakeholders these days. Therefore, it is not easy to develop B2B marketing strategies. An effective marketing strategy has to be carefully planned, executed and managed. The following tips help you in this regard.
Business-to-Business work is about building a brand from the inside out. The brand message that we communicate to our clients' business constituents is often the same message that is carried through to the consumers in the marketplace.
Understanding the B2B Digital Transformation and B2B Buyer's Journey
You cannot build an effective B2B marketing guide 2020 if you have not collected insights regarding the target audience or if you do not have the correct marketing framework. The first step to building an effective marketing guide is to understand the journey of B2B buyers.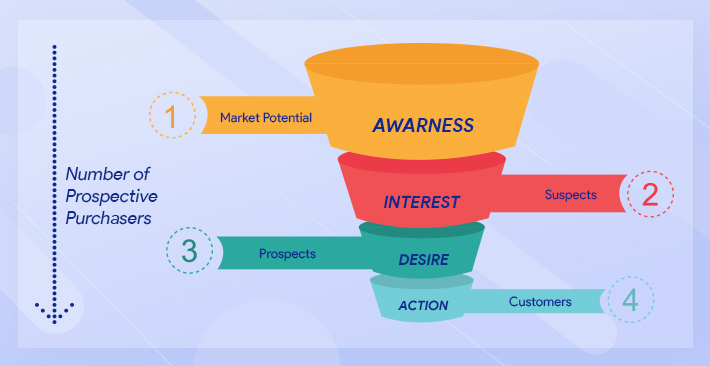 The digital transformation over the past two decades has changed the way B2B buyers search for the vendors or find them. The number of principal buyers was one in traditional B2B sales. The sales representatives used to make cold calls to the potential buyers and the business was conducted via face-to-face meetings. However, these strategies are not as productive as yesteryears due to the following reasons.
The new-age B2B buyers, who are millennials, do not like cold calls.
At present, the buying group of an organization may be made of 6-10 members. Thus, multiple individuals have the power to influence the purchasing decision of business.

For example, the senior-most (C-level) executives of a company may have the final say; however, the junior executives also have the liberty to voice their decision regarding a product or service.

The new-age B2B buyers also research about a product or service before making any investment.

Digital media influences around 67% of the B2B purchases.
B2B buyers perform multiple online searches before interacting with a vendor's website
Buyers are almost 57% through the buying process before speaking with a sales rep

Around 90% of the B2B buyers repeat at least one task after looping back when moving through the sales funnel
Content is the virtual Salesperson for the long B2B buying cycle.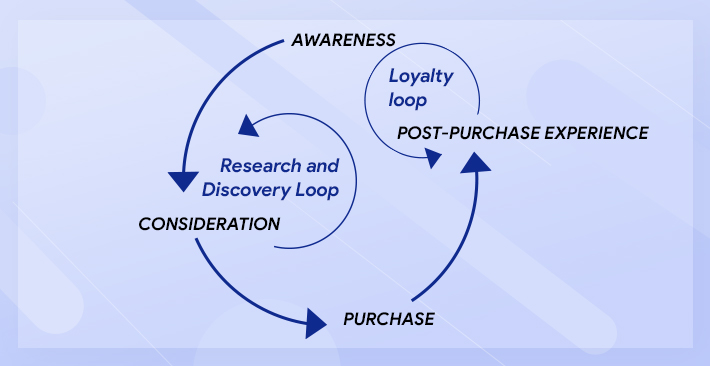 The new-age B2B buyers want the same level of service and customer experience as the consumers of B2C businesses. Hence, B2B businesses have to treat their customers as individual consumers living within the digital space.
The customer experience (direct/indirect) influences at least 80% of the purchase decisions. The rest of the 20% is influenced by a product's price or what is being offered by a business.
To become successful, B2B businesses have to create a special digital experience for the target audience that is supposed to guide them through different stages of a buyer's journey.
Best Marketing Framework to Set the B2B Marketing Strategy
STDC (See-Think-Do-Care) model is considered to be an effective marketing framework for all types of businesses. It has two basic rules.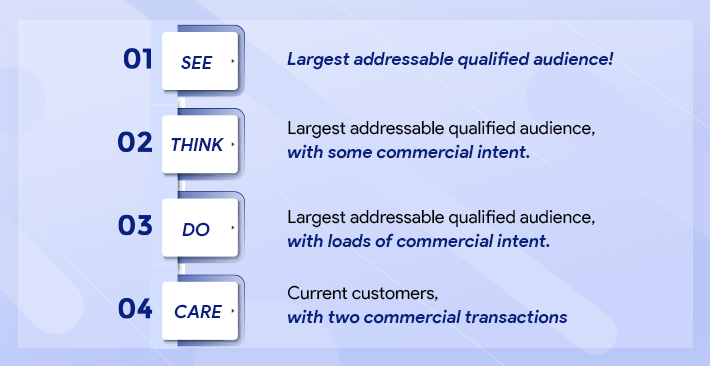 Businesses have to cluster the audiences (target customers) in four groups based upon their intent (audience-intent clusters)
They have to create a customized marketing strategy to engage each intent cluster
Modern B2B businesses have to follow the aforementioned rules of STDC model to build a successful marketing framework. This model is made of the following audience-intent clusters.
See
Belonging to the Largest Addressable Qualified Audience (LAQA)
Intent – Discovering a brand for the first time
Think
Belonging to the Largest Addressable Qualified Audience with mild commercial intent
Intent – Considering a brand's offerings
Do
Belonging to the Largest Addressable Qualified Audience that is ready for the transaction
Intent – Ready to or in the process of purchasing from a business
Care
Belonging to repeat customers
Intent – Loyal to a brand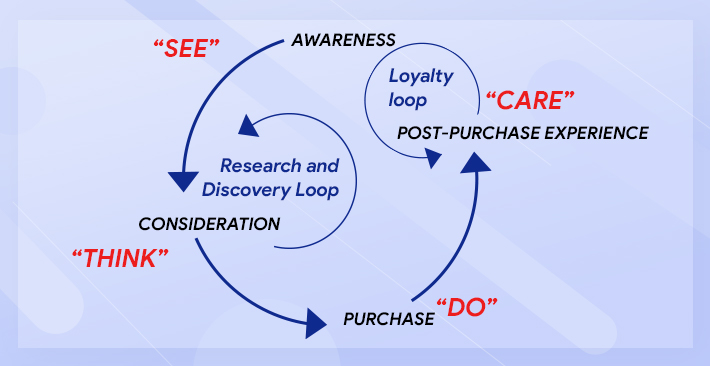 A B2B business may notice a transformation in the way it markets to or communicates with the target-audience after following the STDC model. It is considered to be the most effective framework when developing a marketing strategy for any business including the B2B businesses.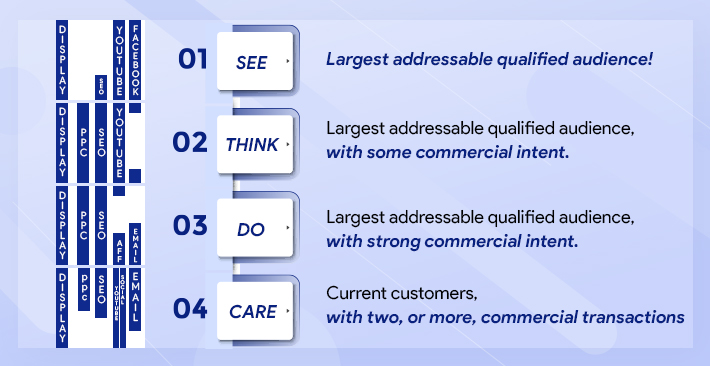 Important Elements of Sales Oriented B2B Marketing Plan
B2B customers have to complete the following tasks through their journey.
Identifying problem
Exploring solution
Building requirements
Selecting supplier
Validation
Creating consensus
B2B businesses have to create a customer experience which enables the target audience to easily perform the aforementioned tasks and guides them through the buyer's stages. A successful B2B marketing plan is supposed to have the three following components.
Demand Generation: The activities and campaigns that focus on targeting the customers and on lead generation are known as top-of-the-funnel marketing strategies. These strategies are used to create awareness regarding a brand, to educate the prospects and to build customers' interest in a particular product or service. You may solve the first three aforementioned tasks of B2B buyers through demand generation strategies.
Lead Generation: Middle-of-the-funnel and bottom-of-the-funnel marketing strategies fall into this category.

Middle-of-the-funnel marketing strategies
To cultivate qualified leads and to drive them to the bottom of the sales funnel
Bottom-of-the-funnel marketing strategies
To close a deal by convincing the buyers regarding a brand's products or services

The last three tasks that B2B buyers have to perform can be solved through lead-generation strategies.

Retention and Recovery: Customer loyalty loop is a concept of customer-service that demonstrates –

How the consumers determine what to purchase
How to pursue the consumers to become a brand's loyal customer

Using 'loyalty loop' marketing strategies one-time customers can be converted into repeat customers.
The following B2B Marketing Strategy Guide can help you achieve these components.
Responsive & well-designed website
Video marketing
Social media marketing
SEO (Search engine optimization)
Content marketing
PPC (pay-per-click advertising)
Event marketing
Remarketing
Affiliates and partnerships
Marketing automation strategies, such as e-mail marketing
Role of Professional B2B Website in Marketing Strategy
You have to understand the most effective marketing channels for demand generation, lead generation and retention in order to correctly devise the marketing strategy for B2B businesses. Developing a professional website is the primary step to building an effective marketing strategy, as the business website is the most useful marketing asset of any business.
A recent market study revealed the following facts
More than 1/2 of the B2B customers want a supplier's website to work as a useful channel
More than 1/3rd of the B2B buyers want a merchant's website to be the most useful channel for the transaction.
It is also evident that users are less likely (around 88%) to revisit a website after having one dissatisfactory experience. Hence, a website plays an important role at each stage of a buyer's journey. A website is supposed to have the following five components in order to generate B2B sales and leads alongside having the relevant, updated and engaging content for marketing.
Fast Loading Speed
Around 40% of users will abandon a webpage if the loading time is more than 3 seconds
Security
No consumer wants to browse an unsecured website.
It is essential to purchase an SSL certificate in order to have an HTTPS website, as it attests to a website's security.
Responsive & Mobile Friendly
More than 60% of online traffic comes from mobile devices.
80% of B2B buyers use mobile devices at work.
More than 90% of the B2B buyers will repurchase from the vendors with mobile-friendly websites.
In topmost B2B organizations, mobile devices influence more than 40% of the revenue on average.
Around 70% of the searches pertaining to B2B happens through mobile phones
Actionable Features
A business website works as the virtual sales representative of an organization.
Around 44% of the B2B marketers prefer to view the contact information right after entering a website.
To attract and retain B2B customers, it is essential for a website to feature clear CTA texts, winsome contact forms and trust-building components (testimonials, affiliations or awards).
Excellent Design & Navigation Features
Around 37% of the B2B buyers will leave a website due to subpar web-design or poor navigation.
Around 46% of the buyers will leave a website because it does not clearly define what a company does.
Will B2B buyers find your company if they put your industry's frequent search queries into a search engine? Your website only works when it is seen by potential prospects and leads. Most people find websites by using search engines.
B2B Marketing Strategies for Demand Generation
You can represent your business as the provider of the best solution to the potential B2B marketers through 'demand generation' marketing.
It enables a marketer to inform the potential buyers of your business that you have the best solution for their current problem.
It is also possible to coax a buyer's interest in learning about your products or services through 'demand generation' marketing.
The following strategies have been proven to work best for demand generation.
Display Advertising: This is the method of enticing the audience of a website, social media platform or other digital mediums to perform a particular task using videos, images and text-based advertisements. These advertisements motivate users to click-through to a landing page and to take specified actions. Display advertising has the following benefits.

The advertising is relevant to the content of a web-page. Therefore, it is contextual advertising.
It is possible to take advantage of the viewers' divided attention using display ads, such as PPC ads

B2B Content Marketing: Blogs, videos, social media posts, FAQs, press releases, news articles, e-mail newsletters, case studies, e-books, white papers, Infographic and other items are used for content marketing. The number of B2B buyers who depend upon the digital content in order to make any decision is increasing over time. A recent study on the B2B buyers discovered the following facts

Half of the B2B buyers (or more) views multiple (at least 8) pieces of content during the buying process
Above 80% of buyers view at least 5 articles
75% of the B2B buyers admitted to being influenced by the content when making purchase decisions
62% of buyers admitted to formatting the criteria for purchase selection depending upon the digital content

Therefore, content marketing plays an important role in demand generation and 91% of the B2B marketers are using different types of content to accomplish this goal.

However, it is important to create a piece of content that helps the present and future customers from the start to finish of the buying journey. This type of content is known as 'Buyer Enablement' content. A marketer can create this type of content after –

Understanding the tasks performed by B2B buyers through their buying journey
Providing useful tools and information that target these specific tasks
Making all data available to the buyers through their preferred channels

At present, only 20% content on all B2B websites can be labelled as the 'Buyer Enablement' content. The following types of content can be used as the 'Buyer Enablement' content.

Blog posts
Social media posts
E-books
Infographics

Social Media Marketing: B2B businesses may use social media platforms to their benefit. However, it is important to carefully select the platform, as different social media platforms may be useful to different businesses. However, LinkedIn is a useful platform for all types of businesses. The following social-media posts can be used for B2B demand generation if you want the social-media platform to become the best source of sales and leads for your business.

Blog posts
Previous/Upcoming webinars
Industry news
Industry research
Statistics
Branding videos, 'How-to' videos and engaging videos of less than 60 seconds duration
White papers and Case studies

Video Marketing: Online videos are regarded as the quickest and easiest medium of delivering and receiving information. Around 70% of the B2B researchers/buyers watch videos during the purchase process. This number shows the importance of videos in marketing.It's been proven that viewers can retain almost 95% of the message after watching a video in comparison to retaining 10% of the same message after reading it in text format. The following types of videos are used for top-of-the-funnel marketing.

Pre-roll or Mid-roll ads on YouTube videos
How-to-do videos
Blog videos
Branded video contents
Funny/entertaining videos

Proper distribution of the video is as important as developing or uploading them. You may use PPC ads or social media ads to distribute marketing videos.

SEO: Search Engine Optimization (SEO) is the continuous process of changing the code and content of a website in order to rank higher on various search engines. It is important because –

Around 71% of B2B researchers start their research using generic Google searches.
On average, the researchers perform 12 searches before visiting any brand's website. Therefore, every B2B business has at least 12 chances to rank at the topmost position of the search results and to grab the buyers' attention.
In the world of B2B, your professional network is everything. Because your business is about business, the potential of who you know and who they know is where powerful connections happen.
B2B Marketing Strategies for Lead Generation
In 'See-Think-Do-Care' model, the 'demand generation' is at 'See' stage. At this stage, the buyers are made aware of the products or services of a particular brand. You can encourage potential buyers to move through the 'Think' and 'Do' stages using lead generation strategies. The following marketing strategies may be used for the B2B lead generation.
PPC Ads: The 'Paid Search Ads' appear whenever users search for something online using a search engine. Therefore, PPC ads give you the opportunity to reach buyers whenever they are searching for similar services or products catered by your business. Using PPC ads you can also bid on the keywords or phrases capable of driving the customers to your website. Therefore, you can have better ROI whilst reducing the ad-spend costs if you can identify the key phrases that are supposed to raise leads and sales.
Remarketing: With remarketing, you always remain in the focus of target customers. This is the practice of serving online ads to individuals who have already visited your website. Through remarketing, you can reach the visitors to your website who have not yet converted. It is possible to increase the conversion rate through remarketing.
Events: Event marketing can be used to build relationships with empowered buyers. Thus, events can be used to create better leads. It may be impossible to always host an event. In this scenario, you may attend the meetings that are relevant to your industry.
Affiliates, Testimonials, Awards and Partnerships: Authority building is a continuous process. It requires consistent actions to prove to the visitors of your website that you are in authority. You can accomplish this goal by featuring the 'testimonials', 'awards', 'affiliates' and 'partnerships' on your business website. These four authority builders can instil confidence in visitors' mind and may convince the prospective buyers who are looking for assurance.

It has been found that 95% of the consumers read online business reviews and 85% of the consumers rely as much on online reviews as on personal recommendations

SEO: Search Engine Optimization is equally useful for demand generation and lead generation. However, you have to focus on different key phrases when optimizing a website for lead generation. For example,

Contact keywords
Branded/competitor terms
Purchase-related keywords
Location-specific keyword modifiers
Comparison/cost/pricing terms

Content Marketing: Similar to Search Engine Optimization, blogs and webinars can be used for both demand and lead generation. However, you have to solve a different set of buyer problems at this stage. The types of content that are used for lead generation are supposed to solve the last three tasks of a buyer's purchase process – selecting supplier, validation, and creating consensus. You may use the following pieces of content at this stage in order to display authority and expertise alongside using them as proof of your success.

Blogs displaying a service provider's expertise in a particular industry
Reviews and testimonials
Infographic and explainer videos
(Featuring a brand's products/services or how they help the target audience)
Pieces of content capable of creating buy-in from other parties during the purchase process
News release
Press coverage
Blurbs about partnerships or awards
Anecdotes about a company's culture/history or main values
White papers
Case studies

When creating content for B2B buyers, it is important to create comprehensible and short pieces of content.
81% of businesses have reported their blog as "useful" or "critical" to B2B lead generation
B2B Marketing Strategies for Customer Retention and Recovery
It is not enough to get a new customer or client. It is equally important to win a client's or customer's heart, as selling to an existing customer is more profitable in comparison to a new customer. It is possible to accomplish the following goals through customer retention and recovery strategy.
To encourage the buyers to go through the entire purchase process all over again
To make a buyer invest in the same or new product or in the same or additional service.
To become an advocate for your brand.
The following strategies can help you achieve this goal.
Content Marketing: You can achieve the following goals through content marketing.

Keeping buyers interested in your products/services
Keeping your company in focus
Empowering the buyers to make better decisions regarding the services/products of your brand.

The following five types of content may be used when developing a marketing strategy for the retention and recovery of clients.

Blogs: Informative pieces of writing about the products/services/updates pertaining to your industry
Whitepapers and E-books: Educational material to empower the customers/clients
Social Media Content: Blogs/webinars/testimonials or information about new products to spark interest
Video Content: Video marketing using video version of blogs, short advertisements of products or services, interactive videos, 360-degree videos (creating a panoramic sphere) or explainer videos
Webinars: Educational webinars, interviews and question-answer sessions to help customers using a brand's products or services

E-mail Marketing or Marketing Automation: E-mail marketing can be used to maintain contact with the customers and to keep them updated about newly launched products or about new deals or savings offered by your company. Businesses have used e-mail marketing for years; however, it is still regarded as an effective medium. You may use the following pieces of content during e-mail marketing.

Blog newsletters or monthly newsletters
Announcements or Reminders of Webinar
Notifications regarding new services
Culture-building emails or Thank-you emails
Announcement of newly launched e-book
E-mails regarding staff introduction
Only 20% of CMOs leverage social networks to engage with customers.
Execution of B2B Marketing Plan
You are ready to execute a marketing strategy once you have created plans for demand generation, lead generation and retention/recovery. Successful execution of a marketing strategy is equally important, as one mistake may ruin the customer-experience leading to complete debacle. You may successfully implement the B2B marketing plan following these five steps.
Identifying Target Customers & Their Behavior: Multiple individuals are involved in making the purchase decision in the latest B2B sales funnel. Thus, it has become more important for the B2B business-owners to understand the behaviour of target customers instead of determining customers' behaviour based upon a company's name or designation. The following points regarding your target customer may help you understand what encourages them to invest money and what may be their reaction to different types of marketing content.

Common interests
General demographics
Pain points resolved by your products/services
What motivates them to use your product
Preferred mode of communication (e-mail, social media platforms, white-paper or Infographics)

Digital Competitive Analysis to Stay Ahead in Competition: Competitive analysis is important if you want to discover the opportunities to outperform your immediate competitors and to create a distinctive identity for your brand. It is difficult for a B2B business-owner to perform better than the competitors without performing a digital competitive analysis based upon the following points.

Evaluating a website's loading speed, crawlability, mobile-friendliness, sitemaps etc.)
A website's search results rankings, search opportunities and content authority
Evaluating marketing content
Evaluating product, service and value proposition
Evaluating digital advertising across social media platforms and PPC
Evaluating customer and employee satisfaction
Measuring online reputation

Using digital competitive analysis, it is possible to identify a website's strengths, opportunities, weaknesses and threats from the aspect of digital marketing. You can also identify the actionable insights that you can use to remain ahead of the competition.

Recognizing the Goal: You can recognize the goal of digital marketing after digital competitive analysis and can take necessary actions. For example,

You can find out whether you want more leads, better conversion or better branding. You can take necessary actions depending upon the result of the analysis. Hence, it is important to frequently perform digital analysis.

Focusing on Part of Marketing Strategy According to Your Goal: You can set or adjust the focus of the marketing strategy after identifying your goal. For example,
You have to focus on 'lead generation' if your primary goal is to increase the number of leads.
Or
You have to focus on 'demand generation' if you want to create awareness about your products/services amongst a larger number of potential buyers.
Or
You have to focus on 'customer retention' if you lose customers or have poor reviews.
Making the Best Use of Data and Analytics: You have to perform the following tasks using Key Performance Indicators (KPI) to ensure the success of an online business.

Tracking the marketing campaigns
Testing the new strategies
Tweaking the campaigns depending upon the results
Repeating the aforementioned steps

However, it is important to choose the correct metrics when developing/modifying a digital marketing strategy. You may benefit from using the following KPIs.

Leads
Total sales
ROMI (Return on marketing investment)
Revenue
Booking rate through calls
CPL (Cost Per Lead)
Lead-to-Sale conversion rate
92% of businesses that implement inbound marketing strategies will see a direct increase in their website traffic.
Conclusion
Developing a productive marketing strategy for any-sized business including the B2B business is challenging. Nonetheless, digital marketing professionals are well-versed in the methods that are used to create custom and productive marketing strategies for different businesses. However, this B2B marketing guide may start you on the right track when developing a marketing strategy for your business.