Facebook has been around for more than a decade, but there are many businesses that are not yet comfortable how to use this platform to promote their business and optimize it for their benefit. Let's have a look at 5 primary Facebook Marketing Techniques that can yield the best dividends for your business.
Facebook is surely the most popular and widely known place where several companies and brands are luring the worldwide audience effectively at least expense. But often the organic reach of the Facebook did not do well, which compel the businesses to redesign their marketing strategy to explore the best of this platform.
Many surveys and research work have established that Facebook's organic reach is diminishing continuously. This has led Facebook to gear up the marketers with new tricks and tools to reach their prospects in the best possible way if these tools are used the right way.
Let's have an insight into these advanced tools and techniques that can add value and effectiveness to their Facebook marketing campaigns!
Reach out wider spectrum using Facebook ads
As we know, the organic reach of Facebook is not good, except for videos. To counter this drawback marketers often look at the Facebook Ads to expand their reach to their prospects.
To start advertising on Facebook, you should streamline your target audience first and have a course of action beforehand. If you fail in these two aspects, your ads will not yield any results and will fall flat due to lack of any clear direction and you will not explore the online community of 2 billion+ users for business.
The most recommended way to optimize your Facebook ads is to have a clear-cut objective that you want to derive from this exercise. Whether you want to trigger maximum engagement on your business page or you want to get more conversion or do you want to brand your product and services to establish your strong online visibility. Once you have identified what is your objective using the Facebook Ads, it will be easier for you to identify your target audience, the allocation of budget and timeline to display your ads.
In addition, you should depict your ads in a really creative and appealing manner to catch the attention of your audience and receive a good amount of shares. For example, one of the most clever and popular ad campaign scenarios is to reaching out almost all gender and age group as there are products that are widely used by both the genders.

Image Credit: WordStream
Upload and share more video
These days you must have observed that the Facebook newsfeeds are inundated with videos instead of images and content! Newsfeeds are more interested in video content, particularly those videos that have been directly uploaded to Facebook, which are also called native videos than those videos that are shared from various other resources and platforms like Instagram and YouTube.
Usage of YouTube & Vimeo on Facebook is declining

Image Credit: Quintly
It has also been established through studies that such native video performs better than videos shared from other platforms. Native videos receive more than 110% engagement with the audiences and almost 478% shares. So, there is no better idea to create and share native Facebook video content to trigger a sharing rage to reap the best dividends of this massive online community.
Video Credit: GoPro
If you are wondering what those videos could be, you may share event videos, DIY tips in videos, seminars, webinars, emotional videos, motivational videos, funny videos, challenges, product launch videos etc.
Explore Facebook live feature
Yes, Facebook offers a feature – Facebook Live, which is the live streaming service. This is yet another most powerful feature if you can use it effectively. In this feature, you can share the live event and directly telecast on your Facebook page. In addition to sharing the native videos, Facebook live can also work great and many businesses are using this feature successfully to attract the attention of the audiences. Live videos can connect you with your Facebook followers. You can share live events, videos featuring influencers and you can also go and cover those places that your audience will not be able to reach and visit.
When planning to opt for the live feature for the first time, you should keep certain things in mind. The first thing to consider is you should be alert and active while streaming the live video to give your viewers an interactive experience. The next condition is, although it is natural and unscripted, you should still have some plan. This will ensure that your streaming is able to interact and connect you with your audiences during your live sessions.
The Metropolitan Museum of the Arts in New York teamed up with Vogue to conduct a Q&A session with the museum's Costume Institute curator Andrew Bolton and Vogue editor-in-chief Anna Wintour about a documentary detailing the making of the yearly Met Gala. As of this writing, the clip has over 200,000 live and post-stream views.
Video Credit: Vogue
Keep attractive call to action on your business page
This could ideally be the coolest of the feature that Facebook Business page offers – Call to Action.  It allows you to add a Call to Action on your business cover page. This helps your visitors or followers to understand what you expect them to do and also encourage them to take that action during their visit to your page.
There are few options that you can display on your business cover page that includes "Contact us" or "Visit website", "Share" etc. This option makes your business page more open to using the call to action feature. This can also attract your visitors' attention if you have used CTA a bit more creatively.

In addition, you can also add a call to action on your Facebook cover page by just through your updates. Just post your update in a way that your call to action is visible there asking for specific action.
Besides the cover image area, there is one more way to add call to action on Facebook, which is simply via your updates. Simply make your updates in such a manner that they ask customers for an action; such as this set.

Image Credit: Wishpond
70-20-10 rule in Facebook works great
If you have heard the 70-20-10 rule in Facebook marketing, you would surely be wondering what it could be. This is the best marketing rule that defines what the right synchronization of content, images and promotional aspects that can yield the optimum result. It is the rule book that marketers should follow to get the best result while promoting their business on social media platforms.
Let's understand what it all talk about:
In your Facebook page, there should be 70% post about the latest topic and other interesting posts within your domain,
You should only share just 20% of the shared content, which have originally been published elsewhere and is relevant to your followers and visitors,
Only a small 10% of your content should contain promotional posts talking about your service or product that you offer.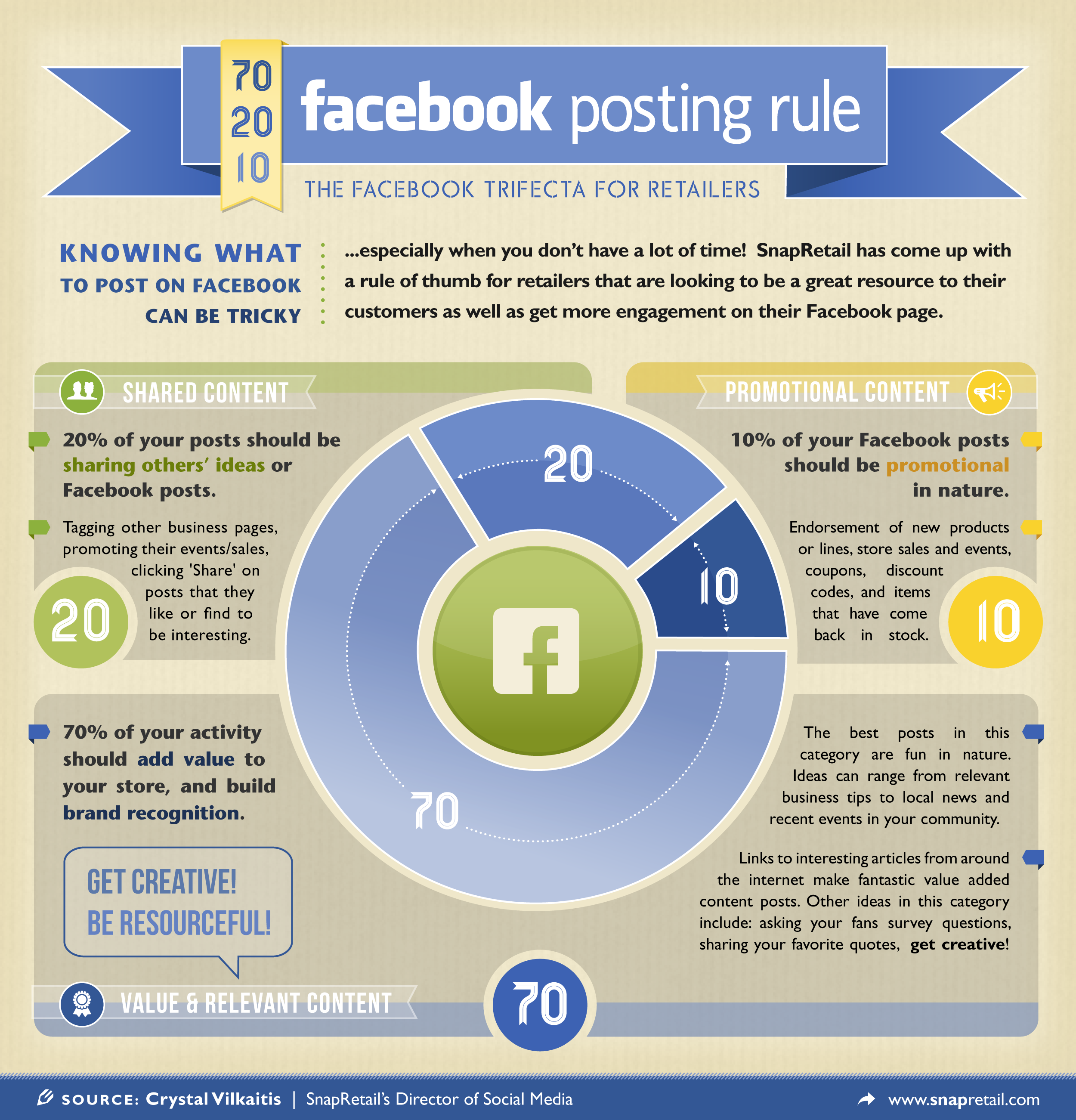 Image Credit: Pagemodo
It has been established that this should be the right proportion of types of content that you should post on your Facebook business page which is readily acceptable by your audience.
Intel has been successfully using the 70-20-10 regulation on their Facebook business page. And despite Intel being a B2B business, it has greater than 38 million fans on their Facebook business page.

Image Credit: Intel
Above mentioned are some of the most popular and widely used effective Facebook marketing tips and tools that can yield the expected results. You simply need to understand the nature of the Facebook platform, identify the target audience's preferences, deploy the most advanced and trending features and tools which are available on Facebook, and lastly be creative using it all. Not a surprise that this approach and marketing strategy is not only effective for Facebook marketing but it is equally result-oriented on all other social media platforms.
Build a strong presence on social media for your business.