Yahoo will be the default search engine in US for Mozilla Firefox from December 2014. Firefox has announced their five-year partnership with Yahoo Search Engine on 19th November 2014.
The company has announced their partnership with Yahoo in the blog post. They have stated that the Google has been the default search engine for Firefox since 2004. Their contract with Google had been coming up for renewal this year and they have taken this as an opportunity to review the competitors and future strategy. And decided to break the partnership with Google and adopted Yahoo as a default search provider.
This is a big win for the Yahoo search engine. Marissa Mayer, Yahoo CEO is also excited for their partnership with the Firefox. She wrote in her blog post: "I'm thrilled to announce that we've entered into a five-year partnership with Mozilla to make Yahoo the default search experience on Firebox across mobile and desktop," She added: "This is the most significant partnership for Yahoo in five years."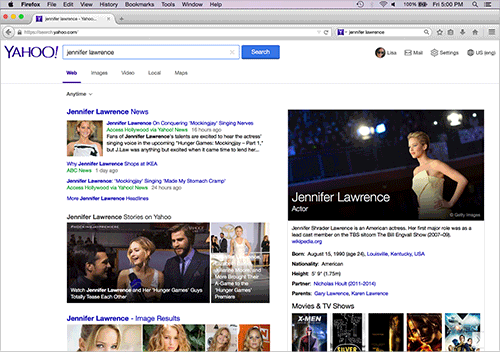 She has also announced that the Yahoo will come up with the new clean, modern and immersive design of search result page. "At Yahoo, we believe deeply in search — it's an area of investment and opportunity for us. It's also a key growth area for us," Mayer said. "This partnership helps to expand our reach in search and gives us an opportunity to work even more closely with Mozilla to find ways to innovate in search, communications and digital content."
Firefox is changing their search strategy after a decade. Chris Beard – Mozilla CEO announced in the company blog; "Our new search strategy doubles down on our commitment to make Firefox a browser for everyone, We believe it will empower more people, in more places with more choice and opportunity to innovate and ultimately put even more people in control over their lives online."
Online users search more than 100 billion search queries using Firefox each year. Beard added about their strategy in the blog: " In evaluating our search partnerships, our primary consideration was to ensure our strategy aligned with our values of choice and independence, and positions us to innovate and advance our mission in ways that best serve our users and the Web, one strategy stood out from the rest."
Though Yahoo will be the default search browser for Firefox, Google will continue to be the pre-installed search engine in Firefox. Still Google will power the Safe Browsing and Geolocation components for the Firefox. There are also another 61 pre-installed search providers in Firefox in 88 different language variations. Local search engine Yandex will be the default search engine in Russia. While in China, Baidu will be the default search engine.
US Firefox users will have Yahoo as their default search engine from December. But one thing is unclear that will the default search engine switch automatically to Yahoo for the users who have kept Google or any other search engines as their preferred search source? Yahoo is currently holding around the 10% shares of the US search engine market. Switching back to Google won't take much time, but people are more likely to stick with the default. This can surely affect Google search business.
What do you think about the Mozilla's move of switching to Yahoo search engine? Will it affect user's search behavior? I think it will affect some percentage of the online searchers. What do you think? Share your thoughts in the comment box below.