Social Media is the ever-saturating market. Global Web Index's third quarter report has once again proven that. It was Instagram leading the race of the fastest growing social networks earlier this year. But now  Tumblr and Pinterest are leading the race, keeping Instagram on third position now. Tumblr and Pinterest are the growth leaders in last six months. Monthly active users on Tumblr are increased by 120% and in case of Pinterest; it is increased by the 111%, whereas Facebook has a rate of  monthly active users increases by just 2%.
Tumblr has got the highest growth in monthly active users of 120% followed by Pinterest (111%), Instagram (64%), LinkedIn (54%), Twitter (26%), YouTube (25%), Google+ (16%) and Facebook (2%). Pinterest has got the highest growth in number of new registered members followed by Tumblr, Instagram and other social media networks. Facebook has achieved the growth in new members by just 6%.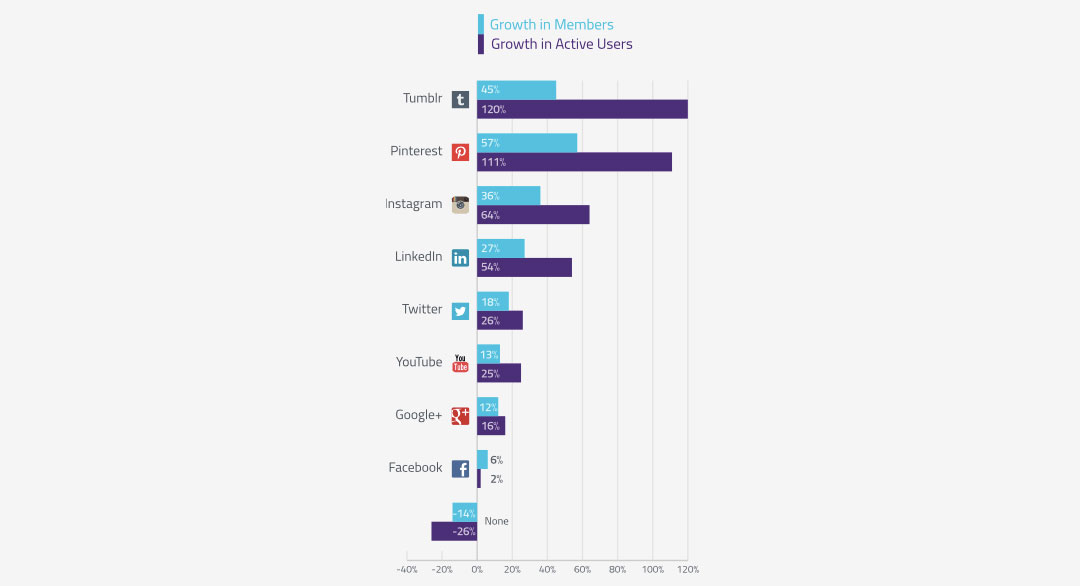 Though Facebook is world's largest social media platform with over 1.35 billion monthly active users; the rate of active users is growing considerably slowly. There could be two reasons for this. Either Facebook has reached to the saturation level of getting new users or people are loosing interest from facebook and concentrating on other social media platforms. Actually, both the reasons are true in case of Facebook. Jason Mander, GWI's head of trends and author of the report has stated in the report some challenges for the Facebook.
He wrote –
"Facebook has some major challenges to face. Firstly, people are growing tired of it, with 50% of members in the UK and US saying that they're using it less frequently than they used to (rising to 64% among teens). Some of the top reasons for this include that members are less interested in Facebook than they used to be (45%, climbing to 54% for teens), that they're bored of it (37%, but up to 50% for teens) and that it's not as cool as it used to be (18%, rising to 27% for teens). Facebook is also the only network which has seen a drop in active usage among 16-24s during 2014; although it's a very small one (-0.5%), it needs to be viewed in the context of all other networks posting substantial increases among this demographic. Finally, it's clear that people are using Facebook more passively; since the start of 2013, we've seen behaviors like sharing photos and messaging friends fall by around 20 percentage points."
There are 3 billion people online worldwide, and around 1.35 billion people among them are the active users of Facebook. It means that over one third of the world's population is active on Facebook. So there is no doubt that it will be the world's largest social media platform for few years at least.
Facebook is leading when it comes to the usage of Mobile apps. Facebook mobile app is the highest used mobile app globally. The report of GWI also revealed some insights about the highest growing mobile apps in past six months. Snap Chat has claimed the highest growth (56%) among all other mobile apps. Second in the list is Facebook messenger app followed by the Instagram mobile app. There is no doubt about having Facebook messenger on the list as Facebook is explicitly forcing users to download the Facebook messenger app to send private message to their Facebook friends. Some other rapidly growing mobile apps in last six months are Line, Pinterest, Kakao Talk, Vine, Kik Messenger, Google+, and Viper.
All data shown in the GWI's report is based on the 170,000 users interview across 32 different markets. You can also find the detailed report here. The conclusion we can make from this report is that; the online users prefer "multi-networking" nowadays. They don't hesitate to join different networks to be in touch with different communities.