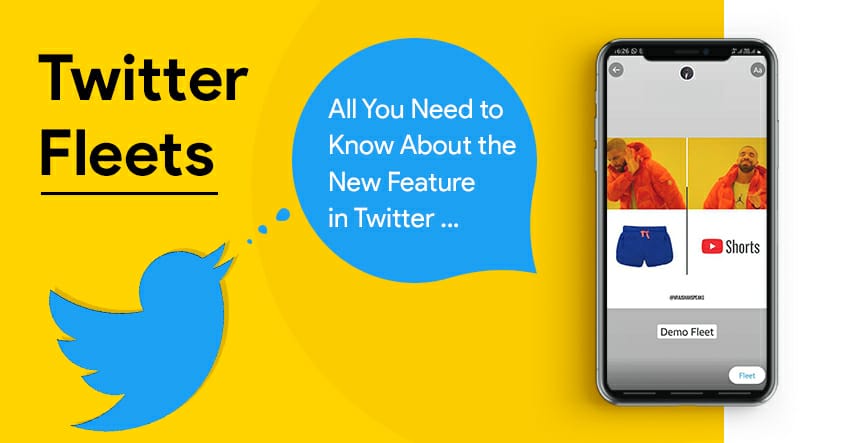 Twitter's Product Manager, Mo Aladham said that they have made fleet to let users have conversations in a newer way with less pressure and increased control. Fleet is about beyond tweets and direct messages!
What are Twitter Fleets?
We are familiar with Facebook, Snapchat, and Instagram stories. But Twitter was not playing in this field until 2019. But in 2020, Twitter has introduced its own stories to its users. Twitter stories are called 'Fleets'. Twitter calls it a fleeting thought and it will disappear after 24 hours automatically. We know that most social media platforms out there use stories as a conversation starter. Fleet is also the same thing but here a user can share 280 character messages, photos, video, GIFs with the followers.
How do Twitter Fleets Work?
When a user will share a fleet, it will be shown on the top of the home page. In other words, we can say that it will be shown through a timeline of fleets. Fleets are public but not that accessible. Your followers can see your fleets easily. There is another good thing about fleet and that is your followers cannot share your fleet or do something like re-tweet or reply publicly. Your followers will get two options, number one is they can share react in the response to the fleet with an emoji and the second thing is that they can reply with a personal message.
The Goal Behind Twitter Fleets
We all are already introduced to this story feature on various social media platforms. Even Instagram and Facebook stories are popular features and people spend quality time over there. This feature also helps users to get more followers. But Twitter's fleet is slightly different than Instagram and Facebook's story feature. We all know that Twitter is also a different social media platform from Facebook and Instagram.
According to Twitter,
Fleet is there to let people share their own thoughts in an easy way
This is an outstanding conversation starter
Twitter says that when a user shares a fleet they may share a member of thoughts rapidly
Twitter is still at a very early stage and trying to ensure all the safety measures of the users
It is just an initial stage of Twitter Fleet yet it has come with stunning creative options. Hoping in the coming days it will be more attractive as well as user friendly.