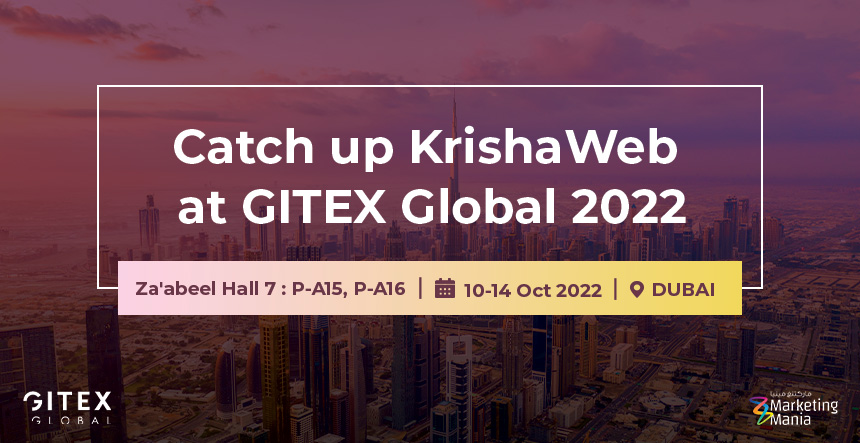 We are pleased to announce that KrishaWeb will be exhibiting at one of the world's largest and most influential tech events, GITEX Global 2022 in Dubai, UAE, on October 10-14. The mega annual event doesn't need an introduction for its massive opportunities.
We believe, this year won't be an exception to get a glimpse of all the technological advancements over the years and years to come ahead. KrishaWeb is feeling excited about the massive arrays and interactions with global industry leaders, creative innovators, tech enthusiasts, and wise entrepreneurs from across the globe. Interacting with these thought leaders from more than 170 countries is an achievement in itself.
What's new in the 2022 Mega Event?
This year GITEX is celebrating the technical wizard behind the digital revolution and launching Global DevSlam, the first-ever event connecting coders to global learnings, innovative projects, and flourishing business growth. It aims to create a global, vibrant community network with technical minds, skills, and talent exchange.
Secondly, Metaverse is going to be a global attention grabber at the event. Metaverse like you've never seen from the leading virtual world platforms that have embraced the tech the most!
To move forward, Sustainability is the third! Inspiring government, tech companies, and businesses to responsibly strategize through climate-preserving technologies. An opportunity to know which companies are ahead in the green game and how.
Lastly, a deep dive into the cyber security world. According to the World Economic Forum Global Cybersecurity outlook, 87% of top executives are planning to improve cyber resilience in their organizations. A chance to learn about emerging cyber threats, crypto-nite, and be more cyber-resilient.
What KrishaWeb has to showcase at the Global event?
We thrive on transforming digital experiences by offering end-to-end web solutions for various organizations. So far we have successfully created a benchmark in digitizing existing businesses, and building innovative websites, for B2B, B2C, and enterprise agencies.
We are a digital hub for all the requirements a business needs to successfully flourish and grow at a regular pace. Everything from branding to marketing, from creating stunning designs for websites to transforming your business into high-revenue earning brands with a solid strategy.
Showcasing our expertise in robust and transformative solutions that include:
Branding

UI UX design

Web Development

Inbound Marketing

Video Production

eCommerce Development

LCNC Solutions
There would be a no better opportunity for KrishaWeb to explore on its way to launching the digital product – Blue Dolphin which transforms the training culture of the organization. The product is our vision for guiding organizations to transform their learning culture with digital learning experiences. To give you a sneak peek, the product offers multiple features such as a central repository, maintaining training records, evaluating effectiveness, and efficiency!
Reasons why KrishaWeb is exhibiting at the GITEX 2022

Since the pandemic, the advancements in tech and innovations have been huge and tremendous. Our objective would be to explore these advancements in the future of technology and what trends are going to be in the top position. GITEX launches Global DevSlam, the first-ever event connecting coders to global learnings, innovative projects, and flourishing business opportunities.
Hence, our core objectives for this year's show would be interacting and getting a chance to meet these influential coders from across the globe and exchange ideas, knowledge, learnings, and much more. There is a lot to explore in this annual event from learnings to trends, from influential people to entrepreneurs, from innovation to creations, and a lot more!
Dubai and UAE are important destinations for our business as it is top regions and hubs for tourism, oil and gas, and the construction industry. These industries matter a lot to us and we serve these niches to the utmost. Apart from this, Dubai is the biggest hub and a global center for enterprise businesses and a center of futuristic trends which gives KrishaWeb immense enhancements for better growth!
Apart from this, there would be more engaging conversations, knowledge exchange, exploring multiple ideologies, etc. Our goal is to get maximum exposure and user engagement that elevates and enhances the overall event experience through our innovative and interactive booth. Every year, it is believed that more than 1 million people from different industries visit the event. From that data, we can conclude to grab a moment to connect with our ideal prospects and it will help identify our future enhancement.
Let's Catch Up
Bringing together thought-leaders, creators, innovators, and makers to make some new decisions, debate, challenge new ideologies, and showcase new products.
We can't wait to see you at the GITEX 2022 Global Tech Event between Oct 10-14 at the Dubai World Trade Center, UAE.