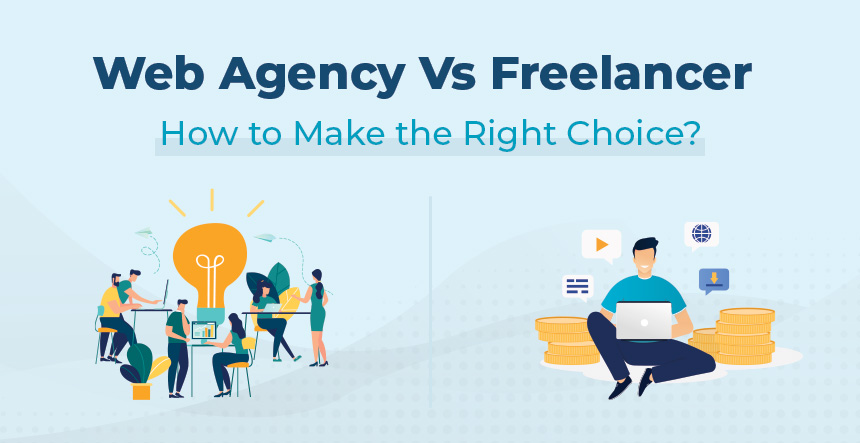 In this highly competitive digital market, it becomes crucial to build & scale your internet presence. The right digital platform helps your customers to know more about you and decide whether you are the right fit or not! 
And to build or expand your digital footprint, you need to hire the right people to do your work. Many search results are available as you continue to look for what you need. Some intriguing digital agencies and beneficial freelance directories are among the options.
You may be wondering at this point which direction you should head in. For businesses, a project is a significant undertaking that has the potential to change the course of their operations and necessitates a significant investment of time, money, and resources. 
But don't be worried! We've got your back.
This article will discuss how to proceed while taking your needs into account. Go on reading!
Before digging down, let's get some gist about what exactly is freelancer & Web agency.
What is a Freelancer? 
A freelancer is an independent contractor who works for several clients at once and isn't permanently committed to one employer.
They are solely in charge of obtaining clients, completing projects for clients, communicating, dealing with issues as they arise, managing projects, and other duties. Freelancers receive payment on a project-by-project basis and are paid on an hourly or daily basis.
The trend of freelancing is growing. 53 million Americans, or an astounding 34% of the workforce, are currently working as freelancers, either as their primary or secondary income source, according to a recent study.
Today, it's common to locate freelancers on large online directories, social media sites like LinkedIn, Instagram, and Twitter, as well as by sending the appropriate individual a direct email.
You are responsible for choosing a candidate from among the hundreds of applicants, qualifying them through an interview, and controlling expectations.
What is a Web Agency? 
An agency is a full-fledged services provider that offers a variety of services to its clients. Such a business is made up of a group of experts who collaborate on projects with the aim of digitally transforming your company's online presence.
Web development or digital marketing agency employs professionals from a wide range of industries that specialize in various facets of web development, including web designers, web programs, content writers, SEO experts, and more.
The work of onboarding, delivering, marketing, and writing is divided among various individuals or teams. The coordination of this model makes it ideal for medium- to large-scale projects.
You can access a team of seasoned marketers with a variety of skills by working with a digital agency. They will all cooperate in developing campaigns that are most effective for your company because they are aware of its operations, objectives, and vision.
Difference Between Freelancer and Web Agency
1) Cost
The freelancer is a good choice if you are on a tight budget. However, it will be more expensive to assign work to distinct freelancers if you have a broad range of requirements.
Additionally, assigning a massive task to a freelancer might not be the best thing to do. For a small job, hiring a freelancer would work, and you can stay within your budget.
Working with a web agency will usually require you to make a more significant financial commitment due to their superior tools and resources, strategic approach, and skilled team of developers. Therefore, hiring an agency is the best course of action if you are working on a large project with demanding needs.
2) Skills 
Freelancers are people who specialize in a single field and can assist you with that one particular task. And if your needs vary, you'll need to hire different freelancers for each job, which also takes more time, money, and effort. However, there is no documentation of their abilities, which could cost you the project.
On the other hand, an agency is a group of experts who serve as your one-stop shop for all your development and marketing requirements. They are quick to handle the difficulties and challenges of projects that demand expert knowledge and accuracy, and they even have a wide variety of skills and a wealth of experience to back your project.
Additionally, you can easily confirm their expertise and skills through their website, reviews on independent websites, and client testimonials.
3) Quality 
You can get high-quality services from freelancers and digital agencies alike if you make the right decision and are prepared to put money down.
When you hire a freelancer who charges significantly less than the industry standard or who has numerous clients, quality issues frequently arise. So, allotting work analyzing their portfolio, skills, experience and customer testimonials will help you in choosing the ideal one.
As for your work requirement, you can find the right agency for your project. Even for the agency, check out their website, client testimonials, case studies, interviewing their staff, assigning a sample task, and other things that might help you choose the right company. When you have got the right partner, quality will not be a problem at all. 
4) Strategic process & holistic approach 
Over the years, web development and marketing agencies have developed processes allowing them to make promises about their services. The procedures have been set up to hold agencies responsible for their actions and give them the ability to fulfill client commitments. 
It can be challenging for independent contractors to set up the same procedures and provide the same guarantees.
Working alone restricts you to a single viewpoint and a single fundamental skill. Working with an agency enables you to examine best practices for design and development while taking a holistic view of your digital practices. Assuring that all operations support the business and optimize your digital strategy also provides an excellent user experience, efficient branding, and compelling content that works in favor of your business.
5) Resources
Freelancers are frequent producers, which means that they create things and may assist you in getting the right results, but they may lack specific abilities, such as managing projects or time management, which you may not want.
In correlation, knowledgeable web development and digital marketing companies provide value by providing a multitude of resources and experience. 
When you work with an organization, a team of people, including project coordinators, designers, and web developers, collaborate on the task and contribute to the website's final quality. They handle training, quality control, project monitoring, and time management.
In addition to managing teams, an organization will have access to a variety of resources that aid businesses in getting the most out of their initiatives.
6) Credibility 
Individual freelancers are less reliable than agencies because they are not registered individuals, and there is rarely public feedback from independent freelancers online. You can't make a decision and pass judgment based solely on the conversation.
Web agencies, on the other hand, have more reputation in the market than freelancers do because they are fully fledged businesses that are authorized by the appropriate state legal authorities and have a reputation to preserve in their surrounding area as well as among their peers in the industry.
Quicks-tip – The best review websites, including Yelp, Clutch, Upwork, etc., list agencies and hold them liable for their actions.
7) Flexibility
The main advantage of hiring freelancers is their flexibility and lack of a set 9 to 5 schedule. They also enjoy having a flexible schedule, which is why they choose to work for themselves. 
It will come in handy if you encounter a potential crisis late at night or on the weekend. But, as with freelancers, you will only look forward to one person, and if they are not available for some reason, then your work will suffer.
A web agency lets you know where you stand in terms of time, and you can build your company around that knowledge. When dealing with an agency, you can still contact another person even if the one person isn't available.
And most of the agencies are working in different time zones as well, so flexibility is not a problem at all. 
8) Communication
Freelancers often excel at communication and ensure that the project meets all of your requirements because they are the only person who can be contacted at any time for clarification, changes, upgrades, and improvements that are required for the project.
While speaking with a web agency is a very different experience. While communicating, they adhere to various strategic hierarchies. It involves speaking with various people for various tasks.
In order to discuss the progress of the project, you should also hold weekly meetings with the team's other representatives and the project manager. Some business owners favor this approach, while others desire closer communication with the project manager.
If your project requirements are vast, speaking with experts who share your viewpoints will be more beneficial, which is possible in the case of an agency. If you prefer a more straightforward communication process, choose freelancers.
The final verdict 
Hopefully, this guide has helped you better understand each choice's advantages and disadvantages so that you can decide what will work best for your company.
Any freelancer can handle small, short-term projects, but for complex, large-scale projects that call for a specific set of abilities and knowledge, a digital agency is the best choice, given their profession and extensive knowledge.
Ultimately, web agency come out on top among the two because they provide a wide range of benefits for businesses thanks to their expertise, reliability, and integrity. You can get in touch with us if you still have queries, and we'll be happy to assist you in deciding which path is best for you.