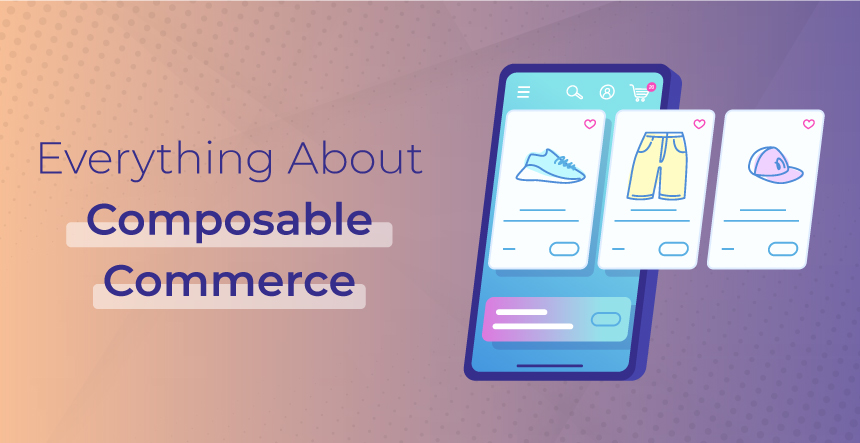 Composable commerce is the new-age approach to personalized eCommerce application development. The reason for the emergence of this philosophy is the ever-increasing demand for online stores with better flexibility, speed, scalability and technical edge. Nowadays, customers prefer stores that offer them the finest shopping experience. To meet these demands and to deliver a never-felt-before customer experience, technology experts have come up with the philosophy of Composable commerce. 
What is Composable Commerce?
As the name suggests, it is a development approach that combines different eCommerce components to form a custom application with the best of every piece that suffices specific business requirements. Basically, composable commerce unites several Packaged Business Capabilities (PBCs), which are third-party applications made to serve a particular feature of the application. PBCs are formed of one or more microservices designed to form a component like a checkout function, content marketing, user identification module etc. 
Unlike the traditional eCommerce development approach, where all components were delivered by a single vendor, this one is more aligned with the demands of digital commerce. In fact, the prominent research firm Gartner predicted that "By 2023, organizations that have adopted a Composable Commerce approach will outpace the competition by 80% in the speed of new feature implementation." Gartner seems right since many eCommerce giants are adopting this methodology and using multivendor components.
How does Composable Commerce Work?
Traditional commerce used monolithic architecture, which means every component in the application was built by a single vendor. It could be easily termed as an 'all-in-one' solution. Unlike this, a composable commerce model combines several best-of-the-breed components to meet specific business needs and joins them in one application. 
It uses modern technology stacks like MACH (Microservices, APIs, Cloud and Headless) and Jamstack (JavaScript, APIs, and Markup) to create applications that deliver outcomes as per market dynamics and customer demands. This means the complete application could have separate solutions for shipping, checkout, content marketing and more, made by different vendors. All these solutions are joined through APIs to generate one customer experience. They work in synergy to create a cohesive application that delivers a finely tuned, fast-paced and precise customer experience. 
Have a Look at the Four Key Tenets of Composable Commerce
This approach of building an eCommerce application by blending different solutions has four key tenets: 
Modular 
The best part about composable commerce is that it is modular in a true sense. Every component is separate and hence, easy to plug, scale and replace. It is possible to add, detach or modify any component without disturbing the other. So, when you want to enhance the functionality of the application, it will not hamper the other part. It uses interconnected components regulated through APIs and not a single application made from all-in-one platforms like Shopify or Magento. 
Open Ecosystem
The entire ecosystem of the application is open, with no specific vendor to control or regulate it. This makes the eCommerce store very rugged and strong. eCommerce store owners can use separate and independent solutions for each service, so the application works fine even if any of the components becomes outdated. Even if one component becomes obsolete, the others work with the same efficiency. 
Flexible 
The whole idea behind this approach of eCommerce application development is to create a flexible solution. The technology stack could vary as per the requirement of the business. Moreover, the custom application can be scaled up and down as per the changing business scenario. It could be modified as per the need of the hour. 
Business-centric 
The application becomes business-centric and even cost-effective. You can remove the components that are not needed and save upon that investment. Secondly, you can add new functionality or features without transferring the entire application to another platform. 
How to Kick-Start Composable Commerce Application?
a) Invest in the right technological team 
Well, the philosophy of composable commerce sounds incredible, but bringing it to life requires high technological acumen. You need qualified and experienced resources with expertise in API integration, as all the components would be connected through it. The eCommerce developers should be pro at technologies like Jamstack, React, or Next.js. In addition, the design team needs to create easy-to-blend web designs and UX for all separate components to create a seamless application. 
b) Chart down business goals and prioritize solutions
The whole gymnastic of composable commerce is to create a custom eCommerce application that serves your business goals. If you want to change the existing store, then prioritize what needs to be modified and change those sections or replace them with API-driven solutions. 
c) Adapt to the composable commerce platform
In this approach, you do not rely entirely on software rather, it is about choosing separate solutions for one custom application. So, choose modules that serve the business goal and adapt to them without hassles. 
Why are B2B Businesses Keen on Composable Commerce?
B2B companies are fast evolving and adapting to the demands of digital transformation. Moreover, a single vendor cannot suffice the ever-evolving need to create a sophisticated yet sleek customer experience. 
When eCommerce applications are developed with specific modules, they are faster in delivery and leaner on technological grounds. This makes them more efficient and high performing compared to traditional commerce sites. 
The application becomes more business-centric as B2B companies have more control over them. The modules are selected to suffice business objectives and therefore, anything that is out-of-scope can be easily discarded. 
B2B companies can pick and choose components, pay for customizing them and create a solid yet smooth eCommerce application. They can save on the cost of a comprehensive application and develop a relevant one, so it actually cuts down the development cost. 
Merits and Demerits of composable commerce?
Merits OR Advantages
Custom application with exceptional user experience
A business unit can create exceptional customer experiences by serving them with a user-centric, business-oriented application. As every component is selected to deliver a matchless user experience, the application serves the customer with nothing but the best. This can give an edge to the eCommerce store and make it popular among customers. 
Flexible store with an individualistic touch
As the components are designed to address a specific functionality, the eCommerce store remains quite distinctive. Just like headless commerce, which segregates the front end and back end, this one segregates each component and yet connects them through API. Components can be added, modified and removed per business goal, so this one is more flexible than traditional stores made from a particular template. 
Crisp, precise application
When the application is designed to fulfil certain criteria without following age-old methods, it actually serves the customers with a crisp solution. They are delivered quick results in a definite format without any hassles. Therefore, this approach is very real, precise and to the point. 
Scalable architecture
There is a constant increase in the demands of customers. This makes it all the more important to keep an application that is easy to update and modify. Components can be added as per the need in the future. So, the composable commerce architecture is futuristic and scalable in the true sense. 
Demerits OR Disadvantages
Managing multiple vendors is tough
Following up with numerous vendors is a tough task. When you need a change in any component, you need to contact that particular vendor and fix things. In traditional commerce, data and information are not used by separate modules, but here they are used by micro services, which use distinct tools and therefore, managing data & information can be a hard-hitting task. 
DIY application
Unlike traditional all-in-one eCommerce platforms, the composable commerce model leaves you with building a whole application with discrete components. Connecting all modules with APIs demands technological proficiency. Moreover, the UX and design should be blended across all modules so, it's a lot of work. It would be like a DIY project that requires constant attention. 
The Conclusion
Without an iota of doubt, composable commerce is the future of eCommerce development. Those who are using headless methods are already a step into it. Soon it will be implemented by tech and eCommerce giants. To begin, you need to create the right team to finally complete this project. It would be a futuristic endeavour, but certainly a remarkable achievement. 
If you are looking for an eCommerce development team that designs custom applications, then KrishaWeb Technologies is the answer. Let us connect to create a robust eCommerce store.