YouTube is one of the best sites for video streaming. There are more than 1 billion users active on YouTube. People spend hundreds of millions of hours everyday watching YouTube Videos that generate over one billion video views daily.  Google owned video streaming website has recently made a visual change by officially adopting Roboto font for YouTube.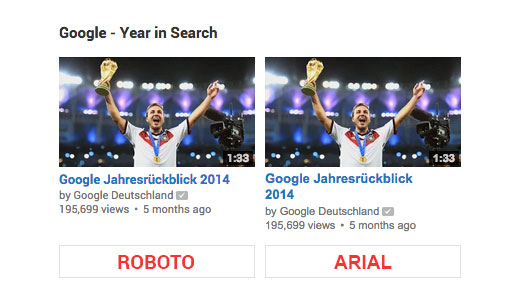 Roboto is the official font for Android. Now YouTube has also switched to Roboto from Arial font. This new font comes in several weights and the one YouTube has selected is slightly lighter than it used to be with Arial. It may cause some readability issues, but overall it looks fine. I personally liked the change made by the company.
This has not come as a surprise for me as the company has already tested the change with a small number of users. Google's decision of keeping the consistency across all platforms is also logical. Adopting Roboto font for YouTube will provide consistence experience for the users of Android system and YouTube both.
Have you noticed the change by YouTube? What do you think about it ?