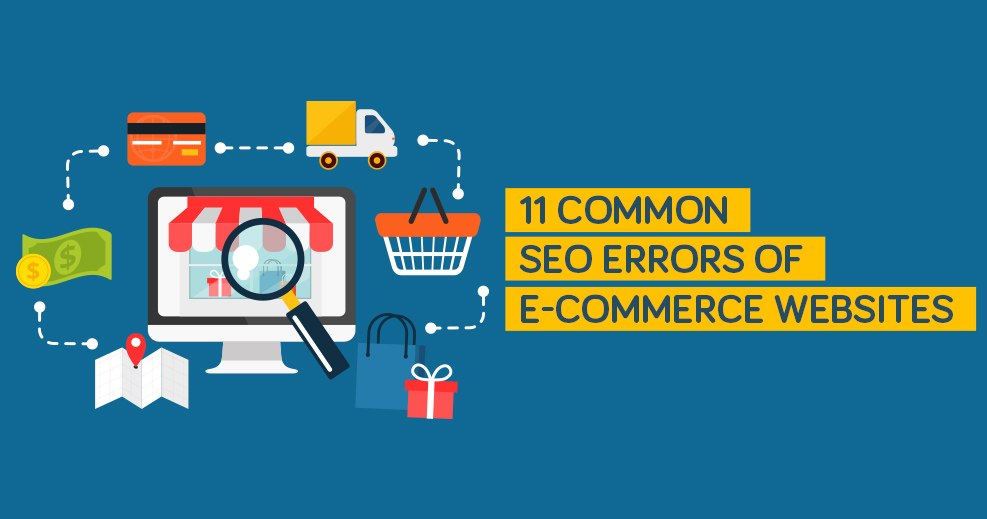 No eCommerce site can be perfect especially when it goes live. It requires continuous observation and efforts to create a perfect eCommerce website. Like that SEO of eCommerce store is not an easy task. Webmasters often do silly mistakes that significantly affect overall website performance.
Today, we have listed 11 critical eCommerce SEO errors that every Webmaster must avoid. Avoiding these 11 eCommerce SEO mistakes will not only improve the website performance in SERPs but it will also help to improve your eCommerce conversion rate.
Duplicate or Not Optimized Product Page Titles
Not optimizing the product page title is the number 1 SEO mistake webmaster often does. Having a unique title tag for each page on the website is the fundamental rule of the SEO book. But many times webmasters fail while optimizing an eCommerce website. It is difficult to have a unique title for each page on the eCommerce website if you are offering lots of products from the same brand or the same product from different brands. Webmasters often look for the keyword phrases but that is not the right tactic when you are offering hundreds of thousands of products.
You must opt for the structured title tag format if you are offering products from different brands. The ideal title tag structure could be like 'Brand – Model – Item Type'. For example, the "Honda Accord Sports Coupe". You can easily create unique title tags for each product page following this structure. It is also important to understand how users search for a specific product. You can add generic long phrases in the title to improve the organic search traffic.
Missing or Duplicate Product Description
The product description is another most important element of eCommerce SEO. Many webmasters miss the trick by not at all adding the product description or by adding the same description as the manufacturer's website. When you are not adding product description, you are missing an opportunity to add the unique content that describes your product. Always remember that search engines can read only the text. So, it is essential to add unique text that describes your product and improves the chances of appearing higher in the SERP.
Copying the manufacturer's description is the last thing any Webmaster could think of. Copying the product description can cause the content duplication issue and can lead to website penalty. Search engine always looks for the original content while crawling. If they will find duplicate content on your web page that can reduce the crawling rate of your website. On top of all these, manufacturer's descriptions are not written for sale. You need to write a unique product description that attracts and inform the users about the product and higher the chances of being on the top of the SERP.
Not Optimized Product Pages Based on the Search Terms
Webmasters often optimize the product category and sub-category pages of the eCommerce website. But they miss optimizing the product pages. These are the pages where users initiate the purchase. So, it is essential to properly optimize product pages. Make sure that you properly research the key search phrases users type while searching for the specific product and optimize for those long-tail keywords.
You can use several tricks to optimize product pages. Make sure you have a unique and user-centric product description. You can use product name, brand and model number in the Title tag and H1 heading tag. Ensure to have high-quality product images and properly optimize those images. Don't stuff the page with the repetitive keywords and make sure your content is readable by the search engine.
Lack of Product Reviews
Product reviews are another important factor that plays a significant role in the user's buying decision. According to recent research, about 70% of users look for product reviews on the online store or in forums before making a purchase. So, if you have not included the product reviews on the product page you are diverting a large percentage of your probable customers to another platform.
Having product reviews not only helps you drive user's attention but it also helps you having user-generated unique content on the product page. While it is difficult to write unique content for each product you offer, the ability to write product review can solve the problem for free. It also keeps the product page updating that brings search engine crawler back to a web page more often. Higher indexing rate is a good sign for an overall SEO campaign.
Nowadays, product reviews are necessary to have on product pages.

Additionally, you can implement Product Review Schema with a genuine rating for that particular product.
Low-quality Product Images
Most of the time users make the purchasing decision looking at the product image. A picture speaks a thousand words. So it must have high-quality product images on the product page. Having a single image is also not enough. You must display product from the multiple angles and in different variations of the colours.
Image optimization is a crucial chapter of the eCommerce SEO book. You must make sure that images load quickly on both desktop and mobile devices and having the zoom-in facility on both the devices. These are some of the basic things you need to consider while optimizing images for an eCommerce store. But the most important of all is to have unique and proper image alt tags for each image on the page. You just can't miss adding unique and descriptive image alt tags for each image on the page.
Additional Read…

Optimize your Product Images using eCommerce Image Optimization Tips
Not Optimized URL Structure
Non-optimized URLs are the URLs, which are not properly optimized or structured.
Here is the example of the non-optimized URL and User-friendly URL. "http://www.mystore.com/productid43?ASDFFEK4". This URL is difficult to read as it contains the dynamic characters in it. This can't be called the User-friendly URLs.
While user-centric URL looks like "http://www.mystore.com/16-gb-apple-iPhone6". User can easily identify what they can expect from the page seeing this URL that is not possible by having a dynamic product page URL.
If you have included the product name in the URL, chances are higher that you can rank better for that product in SERP. "Shorter is Better" is the thumb rule of the URL optimization. Always try to keep the URL shorter and cleaner while avoiding the excessive keyword stuffing in the URL.
Lots of Duplicate Content
Content duplication is one of the critical issues to solve while optimizing the eCommerce store. Pages to print, archives from the different shorting elements and tags create the number of duplicate pages in the website that should not be indexed by the search engine.
Make sure you block all the duplicate URLs from being indexed using the robot.txt file. You can also use canonical tags to indicate which URL you wish to keep as the original. This can help you solve on-site content duplication issues. The canonical tag indicates a search engine about which URL they should be paying attention.
Slow Loading Speed
Users are getting impatient nowadays. According to research, users tend to leave the website that fails to load within 3 seconds. Website loading speed is also a critical ranking factor according to Google. Search engine prefers the websites that load quickly.
There are several tricks you can adopt to make your website load quickly. You must use fast VPS to host your e-commerce store. You can optimize the images and videos to reduce the size of the page and make the load faster. You can also optimize the back-end code to avoid unnecessary code calls that can eventually result in faster loading website.
Not Making a Website Secure
Online studies evidence that 25% of the online buyers majorly concern about website security while purchasing. Yet, lots of small and medium-sized eCommerce websites fall short of getting a trust indicator. You certainly don't want your customers to leave the website just because your website doesn't have an SSL certificate.
This certificate provides authenticity that website protects your sensitive information. Not only online customers but vendors also demand the SSL certificate nowadays. So, if you own an eCommerce store; it is essential having an SSL certificate for that. You can easily get that at very low cost and make your website hack-proof.
Bad User Experience
User experience is the key whether it is an eCommerce website, informational website or mobile application. Website user experience is the key component of the search engine ranking factors. Search engines are prioritizing the websites that provide a better user experience on different devices.
There are certain areas you need to focus on making your eCommerce store user-friendly. First of all, make sure you have proper website architecture and is accessible from all different devices. Along with that make the website load faster, search engine friendly and easy to navigate. Users love the store where they can easily find what they are looking for.
Lengthy Checkout Process
Users don't like lengthy and confusing checkout process. Asking customers unnecessary and irrelevant information at the checkout time results in increased abandonment rates. So, make sure you remove all the fields that are not necessary from the checkout process.
Users also don't like to jump from one page to another while checkout. Make sure you have a single page checkout option. That makes the checkout process easy and improves the conversion rate. Also, make sure you have enabled all the payment options for the users. Don't force users to register to complete the checkout. Offering a guest checkout is a great deal.
So, these are the most critical 11 eCommerce SEO mistakes Webmaster often does while optimizing the eCommerce store. I hope this list will help you improve your eCommerce SEO. What are the other SEO errors you often find in the eCommerce stores? Feel free to share your experience in the comment box below…