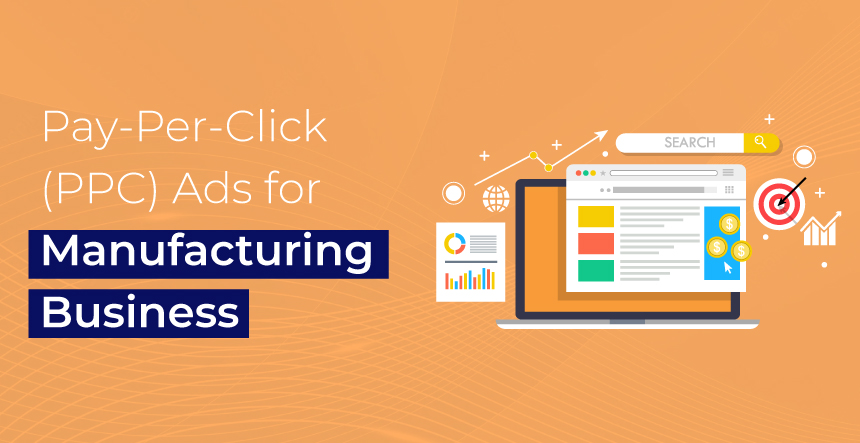 Manufacturing businesses have a vast task at hand to find the right customers, which could be geographically dispersed. If they don't reach out to these probable customers, they will lose out on a huge chunk of business and a high margin of profits. It is always advisable to dive into unknown territories and create new business avenues. This is where PPC manufacturing comes into picture. PPC or Pay Per Click is a form of advertising and marketing strategy that involves some investment, but gives great results.
Technically speaking PPC is done through search engines where the owner of the advertising pays to the search engine for every click on the ad. Therefore, the name Paid Per Click came to life. Manufacturers can leverage this form of marketing as it is the quickest way to find new customers without physically meeting them. These ads are on the top pages of search engines and grab the attention of customers, clients and distributors. This way, PPC can work wonders for manufacturing businesses.
Why Manufacturing Business Needs Pay-Per-Click (PPC) Ads?
Well, how many customers or clients can you reach on a daily basis? Let us say hundred even if you hire the best sales team for one-to-one marketing. This is a truly time consuming process. Instead, you can cater to thousands of customers by just displaying your ad on search engines, social media platforms etc.
Whether you are a small scale manufacturing unit or a giant factory, you can see an increase in the number of contacts, orders, re-orders and sales. PPC can manifold the revenue generated on an annual basis. Therefore, it is advisable to use the PPC advertising method for any manufacturing business. It gives an edge to pull-in more customers in the shortest possible time.
Google is the most powerful search engine of the current era. Displaying a Google ad can bring in customers from far flung places and you can improve connections. By choosing Google ads for PPC manufacturing, you can display your advertisement on the top of SERPs. Your Ad is the first thing to get noticed when anyone searches for your kind of business on Google. It would not be an exaggeration to say that Google Ads are like putting a platter of your products in the first sight of customers.
Paid Searches rely on efficient strategies
Now, as a manufacturing business, you know that having a product idea is not enough. You need the right resources to convert it into a full-fledged product that sells. Similarly, PPC advertising is not enough as it requires a fail-proof strategy to target the right audience. Otherwise, it would result in a unidirectional marketing jig. PPC marketing is a part of the whole content marketing plan that gets you the desired result.
You need a team that explores the target audience, examines the product cycle, prepares a digital marketing plan, creates social media networks and designs PPC ads to get optimum results. When everything works in unison, you will find a boost in sales and increase in revenue.
Best Platforms for Manufacturers to Invest in Paid Advertising
There are many popular websites that support PPC manufacturing, but we would recommend the top few.
Google Ads – Google being the top most search engine gives more visibility to your advertisement. It puts your company on the top charts or SERP rankings, which boosts the chances of conversion. Small ads snippets on top of SERPs are the easiest way to attract clients as well as customers. It works for both B2B and B2C levels.
LinkedIn – This platform is more about creating connections so, any company or business unit that is connected to your product can easily contact you through LinkedIn. When your company is placed on LinkedIn, you have more chances to attract word-of-mouth publicity and pull-in clients that are looking for your products. Any business entity that needs products manufactured from your company can easily contact you through LinkedIn.
Facebook – The most popular social media platform with more than a billion users, Facebook could be the best marketing arena. Create a Facebook Business account to make your company visible on this gigantic platform. Or, you can create Facebook ads that drive the visitor to your company's website. You can then engage them to convert them into customers.
[kwt_ebook_content item=1]
Benefits of PPC for Manufacturing providers:
a) PPC Is Measurable
The best part about PPC for manufacturing companies is that you can actually measure the level of success of an ad, rate of customer interaction and more through Google Analytics. Basically, you can track the entire process from initial click to the actual purchase. Even KPI (Key Performance Indicators) help to examine the performance of your ad. This level of granular details helps marketers and manufacturers to reach out to a better target audience which needs their products.
b) PPC hits the target audience
With outbound, traditional methods involving TV commercials, billboards etc. it was a wait and watch scenario where manufacturers present their ad to a wide audience base. They then wait for the potential customers to contact them. Contrary to this, PPC ad is shown to people who search for those products and therefore, directly serves the precise, targeted audience. You can target customers at different stages of the buying cycle to promote your product and even entice them to purchase it.
In a nutshell, PPC for manufacturing providers is a method that gives efficient turnaround in a short span of time. However, it has its own price and is certainly not the cheapest marketing strategy. You have to pay the price as per the market and get on with things.
Where should I start with paid advertising for my manufacturing business?
Whether you are a small scale manufacturer or a company with a huge product development cycle, KrishaWeb can help you start PPC ads in a jiffy. We are digital marketing experts with hands-on experience on PPC, PPI and Social Media Marketing.
Our PPC Advertising strategy:
1) Defining objectives and goals – The primary way to create a fantastic PPC ad is to know the purpose of the ad so as to find the best platform to invest in.
2) Jot down the target audience – We make sure that your ad reaches a precise audience, which is looking for your product. We boost sales by directing them to landing pages and narrowing the sales funnel.
3) Optimize landing pages – The landing pages should address the questions, queries, concerns and should be designed as per the demographic, choices and buying pattern to ensure that customer makes a quick purchase.
4) Forming a catchy Ad – Designing an engaging ad that increases the interest of the audience and converts is our forte and we do that with absolute finesse.
5) Analyse and Optimize – Optimizing the PPC ad and getting the best out of it through data science and other techniques, we make sure that the ad remains a revenue driving force.
Why Choose KrishaWeb?
We are a team that masters digital marketing, PPC advertising and social media networking. We have successfully served hundreds of clients and manufacturers across the globe. When you want result-oriented digital and social media marketing, we are the best partners. Feel free to get in touch with us for smashing, revenue generating PPC ad campaigns.
[kwt_ebook_content item=2]