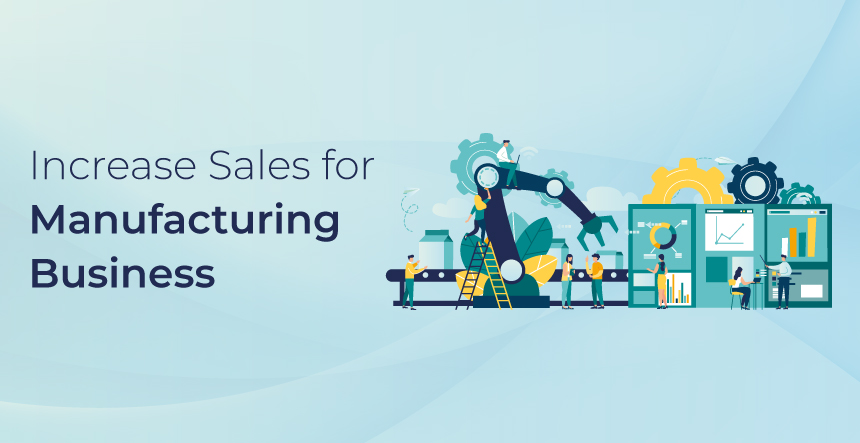 It goes without saying that 'consistently increasing sales is the best result for any manufacturing business.' However, many times, a manufacturer's business loses out due to poor sales strategy or not recognizing the target customers and more. These are the biggest loopholes in any business including those who are into manufacturing. Let us glance through some of the expert advice for these businesses and zero down on effective, plausible, result-oriented solutions. 
Expert Tips to Increase Sales in a Manufacturing Business:
1) Figure out your ideal customers/buyers
The first step to huge sales is to have absolute know-how of your target customers or buyers. You need to figure out what they want and how. This will help you present your products in the manner that they want. This process will increase sales to the next level because you are serving a useful product in a way that they need. The easiest way is to create a buyer persona or a model of the customer – basically, a semi-fictional representation of the customers as per their geography, lifestyle, culture and habits. 
Your team needs to sit with these questions and get answers while keeping user experience at the centre stage. What benefits can the customer get from your product? For example, a cloth manufacturing unit must know that people living in warm weather would prefer cotton clothes while those in cold areas would choose woollen clothes.
Every detail should be answered to create a buyer persona. Customer experience should be at the centre of the strategy to increase sales by manifold.
2) Prepare a content strategy for your sales team
Once you figure out the customers, the best way to scale up as a manufacturing business is to prepare a solid sales strategy. A good salesman with poor sales strategy, will lead to losses in the future. So, sit with your marketing and sales team to prepare a user-centric sales strategy. Prepare customized content to deliver to a certain section of customers, address their requirements for your product and convince them to make a purchase. Therefore, content is vital.
3) Marketing and sales team should be on the same page
It is highly important for any manufacturing business to maintain transparency between their sales and marketing teams. Both the teams should be aligned to get exceptional results. As per a study by Forrester, 43% CEOs agreed that misalignment between teams is the biggest reason for losing out on sales. Therefore, create a cohesive environment where both teams can work in synergy. They can build strategies that coincide to deliver the best output in the form of high sales.
4) Be ready to shine online
It is a digital age where customers first check your company's website, social media handles and products on their gadget screens. Any manufacturing company should invest in creating a unique, relatable online presence. This helps to connect with customers and often works as a first hand contact. The best way is to create a website, keep it up-to-date, optimize it for higher rankings on search engines and drive users to make a purchase. Your website can direct probable customers or visitors to your eCommerce shop to walk them through to a sales point. Experts advise investing in creating an exclusive, positive online presence.
5) An online catalog is a must
When you make your products visible on screen along with every detail, a small video describing function of the product, price, discounts etc., you are near to cracking a sale. Creating an interactive online catalog for your products is the easiest way to gain a buyer out of a visitor. You can even look into the browsing pattern of the visitor to suggest their favorite products and gently drive them to buy. So, create an online catalog which is not static but dynamic.
6) Have an inbound sales mind-set
Let us be honest, nobody likes to be pushed or forced to buy even an excellent product. This mentality of pushing someone to make a purchase is called outbound philosophy. The time and age has changed and people like to decide based on the merits they get out of the product. So, implement an inbound sales mentality where the buyer is in the centre and the product caters all its benefits without making things overwhelming. Your teams should create strategies to apply inbound marketing to generate genuine sales.
7) Use social media for giving a customized effect
Maintaining relations with customers is a straight way to customer retention and successful sales. This can be easily done with the help of social media platforms, which can address the customer's need and utility of the product without pushing the envelope. Manufacturing businesses must have a strong presence on social media platforms like Twitter, Facebook, LinkedIn to connect with buyers, business associates and global customers. Equip company's website to connect the buyer to the company's social media handles. Let them explore these networks to get genuine feedback from other customers and decide for themselves.
8) Convert your website into a powerful sales tool
The design, navigation, user-friendliness, end-user experience and marketing side, everything can be easily covered in your website. Let your website represent your product and brand through all these aspects. Make sure that the first impression is an excellent one by creating a stunning, functional website that converts visitors into leads.
9) Keep an eye on website visitors
Make sure that you have a content strategy to create a connection with the visitors. Get their basic contact information like email id to deliver first-hand information of new product launches, update products or discount offers. Collecting leads and converting them to customers is the easiest way to increase sales.
10) Video marketing is the way to go
Traditional methods of selling products are ruled out by the new-age interactive, personalized approach. By creating short videos of using products and their utility, you can inform customers about features, characteristics and benefits of the product without any extra effort. So, invest in video marketing.
11) Automate sales process
As per experts, sales representatives are occupied into administrative processes for nearly two thirds of their service time. This could be an eye opener as manufacturing businesses cannot expect optimum sales in just one third of the actual service time. Therefore, it is important to automate processes like lead generation, mass email publishing, invoicing etc. to keep the sales team free enough to focus all their efforts into creating heavy sales.
How to Implement a Manufacturing Sales Strategy?
Well, for this you need experts who can analyse your business, create sales strategies based on the current market scenario and implement it into your setup. This may require many changes at your end, but if those changes are giving results then why not. Make sure that you have a team that works on facilitating manufacturing sales strategy at different verticals and levels.
Following ways can help:
Connect with marketing teams to get data driven insights on the customer behavior.

Automate the processes to address the customers at the quickest hour possible.

Digital marketing strategies must be optimized.

Social media is the key.

Narrow down the sales funnel by connecting users to the product.

Facilitate effortless purchase and multiply sales.
To sum it all up, it is high time for manufacturing businesses to invest in digital methods of optimizing their web presence. Understanding their target audience, connecting with them without interfering into their life, is the way to go. Automating processes and finding new avenues to create a global customer market are the best ways to create, implement and boost the sales.
If you are a manufacturing business looking for a team to optimize your business processes, then KrishaWeb is the answer to your concerns. Associate with us for new-age digital strategies for high end sales. Feel free to get in touch with us now!