We have extended our reach in the iOS and Android Application Development, developed skills in some of the new technologies which were not in our portfolio earlier, set an excellent on Digital Marketing, surpassed our predetermined targets in Web & Graphic Designing and established few unbreakable business relationship with great companies across the Globe. The most precious milestone, we achieved is ISO 9001-2008 certification to put our company in a queue of reputed organization that follows a system. This year we had an array of celebrations, events and full of pleasure. We have had a pleasant trip and outing with the teammates and celebrated each festival and moment of the year with a great joy and enthusiasm. We believe in turning each moment in memory when we were with Krishaitians. Here are the glimpses of events and achievements we have had and the work we have done throughout in 2014.
When 2015 is knocking the door; let's take a pause and review our some of the best moments of 2014. Let's start the journey from the 24th December 2013; when we had a great fun on the 5th Anniversary of KrishaWeb.  So, Let's go…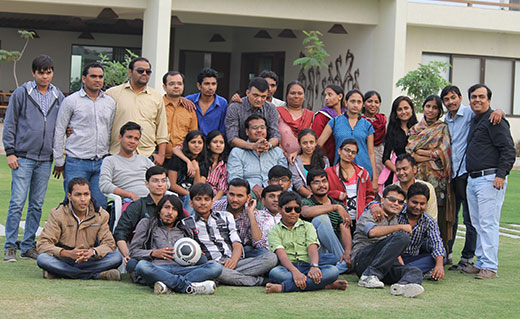 5th Anniversary Celebration (24 December 2013)
24th December was the day when the company has crossed the landmark of Five years. The whole KrishaWeb team was excited to greet that moment. We have visited one of the finest resorts near Nalsarovar – "Suramya Life Space" was the location. We had a nice time over there with a full proof presentation about the start up of the Company and the culture code of the company by Mr. Parth(CEO at KrishaWeb). Team members have shown their skills in dance through few decent performances. We did lots of activities for fun and frolic during the day. The company has appreciated best performers with Excellency certificates. We left the place with full determination for even glorious upcoming years.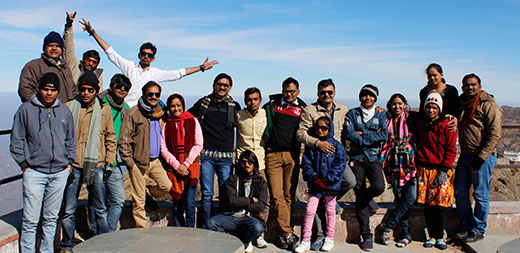 Mount Abu Trip (11 & 12 January 2014)
Starting of New Year couldn't be more excited than having a great 2 days trip of Mount Abu, Rajasthan with the whole KrishaWeb team. We have visited one of the most beautiful hill stations of India. The trip was full of fun where we enjoyed everything from trekking to biking. Close networking, new habit development, mutual understanding, help to one another and teamwork was shown by each and every team member. The tone for the New Year was perfectly set.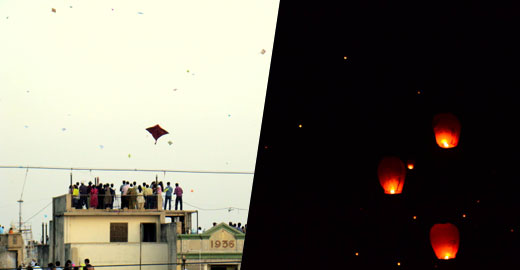 Makarsankranti – "The Kite Flying Day" (14 January 2014)
I am sure any kite lover across the globe is well aware with the celebration of "Kite Flying Day" in India and especially in Ahmedabad. Makarsankranti is our most favorite festival among all. Like all other kite lovers; we too always wait for it. We fly fighter kites in Ahmedabad and cut the others kites flying in the sky with great cheers and whistles. We have planned a get-together on the terrace of one of our team mates and enjoyed the kite flying festival at its peak.
Marriage Season
The year 2014 has truly been eventful for KrishaWeb. We had great days of celebrating 6 gorgeous weddings of our colleagues. Total 6 members of our team got married and converted into the most capable couples of the world. We had a great fun and an amazing treat during the all ceremonies. We had a pleasure in our heart of being double for them simultaneously felt sorry for the few who left us and migrated to another location to start their married life with their better half. All and all, it was a great year for the new tie-ups in business and in personal lives too.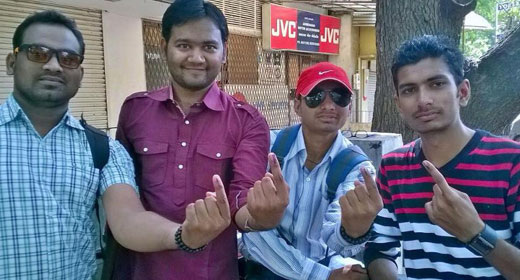 Indian Parliament Election Day (30 April 2014)
It was a day when we were having an election of the Parliament of India in Gujarat. We too have participated in the elections and casted our votes for the bright and safe future of the nation. We all joined the campaigning of different parties for the election and tried with our best efforts to make them win. We were sure for few talented candidates for the election to win and some of our team members were trying to campaign for some more prospective parliamentarians. Casting a vote is the most important responsibility for the nation and few of us have casted it first time. It was an exciting experience for them.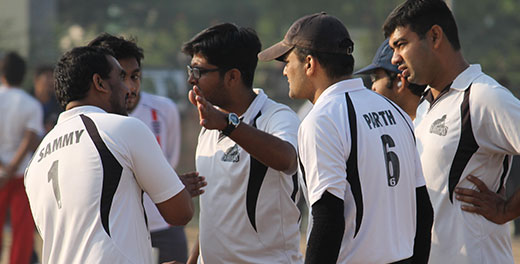 Cricket Tournament (27 June 2014)
Cricket is like a religion in India. And like every other cricket fans; we too love to play cricket. We have organized an in-house cricket tournament. All the guys at KrishaWeb were in different moods for their different skills in Cricket. We all did our best and tried to make our team win. It was an event where we learned sportsman spirit and brotherhood.  Few of us are really best performers and they are regular in Cricket too. It keeps us healthy and fit to cope up with the day-to-day challenges in our work. We are grateful for having such a nice time with a lightening spirit.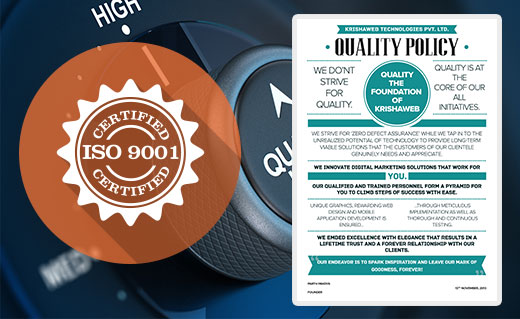 Proudly Attained ISO 9001-2008 Certification (3 July 2014)
We as a team decided to establish a system in the company for the smooth and streamlined work few months back only. Our team is really aggressive in many of the decisions and we had accepted this challenge and decided to go for the certification. Within a short span of 2 months only, we got the ISO 9001-2008 certification, which is one of the biggest achievements for KrishaWeb Technologies. Maintaining the best quality while establishing the firm operational system to match the international standards is the purpose of getting the ISO certification and we did it. We were feeling confident in our work once we were stamped with it. We learned that hard work pays. Now the next step is CM Level Certification which we may get very soon.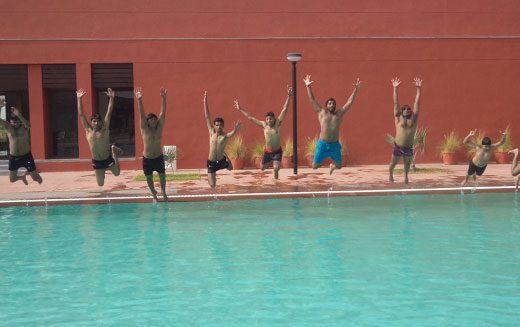 Summer Fiesta at Suramya Abode (13 July 2014)
A beautifully laid out green landscape with fully equipped gymnasium, swimming pool, residential rooms & cafeteria and lot more other amenities were occupied by us at one Sunday early morning. What else you would want to spend a pleasant weekend in hot summer. "Suramya Abode" is the perfect place where we had spent a gorgeous weekend with young Krishaitians. We had a fun with swimming pool, played Pool, tried some strokes in Table tennis, had a Carrom striker, some strategic moves of Chess with clever teammates and had a couple of matches of volleyball made our day. It was a nice experience to be with the team and felt tired at the end of the day with lots of sweet memories.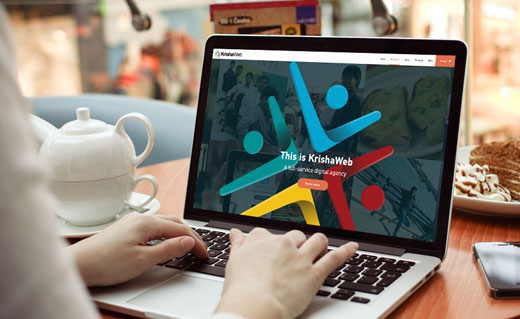 KrishaWeb.com New Website Release (9 August 2014)
Our policy is to sharpen our edges with new and upcoming technologies and skills. We never leave any opportunity to turn our fate towards the targets. Continuous updating is our habit and as a part of it, we had given a fresh look to our virtual office – our website to match the latest trends of the industry. We have added many features to it to keep a rhythm with online industry.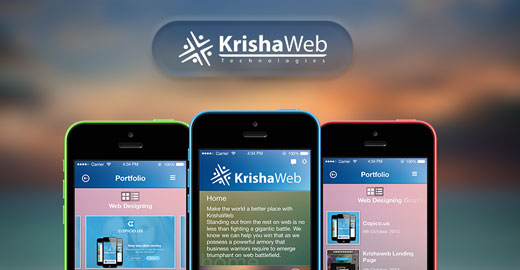 KrishaWeb App Launch (27 August 2014)
Along with redesigning the website, we have also launched the KrishaWeb Application for Android and iPhone users. Users can get the information about the different services we offer and get the regular updates about the KrishWeb news, which is our best service to make our clients and audience aware with the latest trends and updates.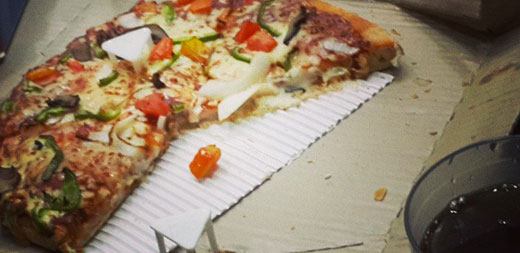 Pizza Party (12 September 2014)
We never miss an opportunity to party. This is the pizza party being treated by our Boss on the completion of one of the biggest projects of our company. I am bound not to write name of client due to NDA signed with client. It was really yummy to have Pizza with a different mood of achieving something hard and impossible with a great teamwork. It tasted us most delightful on that day as it has come with the great efforts of ours.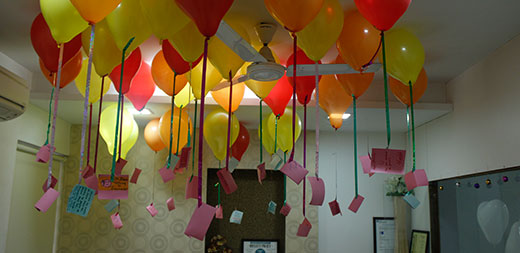 BirthDay of Big Boss (24 September 2014)
24th September is always a big day for KrishaWeb Technologies. It's the birthday of the "Big Boss". This year too we have celebrated this day by decorating the Chief's (Team uses to call me as Chief) cabin with our sitting area and obviously the traditional cake cutting ceremony. My team has created one nice video to give me a surprise wishing me by my most important persons, which I never thought of. It was a real surprise for me. We had a nice party in the office only.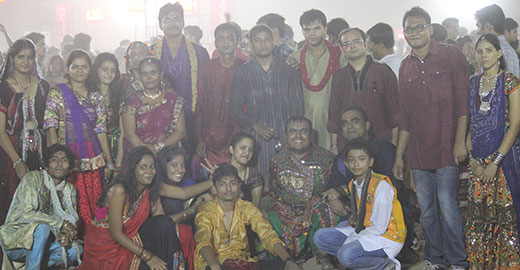 Navratri Celebration (25 September to 03 October 2014)
Navratri is the festival of dance in India. We called that dance as "Garba". It is performed during late evening till night in common area of streets or in party plots at different locations. We Krishaitians too love to play Garba during the spiritual dancing nights. The whole KrishaWeb Technologies team has visited different party plots and Garba venues to play Garba. It was really fun to dress traditionally and play Garba with a whole team. I personally invited all our clients to visit us during these days to have a hilarious spirit of dancing people during this festival.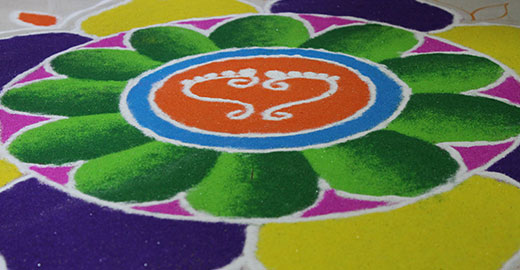 Diwali & New Year (23 & 24 October 2014)
Diwali – "The festival of lights" – "A New year" celebrated across India with crackers and greeting to one another by visiting their home personally. We also rejoiced the Hindu New Year on 24th October not by just greeting each other, but by the unique "Ganthiya Party". We decorated our office with lights and colourful design of "Rangoli". We had two nice "Rangoli" created by our design team. It was a spiritual festival where we pray God for the betterment of one another and give us a peace and healthy and wealthy year ahead.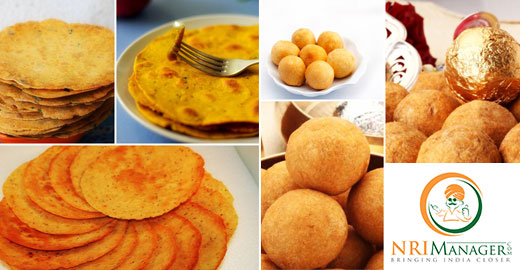 NRI Manager (15 October 2014)
NRImanager.com is one of our premium clients that export Indian snacks to USA and other countries. The team has successfully completed a big eCommerce website and achieved a new milestone to start their branding campaign with ranking them globally for the Indian food in abroad.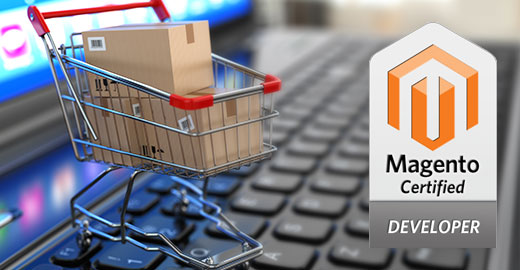 Magento Certification (07 November 2014)
Here comes another achievement by a magnificent Krishaitian. One of our senior ecommerce developers got the Magento certification and felt us proud. We have started preparing for many competitive exams in different technologies to compete our competitors and put them behind in this competitive edge. I am sure we will have fully certified digital agency in short time.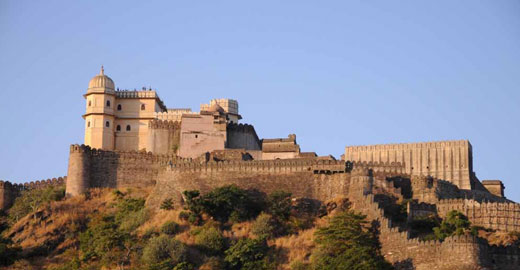 Trip to Kumbhalgarh (23 November 2014)
Yet another visit to historical Indian monument, this time it was "Kumbhalgarh", Rajasthan. The best part of the trip was the thrilling experience of the overnight journey with some senior delegation. We brainstorm some issues there and sorted out for our uninterrupted growth. We had a delightful visit of the fort and a pleasant nature during this trip. Overnight journey and a full day made us little tired, but group dynamics were always our positive side to overcome all troubles. We came back with solutions of problems and put those in the routine.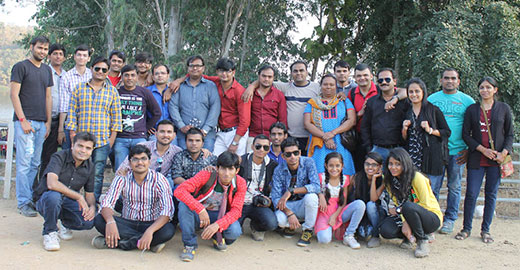 6th Anniversary Celebration (24 December 2014)
And the year ends with the grand 6th anniversary celebration of KrishaWeb Technologies. This time we have planned an outdoor trekking trip with the team. The Polo Forest was the place where we have planned the trekking. We had a great time in chilling cold with teammates. A mountain trekking, fun in the river water and a great visit of dam were the main attractions of the trip.
These were the glimpses of our ON and OFF efforts to make our life successful in this busy schedule. We had a great time in 2014 with many achievements, festival celebrations, gorgeous marriages and of course some sorrows too. But nevertheless, we never put ourselves back on the seat, we keep on trying to achieve excellence and we are sure that 2015 will have more amusement and joy than 2014 for us. We will be back here to share with you our few most important achievements for the coming year soon. Up till see ya and wishing you a great time ahead in 2015.
I hope you have enjoyed the KrishaWeb Technologies' roller coaster of 2014.