Photo storage and sharing is always an area of concern for online users. With smartphones on hand, everyone tends to take tons of photos every day. And if you are visiting a wedding or other public event with your family and friends, everyone tries to take photos to capture moments and store the memories. Sharing photos with others becomes difficult sometime. That's why Facebook has launched a photo-sharing app "Moments". It is a private place where users can share the photos with the friends and receive their photos taken by others.
Moments syncs the photos taken from your phone and arrange them based on when they were taken. It uses the Facebook's facial recognition technology to identify your friends in any specific photo. Then you can share a single photo or a photo album with those specific friends in the photo. You can also receive the photos they have taken when they share their album with you. So as per the Moments product manger, Moments is a private way to give photos to your friends and get the photos you didn't take.
Will Ruban explained the how Moments work in Official Blog, "Syncing photos with the Moments app is a private way to give photos to friends and get the photos you didn't take. Moments groups the photos on your phone based on when they were taken and, using facial recognition technology, which friends are in them. You can then privately sync those photos quickly and easily with specific friends, and they can choose to sync their photos with you as well. Now, you and your friends have all the photos you took together."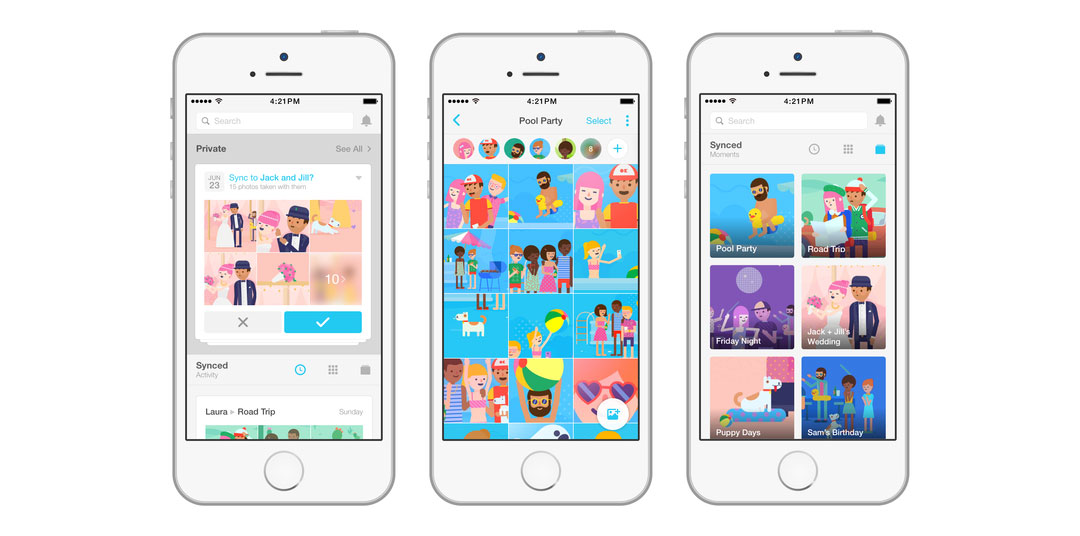 Moments doesn't always share the photos taken by your phone. When you install and boot the app for the first time, it will show you two catalogs. One is "Private" and the other is "Synced". By default every photo in your device falls under private save, then you can select the photos to get synced with the app. App will use facial recognition technology to identify your friends and ask to share photos with them. If you share photos with friends than only they will receive the photos. So, moments give you the full control over with whom you share the photos and who can send you the photos.
If you don't want your friends to tag you in a photo or your face to be recognized in your friend's photo, you can always control the tagging through the Facebook settings. It makes the app more secure to use. When you share photos with someone, who have not installed the app, they will receive a private message prompting them to download and install the application to view the photos. With over 700 millions facebook messenger users this app is likely to get more exposure among the community.
Moments is a separate app from the Facebook app family developed by Creative Labs. Facebook would have kept it as a part of the Facebook app, but according to Will Ruban they want it to be a private place for photo sharing, not a public scrapbook like Facebook. Moments is available in an Apple store and Google play for all the users in the USA. Users from other countries have to wait for some time to get access of it.