Pinterest has announced their new Buyable pin feature in an event in San Francisco on this Tuesday. Users will be able to buy anything directly from the application. Many users were expecting this feature since long back. Finally, it is happening. iOS and iPad users in the USA will get this feature in next few weeks.
Pinterest has announced on Tuesday on their official blog that they always look to help users with their pining experience and they are introducing Buyable pins within few weeks. Following the Facebook and Twitter, Pinterest is also offering buying flexibility to the users on website. It is going to be a critical update in the eCommerce industry, as it will simply change the behavior how people buy online. According to a latest research, 93% active Pinners use Pinterest to plan their purchase and 87% of them said they have bought something just because of Pinterest. So, this update is going to be very crucial for both online buyers and sellers.
When you see Blue colored "Buy It" button on any pin that means you can directly buy that product from Pinterest. The company is planning to have over 2 millions Buyable pins by the end of this month. You will be able to select the right size of the product or your preferred color just within the pin. You will also be able to filter the product by its price when you will search for any specific product.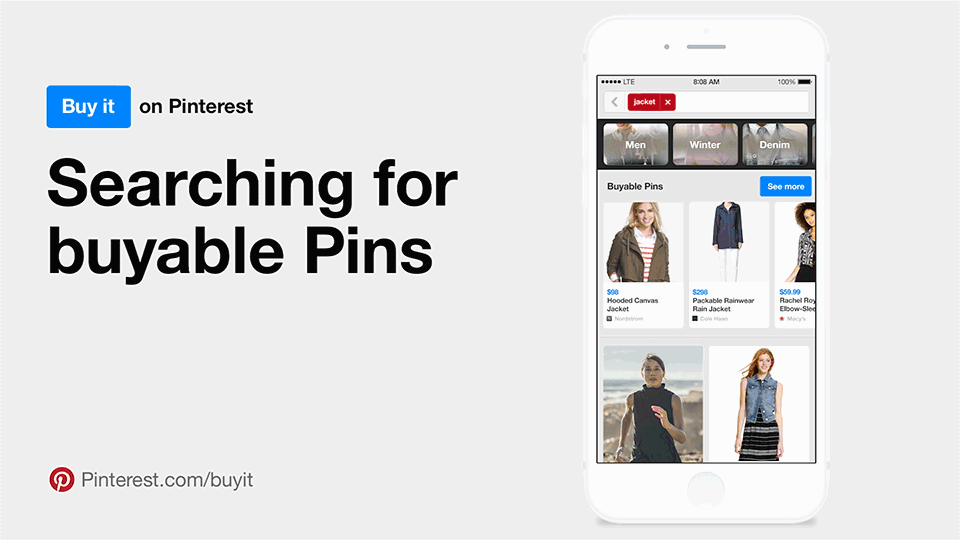 The majority of the users accesses the Pinterest through Mobile Devices. Sometime it becomes difficult to do purchase using mobile phones. Pinterest is working on the payment process to make it secure and easy. Pinterest offers payment through Apple Pay or Credit Card. Once you go through the product selection process, you can make the payment using your Apple account on your Apple devices. You can also pay through your credit card. The credit card checkout is specially optimized for mobile checkout. So once you enter your credit card details, Pinterest will remember your identity and you won't have to add information every time you make a purchase. This makes buying through Pinterest, more simple as well as secure.
Introducing buyable Pins!
Pinterest is eyeing to have more than 2 million Buyable pins by the end of this month from the big brands like Macy's, Neiman Marcu and Nordstrom. If your business is using Shopify or Demandware, you can also get Buyable pins in your Pinterest account. All Shopify users simply need to log in to account and add Pinterest to the channel. If the Demandware powers your store, you will get Buyable Pins in coming week, by contacting your Demandware customer success manager. What if your store doesn't use any of this? You can still get Buyable Pins feature by Signing Up for Waitlist.
It could be a great opportunity for every eCommerce seller. The most interesting thing is that Pinterest is not going to charge from users for buying product using Pinterest or it won't take commission from the sellers as well. It is totally free and can be a great break for both online buyers and sellers. iPhone and iPad users in the USA will get "Buy It" button in next few weeks. All the android and desktop users have to wait for the next update to get pin it button on their device. What do you think how it is going to affect the buying habits of the Pinterest users?  Share your thoughts in comment box below.