Google has added the feature of mobile usability in Webmaster Tool that shows different aspects of mobile usability. This section will give ideas about the different mobile usability issues that Google will find with your website and help you to fix the errors. Here is how Google has defined a mobile friendly-website in their official Webmaster blog:
"A mobile-friendly site is one that you can easily read & use on a smartphone, by only having to scroll up or down. Swiping left/right to search for content, zooming to read text and use UI elements, or not being able to see the content at all make a site harder to use for users on mobile phones."
Google has introduced the Mobile Usability feature in Google Webmaster to help site owners to deal with the usability issues like,
Presentation of flash content
Missing meta-tags for mobile pages
Fixed width viewports
Tiny fonts
Content not sized according to the viewport
Clickable links and button position very close to each other
Google has said that all these data will also be recorded as a graph that will help webmasters to analyze the improvement in mobile usability over the period of time.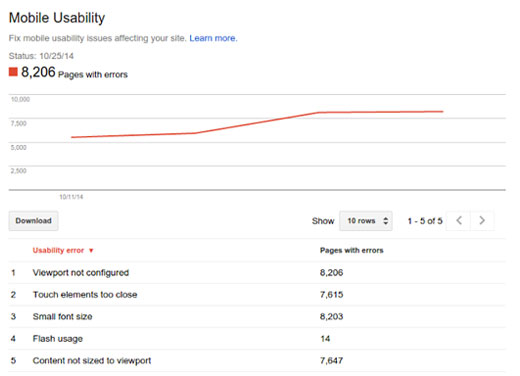 Though Google has not confirmed mobile usability as a ranking factor but if we take a look over the changes the search engine giant is making; you can definitely expect that in future. Google is experimenting with the mobile search result and highlighting the mobile-friendly websites in the result. They have also started penalizing the website having errors and creating confusion for the mobile visitors by redirecting them to the home page of the specific website.
John Mueller from Google team has also strongly recommended checking the mobile usability report status in Webmaster Tool. There is no official announcement of considering mobile usability as a ranking factor from Google yet, it is an important aspect to look out in the digital market nowadays highly consumed by mobile and tablet device users.
What are your thoughts about Google considering mobile usability as a ranking factor? Write your opinion in comments box below and be a part of the discussion.