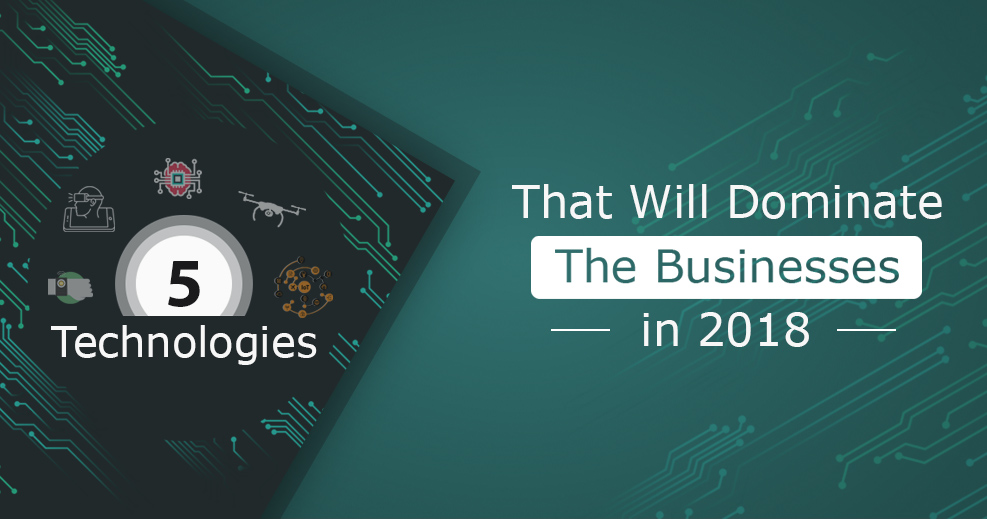 Every year with new evolving technologies and tools the online businesses are being dominated. Let's have a closer look at those 5 fastest growing technologies that are expected to rule the roost in 2018 and being adopted by the majority of businesses.
The early 20th century was the era of evolving science and the world saw some really amazing and most precious discoveries of the century. The renowned names that appeared in the global landscape were Max Plank, Albert Einstein, Neil Bohr, etc. who were instrumental in discovering some new technologies.
Today, after almost 100 years, in the 21stcentury also there are many tech entrepreneurs like Steve Jobs, Jack Ma, Bill Gates, Elon Musk, Mark Zuckerberg, and many more who have given the technology evolution a new dimension by introducing new tools, technologies to the people at large making their lives smoother, faster and high-tech.
These technologies have not only created new opportunities and new jobs but it has also improved the infrastructure available for improved quality of life and services in this era of entrepreneurship. It can be easily assumed that it is for the betterment of the economic growth of all the countries across the globe.
In recent years, several governments have introduced many drives and initiatives to promote new business opportunities in their nations. These policymakers and leading entrepreneurs should also understand that these initiatives should go hand in hand with the technologies that are going to generate more employment opportunities in future.
Let's have a sneak peek into the major and most promising 5 technologies instrumental in the growth of entrepreneurship and have the potential to create altogether new industries along the way in its own way.
Wearable Technology
Starting from portable, now it's wearable, today technology has come a long way in last few years and has become a part and parcel of our life,. It may not be wrong to accept it as a part of our body in the form of wearable.
It has been proven time and again in the recent past that these wearable has saved many lives by alerting the health conditions and other health-related issues. These healthcare wearables are extremely useful, safe for tracking purposes. The best part is, it can even become more useful if used in combination with other evolving technologies such as Neuroscience and AR/VR.
Virtual Reality headsets have started making surges in our lives. In addition, there are smart glasses also making the rounds after being introduced to the market. All these wearable technology applications and tools have transformed the entire ecosystem of the Neuroscience, healthcare and overall lives of the population across the globe.
Now-a-days, there are many neurotechnology wearable tools that can help individuals cut down  stress, improve sleep, improve memory, increase cognitive abilities, monitor physical objects and much more. In several ways, it is only the beginning. This has, of course, opened up an altogether new avenue of opportunities in the segment of technology.
 Video Credit: Huami
Artificial Intelligence (AI)
Steven Spielberg released a movie "A.I. Artificial Intelligence" in 2001 that gives a glimpse of the futuristic approach of robotics and artificial intelligence. After 16 years also, today we haven't come to that stage on which the movie's plot was on the basis of the Elon Musk's belief, but without doubt, AI has already undergone several prominent improvements.
Basically, Artificial learning has already started transforming our lives simpler & exciting by way of several latest tools and equipment like Tesla's self-driving hi-tech cars, Apple's Siri, Home assistants developed by Google, Amazon, and Apple.
In addition, AI is also being put to use to detect fraudulent activities, offer a personalized shopping experience to the shoppers and great customer care support in the online industry and many more segments.
There is a great improvement in the AI segment, as there are many startups and big giants that are exploring and investing in this technology to understand and find out the future possibilities in this technology. There are some cases where big tech companies have acquired many AI based startups visualizing its futuristic approach and development scope.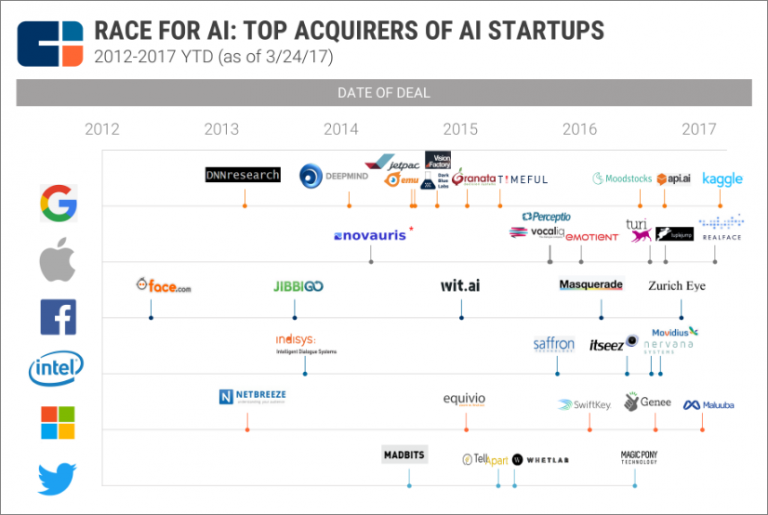 Internet of Things (IoT)
What we assumed to be a fiction story a few years or a decade ago is now getting the shape of reality through the internet of things (IoT).
There are smart apps, TVs, mobile and even refrigerators. These refrigerators whenever come to know that is it running out of fruits or milk it will automatically order the desired quantity from nearby stores, same way smart ovens would let you know when the food is  cooked to the desired amount; and smart homes would switch on and off the TV, Fridges, and fans when you enter your home.
All these benefits are due to the IoT technology that is making lives easier and faster. It has many more ways in which this technology can help you lead a better and improved lifestyle. It has also offered a lot of opportunities as there is a constant rise in the funding of startups and other big giants are already pouring in a lot of funds in this technology. As per a prediction, the IoT industry will get nearly $4.8 trillion investment in next 5 years of time.
 Video Credit: Think Academy
Virtual & Augmented Reality
AR & VR are not a new technology. It has been here for some years. Of late it has started diminishing the distance between the virtual and real world.
This industry is already flooded with many VR games and movies that have started giving a new edge to the entertainment sector. Nowadays home décor manufacturers have started using AR both online & offline including museums and many more places. Google has introduced Google lens in the May 2017 and a just after a month in June 2017 another giant company Apple also rolled out its ARKit offering a great AR experience which became the feature of iOS 11 mobile for the benefit of people who have the potential now to transform their workplace into battlefields.
These developments and inventions helped developers to explore the vast possibilities of the ARKit. It is also an undeniable fact that now developers would be more encouraged to generate more hi-tech and hi-end creative AR based apps, offering new avenues for the startups thus revolutionizing the entire smartphone experience during its development and process.
Drones
With Tesla Motors already in the news for introducing cost-effective electric cars which are going to revolutionizing the commutation system, there is much more and yet bigger transportation transformation is about to happen with the introduction of drones.
Drones have already been in use extensively for the delivery of goods in many places all over the globe.  It is also expected to be used in many other sectors like search and rescue drives, fire fighting, agriculture, filming in remote locations, spying as all these activities were done earlier using helicopters, cranes and often a huge deal of human efforts. In addition, of late, we have also seen fast development in the domain of flying cars like EHANG 184, which is widely being used for personal commutation, inspired by the drone concept.
Given the wide possibilities of commercial use, researchers have predicted that this market will become 5 times bigger in coming five years i.e. it will grow from $5.2 billion to $27.1 billion by 2021.
In addition to the commercial applications, drones can also be implied for many gaming and recreational activities, including photography.  Due to its easy access and affordability, drones are the future for everyone who wants to adopt something unique, fast, affordable and hi-tech. In a nutshell, the entrepreneurs are quite willing and enthusiastic to invest in and adopt this technology.
In short, there are several, abovementioned, technologies that are already been used and around for quite some time. But there is much more to innovate. All these are in their nascent phases, and there are many more possibilities of its growth as it far behind being well developed.  All these technologies will offer a number of opportunities for many sectors and also to the present and the millennial generations of businesses.
It is, therefore, a ripe time for the entrepreneurs, and also the policymakers for promoting the start-ups in their own countries and start investing in them.