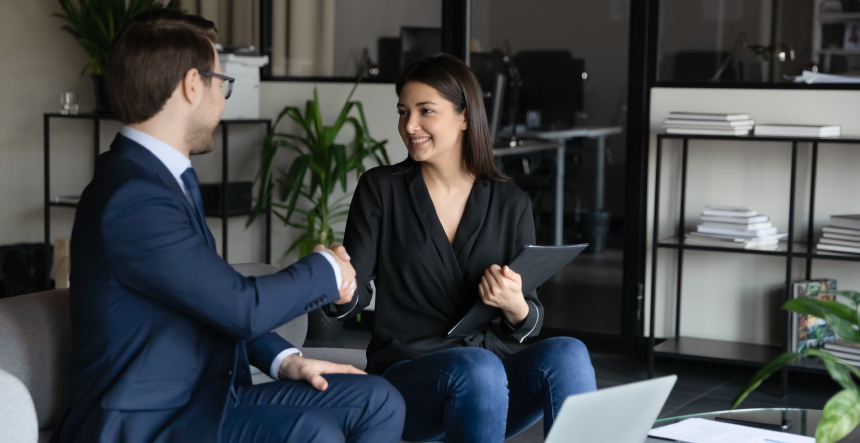 As we see the latest trends and market share of no-code technologies, all have witnessed the rise of its usage to establish an online business presence. Especially, when we talk about Webflow, we have seen that its acceptance has increased as a website development technology or website design platform (just like WordPress, Wix, Shopify etc.) whether it is for a corporate service website or an e-commerce store.
So, if you are planning to set up your business online and that is too with Webflow, it is crucial to choose the best Webflow partner as it will be laying the foundation for your success in this digitally competitive era. You know, the digital landscape is becoming dynamic every now and then, so finding a reliable and adept Webflow agency may become a difficult task for every business owner.
Website development in IT is a dynamically changing industry, it is vital to surpass one's rivals. Businesses are turning to their online presence to meet their growing demands, and because of this, there is a heavy demand for outstanding web development agencies. Although as per the experts, not all agencies are born equal, searching for an appropriate one can be challenging. Here, we have covered the top Webflow development agencies to get you the perfect busier.
In order for you to pick the best Webflow development agency to hire in 2023, we have crosse-checked some aspects like knowledge, records, and testimonials on the consumers. Below as per the research we have come up with the ranking of the leading Webflow development companies in the business. These agencies are at the forefront of the industry. If you want to have a fabulous eCommerce website or a user-friendly corporate site, then below are the names to go.
Before moving to that, let's understand how the best Webflow agency in the business works.
How Does a Webflow Agency Work?
Below are the steps that show how Webflow Agency works and delivers the results…
Initial Consultation
Usually, it should begin with a meeting between the client and the Webflow agency. The agency will collect this data in a preliminary meeting that focuses on presenting the client's objectives, vision, and requirements for the resulting site. Furthermore, this also gives the client some time to inquire about the competencies of this agency.
Planning and Strategy
The agency should first understand the needs of the clients and then create a plan and a strategy for the development of the website. This involves developing a blueprint of how the site should look, specifying the required features and operations, and setting time frames.
Design and Development
However, there is still a long way to go, including the design and development phase. The design of a visually attractive and easy-to-use website is what Webflow agencies specialize in. The team will design and build a website for the client using the Webflow tool, making sure that the outcome suits the client's brand image as well as the specified needs of the company.
Content Creation and Optimization
Content is one of the most important parts of any site. Webflow agencies usually supply content generation and optimization so that the website has good, search-engine-optimized content. This could include creating persuasive copy and editing images and videos to ensure maximum visibility of the site when people are searching on search engines.
Testing and Quality Assurance
The agency will test and ensure quality aspects before the company's website launch. They need to ensure that their sites run smoothly by conducting a detailed review of the site's operation for bugs and errors, device responsiveness testing, and functionality testing.
Launch and Deployment
After testing and approval of the website by a client, its launch and execution are undertaken through the agency. All these technicalities of starting a website, such as registration of the domain, hosting setup, and DNS setup, will be handled for them. This guarantees easy movement from development to live on the website.
Ongoing Support and Maintenance
A good Webflow agency should offer ongoing support and maintenance for the site to always be working well. These can be weekly updates and security patches, site analytics monitoring, as well as technical support in case there are problems detected.
Top 12 Best Webflow Development Agencies
Check out the top Webflow development agencies below where you get the results as per your expectations: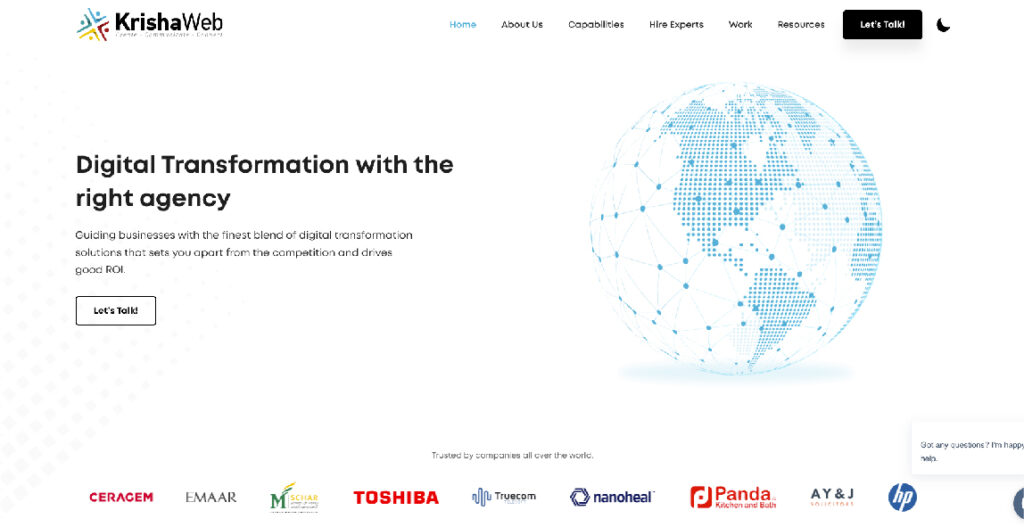 KrishaWeb is a leading Webflow development agency that offers a wide range of services to help businesses create stunning websites. They have experience with Webflow, and they can create attractive and accessible websites for users. This company has talented experts on board who master cutting-edge design approaches and modern techniques to make sure that your website is competitive.
2. Creative Corner Studio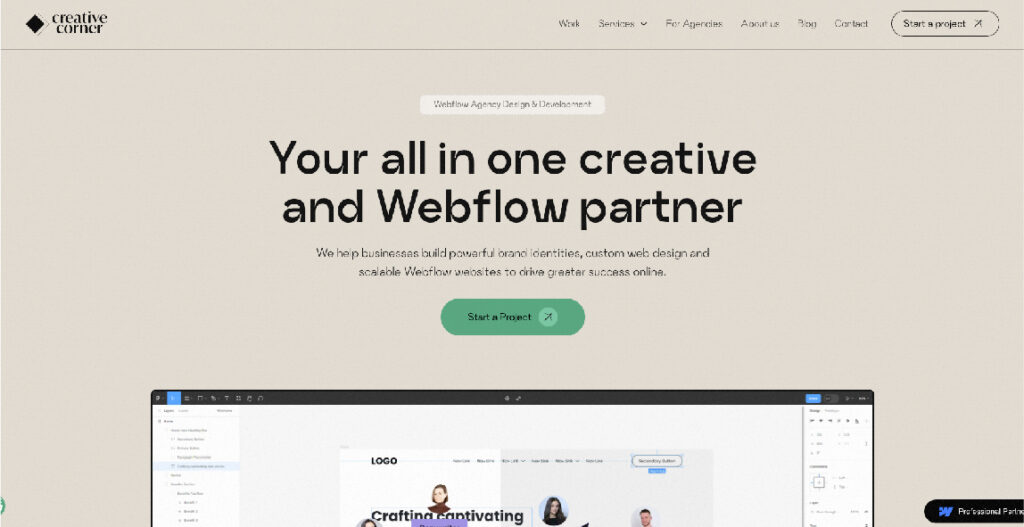 Creative Corner Studio is a leading Webflow development company that builds amazingly creative and interactive sites. Their design and development team is talented and will actualize your dream. Creative Corner Studio offers customized quality solutions, whether it's a simple portfolio site or a complicated e-commerce platform, depending on your needs.
3. Flow Ninja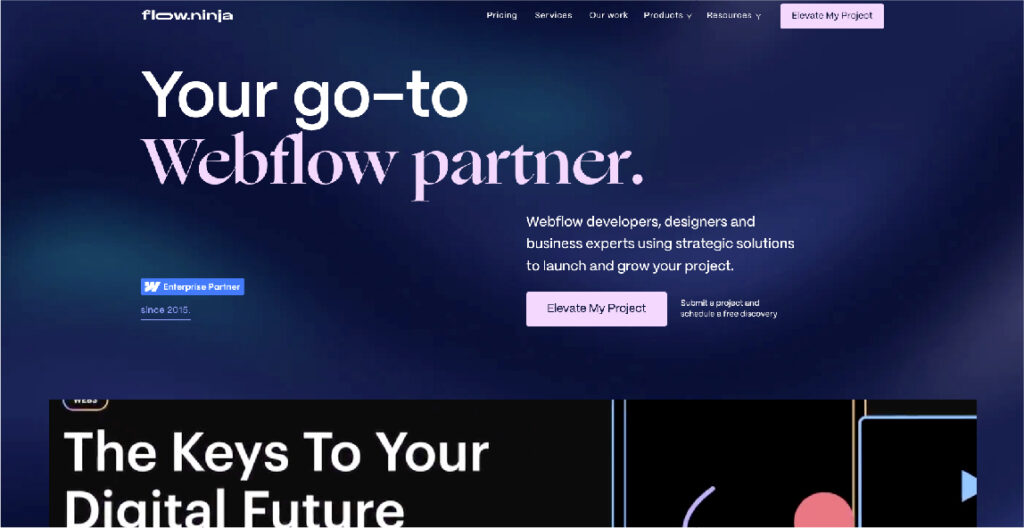 As a reliable Webflow development company, Flow Ninja delivers responsive as well as interactive websites. The company has a professional designer and programmer squad that will help you create and improve your site for maximal performance and usability. In addition, they provide support and maintenance so as to update and make it secure.
4. Unico Connect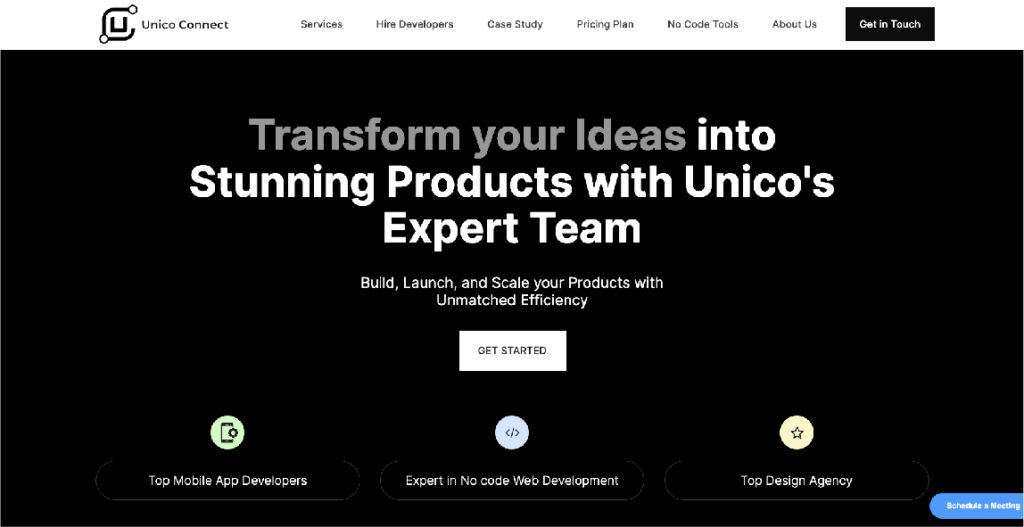 Unico Connect provides all-inclusive web designs coupled with web solutions for a trustworthy Webflow development agency firm. They possess a skilful workforce capable of designing website images suitable for your brand image. For your simple informational site or elaborate e-commerce platform, Unico Connect will give you more than you deserve.
5. Vision Design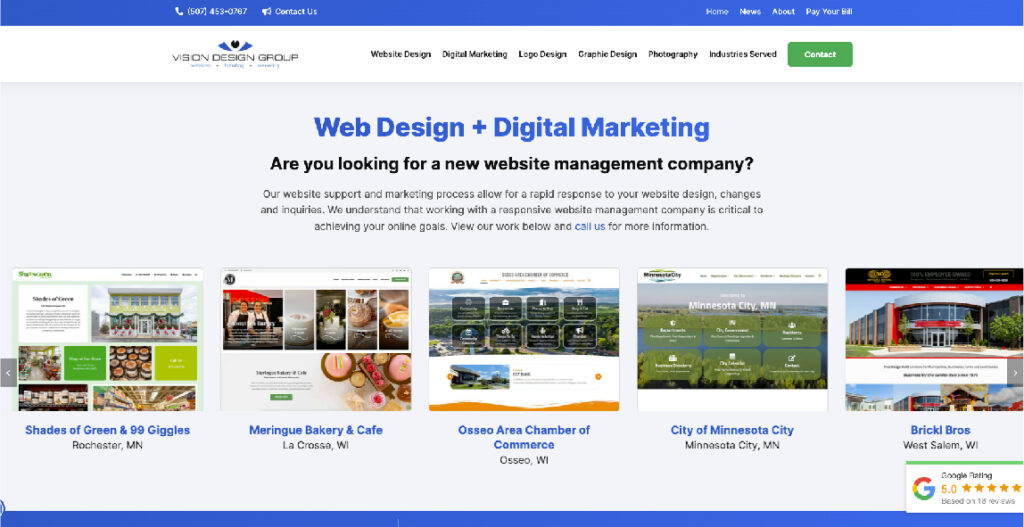 Vision Design is one of the most renowned Webflow development companies, which has been known for its stunning, intuitive websites ever since its establishment in 2018 in San Francisco, California. They employ a group of expert web designers and programmers who will tailor-make a site that reflects your brands and goals. Their knowledge of Webflow helps them optimize your site for SERPS as well as have a smooth User Experience.
6. Grafit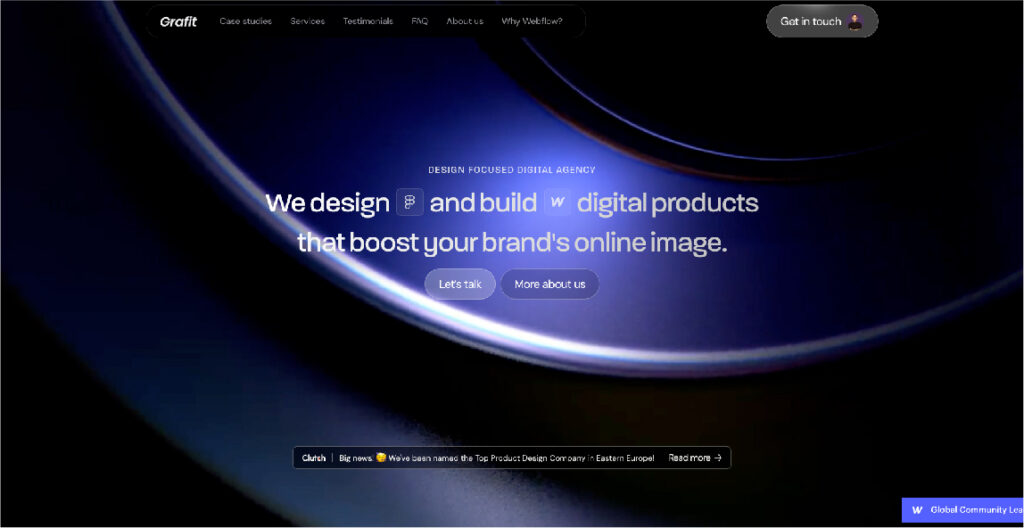 Grafit is one of the best Webflow development agencies where businesses can find numerous services for building up a powerful web appearance. Their specialists are capable of creating well-designed yet fully operational custom sites for clients. They help to build responsive websites using Webflow, and hence, they make amazing sites that are viewable across all gadgets.
7. Orizon Design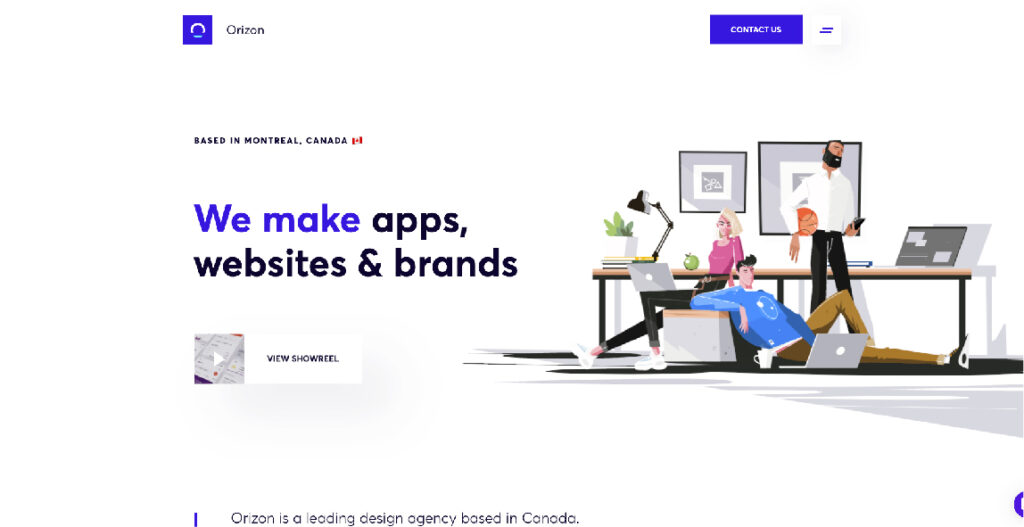 Orizon Design is among the leading Webflow designers who are committed to developing outstanding, visually appealing, and easy-to-navigate websites. Their staff consists of highly qualified specialists proficient at working with all Webflow possibilities. It is evident that they can be flexible enough since their portfolio depicts different types of projects in which they have worked before in different sectors.
8. Ammo Studio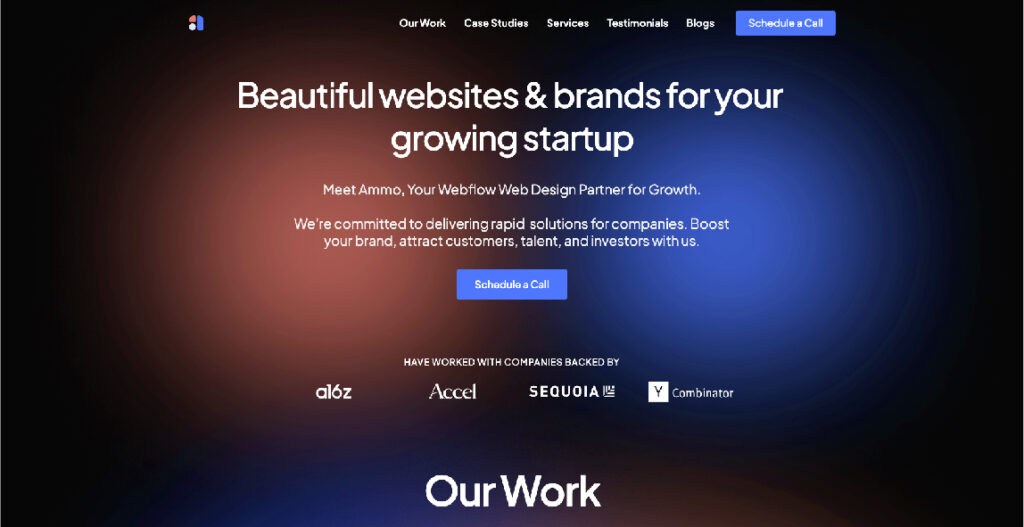 Ammo Studio is one of the top Webflow design companies specializing in providing virtual and engaging sites. They emphasize UX and use creative design strategies to pull in visitors' attention and attract engagement. Additionally, their group of competent Webflow professionals can make significant, memorable websites for them.
9. Brand Vision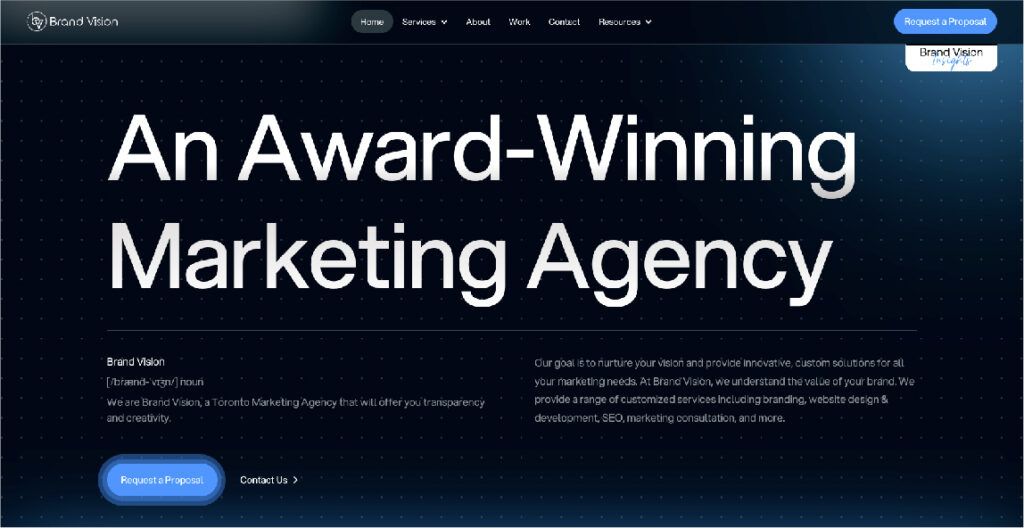 Brand Vision is a market-leading Webflow development company that specializes in building attention-grabbing, brand-focused websites. For this reason, they know how vital it is to have an integrated online profile that reflects appropriately their brand name. Working together with clients, they guarantee their website has each detail that represents their specific brand personality and messages.
10. DesignPax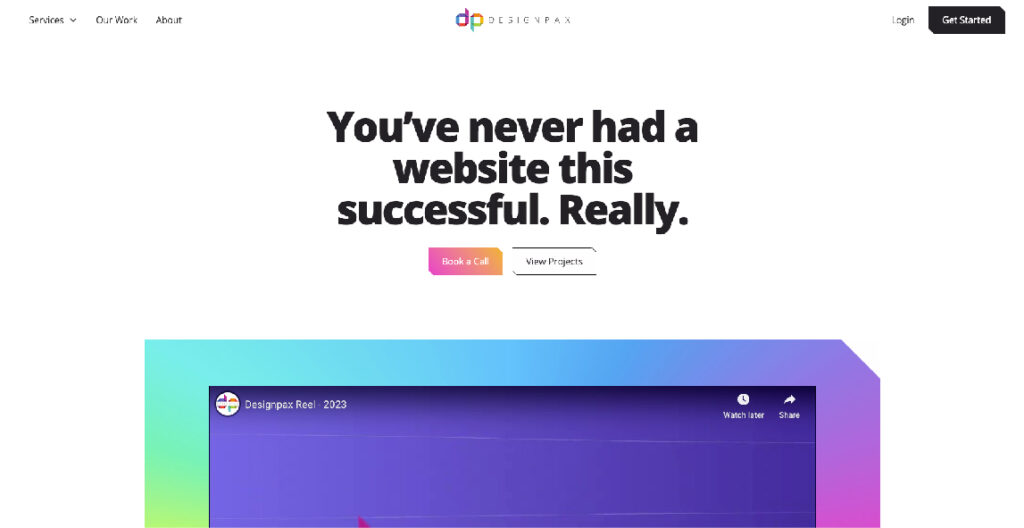 DesignPax, a renowned Webflow development agency, provides customized websites crafted to fit clients' needs. The company has highly experienced designers as well as developers, competent in the latest design patterns and development methods. They focus on building websites that are aesthetically appealing as well as compatible with multiple devices and platforms.
11. Amply
Amply ascertained Webflow development service providers capable of rendering beautiful and navigable websites. The company has an experienced group composed of designers who strive to ensure maximum output is obtained every day. The portfolio demonstrates an array of projects indicating that they can build unique online pages that are differentiated from competitors.
12. Pretty Nice Websites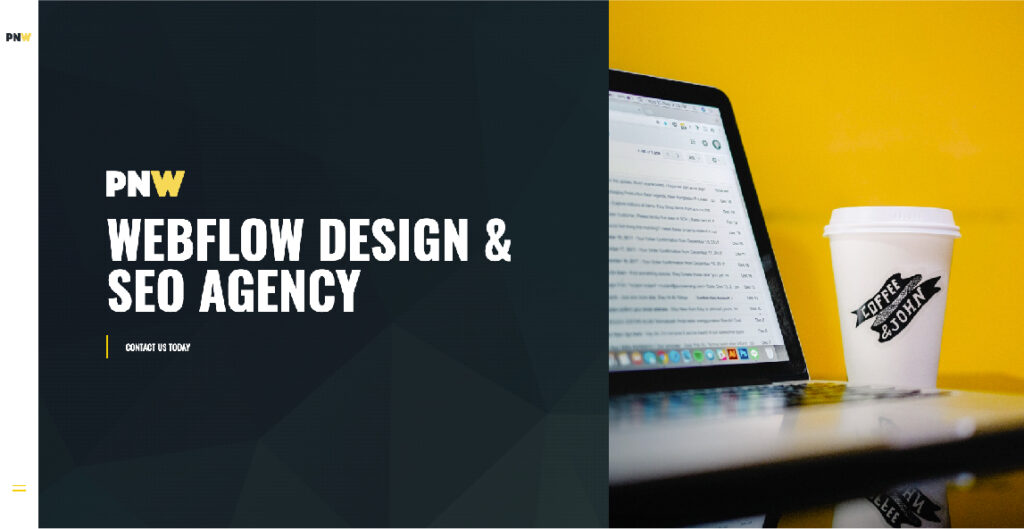 A leading Webflow development company, Pretty Nice Websites designs stunning and user-centric sites. Their team comprises skilled designers and developers who feel proud of building high-performance websites that are visually appealing, too. This makes customers trust and appreciate them as they deliver quality websites upon providing an outstanding level of attention to detail.
Final Thoughts
Overall, it is essential for businesses seeking to create a competitive online brand to hire the best Webflow development company in 2023. The mentioned agencies have skills and experience in making attractive, easy-to-use websites with SEO optimization. For that reason, companies should use these services to boost their internet presence, bring in new consumers, and create long-term development. Considering the dynamic nature of the digital space, where companies have to move with speed, web development should be a top priority for most firms that need to work with the best agencies to achieve their objectives in the new year.