Facebook has announced through the blog that they are updating the graph search. People can now search on Facebook graph search using different keywords. You can now search people, posts, places, videos, images, events, groups, apps and pages using this latest update by Facebook.
Facebook graph search was launched back in January 2013 and was titled as the third pillar of the product along with News Feed and Timeline by the Mark Zuckerberg. But it wasn't leaving up with the title until now. The reason for this was; you need to use complicated phrases to search in graph search. For example, if you are looking for a friend who is in New York; you need to search like: "My friends who live in New York". This kind of searches can be very confusing some time and useful for people or place specific search. It is not the usual search tendency of the Facebook users.
Facebook has collected the reviews from the users and asked them what improvements they want to see in next change. Tom Stocky, VP of Facebook search has said in the blog post,
"You've given us a lot of feedback on the Graph Search beta. You've told us the most important thing is being able to find posts you've seen before, and now you can. With a quick search, you can get back to a fun video from your graduation, a news article you've been meaning to read, or photos from your friend's wedding last summer."
Facebook will provide the unique search result for each user based on the keywords he/she has searched for. You will be able to see the posts shared with you in the search result followed by the public results by the non-friends on that topic. So now you don't need to scroll down to the news feed to find the post you have enjoyed earlier. You can find that post by just typing the keyword related to that post and you will find it in search result.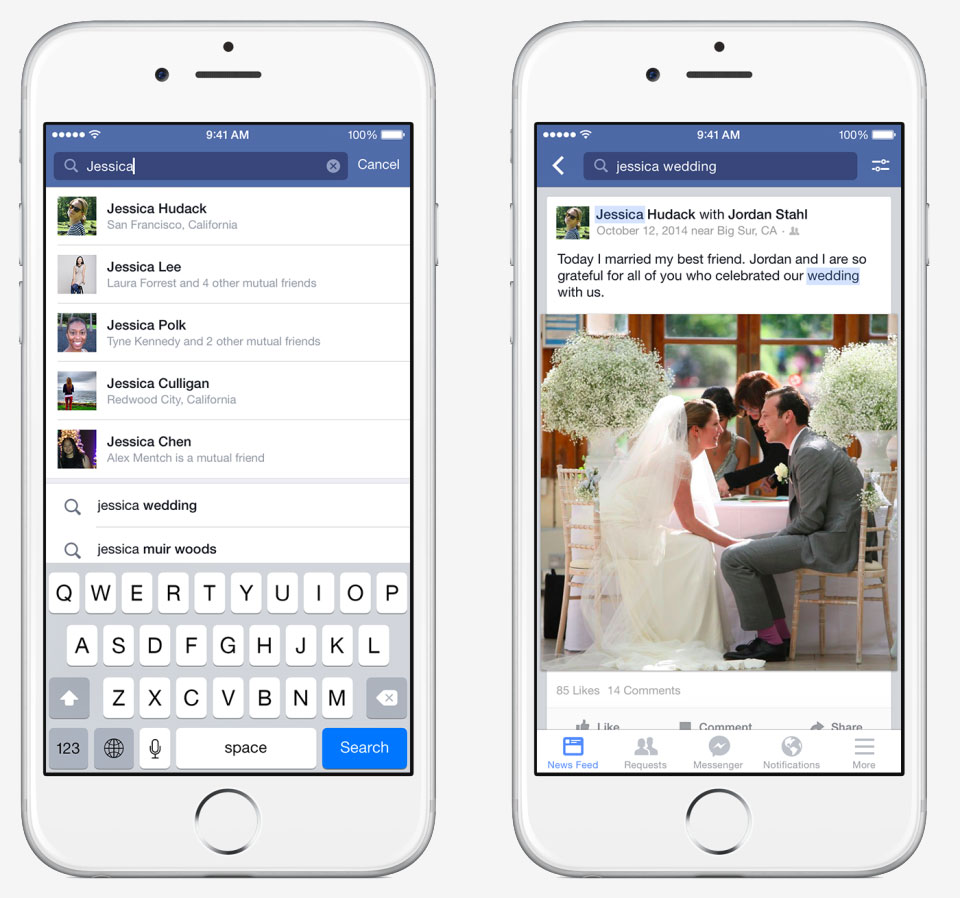 It means, now anyone on the facebook can find your posts if you have not tightened your account privacy nuts properly. You can get the search result of the post that is shared with you. In the same way people on facebook will find your post if you have shared it with them. Facebook search will not show your any private posts in search result. You can now set the privacy for your each post on the facebook. If you have set the post public; it will be shown to all and if you will restrict it to your friends only, it will be visible to your friends. You can change the privacy of specific post by going to that post and changing the priority of who can see that post.
Facebook has specify in a blog post: "Search on Facebook is a long-term effort. Today is a step toward helping you tap into the experiences and perspectives of your friends." Initially this update will be rolled out in US for iPhone and Desktop users only. Facebook didn't mention about the Android and Windows update in the blog post but they are likely to observe the user reviews for iPhone and Desktop and will update it for Windows and Android devices. If you are looking to get more updates about facebook search; you can get it from http://search.fb.com/.
What do you think about this update from Facebook? Will it be helpful for the users to find the moments they have liked the most on Facebook?