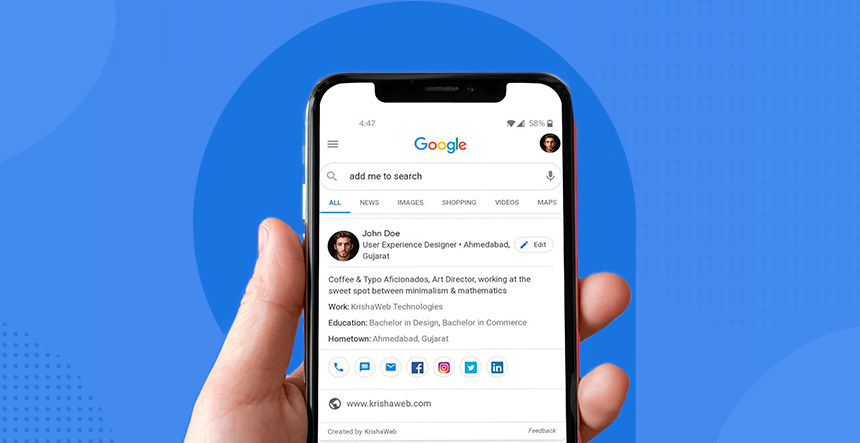 We know, everyone wants to be visible more and more on Google Search whether it is a business firm or any individual.
Let's talk about Google Search for Individuals.
It is easy to find the details about famous personalities, as you search their names and you'll find knowledge panels that organize information about them from trusted sources, all in an easy-to-digest format. But what about those who are not that much popular! Just search your name on Google, see what happens!!! You will not be able to find the exact information what you are looking for. Also, there are many people who share the same name, which makes it hard to know "who's who" on the internet.
So this time in India, Google brought a new feature for individuals which will help people to have their online presence on search with accurate information (whether he/she is a celebrity/well-known personality or from any ordinary back-ground). And that new feature is "People Cards".
It's like a virtual visiting card, where you can highlight all your existing details like website or social profiles you want people to visit, plus other information about yourself that you want others to know. Creating a people card is very easy…
Follow these simple steps to get started with People Cards
Users need to sign into their Google account and then search for "add me to search" on Google search
This will prompt a new option called "add me to Search" or "get started", tap on it
This will open a form that asks users to provide a bio/details
The next step is to add a profile image, a description, website and social media details of the accounts you want to share
If you feel comfortable, you can also add your email id and phone number where you can be reached
The more information you provide, the easier it is for people to find you. After adding all the details if you are going for a final preview, it would look like this…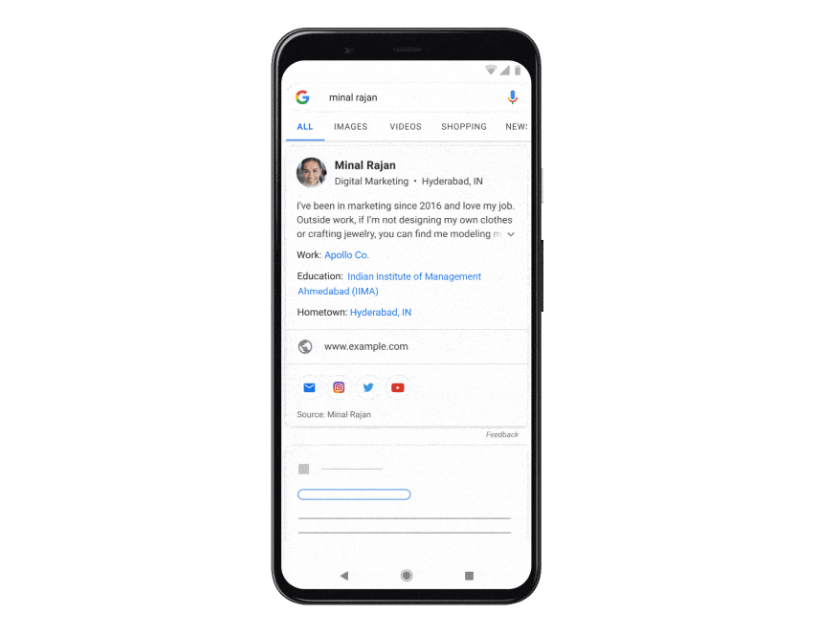 Google is always intended to serve the most relevant, helpful, and reliable information to people and for that they have a variety of protections and controls in place to maintain the quality of information on people cards. Only one people card for a Google Account, and a phone number is required to authenticate that account. They have a number of mechanisms to protect against abusive or spammy content, and if any user come across with low quality information or a card that seems it was created by an impersonator, user can tap the feedback link to let Google know. If users no longer want their people cards to appear in Search, they can delete it at any time.
Those who share same name, they can be distinguished with their business/profession and location details and bunch of modules. And thus "People Cards" will help you find the right person easily on Google Search. For the millions of influencers, entrepreneurs, prospective employees, self-employed individuals or anyone else who wants to be discovered. Hope this new search feature will help the world find YOU easily.