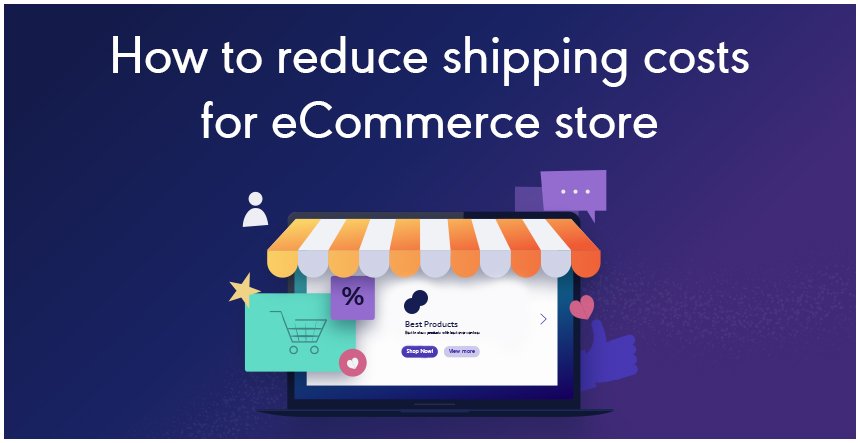 While you are running an eCommerce store online, there is no escape from shipping and the cost associated with it. All you can brainstorm about, or ask, is – How Can I reduce shipping costs for my e-commerce store?
Well, we are going to answer your question through this post. Here are a few effective methods to reduce shipping costs:
1. Understand Your Shipping Needs First
Ask yourself a few questions, like:
Which are the regions you are shipping your products to?
What will be the average weight or size of orders you are going to deliver?
Which shipping carriers will be the best for these regions?
What shipping charges (or overall charges) are being quoted by your competitors for similar orders?
How much shipping fee is feasible for each product?
Knowing the answers to these carriers will help you in choosing the right carrier, duration, and prices alongside making other important decisions.
2. Choose the Right Shipping Partner
Okay. So if you've collected the data as per our suggestions in the previous point, you must have the crucial details related to the shipping packages of regional, national and international shipping carriers who provide their services in your shipping region.
It is always good to compare shipping service providers and ask them to negotiate their rates as it may save you some money.
Sometimes, regional carriers are fast and cost-convenient for a particular region than national or international carriers. Similarly, some carriers may be good for light-weight orders while others for heavy goods.
Knowing the answers to these carriers will help you in choosing the right carrier, duration, and prices alongside making other important decisions.
3. Shipping Insurance
Needless to say that shipping is a costly e-commerce affair. It becomes costlier when you are shipping fragile or expensive items. Replacement cost for such items is relatively high, especially when the shipping item is found defective.
In such cases, you not only have to bear the price of product return and re-shipping but of the defective product too.
To combat this situation, always consider buying the shipping insurance for such products.
Now, another golden advice for you is – Go with third-party insurance companies instead of your carrier. It will cost you way lesser than the insurance amount these shipping carriers charge. This difference can be as high as 40% of the insurance cost.
4. Use WooCommerce
WooCommerce is probably the best eCommerce development option for small and big online stores. It is widely utilized for its feature, ease-of-use, flexibility, capabilities, and cost-convenient.
Not just for selling and digitizing a business, WooCommerce also has many facilities to help you make the shipping process smooth and less costly.
Additionally, as your service areas and customers will grow, you will need more advanced shipping capabilities. Then, you may always need to add new shipping features to your online store. Getting the custom shipping features developed and integrated into your store will be a costly task. However, WooCommerce can make it fast and cheap process for you.
There are so many WooCommerce shipping plugins which you can directly buy and use. For example, advanced flat rate shipping plugin can be used to customize the flat rate shipping rules as per geography, product, category, weight, quantity and more.
5. Deciding Delivery Charges Carefully
Do you know what inspires customers to shop online?
It is free shipping, obviously. 90% of the customers think so.
Now, let's face reality.
You are not a big business which could cover the shipping expenses because the sales are happening at each next second. You have to spend a lot of money in shipping customer orders and you cannot afford to ship for free.
What to do then?
Well, maybe you can create an illusion of shipping for free.
To do so, you can fix your products' prices slightly high. Include shipping cost in your products. Decide Product Pricing, keeping your margin, shipping price and the base price in mind.
Though this trick works well when you are selling custom and unique products where there are no or fewer competitors, do not apply the same logic when your competitors are selling the same product at a lower price. In that case, it is better to fairly specify the shipping price and product price separately. To reduce the cost, you will have to reduce the shipping expenses. Read the next ideas to figure out how to do so.
6. Optimize the Use of Packaging Material
You need not using bubble-wrap and big cardboard to package a set of 10 t-shirts, but just a thick paper and plastic wrapping will do. However, many e-commerce businesses make this mistake of using the same size shipping boxes for everything they ship. Optimizing the size and quantity of material being used in the packaging can save you a lot.
Customizing the shipping package size has two advantages:
You'll save money as lesser packaging material will be used.
You will have to pay less to the shipping carrier, as they charge as per shipment size, weight, etc.
7. Automate the Printing of Invoice and Slips
Time is money. Hence, it is costly to employ a lot of people for the tasks which could be automatable.
Tasks, like preparing invoices, labels, slips and other papers to ship with the order, can be automated using WooCommerce plugin or third-party solutions with ease.
8. Block Unwanted or Fake Customers
Your e-commerce store may receive a lot of orders from the locations, where you do not ship. Such orders just increase the workload for your shipping team. These orders cannot be completed and hence, do not add to any revenue.
To save your team's time and effort, you can deploy WooCommerce Blocker Lite This plugin lets you block customer as per their location, IPs, etc.
9. Find a Good Fulfilment Partner for Top-selling Products
Sometimes, customers are more interested in buying a particular product, some products, or a set of products from your online store. Do you also have any top-selling product in your store?
If yes, you must be investing a lot of your resources in the fulfilment of such orders.
Instead of managing the delivery of this product directly from your e-commerce store, you can choose a fulfilment partner for it.
Fulfilment partners can store, package and deliver orders on your behalf, which will surely save you for bearing extra shipping-related expenses. They can save you money and prevent a headache.
10. Local Pickups
If you have a retail store alongside the e-commerce shop, this shipping option may save you a lot of resources and money. Local Pickup is all about letting your customer order products online and pick up them from your warehouse or shop.
As you do not have to handle the delivery part of shipping, which is costliest, shipping process becomes cheaper.
It helps a lot in increasing sales as you can offer your products at a discounted price too. After all, you are saving the shipping amount already.
Special Tip:
Alongside deploying these methods, you should also take care of performing shipping-related operations on right time while maintaining the service quality. It will save a lot of time for your support team which resolves customer queries and set you high among the e-commerce businesses operating in your region alongside saving money.