Andy Baio, a former CTO of Kickstarter first noticed the update by YouTube on Tuesday. YouTube now lets users create GIFs maximum of six seconds directly from the video. You don't need to download the full video, if you want to take some part of the video to create GIF. It is very easy to create animated GIF using the YouTube GIF maker and if you have ever created looping animations; you are going to love the simplicity of the YouTube GIF generator.
You can find YouTube GIF-making option under share section along with the share, embed and email option. Sign in to YouTube, Find the video to create GIF and click on the share button to create your own GIFs from YouTube. Once you will select the GIF option; it will show you the series of the picture frames from the video you have selected. You can scroll through the frames to select the specific part of the video or you can also feed the start and end time for GIF. GIF can be of maximum of 6 seconds and minimum of 0.3 seconds. You can also see the real time preview of the GIF in the preview window. YouTube also allows you to enter meme text in GIF to make it even humorous. You can add up to three lines in GIF having maximum 122 characters each.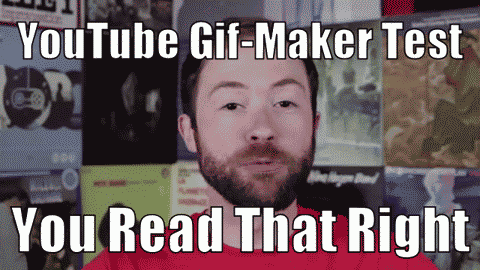 Once you click on the large "Create GIF" button; YouTube will create the final GIF and will provide you the GIF link to email, an Embeddable code of GIF and social share links. Creating and sharing GIFs was never such easy before.
This feature of the YouTube is currently visible on few channels only. You can create YouTube GIFs from PBS Digital Studios' Ideas Channel for now. There are a few other channels too. YouTube has not disclosed their polices for picking the channel to provide GIF generator service, but they have kept the sign up form for the other channels that wish to have such feature for their videos. According to the YouTube they will contact the channels that sign up and assist them.
What is YouTube's plan for the GIF generator tool is not clear yet so as when it will be available globally for all YouTube videos. But one thing is sure, if YouTube will make it available globally; Internet and social media will be flooded with lots of moving graphics.