Google has carried out a study about its remediation techniques with the help of University of California, Berkeley. They have studied more than 760,000 hacking cases between July 2014 and June 2015. According to the study, more than 10 million users encounter harmful websites every week. Majority of the websites among these are personal blogs or small business pages having a weak password or outdated security software. In most of the cases, Webmasters of the compromised websites were unaware of what was happening with the website until they got hit. Google has discussed how webmasters can rescue the compromised websites in this study.
Google has detected nearly 800,000 compromised websites in last year. That means nearly 16,500 new websites get affected every week. Google is continuously working to reduce this numbers and make the recovering process easy for the webmasters. According to Google, when they directly work with the webmasters in security breaches, they can help 75% of webmasters to re-secure their content within just 3 days.
How many sites get compromised?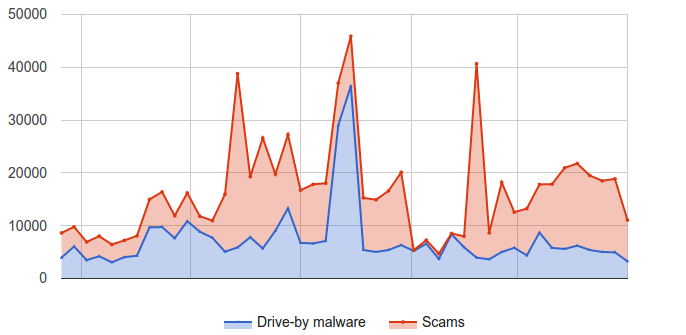 Google is finding the most effective way to help webmasters deal with the security concerns. Here are three ways Google opt to help webmasters secure the website.
Getting in touch with webmasters
It is the most difficult that Google find to get connected with the webmasters of compromised websites. If you have registered your websites with Google's analytics or search console services, Google can easily get connected with you via email you have used with those services. Email communication can help 75% of the webmasters to re-secure the content according to Google. When Google can't find the Webmaster's email, they warn them through browser warning and search warning. That help 54% and 43% to secure the website respectively.
Providing tips on cleaning up harmful content
Attackers rely on few specific spots on the website like hidden files, easy-to-miss redirects and remote inclusions to scam users. It becomes tricky sometimes to solve that issue. Google tends to send emails with the information of exactly which page contains the harmful content and tips to solve the problem. Such emails help webmasters to solve problem 62% faster than the emails with no tips.
Making sure sites stay clean
Google finds that 12% of the all compromised websites get attacked again within 30 days. So, it becomes even crucial to keep the website safe once you have been affected by the hackers.
Obviously, it is not possible to keep the web 100% safe and secure. Google is trying to keep it much safer place for users and it recommends to take the support of Google Analytics and Search Console services to keep your website secure. I hope this tips will help you improve the website sectary. Here you can find the detailed post about the study on official Webmaster central blog.