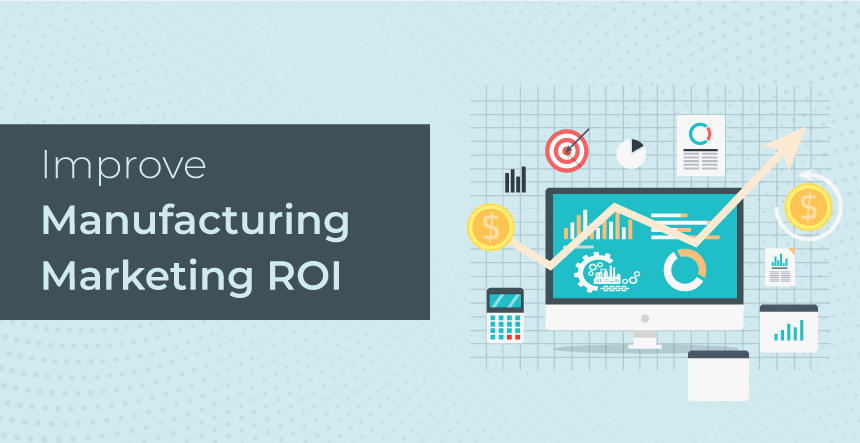 Any business that needs to improve manufacturing ROI should first decide what are 'returns' for them. It could be anything from higher revenue, inflated sales, lower cost of production, retention of clients, employee satisfaction to a brand that represents high morals. It could be a few of these factors or all of them. This could be really tricky and so, a manufacturing business entity needs to decide what is their actual returns other than just sales & revenue. This decision eventually helps to create a better business or brand in the long run. Defining returns helps to create better strategies and achieve quicker results and outcomes for the future. 
Based on their definition of return on investment, a manufacturing business unit can chart out marketing plans, digital and otherwise. Some strategies can gain more customers while others help to augment business visibility. Keeping this clarity, companies can move forward with their marketing idea. 
Talking about tangible outcomes or revenue, let us check out how to calculate manufacturing marketing ROI. 
As per experts, "a good marketing ROI for manufacturing companies is 5:1." 
This means for every $1 spent on marketing, the company should earn $5. This means, the ratio of revenue to cost is 5:1. The ratio helps to quickly examine whether the marketing campaign was successful or not. It is an easy method to analyze and improve manufacturing ROI. 
When we talk about digital marketing, it encapsulates a lot of factors that are combined together under one umbrella. These include the following: 
Pay Per Click Ads

Display Advertisements

Media marketing including TV and Radio platforms

Content production cost

External marketing like trade shows

Investment in an advertising company

Social media marketing

Email marketing

And more out-of-the-box plans
If we talk about the exact formula to calculate the ROI, it is done as follows:
[(No. of leads x lead to customer rate x average sales price) – Marketing costs] / Marketing costs
Where, 
a) No. of leads
–
This means the exact no. of leads generated through any of the mediums, be it from emails, social media, PPC, or other ads. Here, we count the leads which do not convert. 
b) Lead-to-customer rate
–
This means the number of customers which converted from the lead. For example, if four people actually purchased out of the ten leads, then the ratio is 40% or 0.4. 
c) Average sale price
–
The amount which a client expends to hire your manufacturing unit. By keeping it a whole amount and not just the sale price, companies can make an easy calculation, irrespective of the units bought. In case of multiple orders, take an average of the sum of the total amount incurred by the client. 
[kwt_ebook_content item=1]
d) Marketing cost
–
The overall price of marketing your goods, including hiring a digital marketing agency to cover the cost of external ads. 
With this formula, any industrial company can calculate its ROI. Moreover, they can create strategies to improve manufacturing ROI. 
This formula works really well for calculating ROI for B2C companies where there is a clear classification of leads and conversion. Marketing campaigns can also be tracked as per lead conversion as well. 
However, it is complex for B2B businesses as the result stretches across months or even for the duration of a year. The best part is that in B2B, the sale value or amount is much higher than the B2C companies. Moreover, it takes time to convince a B2B client as they take into account several factors to associate with manufacturers. Still, the formula works well in both cases. 
Once any business entity calculates the ROI, the next step is to optimize it. There are ways to enhance the ROI to either reach a 5:1 ratio, which can even boost up to 10:1, provided there are excellent marketing efforts. 
Ways to Improve Manufacturing Marketing ROI: 
1. Keep an eye on the Key Performance Indicators (KPI)
The easiest way to monitor your marketing efforts is to check the KPIs, which reflect the success ratio of the campaign. It could help update or modify the strategy to get desired results of ROI. Following are the KPIs to check in digital marketing campaigns: 
Bounce rate

Customer retention on the website

No. of leads generated

Conversion ratio 

Media Mentions

Brand awareness & recognition 

Cost per lead 
See if your campaign is achieving these markers and how much it improves the ROI in the long run. 
2. Focus on marketing automation
It becomes much easier to improve manufacturing ROI by minimizing the efforts required for obvious or instant marketing tasks like replying to emails that create the first point of contact. By choosing automation software, companies can reduce the effort of their team on mundane tasks and leverage their time to create novel, up-to-the-minute strategies. 
3. Track campaigns for optimized results
It is vital to keep an eye on the performance of the campaign, be it from the Facebook ad or PPC, or leads from any other social media platform. This can be monitored through Google Analytics or in-built analytics tools of social media platforms like Facebook. Automation software has its own reporting tools to help companies gauge the performance of their campaigns. This is helpful to modify the campaign, estimate the problem areas and design better strategies in the future. 
How KrishaWeb helps to improve manufacturing ROI?
Our team of digital marketing experts is pro at enhancing the web visibility of manufacturing companies. We place them on global maps, which help them grab customers across boundaries. We devise custom campaigns for every client and have successfully served an array of them by improving their sales, revenue, and number of customers. 
If you are a manufacturing company looking for a successful digital marketing agency that boosts your ROI then feel free to connect with us. Let's collaborate and create a path-breaking business!
[kwt_ebook_content item=2]